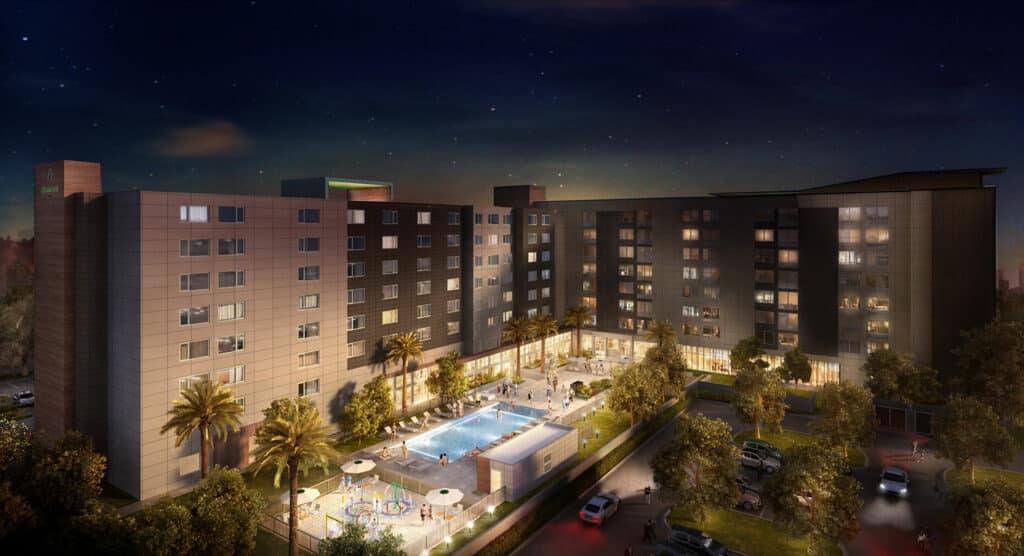 Mike Jaynes, President of HALL Structured Finance says HSF is slated to lend out $400 million in 2019
WRITTEN BY DANIEL HILPERT, PUBLISHER AND EDITOR-IN-CHIEF
Under the umbrella of Dallas-based HALL Group, founded by Craig Hall, HALL Structured Finance (HSF) is a direct lender that focuses on providing non-recourse, first lien construction loans for commercial real estate projects across the U.S. HSF was the #1 non-bank hotel construction lender in the country in 2018. HSF works to provide alternative financing solutions for high-quality projects that cannot meet their financing needs through a traditional bank lending platform. Daniel Hilpert, Publisher of EQ interviewed Mike Jaynes, President of HALL Structured Finance about markets to watch, recent transactions and what's next for HSF.
What sets Hall Structured Finance apart from other hotel lenders?
Mike Jaynes: We set ourselves apart from other lenders by offering non-recourse terms, flexible underwriting standards, fast execution and up to 75% LTC. Another differentiator is that our parent company HALL Group is a real estate developer, so we bring internal expertise in development and construction to our clients.
What is the overall vision of founder Craig Hall? Where does he want to take the business?
Craig Hall would like to find ways to integrate new technologies into our lending program, such as AI that can assist with due diligence. HSF is a big focus for the company. HALL Group is also involved in the ownership, management and development of real estate, financial lending, angel investing and winemaking. In fact, Craig is a New York Times best-selling author and he just published his seventh book, titled BOOM: Bridging the Opportunity Gap to Reignite Startups.
Which markets does Hall currently like—where are you comfortable investing? How do you feel about New York City with respect to the hospitality industry and other major markets such as Miami and LA?
We are targeting good opportunities in all primary and strong secondary markets across the country. We provided $20 million in construction financing for an EVEN Hotel in Miami, which just recently had its grand opening, and we have also financed several hotels in submarkets surrounding LA. We have an interest in NYC, and have done loans in the past, but we haven't found a fit recently from a lending perspective. A lot is in the New York hotel pipeline, so it's a market we would be cautious about.
Are there specific geographic markets you avoid?
We will look at any market, and we typically underwrite to the street corner and the submarket. It is very deal-oriented, and even within an underperforming market there can be good opportunities.
Which asset classes do you like, for example ultra-luxury or limited service?
We will most aggressively target well-flagged limited service, select service and extended stay hotels in major markets, followed by branded and soft branded full-service hotels. We will also selectively finance well-conceived boutique/independent hotels. We target hotels with multiple demand generators
What makes you different from competitors in terms of ease of close, etc.? You are a non-recourse lender; tell us about your non-recourse feature.
We still go through the same closing process as a traditional bank, but as a small private lender and flat organization, we are more nimble and able to move more quickly in the closing process. We are primarily a construction lender, so consistent with industry standards, we do have recourse during construction, but it converts to non-recourse upon completion.
Tell us about some of your recent transactions that were noteworthy or unusual.
• For Marriott Autograph in Scottsdale, AZ [we secured] a loan totaling $53 million to finance the expansion, redevelopment, flagging and rebranding of the existing 32-room CopperWynd Resort into the boutique Autograph Scottsdale Resort.
• Hampton Inn in Kissimmee, FL just closed in early June. The loan totaling $15.5 million was secured to finance the construction of a Hampton Inn in Kissimmee, FL located just south of Orlando. The 128-key hotel is slated to open in June 2020 and is being constructed by Garry Hasselbacker and Chet Patel of Pinnacle Hospitality Group.
• For Dual-Flagged Hampton Inn & Suites and Home2Suites in Las Vegas, NV we secured a loan totaling $42 million to finance the construction of the dual-flagged hotel immediately adjacent to the Las Vegas Convention Center.
What do you see in the company's future? Will you put out more $ this year? What markets to you want to be more active in?
We have continued to grow over the past several years and see that continuing. We are slated to lend $400 million this year, which would be our highest volume year-to-date. We would like to do more loans in major markets in Texas, such as Dallas, Houston, Austin and San Antonio. We are also continuing to diversify product types, providing construction loans to hotel, multifamily, student housing and spec office deals across the U.S.
Craig Hall, Founder of HALL Group, is a man of many interests. More than 20 years ago he entered the vineyard and wine business in California with his wife Kathryn. They have risen to the top with a perfect score from Robert Parker's Wine Advocate and in 2013 became the first LEED Gold winery in California. 
"We are very proud of that," says Hall. "We're very committed to the environment across our businesses and LEED certification is something we pursue at all of our new developments." Today the Halls have three wine brands: HALL, principally known for Cabernet Sauvignon and Sauvignon Blanc; WALT, known for Pinot Noir and Chardonnay; and BACA, their newest brand producing high quality Zinfandel. 
"We actually didn't start as amateur winemakers per se," says Hall. "Kathryn has been involved in the California wine industry since her family purchased a vineyard in the 1970s. When we started our own winery, we intentionally wanted to make very high-quality cabernet with grapes from the best parts of Napa Valley." 
According to Hall, the wine business is challenging and complicated. It involves farming, manufacturing, marketing and creating new innovations with technology while producing an exceptional end product. "For these reasons it's also a very gratifying and fun business." 
In many ways winemaking has not changed for centuries. The Halls still employ gravity flow, for example, which might sound high tech but is actually the way wine was made 5,000 years ago. "The theory behind gravity flow is that you do not use pumping that would hurt the skins of the grapes. We wanted to make the wine in the most natural way possible," he explains. 
On the other hand, the Halls choose to use new technology when it enables them to produce a better product. "We used to have people sort the grapes before they would go into the fermentation tank to be processed. Today, we use optical sorting machines that — while expensive — are much better than humans at the sorting process," says Hall. "Other high-quality wineries like ours are adopting this new technology as well." 
The Halls have also distinguished themselves from other vineyards in Napa by incorporating art pieces from their impressive collection throughout the vineyard experience. "Years ago, I started using art in some of our commercial properties because I thought it was a great opportunity to share my love of art with others and have them experience the joys of the artwork I had collected," explains Hall. "Over time, I've found that it is really appreciated by visitors at the wineries and there is no question that it helps enhance the experience of enjoying a great glass of wine to be in the presence of great art against the beautiful Napa backdrop."