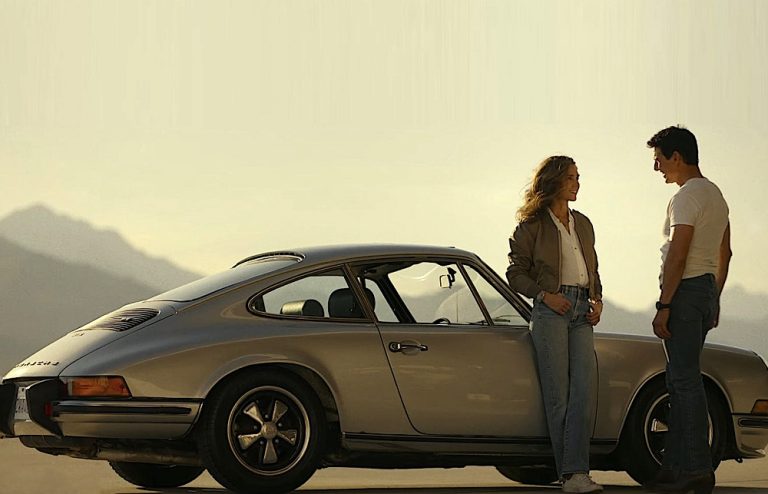 Porsche and Top Gun: Feeling the Need for Speed
The German brand plans a starring role in the Top Gun sequel
As great movie lines go, they don't get more memorable than Tom Cruise as Top Gun's Pete "Maverick" Mitchell uttering those immortal words: "I feel the need. The need for speed."
Of course, for Cruise's character, the "speed" part is usually associated with screaming, barrel-rolling F-14A Tomcat fighter jets. Not Porsches.
But with the breathlessly-awaited sequel – Top Gun: Maverick – set to land at a cineplex near you come May 27, Porsche is preparing to spend big bucks and cinematically join itself at the hip with Cruise and the new movie.
As a taste of things to come, the German brand released a 31-second "teaser" ad – aired first during Super Bowl LVI – proclaiming "Porsche and Top Gun. Together Again."
Interspersed among the trailer's heart-pulsing aerial action are a few hastily-assembled bits of stock footage of electric Taycan's zipping along the Autobahn, 911 GT3s drifting around a racetrack, a new 911 Targa, and a flash of Porsche's 1,000-hp Mission R electric race car.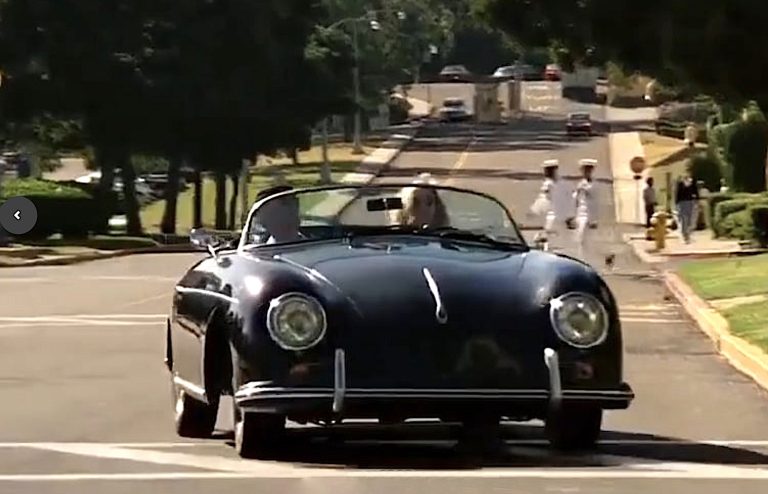 Arguably the only real connection between Porsche and the new movie is seen in the final clip, with the lovely Jennifer Connelly gazing longingly into Mr. Cruise's eyes while leaning on a gorgeous, late '70s Porsche 911S coupe, all shimmery silver with period-correct Fuchs alloys.
Fans of the original Top Gun movie may recognize the scene. Back in 1986, instead of Connelly it was crinkly-haired actress Kelly McGillis having the eye contact, while seated alongside Cruise in her shiny-black Porsche 356A Speedster.
Of course, true Porsche aficionados will likely question the line "Porsche and Top Gun. Together Again" on account of that inverted-bathtub-like Speedster not actually being a real Porsche, rather a fiberglass replica from Italian kitcar builder Intermeccanica.
We're certainly hoping the new movie will feature lots of beautifully-lit shots of Cruise and Connelly enjoying air-cooled bliss behind the thin-rimmed wheel of that iconic '70s 911.
That said, anyone wanting a far more thrilling "taste" of Porsche's upcoming involvement with the new Top Gun franchise should search out the truly brilliant video, produced by Britain's Channel 4, of Cruise driving a 911 GT3 around Britain's Silverstone racetrack last July.
Interspersed with jet-fighter action clips from Top Gun: Maverick, Cruise dogfights with ex-Formula One vets Mark Webber and David Coulthard in some truly heart-stopping action. OK, it gets a little cheesy in parts, but the scene of Cruise splitting the two other GT3s head-on is true Top Gun fighter action.
We'll wait with bated breath to see how Porsche cements, and capitalizes on, its partnership with Paramount Pictures and Top Gun. Maybe there'll be a Top Gun-edition 911, Top Gun Porsche Design mirrored aviator sunglasses, or at the very least, a Top Gun-logo'd re-issue of the stealthy-black Porsche Design by Orfina chronograph that Cruise wore in the original movie.
But just as every Aston Martin owner who, while pressing the start button of their DBS Superleggera whispers "Bond, James Bond," Porsche is no doubt hoping the film might inspire a few used Boxster owners to exclaim, "I feel the need. The need for speed."