First Drive: The New Rolls-Royce Ghost Black Badge
Get behind the wheel of the most noir Rolls-Royce yet
Imagery courtesy of Rolls-Royce Motor CArs
When was the last time you heard Rolls-Royce, the purveyor of all things luxury and elegance, describe one of its cars as subversive, rebellious, and "murdered out"? Never.
The newest noir offering from the fabled British car maker – the spectacular 2022 Ghost Black Badge – is firmly taking the company over to the dark side.
"This is the purest form of Black Badge yet," Torsten Müller-Ötvös, Rolls-Royce Motors CEO told EQ. at an exclusive first-drive event in Miami this week.
These days, the automaker's Black Badge sub-brand accounts for more than 27 percent of Rolls-Royce sales worldwide. With the boxy Cullinan SUV, the number accounts to closer to 40 percent of global Rolls-Royce sales. Rolls-Royce is doing an impressive job of bringing-in younger, non-traditional buyers, whose average age has dropped to just 43.
"These are buyers who celebrate minimalism and purity. They reject suits for streetwear, use blockchain not banks, and influence the analog world through their digital endeavors," explained the Rolls-Royce CEO.
And this new Ghost Black Badge is set to become the company's most successful model to date, with its more assertive character, bolder design and stunning detailing.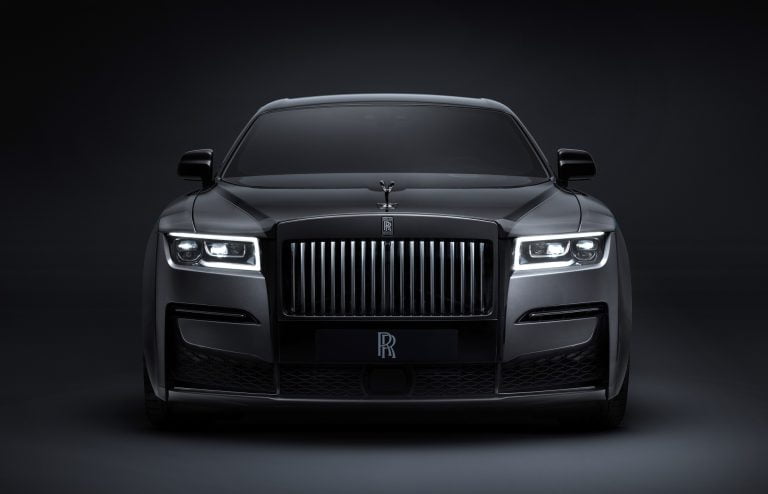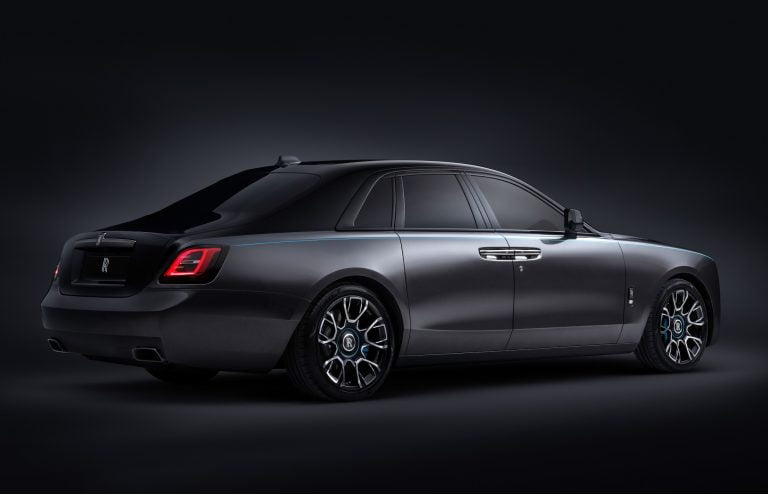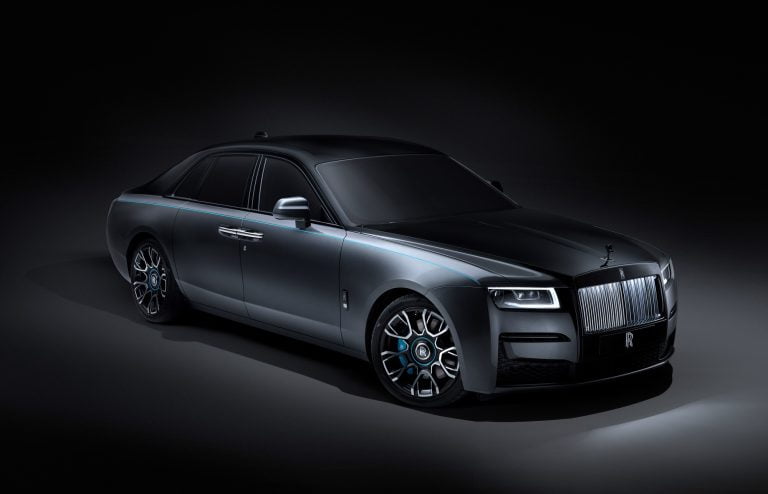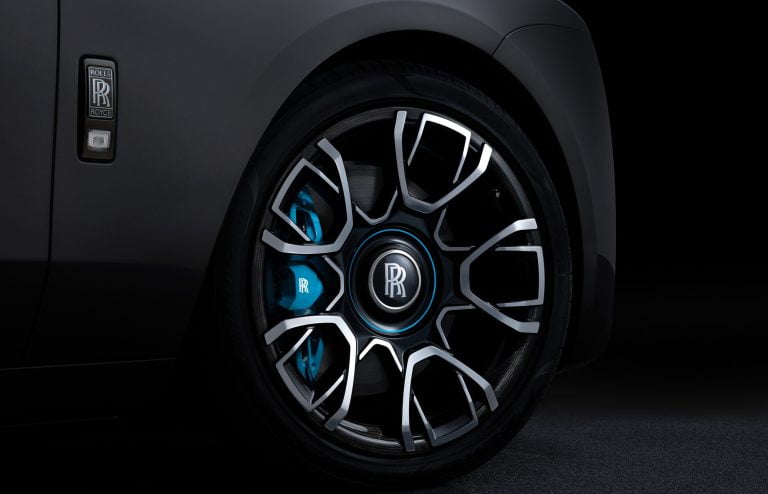 There's also some real substance here to back-up the back-to-black style. Power for that magical 6.75-liter V12 nuclear reactor under the hood goes up from the "standard" Ghost's 563-horsepower to 591. More impressive is the bump-up in torque from 627 lb-ft to 664.
To add a little more, dare we say "sportiness" to the way the car handles, the air suspension is a firmer, with a tad more heft added to the steering for a more dynamic, agile feel. Off the line acceleration is quickened by the addition of a "low" mode gear setting – Rolls' equivalent of "sport" mode for the car's reworked eight-speed automatic.
But the big attraction and appeal here is those unique, bold Black Badge design cues. As with other Black Badge models, the imposing grille and iconic Flying Lady are blacked-out in a complex paint process.
If you go for black paintwork – why wouldn't you? – the deep black hue is claimed to be the darkest in the industry. The creative process includes applying 100 pounds of paint, and being hand-polished by a team of four craftspeople for up to five hours. If you're one of those not into black… there are another 44,000 colors to choose from in the Ghost palette.
Added to this is a unique set of gorgeous 21-inch composite wheels each made up of between 22 and 44 layers of carbon fiber, with a 3D-forged aluminum hub and aerospace-grade titanium fasteners. Wheels on an F-18 fighter aren't this complex.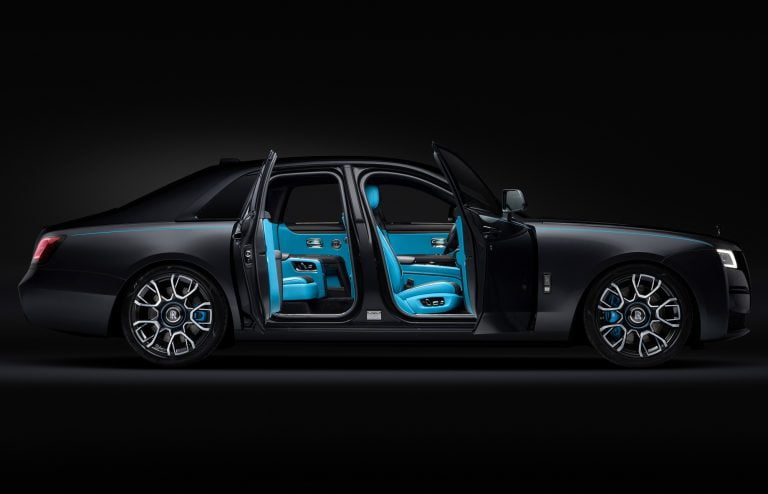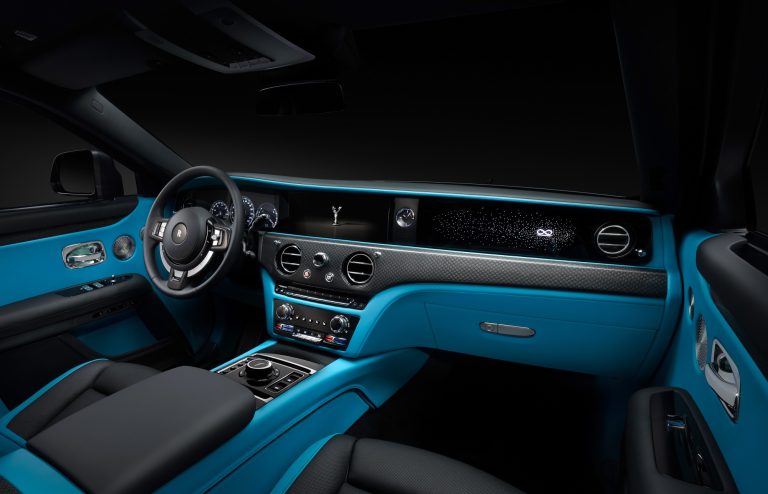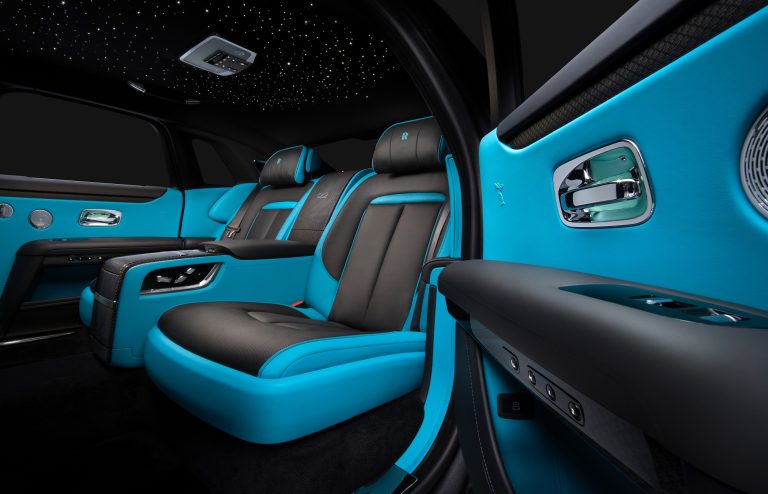 Inside, the cabin is a stunning mix of quality and craftsmanship with a back-to-black vibe. That said, we loved the eye-popping contrast of the teal seats in the car we drove.
Talking of driving, our brief run through rush-hour Miami traffic showed that the new Ghost Black Badge has no shortage of muscle. Now, it's off-the-line response is stronger, more urgent, and accompanied by a deeper, more vocal voice from the upgraded exhaust. Zero-to-sixty sprinting is accomplished in an impressive 4.5 seconds.
But it's the recalibrated steering, for me, which is the biggest change. It feels more precise, a little heavier, and more responsive. When coupled with standard all-wheel drive and rear-wheel steering, this Black Badge Ghost becomes my favorite Rolls-Royce, well, ever.
Pricing starts at $437,350 – the Black Badge package adds $43,850 to the sticker. Start talking to the people at the Rolls-Royce Bespoke division, and you'll quickly spend up to $483,700 for the car we drove.
As for the thrill of driving a "murdered-out" Rolls-Royce? Priceless.