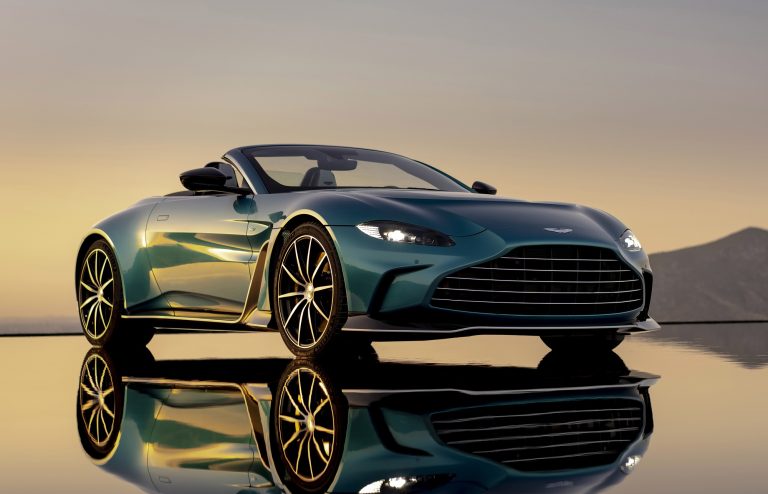 Aston Martin Squeezes a Big V12 into its Vantage Roadster
This 590-hp limited edition rocket ship will likely be the last new 12-cylinder from the British marque
It always makes for a delectable concoction. Take your biggest, most brutish engine – in this case a mighty 5.2-liter twin-turbo V12 – and shoehorn it into your smallest drop-top convertible.
This tasty treat is Aston Martin's brand new, hurricane-through-the-hair, V12 Vantage Roadster. Just 249 examples are being offered globally – at a jaw-descending $350,000-a-pop, though in the way of most limited-edition supercars these days, all 249 have already been snapped-up.
The Roadster is the inevitable follow-up to the V12 Vantage coupe that debuted last year. Aston is in the process of assembling 333 of those which, again, sold out within days of being announced. Seems there's still high profits in low volumes.
Like the coupe, the Roadster comes with a bold, wide-body design with broader fenders to cover new 21-inch alloys. While the car is only 1.6-inches beamier than a regular Vantage, it looks much wider.
Maybe that's down to an enlarged version of that iconic Aston grille – it's up 25 per cent in size so as to suck-in more air – plus a new front bumper design with a full-width splitter for increased downforce.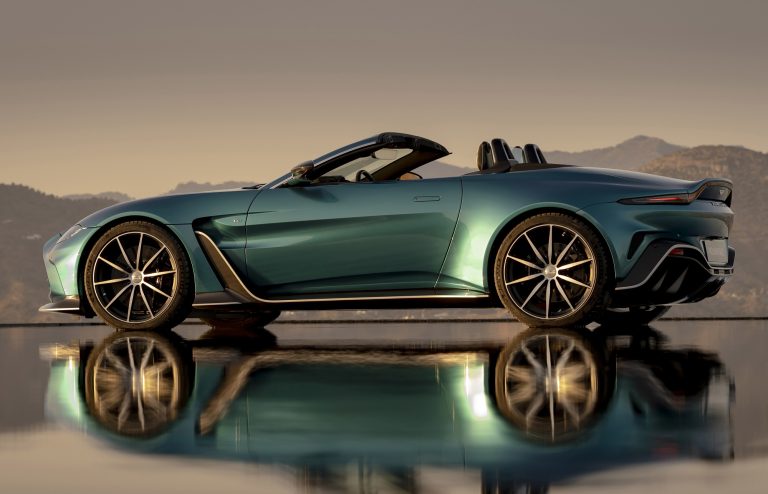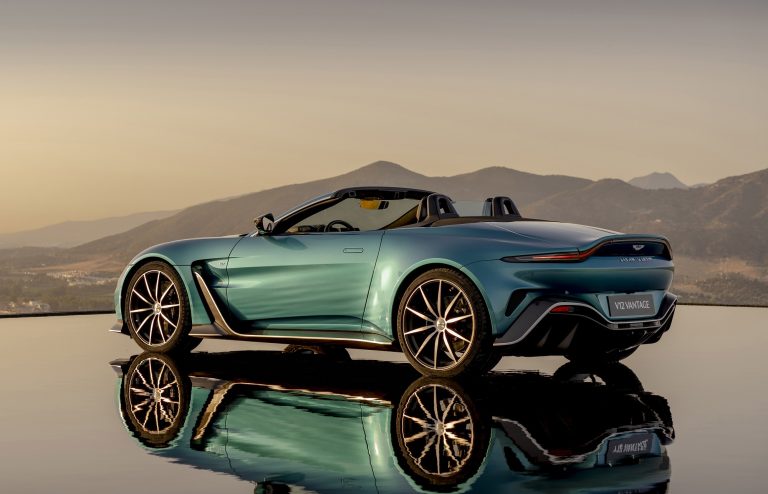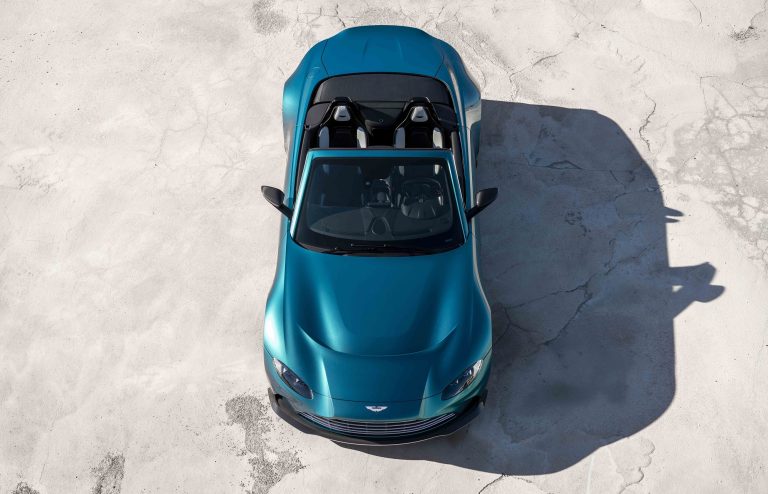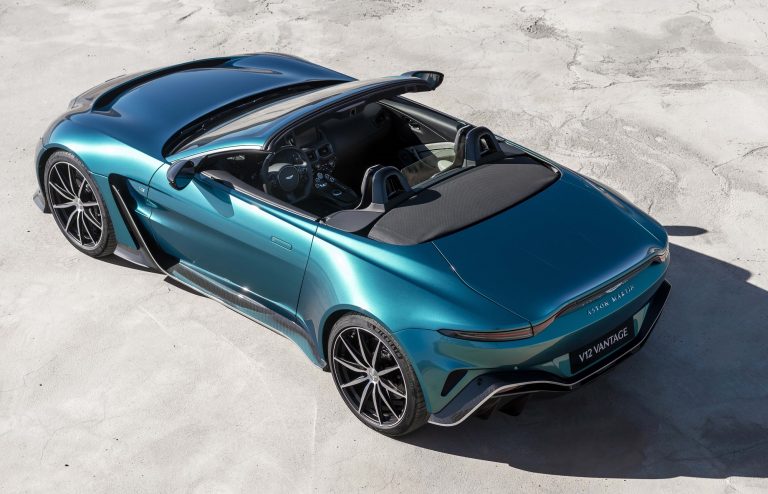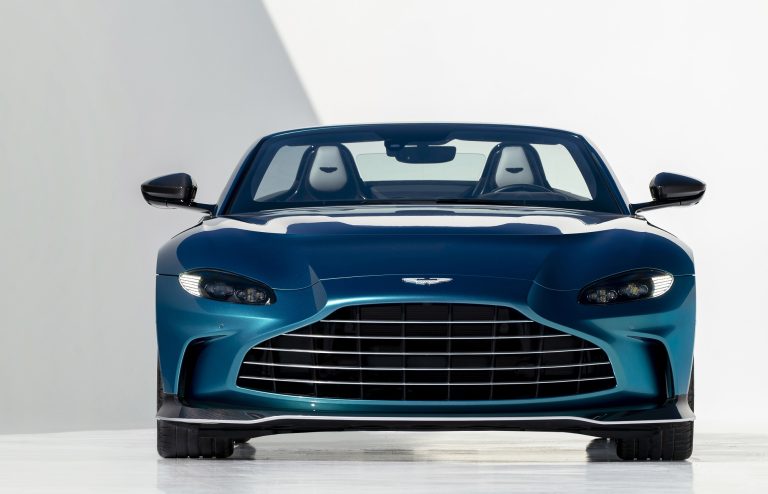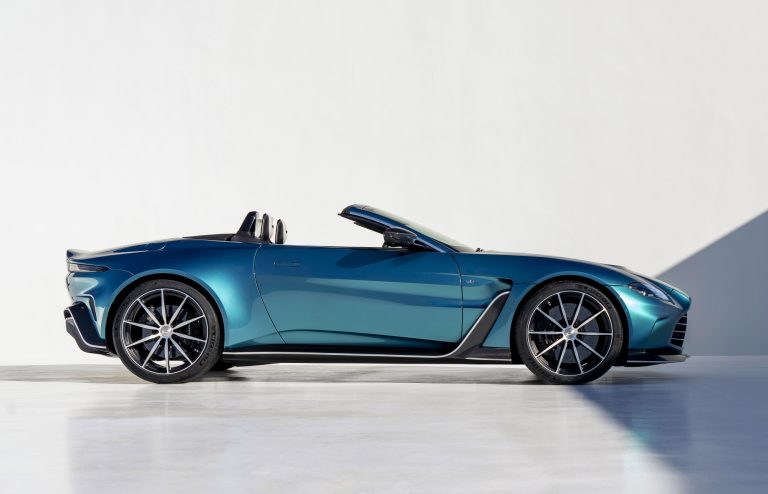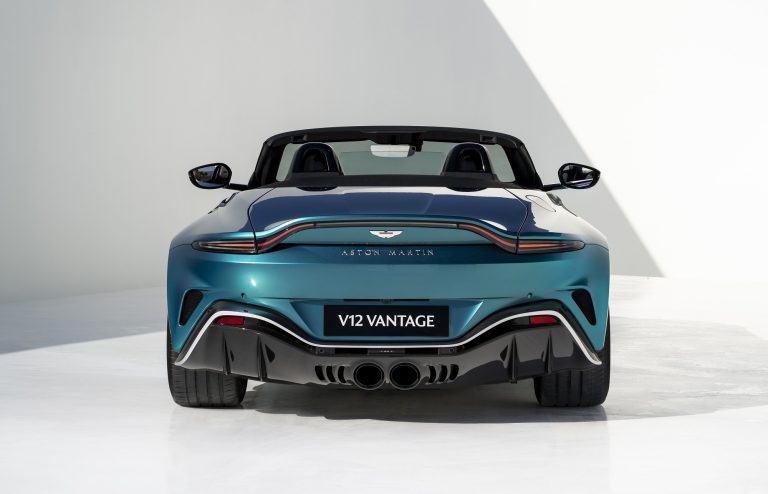 Additional new go-fast design cues include wider side sills, a re-shaped rear bumper with diffuser, and new center-mounted twin tailpipes. Thankfully, the towering, boy-racer-style rear wing that's standard on the Vantage coupe has been relegated to the Roadster's options list.
And, as part of a Jenny Craig-style weight loss program, the Roadster's front bumper, clamshell hood, front fenders and side sills are made from lightweight carbon fiber.
But the headline news here is that exquisite hand built V12 stuffed tightly under that sculpted hood. With the days numbered for big 12-cylinder power, think of this Vantage Roadster as one last, tear-shedding hurrah.
The big, quad-cam, twin-turbo 12 packs an impressive 590-hp and stump-pulling 555 lb-ft of torque – more power and torque than any Vantage Roadster before. Mated to an eight-speed automatic, it can slingshot the droptop from zero to 60mph in 3.5 seconds, and on to a 200mph top speed.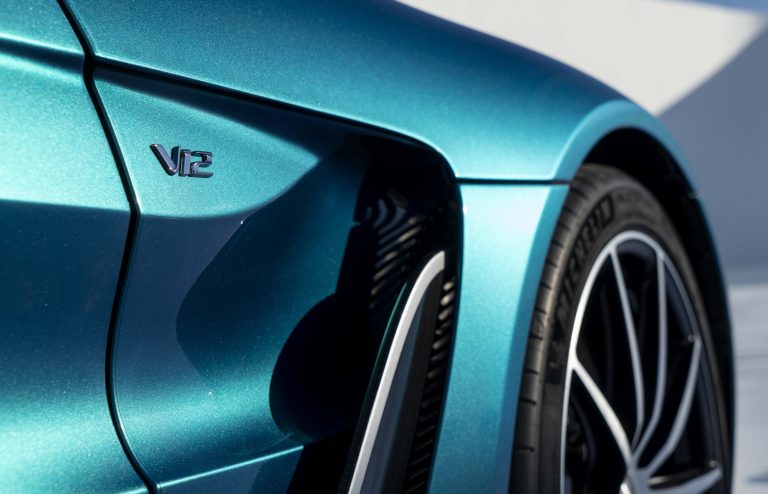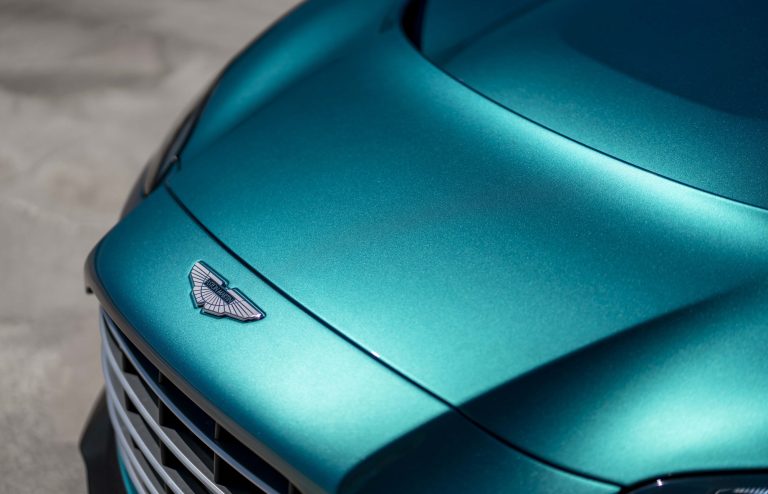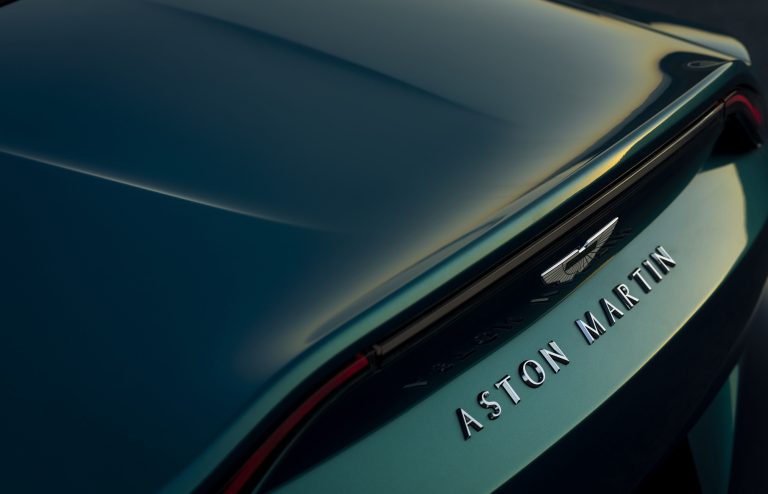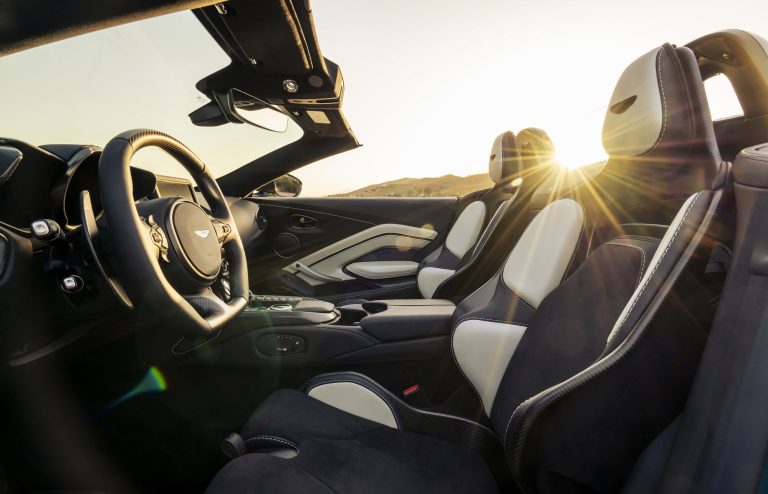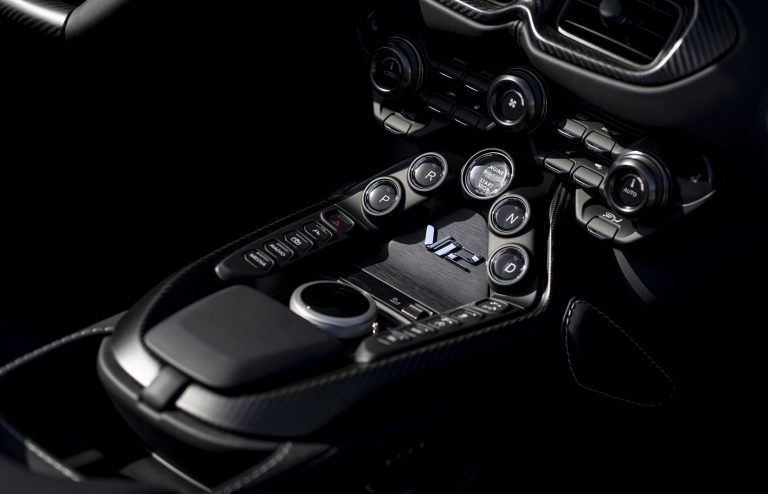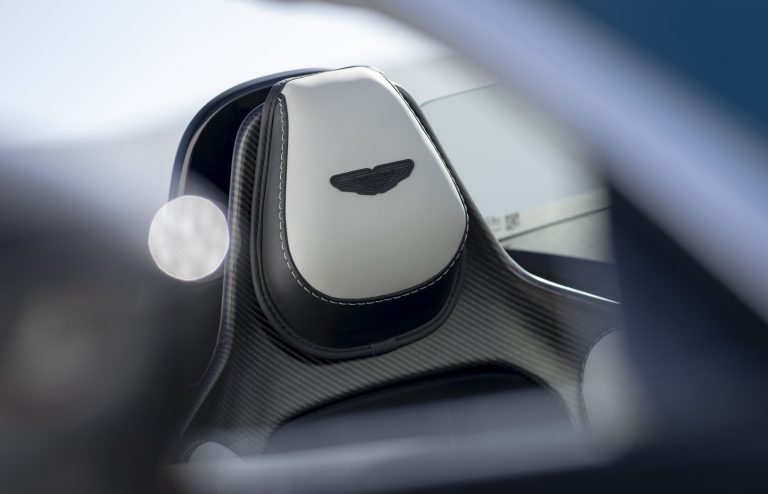 Compared to the V8 Vantage Roadster, the V12 gets uprated adaptive suspension, with spring rates increased by 50 per cent at the front and 40 per cent at the rear, stiffer front anti-roll bars, and uprated damping. Looking to spend your weekends doing hot laps at the track? No problem.
Thankfully, just like the coupe, the Roadster gets time-arresting carbon ceramic brakes as standard, with six-piston calipers clamping on 16-inch vented rotors at the front, 14s at the rear.
Interior changes are surprisingly few. There are new body-hugging sports seats trimmed in full semi-aniline hide with wing-shaped quilting. For those with even more slender waistlines, a carbon fiber performance seat, with an exposed carbon-weave shell, is available for track rats.
If you're saddened that you're not one of the lucky 249 on the list for this new V12 Vantage Roadster, fret not. Aston arguably has a more magnificent, even more potent alternative already in its line-up.
The current DBS Volante convertible features the same 5.2-liter twin-turbo V12, but it's rated at 715-hp with 663 lb-ft of torque. Zero-to-60 sprinting is even swifter at 3.4 seconds, while top speed is 11mph higher at 211mph. And with a sticker price of $349,900, you're even saving a hundred bucks.