First Look: 829 HP Ferrari Daytona SP3
Inspired by Ferrari's '60s sports-prototype racers, it might just be the most beautiful Ferrari ever
IMAGERY COURTESY OF FerrarI
At the landmark 1967 running of the Daytona 24-hour race in sunny Florida, Ferrari essentially ended Ford's dominance in sportscar racing with a legendary 1-2-3 finish. It was seen as Enzo's revenge.
Of the trio of blood-red Ferraris that crossed the line side-by-side on that infamous day in February, the most potent, and visually exquisite, was the open-top 330 P3 Spyder racer.
Now, Ferrari is paying homage to those brutally-powerful, Daytona-winning V12-powered sports prototypes, and the 330 P3 Spyder in particular, with its just-unveiled, ultra-rare, super limited-edition Daytona SP3.
Just 599 of these hip-high projectiles will be built, each priced at €2 million – or roughly $2.26 million. And, as you might expect, all 599 have been snapped-up after being quietly offered to Ferrari's most-loyal, most brand-passionate clients. The first examples will be delivered late next year, with production continuing through to 2024.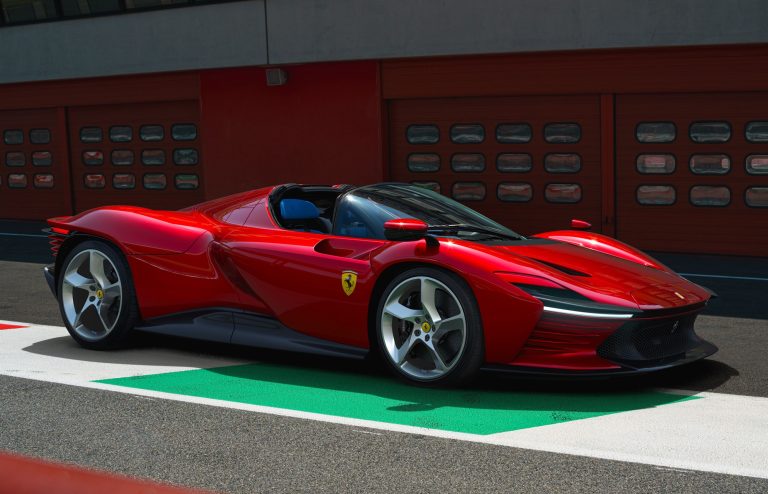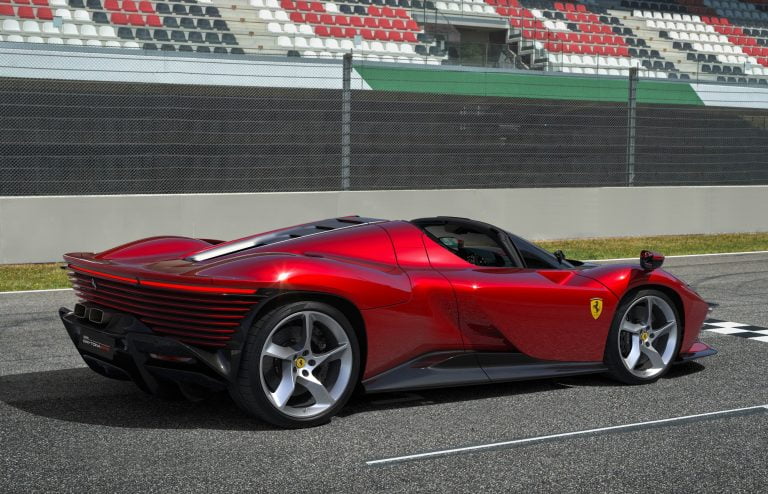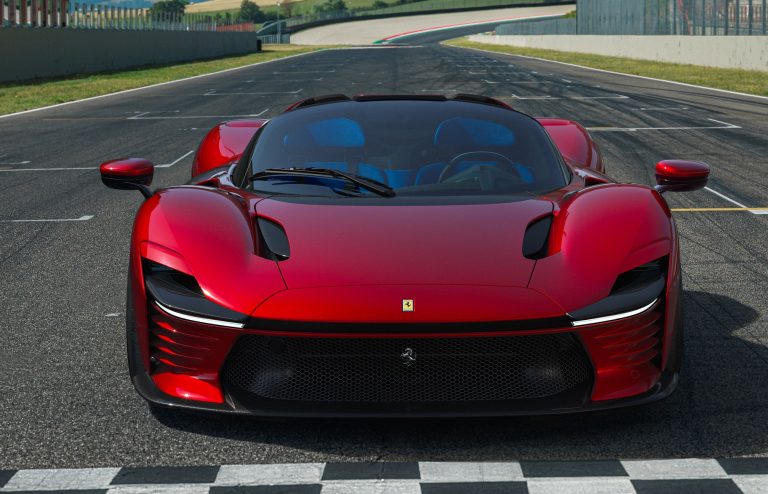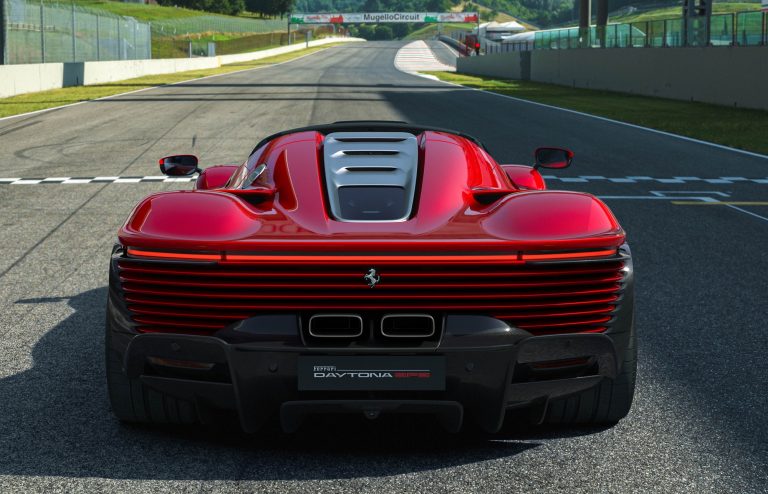 What makes it so special? Here is the most-powerful V12 Ferrari ever built, powered by 6.5-liter naturally-aspirated 12-cylinder super engine that cranks out a staggering 829 horsepower, revving to an astonishing 9,500rpm.
It's also the third in Ferrari's limited-edition Icona series of iconic, limited-edition cars, after the roofless and screenless Monza SP1 single-seater from 2018, and Monza SP2 Monza two-seater from 2019.
Beautiful as the Monza SPs are, this new Daytona SP3 takes Ferrari design to a towering new height, arguably being the most beautiful Prancing Horse model ever – including the open-top LaFerrari Aperta from 2016.
Just gaze at this true bella macchina. Long, low and very wide, it's a design tour de force from the drawing board of Ferrari design chief Flavio Manzoni and his Centro Stile team.
You see design cues from that 1967 330 P3 Spyder in the Daytona's swept-back, fighter-jet-style windshield, its bulging fenders and air-venting slats behind the rear wheels. Stunning doesn't even come close to describing its breathtaking lines.
Beneath that curvy, carbon fiber skin is a modified version of the La Ferrari Aperta's I-beam-stiff composite monocoque chassis, with that screaming V12 mid-mounted behind the driver's right ear.
And what an engine. It's a slightly modified version of the V12 fitted to Ferrari's brutal 812 Competizione. New induction and exhaust systems, together with a switch to titanium connecting rods, delivers a 10-horsepower increase to 829-hp. Click the stopwatch and you should see 0-to-60mph acceleration in 2.7 seconds, 0-to-124mph in 7.4, and a top speed in excess of 210mph.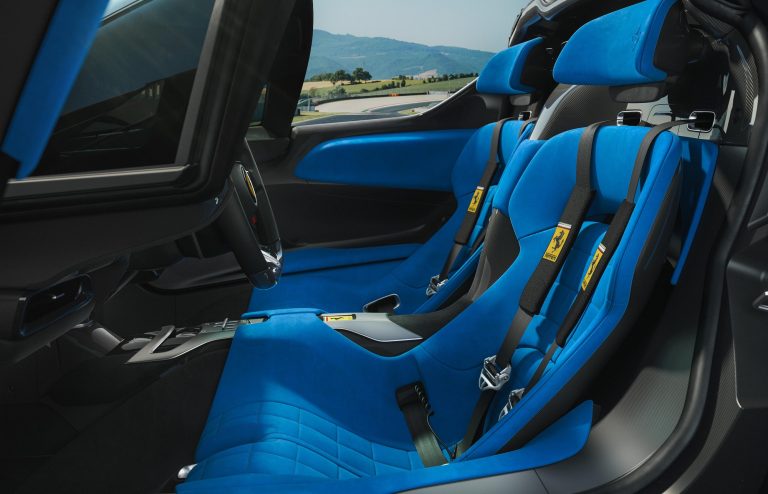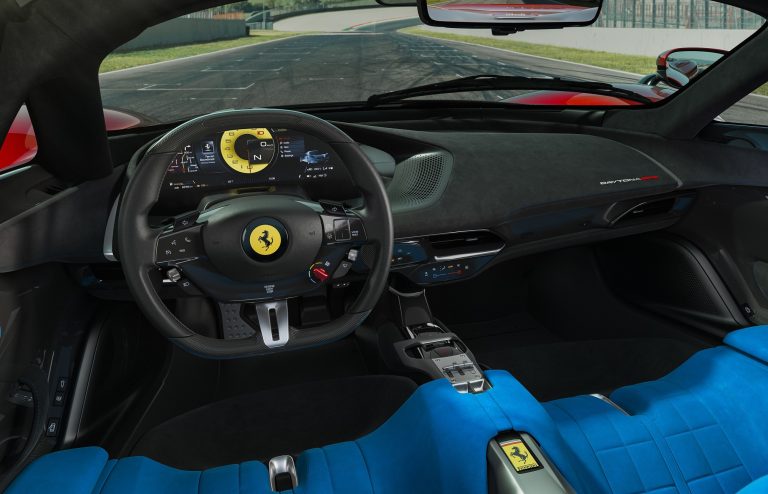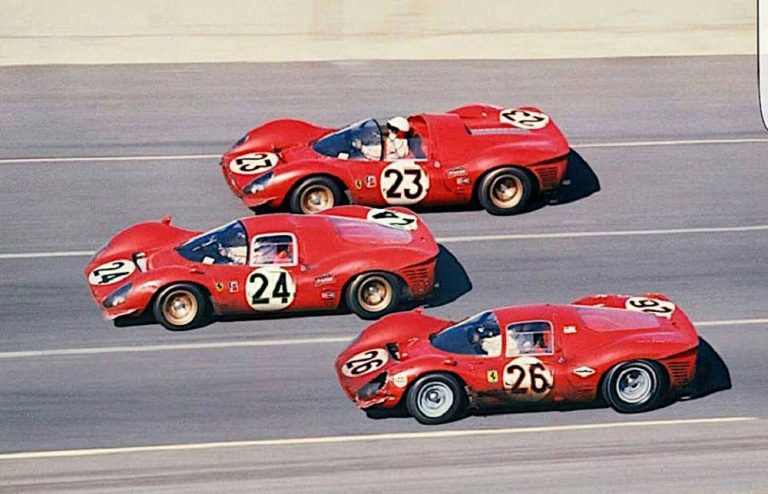 Inside, there's a Sixties racecar vibe with deep, body-hugging, fixed bucket seats integrated into the car – as in the LaFerrari. To adjust your outstretched-arm driving position, the wheel and pedals move in and out. Naturally, over-the-shoulder racing harnesses are standard, as too is grippy Alcantara-suede trim in a jaw-descending shade of electric racing blue.
If that digital dash looks familiar, it's from the SF90 Stradale, with a big, bright yellow rev-counter taking center stage. Alcantara covers the dash and beefy windshield surround, with lots of lovely exposed carbon fiber to gaze at.
Hopefully this added practicality will encourage more of those 599 lucky owners to show-off their Daytona SP3s at Saturday morning cars-and-coffee gatherings. The sound of that V12 revving to 9,500rpm would make everybody's day!