The new Porsche Taycan sets the benchmark for the sports sector
Move over, Tesla. The battle for electric car supremacy just got serious. Porsche, the luxury sports car company with 191 dealerships all over the U.S., has unveiled its own electric sports car—and first impressions are sensational.
It's been four long years since Porsche promised us it was going to build a fully electric sports car with the four doors on its "Mission E" prototype clearly taking aim at Elon Musk's Tesla enterprise.
A six-billion Euro investment in e-mobility soon followed, creating a bespoke production line at its headquarters in Stuttgart, Germany, and a global charging infrastructure, all while ramping up testing and development of "Mission E." That working title soon gave way to a production name of Taycan, which roughly translates to "soul of a spirited young horse" in Turkic. Appealing to the language spoken by Far Eastern markets was an entirely deliberate move, the area having overtaken the U.S. in recent years as Porsche's most important market commercially. It looks to have worked. Porsche says it already has more than 30,000 orders in place for the Taycan. That translates to an 18-month waiting list if you want one, considering Porsche can only build 20,000 per year.
Porsche has unveiled two models under the Taycan moniker thus far: the Turbo and Turbo S. These are somewhat ironic names given the fact not a single turbocharger or even engine is to be found anywhere on the car. Instead, the Taycan Turbo and Turbo S are powered by two electric drive motors—one on each axle—with power fed to all four wheels via an innovative two-speed transmission.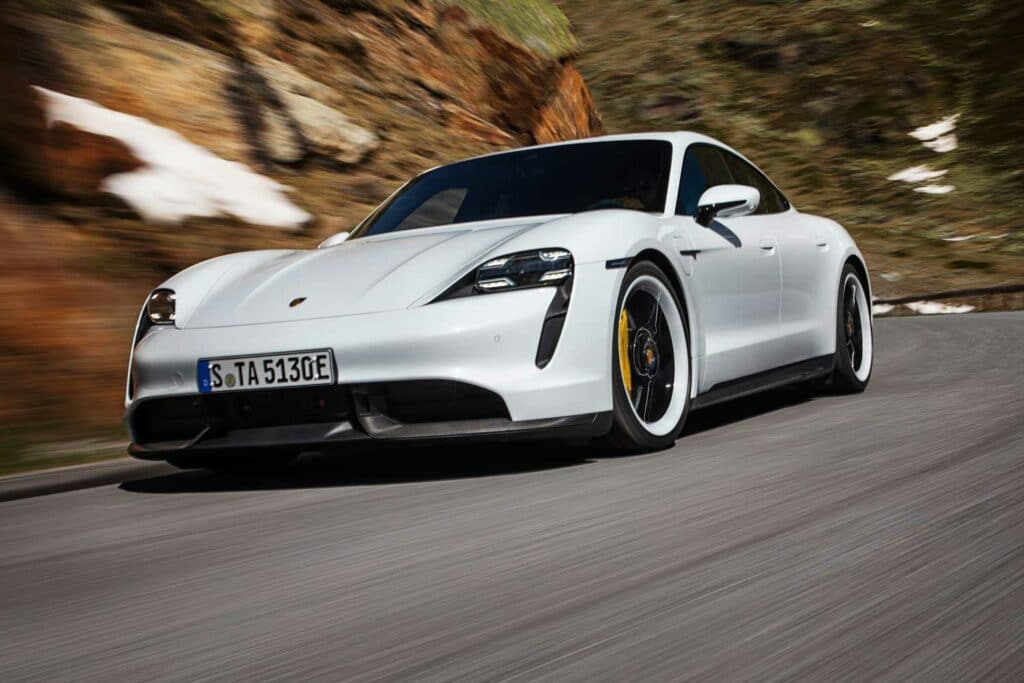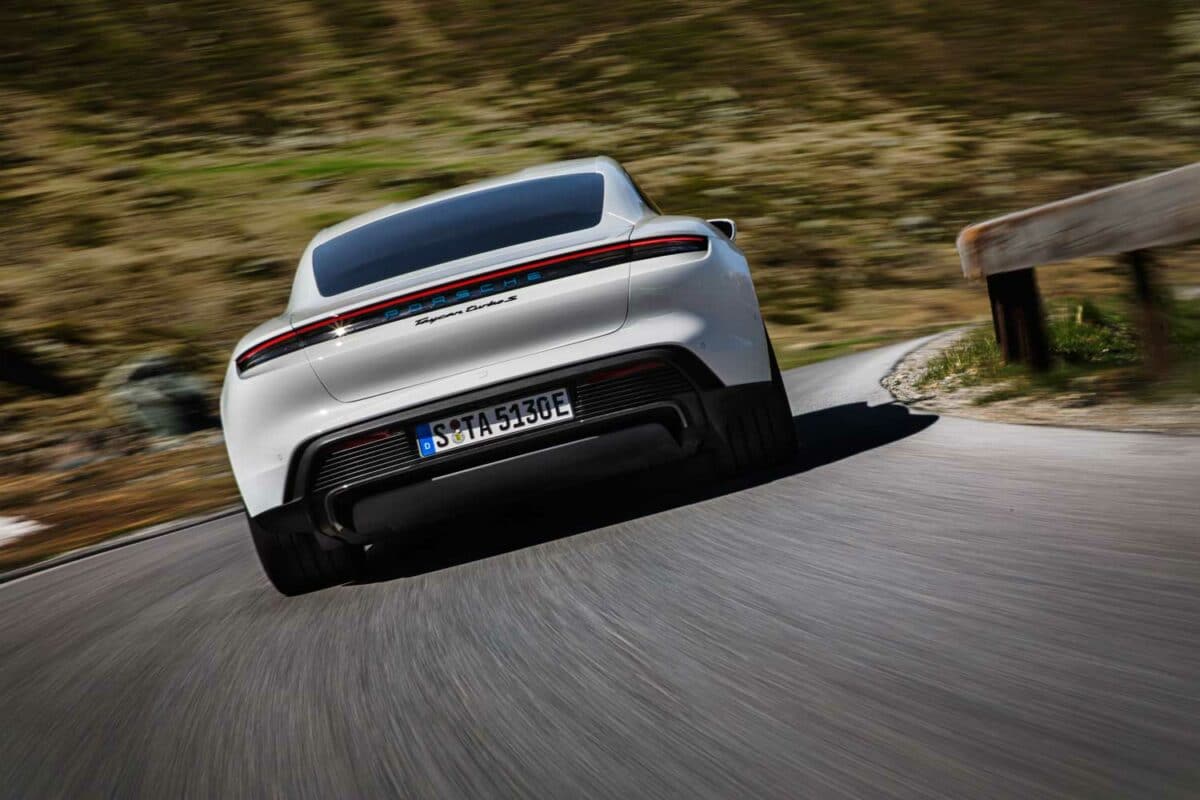 So what of the Taycan's driving impressions? Naturally, we're entering a whole new world of the automobile here, evident from the moment you step foot inside its cabin. Its makeup is broadly similar to the latest generation of 911, albeit with an additional screen in place of a traditional gear shifter in the center console. Above it sits a larger, 10.9-inch infotainment screen, with another screen stationed directly ahead of the passenger as an optional extra. Switches and buttons have been all but wiped out in favor of screens or high-quality touch pads, and the cluster of driver dials stationed behind the wheel are now fully digitized. You can go completely leather-free, too, should sustainability be high on your agenda.
On the road, the Taycan Turbo S is quick to shun its grand tourer title as it flexes it sports car credentials, most evident in the execution of fast directional changes and instant acceleration. Traction, too, is excellent. Its on-board torque vectoring and electronic limited slip differential (LSD) systems can react around 20 times faster than even the company's flagship 911.
Launch Control is rapid, outrageous and impressively consistent, and though the car could continue, we give up after 15 attempts. Porsche was right. Our heads in a spin, the Taycan is clearly a game changer—not just for Porsche, but for the entire spectrum of the electric sports car as we know it.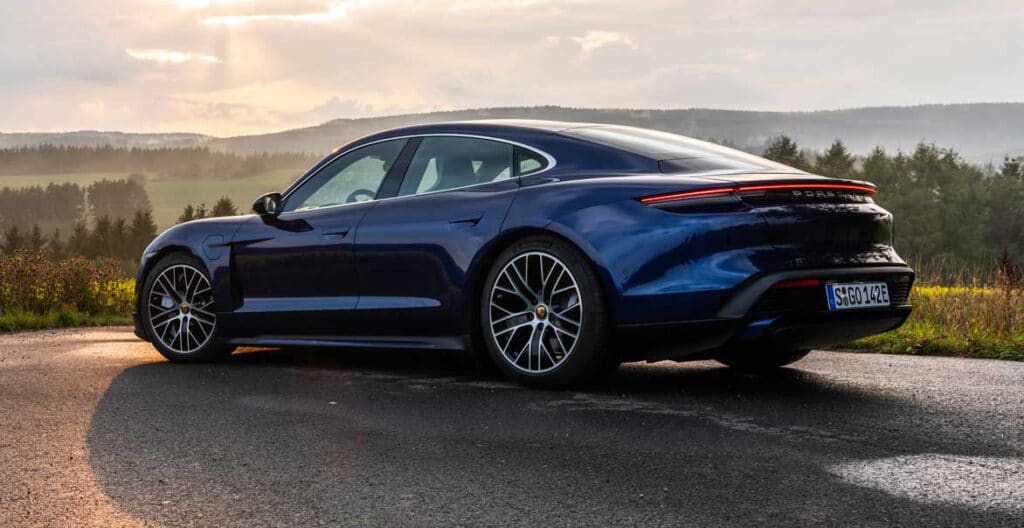 The Taycan is the first production vehicle with a system voltage of 800 volts instead of the usual 400 volts for electric cars.
First gear provides more acceleration from a standing start, with the much longer second gear intended for efficiency at higher speeds. The result is a range of 279 miles for the Turbo, while the Turbo S can last up to 257 miles between charges. In terms of performance, the Taycan produces 500 kW (680 PS) in standard Turbo trim, and 560 kW (761 PS) in Turbo S guise. 0-62mph sprint times are 3.2-seconds for the Turbo, and 2.8-seconds for the Turbo S, while both cars have an outright top speed of 161mph.
Naturally, these will be compared somewhat unfavorably with the stats of Tesla's top-of-the-range Model S; though before you pass judgement, it's worth noting this electric Porsche has far greater consistency to its performance. For example, the Taycan Turbo S will happily execute its 2.8-second Launch Control time to 62mph relentlessly, time after time. Keep doing it and Porsche promises you will tire before the car does. The battery in Tesla's Model S, on the other hand, has to be conditioned to allow for even one perfect launch control in its own Ludicrous Mode.
Then there's charging. The Taycan is the first production vehicle with a system voltage of 800 volts instead of the usual 400 volts for electric cars. This holds a distinct practical advantage: in just over five minutes, the battery can be recharged using Porsche's high-power DC charging network for a range of up to 62 miles. The charging time from five to 80 percent battery charge is just 22.5 minutes. It's typical Porsche in that the company might not be the first to an emerging market but, as proven with its Cayenne SUV, Panamera luxury sedan and now the Taycan electric sports car, you can guarantee when it does arrive it'll set the benchmark for the sector.