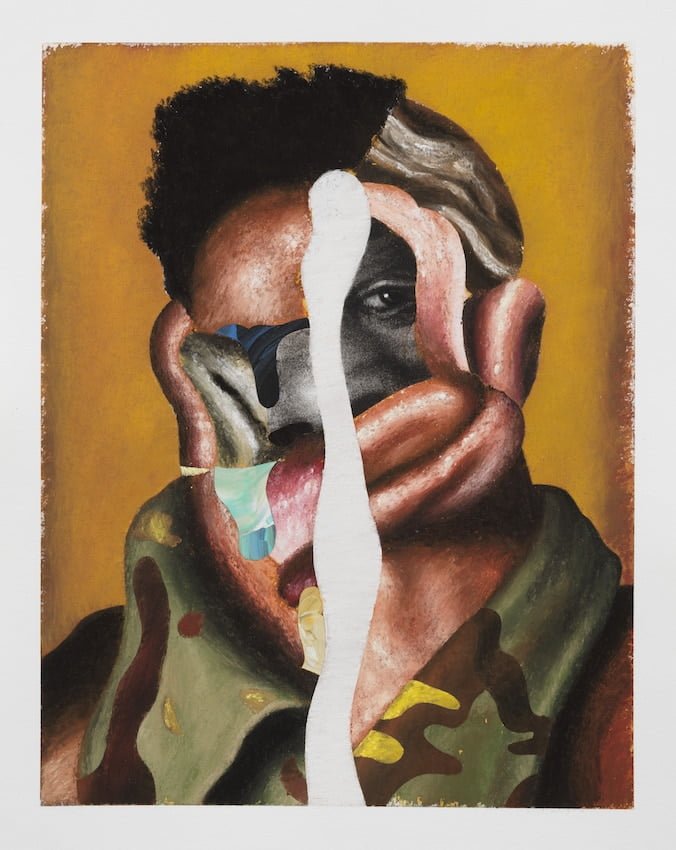 Introduction and Interviewed By GARDY St FlEUR
From a young age, growing up on the South Side of Chicago, Nathaniel Mary Quinn demonstrated a curiosity for learning and an insatiable passion for drawing.

However, Quinn's journey toward becoming a celebrated artist would not be straight forward. As a teenager tragedy struck first with the unexpected death of his mother followed soon after with the disappearance of his father and two brothers. Driven to overcome this unfathomable loss, Quinn further committed himself to his education and artwork. In 2013 Quinn stumbled upon a new technique that decidedly changed to the course of his career. While completing a painting that incorporated a collection of fragmented images from memory Quinn subconsciously accessed a likeness to his brother Charles, who disappeared years prior. This collage-like method of painting inspired Quinn to explore notions of loss and memory by blending visual cues from pop culture and family photo albums, into a singular image. Quinn's unique style quickly attracted the attention of gallerists, curators, collectors and opened the door for a plethora of opportunities. In 2018, Quinn received his first solo museum exhibition and is currently represented by, Gagosian, one of the world's leading contemporary art galleries.

Art collector and advisor Gardy St Fleur, long-term friend and early supporter, sat down with Nathanial Mary Quinn ahead of his exhibition at Gagosian's Beverly Hills gallery where Gagosian is presenting "Hollow and Cut, new painting and works on paper by Nathanial Mary Quinn" through October 19th. Quinn's composite portraits probe the relationship between perception and memory. Instead of depicting physical likeness, he illuminates subconscious aspects of the human psyche. St Fleur and Quinn talk about art and Quinn's approach to his work.

GSF: Let's talk about artistic freedom. How would you describe what true artistic freedom is?
NMQ: True artistic freedom is quite difficult to define. Freedom, in and of itself, is rather challenging because a great deal of courage is required to be free, which makes it easier to simply comply, to follow the masses, to fall in line. This is also the challenge with artistic freedom, the difference between creating exactly what you want to create as opposed to creating what you have been conditioned or taught to create. I aim to create exactly what I want to create, which requires that I examine that which I want, which leads one down the trail of self-examination and scrutiny, which forces you to confront all sorts of things that are incredibly difficult to face and contend with.

GSF: Do you believe that you are fully free to create whatever you want in a completely different style?
NMQ: I am not sure that I can create freely what I want in a completely different style because one's style of creating must reflect one's own visual language, which reflects one's own internal heartbeat, one's spirit, and soul, one's natural disposition. I may not be as free as a creator by means of hyper-realism or pure abstraction.

GSF: Was there a different level of artistic freedom you experienced before becoming well known?
NMQ: Before becoming a full-time artist, my level of artistic freedom was relatively high and became more potent as I garnered more success, as I began my journey as a full-time artist. Nowadays, my pursuit of artistic freedom is even higher because I have more time to create my work, whereas before I had three jobs: one full-time teaching job, an adjunct professorship job, and weekend tutoring gigs. My artistic freedom has always been protected by my refusal to submit myself to collective public perception or advice from other folk who do not actively engage in traditions of art making. One should never be governed by public hype; otherwise, you're just a puppet with no power, and real power rests in one's ability to wield one's own imagination and innovation. This is especially true when it comes to social and professional alignment, in trying to win the good graces or acceptance of other people, such as museum and gallery directors, curators, writers, etc. Any artist who abandons his or her own imagination to fulfill the wishful notions of others is doomed to fail, and these people will abandon you as quickly and swiftly as you abandoned your own imagination.
GSF: How has your growing prominence in the art world influence how you approach your work now?
NMQ: Nothing has changed. My growing prominence in the art world has not impacted my studio practice or how I approach my work. Otherwise, I'm just changing on the basis of collective subjective perception, and that is weak. One must always stay true. If my career collapses tomorrow — or even at this very moment — I will still continue along the same path of creating art as I am doing right now. You can take away my career, you can take away my money, you can refuse my inclusion in museums and their collections, but you will never have my talent — that's God-Given — and it's the absolute most valuable commodity that only requires hard work, courage, and belief to manifest. You can't go to the local store and buy a can of talent.

GSF: Is there a particular statement about humanity or the human experience that is central in all of your works?

NMQ: Empathy and vulnerability carry the same weight and significance as black charcoal, gouache, paint, and soft pastels: I use all of them to create my work.

GSF: If you had to pick a theme song for this chapter of your life, which song would it be and why?
NMQ: Daryl Coley "When Sunday Comes."

GSF: What does a perfect day off from creating art looks like?
NMQ: Just sitting down in the backyard, staring off into the sky, listening to music, smoking, and relaxing in complete peace and tranquility. This makes me happy, so much to the point that if I were to die at that moment, I would die a happy man.