BEEPLE returns to Christie's with mesmerizing IRL sculpture (also an NFT)
Imagery courtesy of Christie's Images LTD. 2021
On November 9th Christie's will auction off one of the most exciting and innovative works of art to ever appear at auction. This is HUMAN ONE by BEEPLE — a life-sized video projection showing a futuristic astronaut striding through an alien landscape. It's housed inside a sleek vitrine roughly the size of a telephone booth, which slowly rotates as the scenery changes in real time according to the time of day and weather conditions.
Whoever buys the work will also possess the unique "non-fungible token," or NFT, that is indelibly linked to the work through the Ethereum network. What's more — BEEPLE plans to add new content over his lifetime. "This is the first major artwork of the 21st Century where the artist will have enduring creative remote control over its content forever," says Noah Davis, the Christie's Specialist responsible for the sale. The auction house will accept cryptocurrency — either Ethereum or Bitcoin — as payment for HUMAN ONE.
Christie's expects HUMAN ONE to fetch more than $15 million, but art world insiders speculate that bidding could go crazy. Earlier this March at Christie's, one of BEEPLE's digital artworks sold for $69 million. For the first time in auction history, the successful buyer walked away without a tangible object to show for their bid. Instead, they received a unique NFT transferred through a secure network.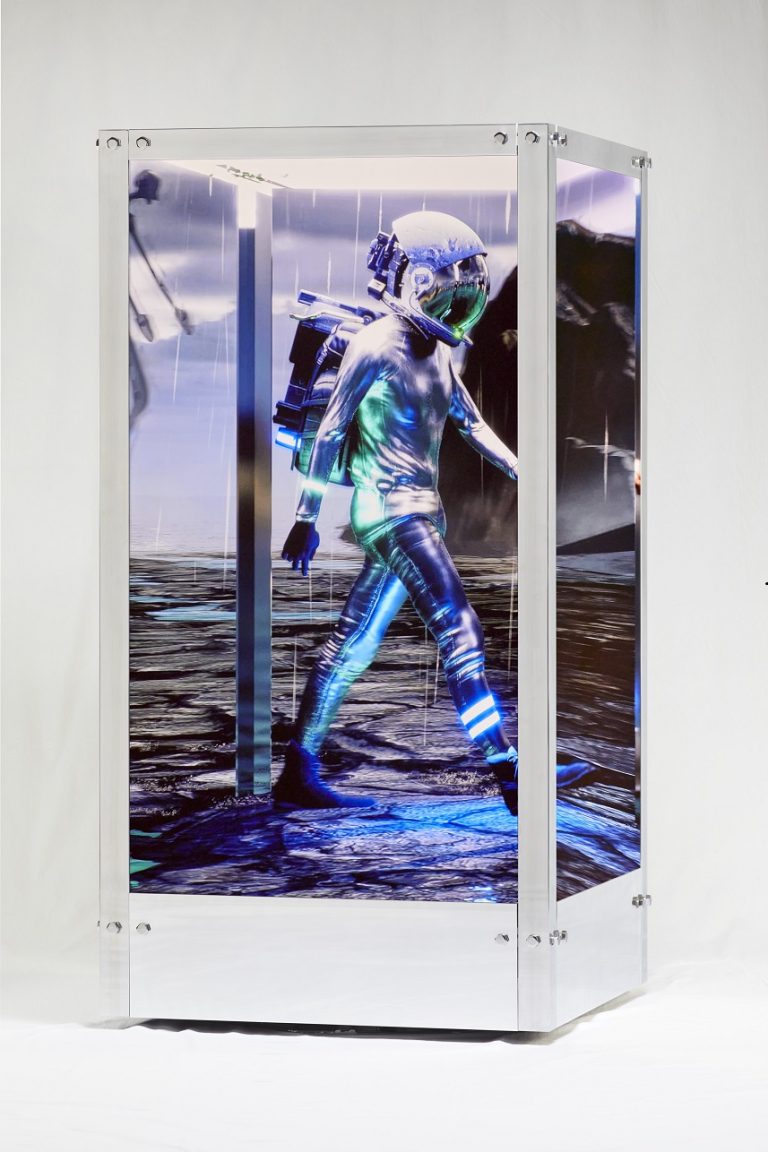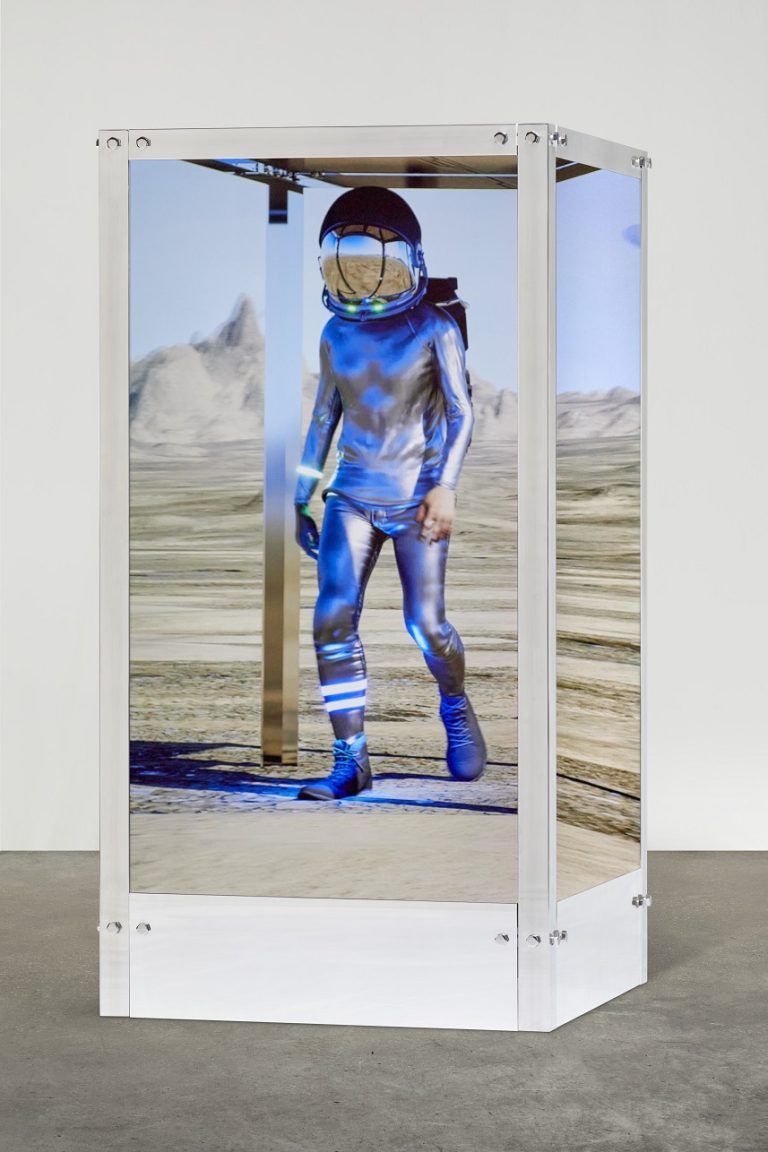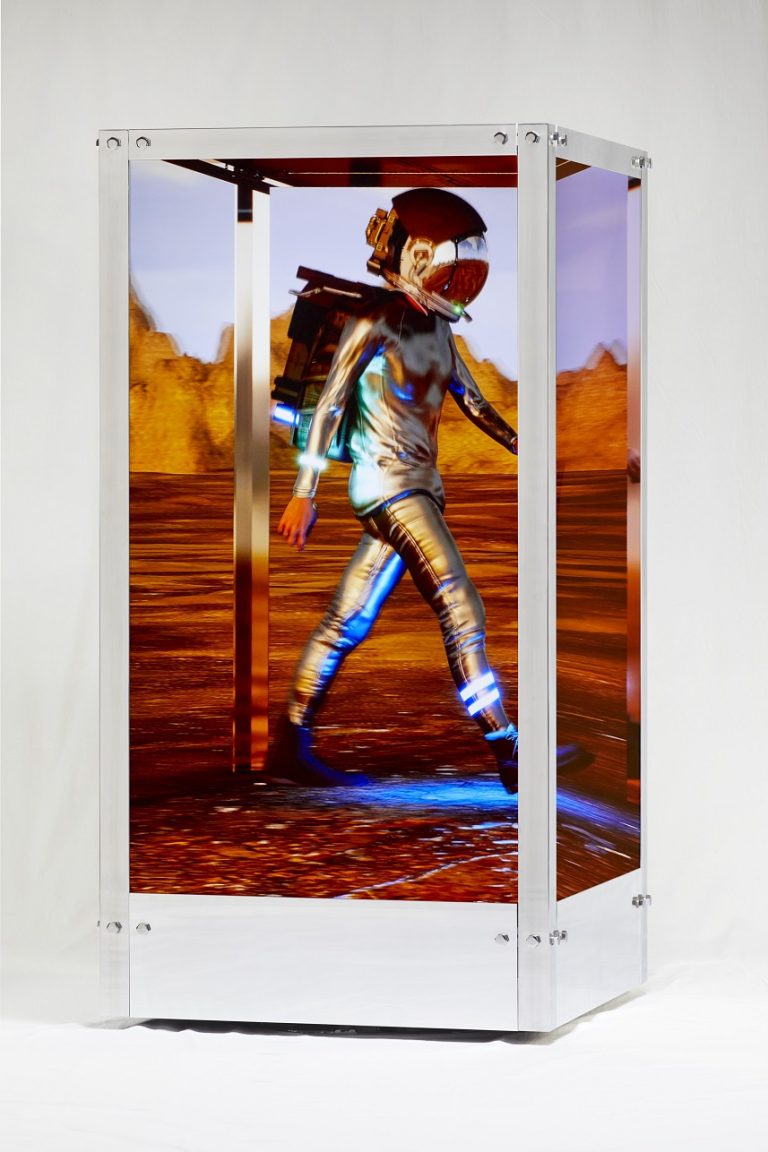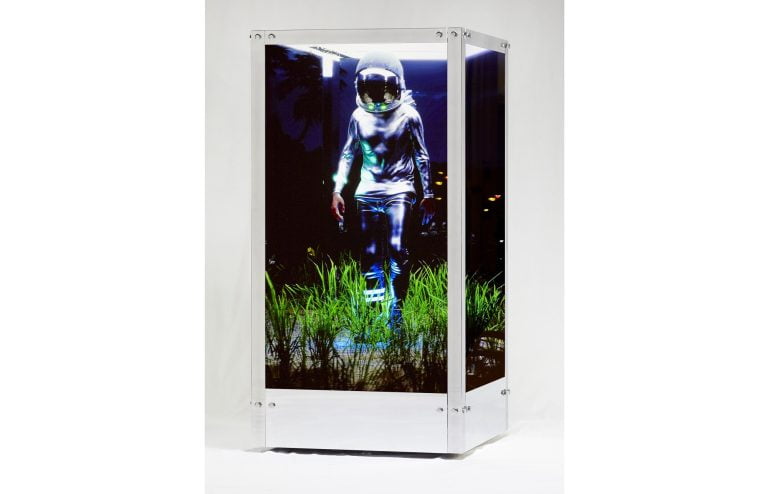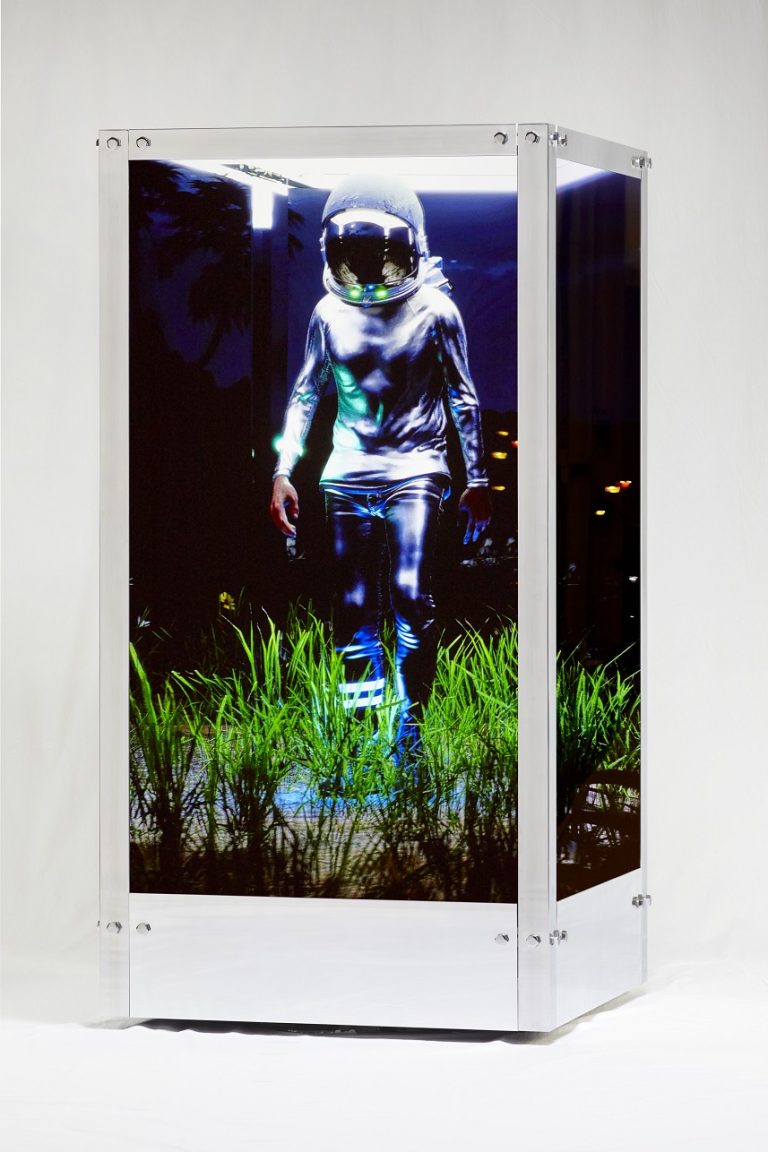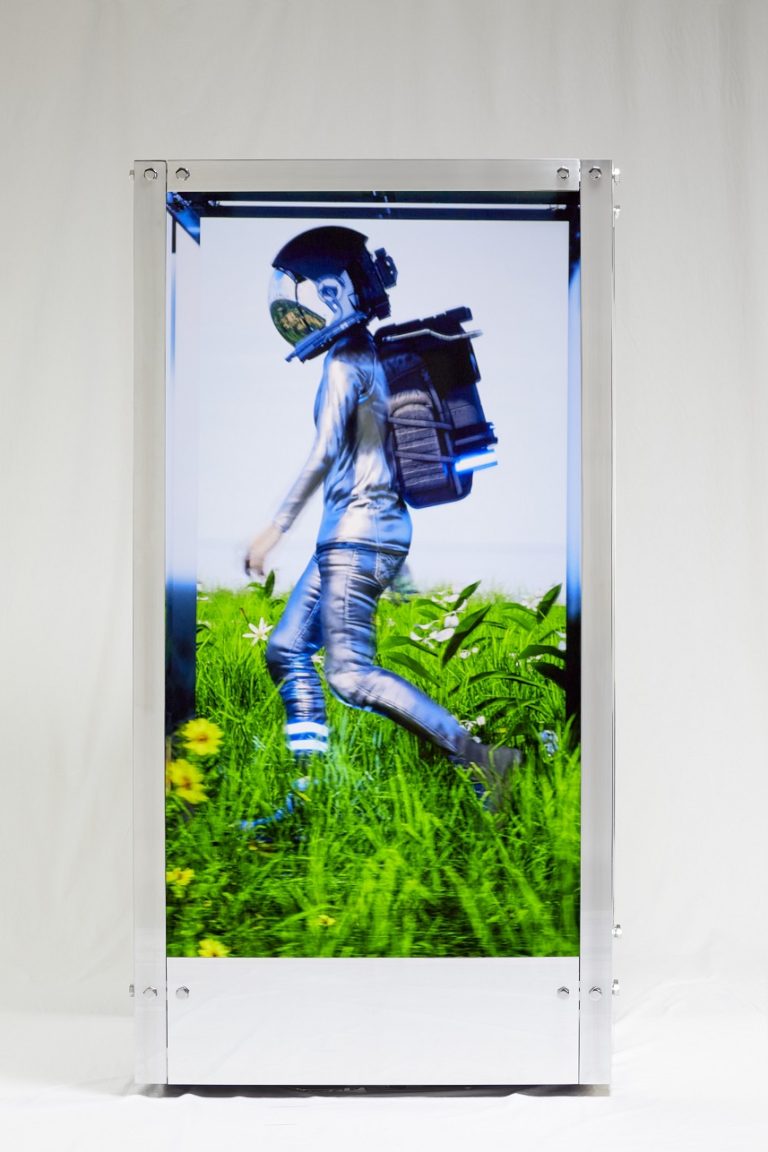 BEEPLE (B. 1981)
HUMAN ONE
token ID: 1
wallet address: 0xc6b0562605D35eE710138402B878ffe6F2E23807
smart contract address: 0xa4c38796C35Dca618FE22a4e77F4210D0b0350d6
kinetic video sculpture—four video screens (16k resolution), polished aluminum metal, mahogany wood frame, dual media servers; endless video with corresponding dynamic non-fungible token
87 x 48 x 48 in. (220.1 x 121.9 x 121.9 cm.)
Executed in 2021 and minted on 28 October 2021. This work is unique and is accompanied by a non-fungible token.
Christie's describes HUMAN ONE as a "kinetic video sculpture." It features 4 large-scale video screens in stunning 16k resolution, which slowly rotate in real time as the astronaut walks through a changing world. The scenery continuously morphs and transforms — palm trees and blue skies give way to ice-capped mountains and then dissolve into bleak, rocky wastelands. At one point, giant crystal geodes protrude from the earth. At another, a colossal Campbell's soup can lies on its side, partially submerged in the ground like the epic conclusion to Planet of the Apes, where the Statue of Liberty is buried in sand. You'll also find one or two of Dalí's melting clocks, Giacometti's striding men, and even a giant yellow Pikachu.
BEEPLE is Mike Winkelmann, a digital artist living in Charleston, South Carolina. He is primarily known for the concert visuals he produced for Justin Bieber, Nicki Minaj, deadmau5 and others. He has no formal artistic training, but holds a degree in computer science from Purdue. His surrealist work is part political satire, part dystopian fantasy. About 13 years ago, he began creating one new picture every day and posting it online. No matter where in the world he might be on a given day, BEEPLE always creates a new work and uploads it to social media — even on his wedding day and when his children were born. The $69 million artwork sold at Christie's in March included all 5,000 of these works and was titled EVERYDAYS: The First 5,000 Days.
The sale begins at 7 pm EST, November 9th, at Christie's Rockefeller Center location. The listing can be viewed here.