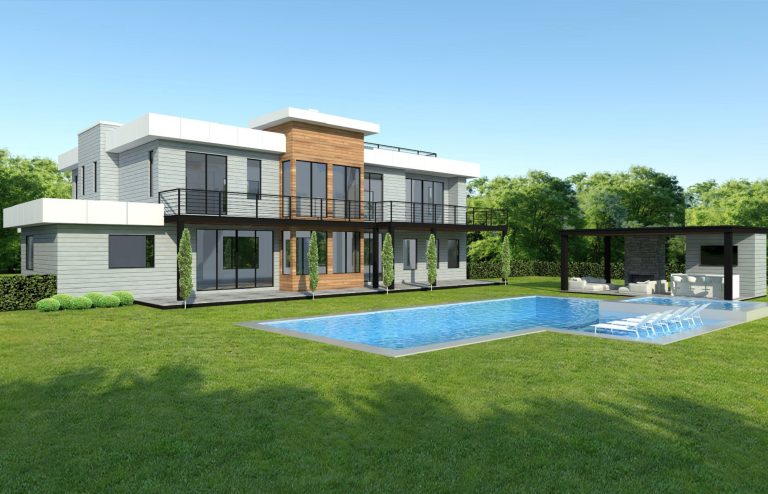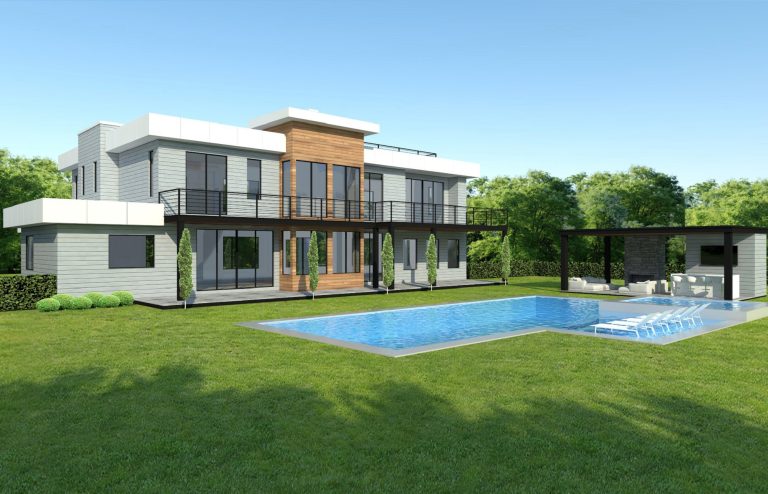 Summer Stock – Hamptons Construction
Beautiful new homes out East beckon buyers
Written by Jeffrey Steele
For those who've waited what seems like a lifetime to acquire a new home in the Hamptons, Corcoran licensed real estate salesman and Hamptons veteran James K. Peyton has very good news.
This year's array of exquisite new residences in these coveted Hamptons communities would entice even the world's most discerning buyers. Designs are spectacular, workmanship is of the highest order, the location is breathtaking, all of which combine in uncompromising homes of exacting detail and distinctiveness.
"New construction is still the best value," says Peyton, who has been one of the Hamptons' consistent top producers for the past five years. With a half billion in sales, he has to be on to something. "New homes will hold their value, while in a correction the older renovated homes are likely to fall at a greater rate."
James, a year-round Hamptonite, is rooted to and gives back to the community; now sitting on the board of the Children's Museum and will host this fall's Hamptons Designer Showhouse at 120 Edge of Woods Rd., in Southampton to benefit the Stony Brook Southampton Hospital.
"We've financed homes and speculative developments in the Hamptons," says Daniel Hilpert, founder and managing director of real estate investment banking intermediary firm Equicap. "James is our go-to broker in the Hamptons when we have a speculative project, lenders like to hear from those that have a pulse on the market."
Peyton caps, "Buyers now more than ever need guidance out of the pandemic shift in pricing where older and renovated homes are selling at an inflated premium, likely because families that have urgency don't want to wait and are taking a gamble…but be patient as more new homes are on the way."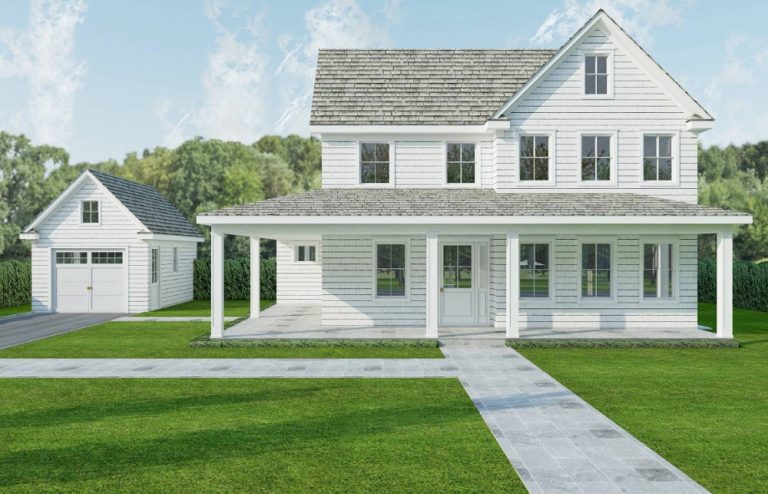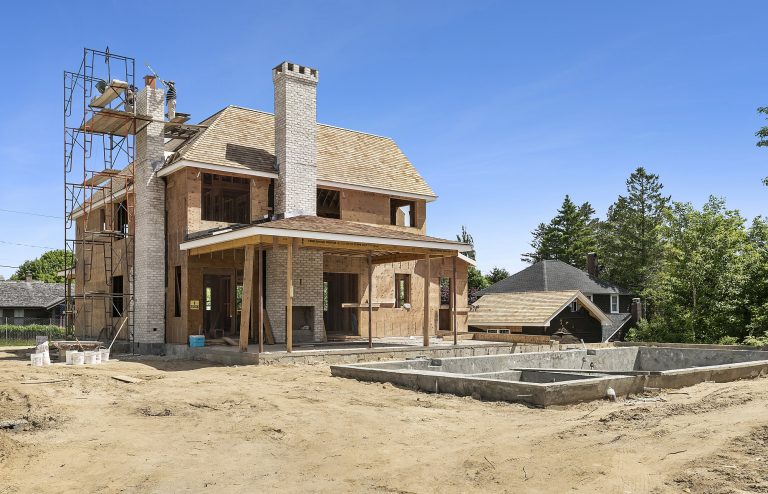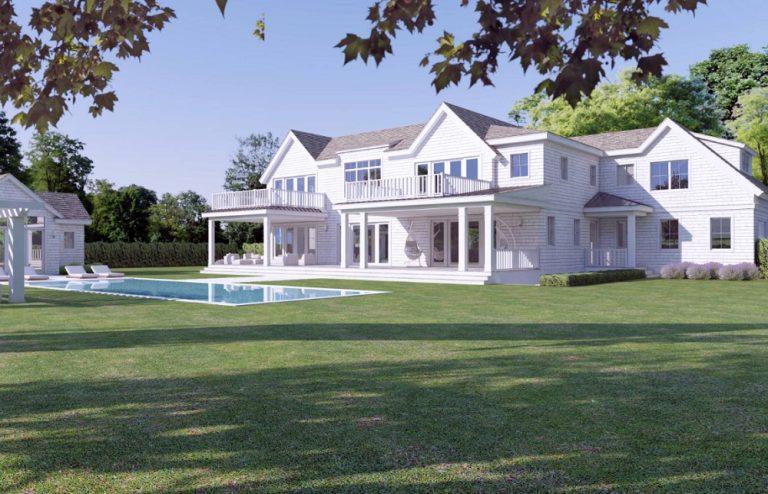 42 Miller Lane East, East Hampton Village North
A representative sampling might begin with 42 Miller Lane East in East Hampton Village North. Built by Ralf Rastu of Talo Builders and benefiting from a collaboration with creative visionary Anne Nelson Sanford at LURK Design, the home is both sophisticated and functional, as well as being exceptionally relevant to the way today's demanding buyers live their lives.
The dwelling's uniqueness is reflected in the comments Rastu and Sanford hear remarkably often from clients and brokers, "I haven't seen anything like this before."
Says Rastu, "We don't build the traditional white on white product… Building a home involves numerous decisions and we strive to make those decisions as easy and stress free as possible."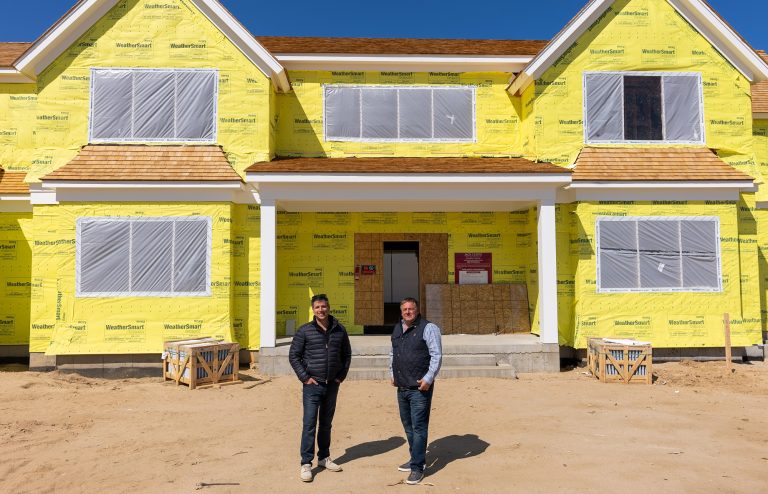 43 David's Lane, Water Mill
Also reflective of the quality for which the Hamptons is justifiably famous is 43 David's Lane in Water Mill, a home designed by Siyu Liu Architecture and constructed by the standout Jack Curto Development.
While Jack has built his hard-earned reputation on constructing splendid homes, it's the interior design of each residence that differentiates it from other high-end residences.
Curto's team remains cognizant of such trends as the use of large Dolomite slabs in kitchens and bathrooms, while at the same time keeping in mind what he calls "that Hamptons style." "Today it's modern, luxe interiors with Scandinavian millwork and premium, white oak materials," Curto reports. "It allows for a warm and timeless design."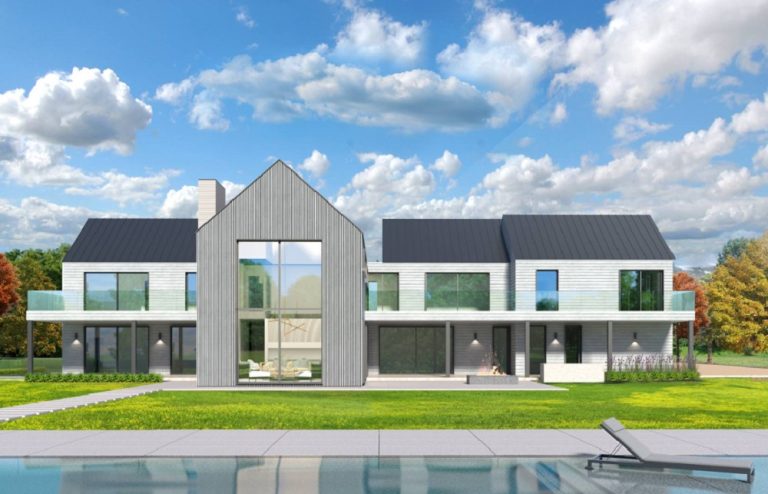 12 Eileen's Path, East Hampton
The latest example of Plum Builders' revolutionary Modern Barn® approach to home design and building, 12 Eileen's Path features their iconic "barn room" walled in with floor-to-ceiling glass measuring up to sixteen by twenty feet. The result is a living space that falls somewhere between mammoth and gargantuan. Filled with light and air, the barn room instantly leaves many visitors exclaiming, "This space makes me really feel good."
Upstairs, the primary suite features a Peloton / yoga room as well as his-and-hers bathrooms. A six by ten foot walk-in shower incorporates sliding doors that allow residents to step out onto the outside terrace or simply watch the outdoors, leading some to remark, "Although it's a summer house, I'm looking forward to my next shower during a blizzard."
Plum Builders owner Al Giaquinto prefers to compare his and other design-building companies to a body builder. "One guy considers himself a weight lifter, bench pressing 300 pounds," Al says with a laugh. "We're the 600-pound bench presser."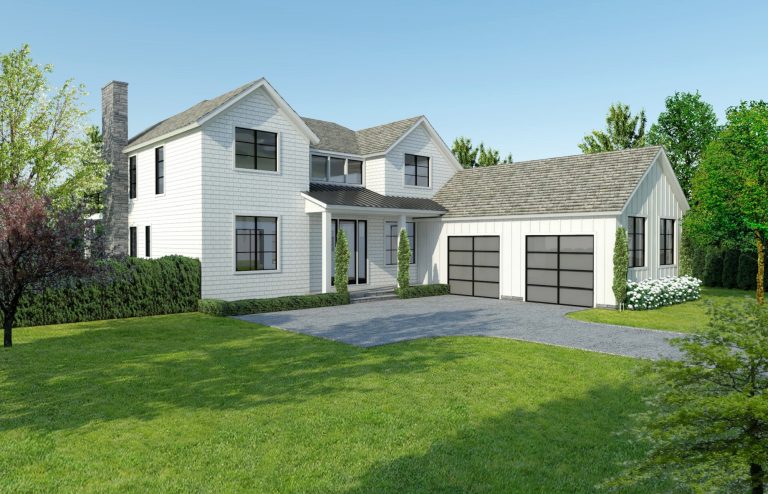 3 Settlers Landing, East Hampton
For more than half a century, the name "Curto" has signified unrelenting attention to detail in both the design and execution of custom homes. Constructed to exacting standards and guided by a passion for quality by Curto Building Company, the home at Settlers Landing Lane is certainly no exception to that long tradition.
Set only 600 feet away from Hands Creek Landing, the six-bedroom, six-bath home is situated just moments from Three Mile Harbor beaches and boating areas.
Fittingly, abundant space has been set for beach fun. Ensconced in the oversized garage is storage for a kayak, paddle boards, bikes and beach accessories, as well as a salt-water pool and spa – and most importantly – an after-beach outdoor shower. As Peter Curto says, "It's all about the beach."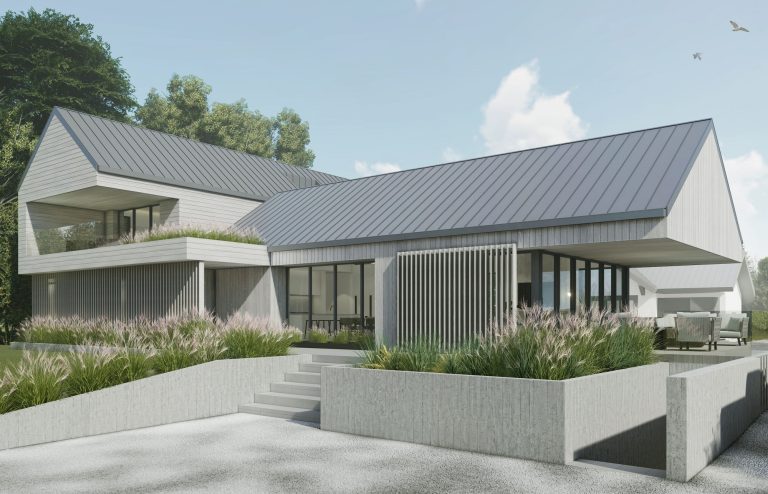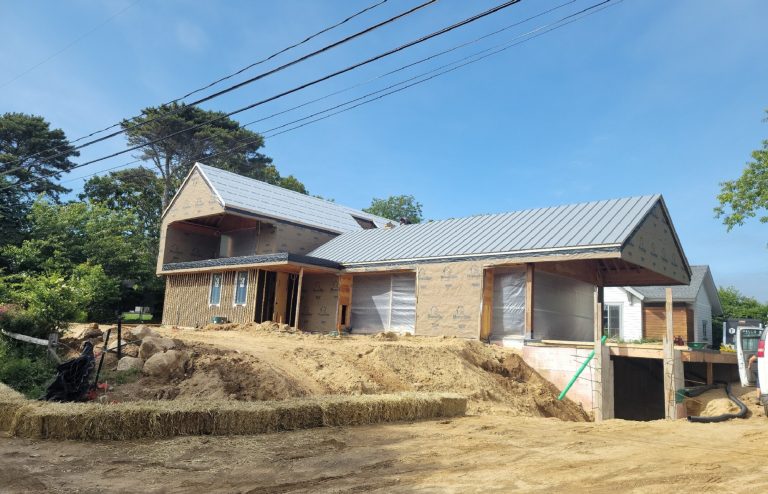 11 Flag Avenue, Montauk
Homes from Perello Design & Build benefit from seamless integration of design, planning, budget and construction. Real-time cost analysis and value engineering are ongoing commitments during the design phase and continue throughout the entire process of constructing each one-of-a-kind home. As a highly-engaged and integral participant in every last phase of a home's design and construction, the Perello team safeguards customers from the potential for risk in a way traditional architect-builder partnerships never have, helping insulate prospective buyers from unneeded risk.
The Surf House, located in Ditch Plains, Montauk, represents a stunning exemplar of this artistry. Graced by floor-to-ceiling glass on multiple sides, the home seems to beckon natural light within, while facilitating an unrivaled indoor-outdoor lifestyle.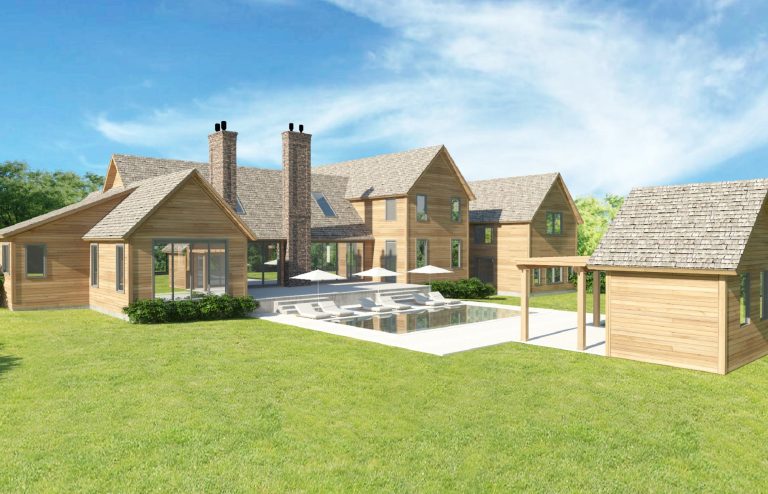 105 Merchants Path, East Hampton
Breaking ground soon for 2023 completion is a cypress-clad, two-story estate home designed by Antonios Alevizopoulos. Among other exquisite design touches, the 5,500 square foot, seven-bedroom, seven-bath residence features dramatic, 25-foot vaulted ceilings, an open great room and a gourmet chef's kitchen boasting Blum custom cabinetry and top-shelf Sub-Zero, Wolff and Bosch appliance packages.
The home graces a 3.6 acre compound that offers a high-quality, in-ground Gunite heated salt-water pool, patio surround and pool house, as well as a full size tennis court.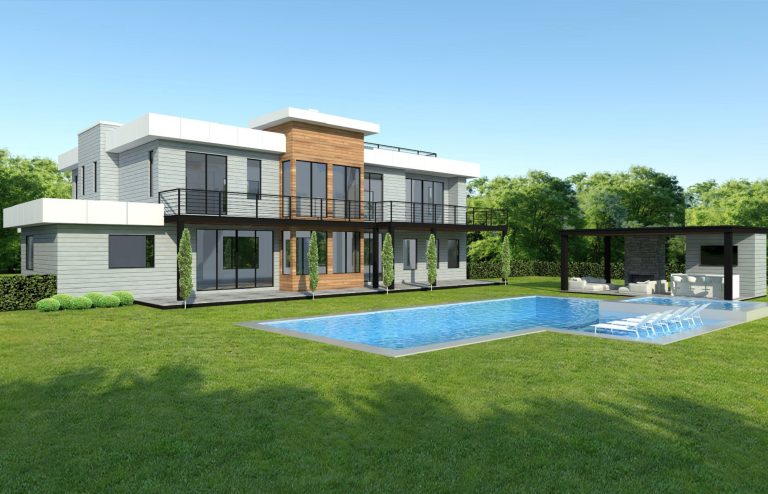 279 Mitchell Lane, Bridgehampton
Having recently completed and sold 43 North Haven Way in Sag Harbor, BJC Custom Homes has several new residences in the pipeline to impress fortunate purchasers.
Like all the showcase homes he has already built, each residence BJC Custom Homes designs and builds is renowned for award-winning Hamptons architecture, impeccable client service and meticulous attention to every detail.