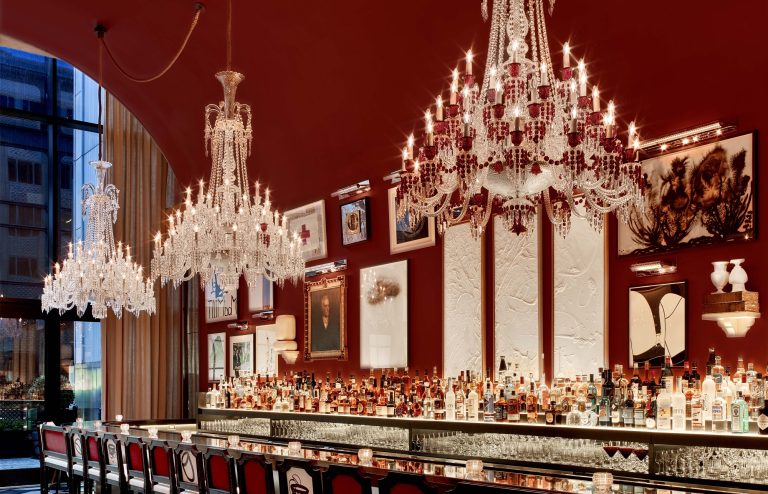 What's New at NYC's Baccarat Hotel?
The New Contemporary L'Art du Cocktail Menu
Descending from the famed French crystal maker, Baccarat Hotel & Residences New York shines just as brightly its over two and a half-century-old parent. Baccarat's global flagship property, opened in New York in 2015, has gained esteemed renown for its elegant hospitality offerings. Owned by Sunshine Insurance Group and Starwood Capital Group and managed by SH Group, the hotel combines the brand's posh Parisian roots with a contemporary take on NYC chic.
Barry Sternlicht, Chairman and CEO of Starwood Capital Group, the parent of SH Hotels & Resorts, comments on how he reimagined the crystal company as a luxury hotel, "We waited and believe we found the perfect location to launch our first hotel. Our designs pay respect to our neighbors in the property's simple exterior, but we added great drama with other details including a four-foot high always-burning fireplace which represents the furnaces in our manufacturing facilities at Baccarat, France."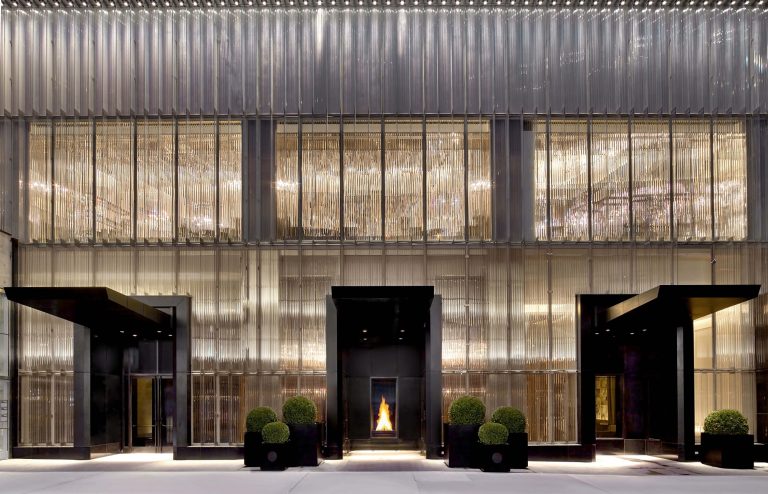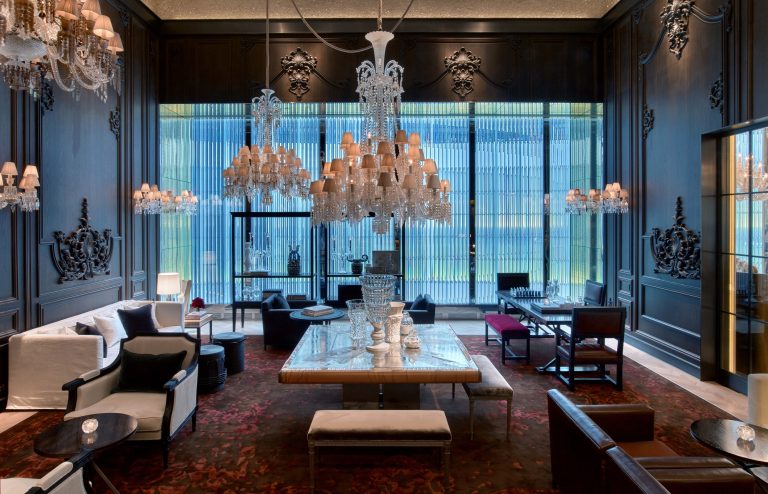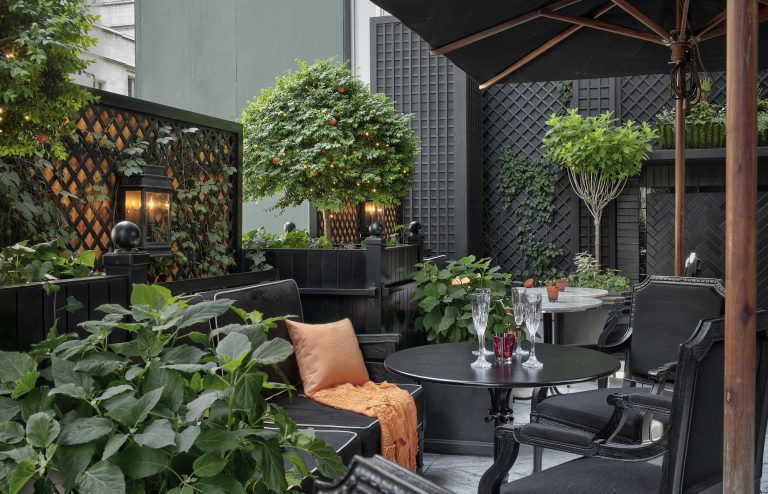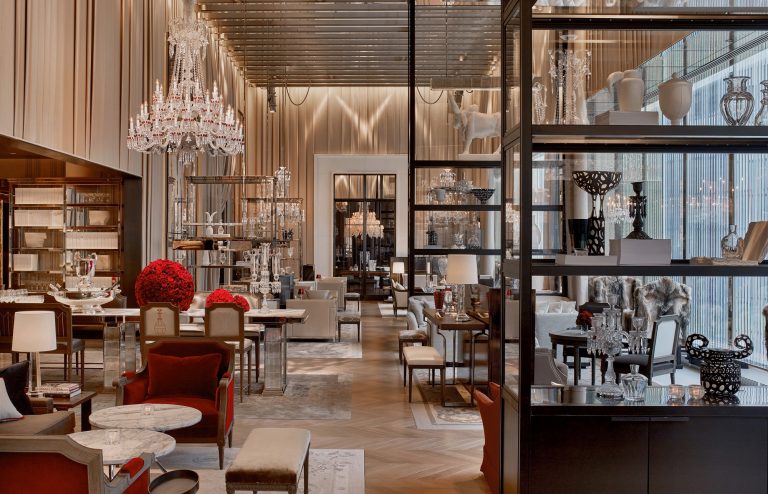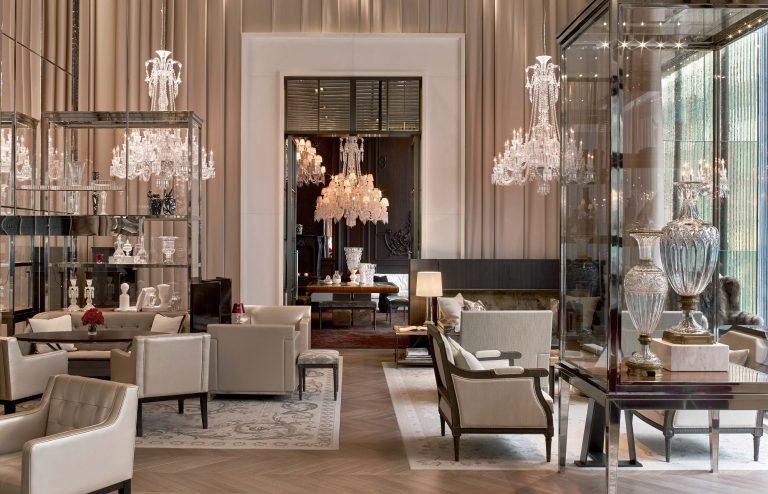 The undeniable success of the property not only rivals, but also perfectly complements, the company's crystal business history as the hotel's lower levels are sheathed in shimmering curtains of gemstones. Venturing inside, guests admire additional relics that reflect Baccarat's history, including both classic and never-before-seen works from the Baccarat factory. In the lobby, a 20-by-25-foot wall with more than 2,000 of Baccarat's most iconic glasses, the Harcourt, is lit by LEDs and presents a mesmerizing 24-hour light show.
The elegant design of the interior was conceptualized by French design duo Gillies & Boissier, with the hotel's art collection curated by Stéphanie and Frédéric Chambre. The 50-story tower features architectural design by Skidmore, Owings & Merrill.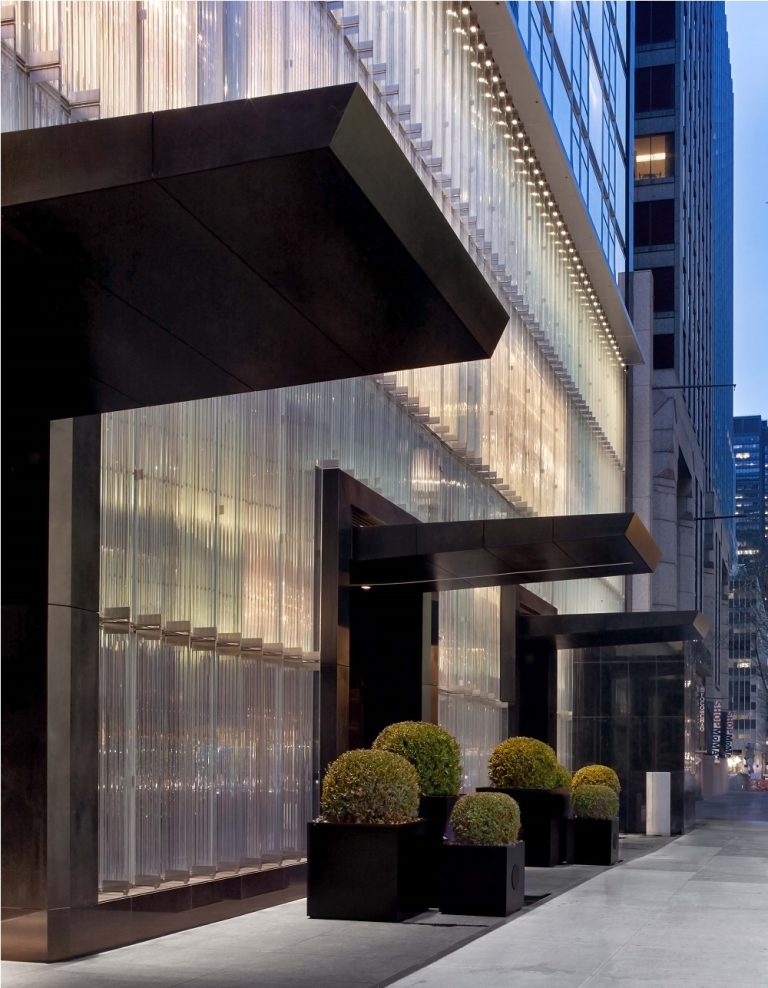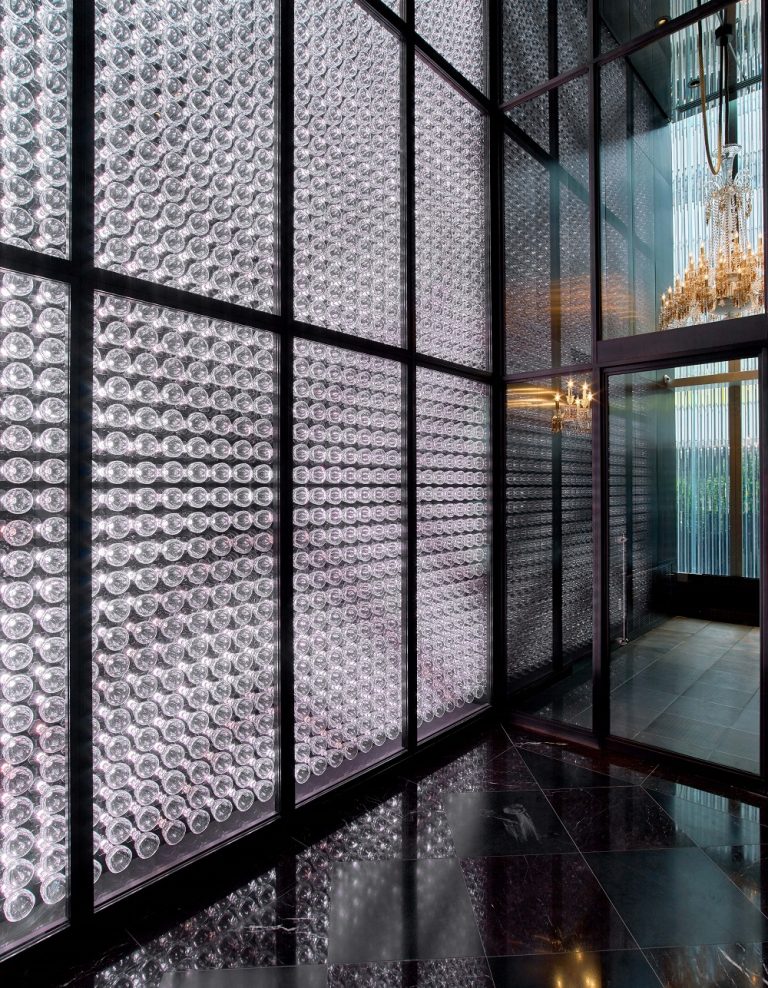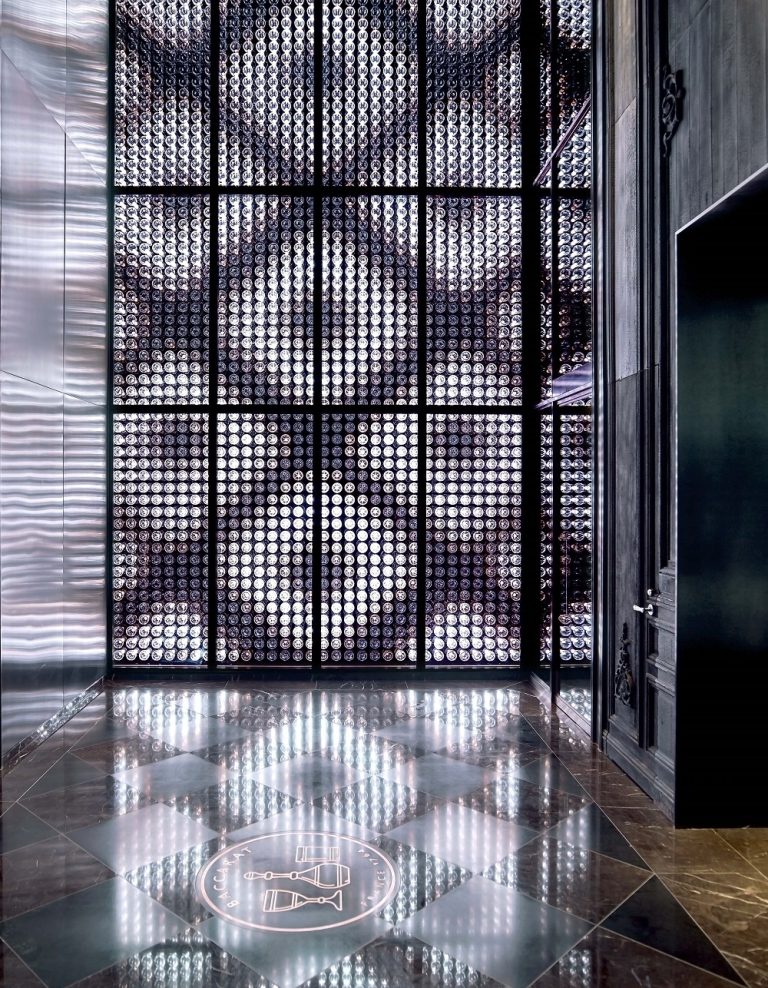 Both residential properties and guest suites are available within the tower. For those looking to permanently live the luxe Baccarat lifestyle, they can do so in 'The House of Baccarat,' which comprises 60 ultraluxe residences. Residents can enjoy all the same amenities as hotel guests, though their rooms are accessible via a separate entrance. With residences designed by New York-based designer and member of the Architectural Digest 100, Tony Ingrao, a sense of privacy and serenity is echoed throughout each home.
"We are so thrilled to have brought to life this modern day 'House of Baccarat' – to have taken this brand which has for centuries stood for perfection in crystal, and has never been compromised, and created its first luxury lifestyle hotel masterpiece. I want to celebrate light, and to produce a hotel that glowed, and was shimmering, sensual, elegant but still functional, fun, comfortable, and not overly formal," says Sternlicht.
The hotel's 114 guest rooms and suites also are sure to delight visitors, even before they enter the room. Outside each suite, a glowing Baccarat Harcourt Vitrine that was transformed by one of eleven contemporary artists glows as welcoming beacon , greeting guests each time they return to their room. Inside, travelers can admire the floor-to-ceiling windows, custom jacquard linens by Mascioni, marble-clad bathrooms, and exclusive amenities from Parisian perfumer, Francis Kurkdijan (created just for the hotel). Baccarat keeps luxury on speed dial with a Champagne button installed on each room's telephone, allowing guests to have their favorite bubbly delivered immediately in fluted glasses.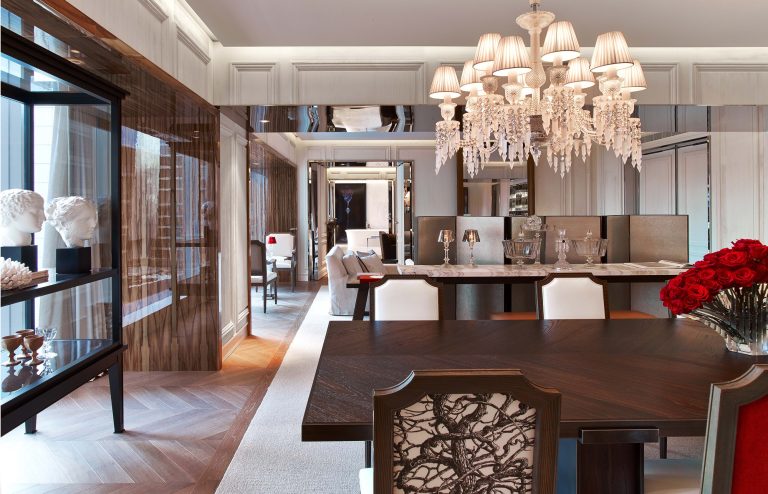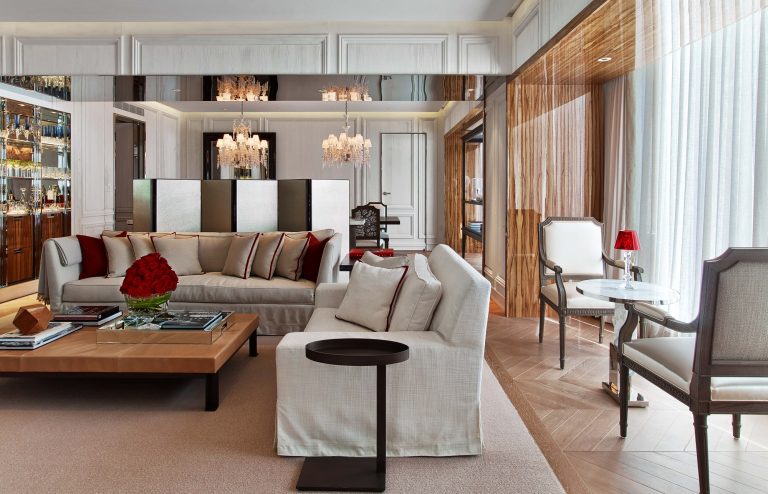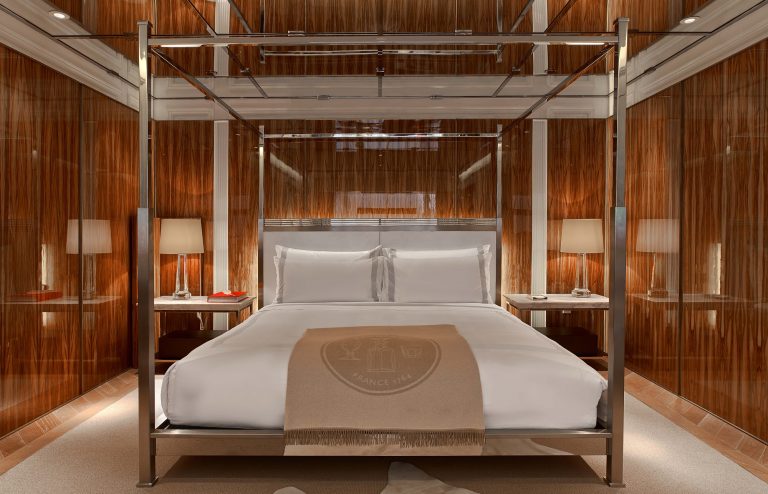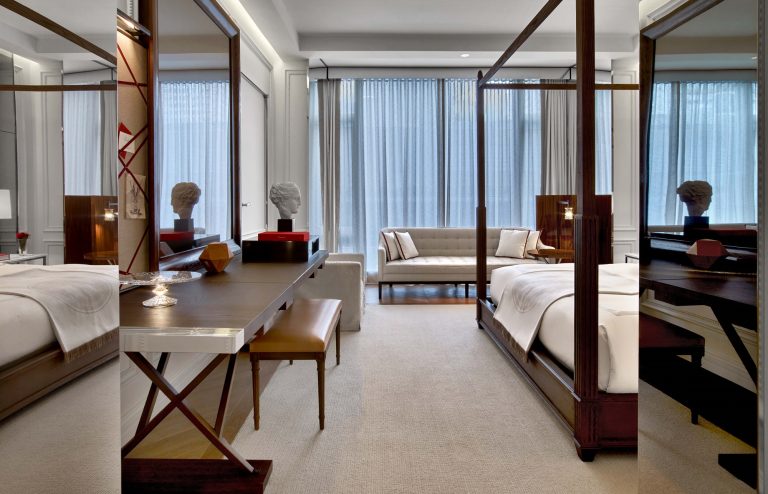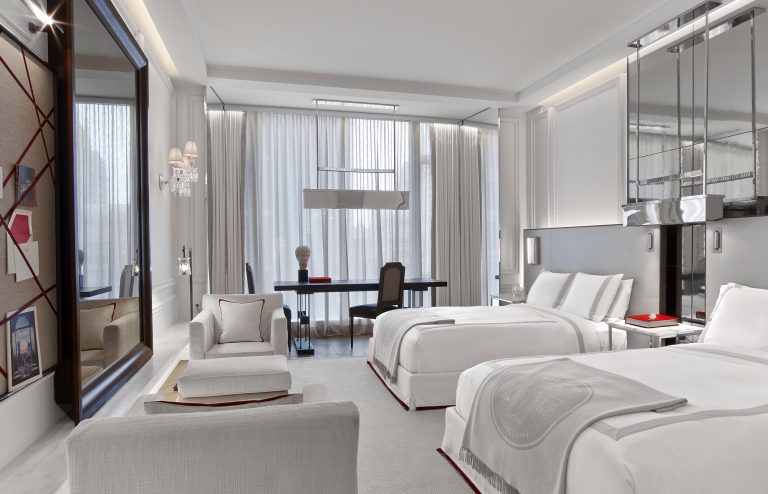 Speaking of, the property's crystalware is made from Baccarat's own. This fact is perhaps most noticeable when enjoying the Baccarat Bar on the hotel's second floor.
Stepping into the museum-quality artwork-clad bar, guests can sip top-shelf liquor, a vast selection of fine wine, and experience the brand new L'Art du Cocktail menu. With each cocktail perfectly presented and inspired by iconic art pieces, ordering a drink is a captivating experience in itself. By scanning a QR code on the cocktail menu, guests can read up on the artistic inspiration and creative process behind each beverage. Better yet, guests can glance around the bar and view each piece of art that inspired each specialty cocktail for a totally immersive experience. Baccarat's private art collection showcases unique pieces from a variety of mediums dating from 1764 (the year of Baccarat crystal brand's founding) to present day.
EQ recently had the opportunity to experience the Baccarat's L'Art du Cocktail selection, and we were blown away by the innovative mixology, intentionality, and curation of the entire menu. Bar Manager Mark Tubridy explained how he conceptualized his cocktail selection, "The idea for this exciting project stemmed from a meeting I had with our marketing department, wherein we brainstormed ways to bring the story of Baccarat to life by centering our upcoming fall cocktail menu around a cohesive theme. One early suggestion was to let the list be inspired by the artwork that adorns our barrel-vaulted barroom, which is an eclectic collection of canvas paintings, mixed media prints and photographs."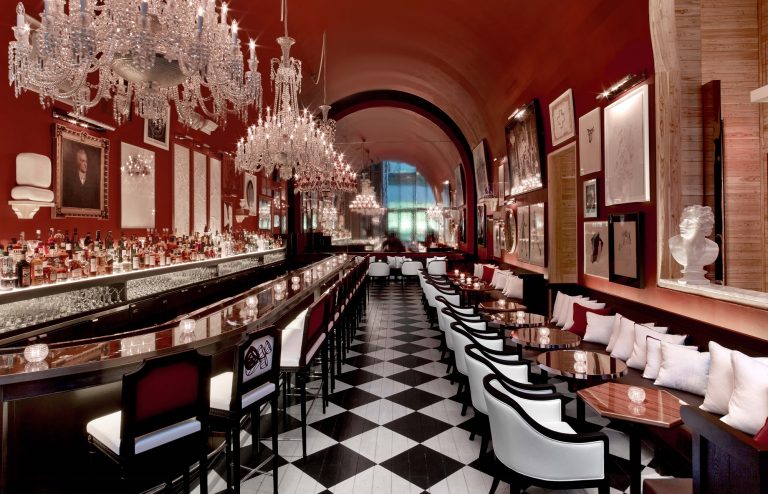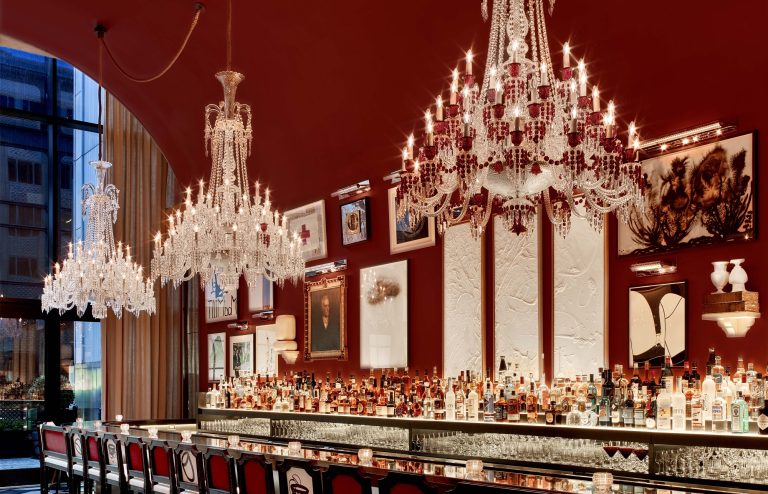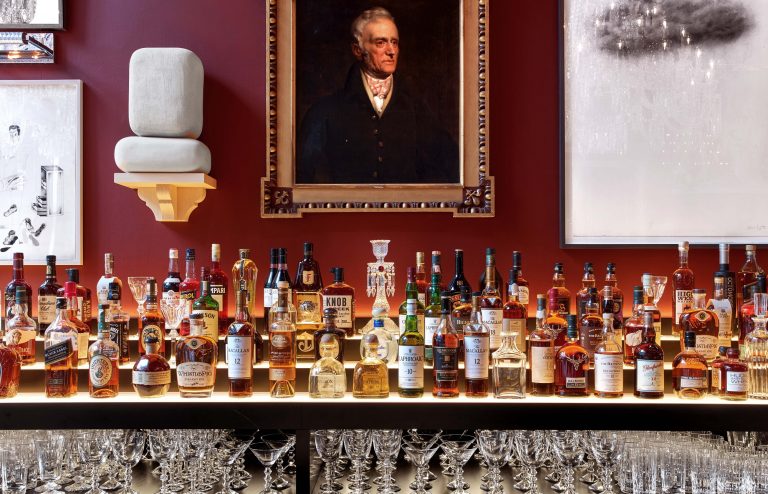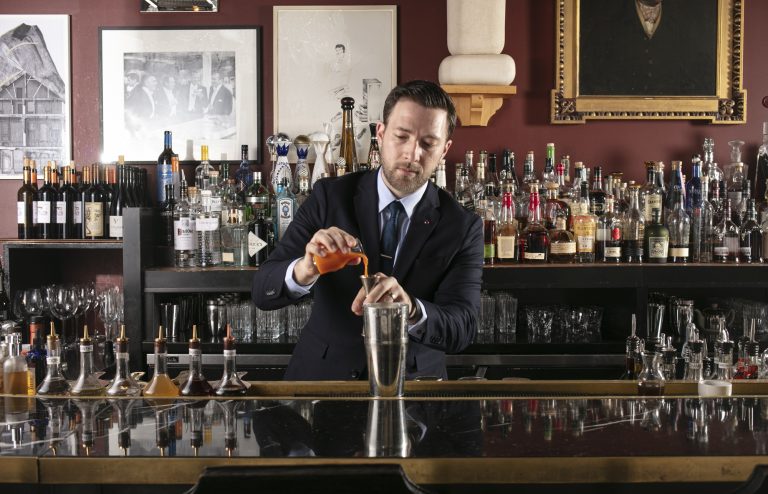 While the Baccarat didn't directly work with their art curators to pair the cocktails with artwork, Tubridy says, "it still feels as if we collaborated with [Stéphanie and Frédéric Chambre], as the cocktails themselves were meant to channel the emotions of each work into unique and thought-provoking recipes. We try to incorporate an element of storytelling into all that we do here, whether it's through the food, beverages, or décor – in the same way, the L'Art du Cocktail menu was designed to engage our guests and invite them into the beautiful world of Baccarat."
One of EQ's favorite cocktails is the Moulin Rouge, which was inspired by Ellen von Unwerth's photograph entitled "Crystal Party." Inspired by the black, lace thigh-high socks worn by the scantily clad woman in the painting, the drink comes garnished with an edible piece of black lace. Turbidy adds, "Likewise, the drink lands on the flirty side, a cross between a "Porn Star Martini" and a "Naked and Famous", garnished with a charcoal tuille that looks like it was ripped right from the picture itself."
The attention to detail apparent in each cocktail, as well as the combination of high-quality ingredients that perfectly complement each other, made for a refreshing cocktail hour. Tubridy caps, "I would encourage guests to approach this menu with the same level of curiosity and open-mindedness that they would a new art exhibit, but with this one you can actually taste what you see!"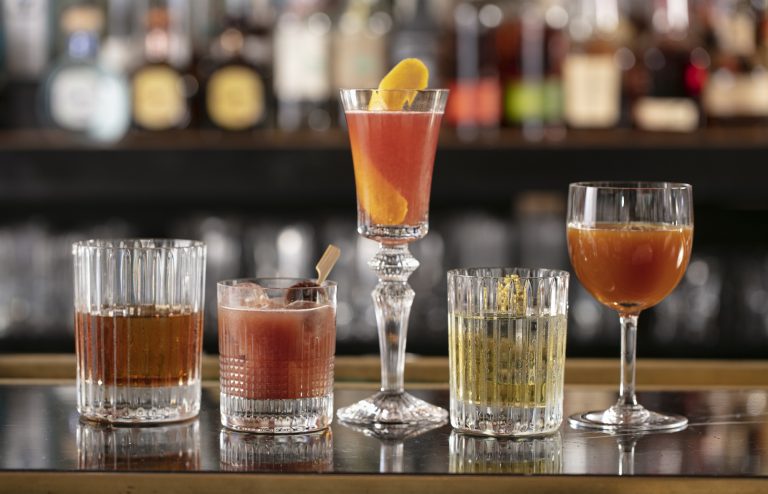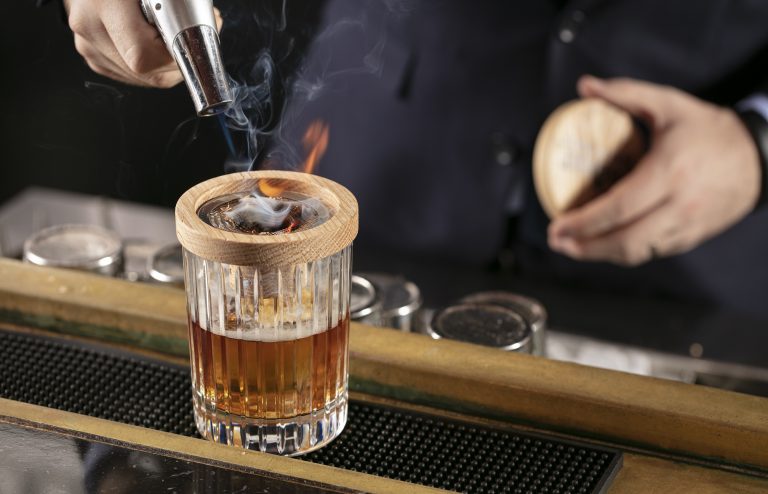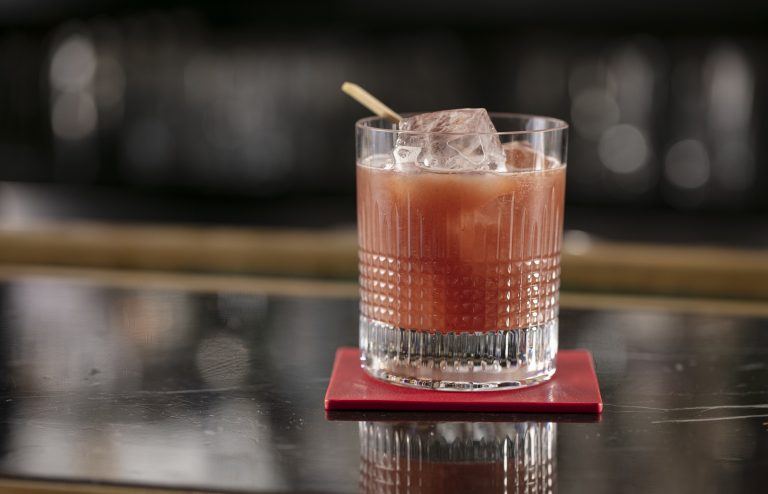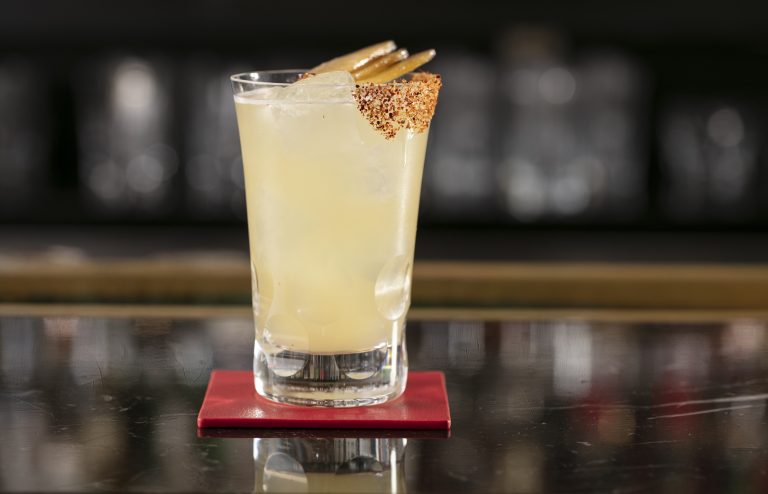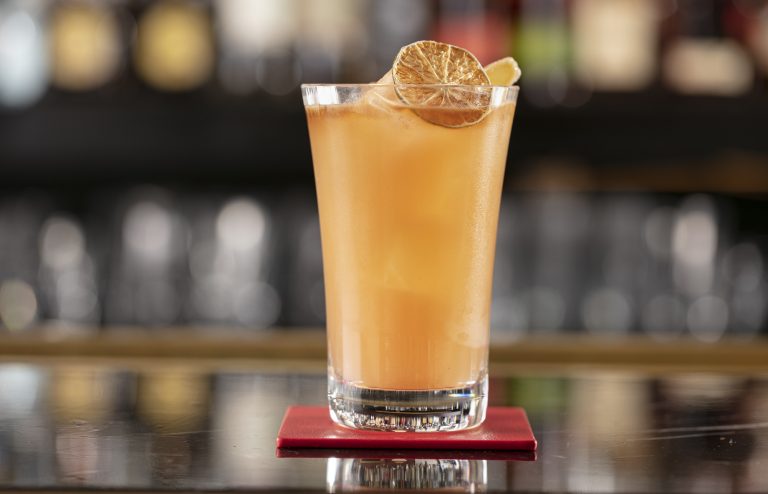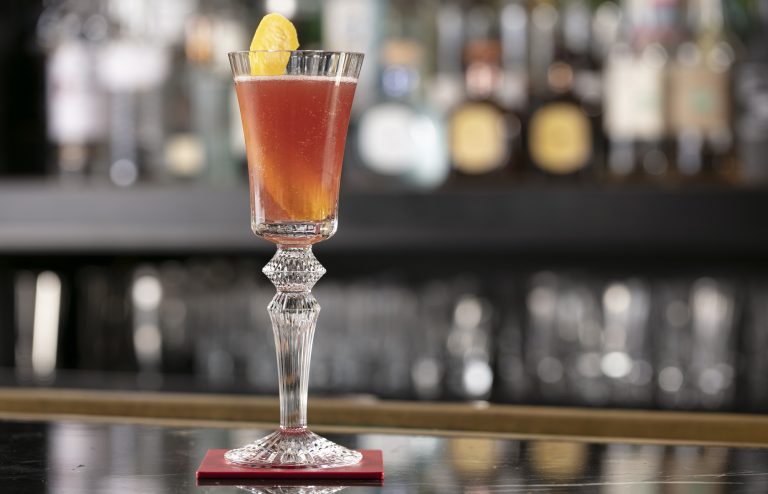 Even the design of the boozy delight is undoubtedly deliberate, with a rounded ceiling encased by wood panels, fittingly reminiscent of residing in the inside of a wine barrel. With the space's palatial design inspired by the stables of Versailles, just sitting down to enjoy a drink felt like an elevated experience. Whether you're looking to relax after work, enjoy a night out of the town, or relish the artistic atmosphere, Baccarat's bar beckons.
For a private dining experience, The Chevalier Private Dining Room and the Harmonie Room both offer tasty bites to enjoy while surrounded by a mineral-inspired color palette and, of course, plenty of Baccarat crystal. In addition, the shimmering Grand and Petit salons on the second floor also offer all-day dining in a glamourous environment. One of the most exclusive ways to enjoy the Grand Salon is with the daily 12-4pm Crystal Tea, which offers guests decadent bites (including caviar, truffles, and lobster) served on a three-tier crystal. This $3,000 experience is sure to make any guest feel like royalty as they sip champagne from Cristal and walk away with their complimentary Baccarat's Faunacrystopolis Harcourt Tea Set.
Just steps from the Grand Salon and Bar is the property's new 53rd Street boutique, in case guests want to take home some signature Baccarat sparkle. Additional amenities offered to guests include the 24-hour gym (stocked with professional personal trainers), the spa (equipped with exclusive, specialty-made Spa de Le Mer products), the 55-foot pool, and use of the house car – a vintage Citroen (for transport within 15 blocks of the property).
No matter how large your request, Baccarat is here in the Big Apple to make sure every guest is more than satisfied with their stay. Sternlicht caps, "The hotel has every possible amenity a privileged client demands. We offer perfection of service that matches Baccarat's perfection in the production of crystal." With a 5-Diamond certification, numerous awards, and many editorial accolades, Baccarat New York continues to shine as brightly as its thousands of crystals inside.