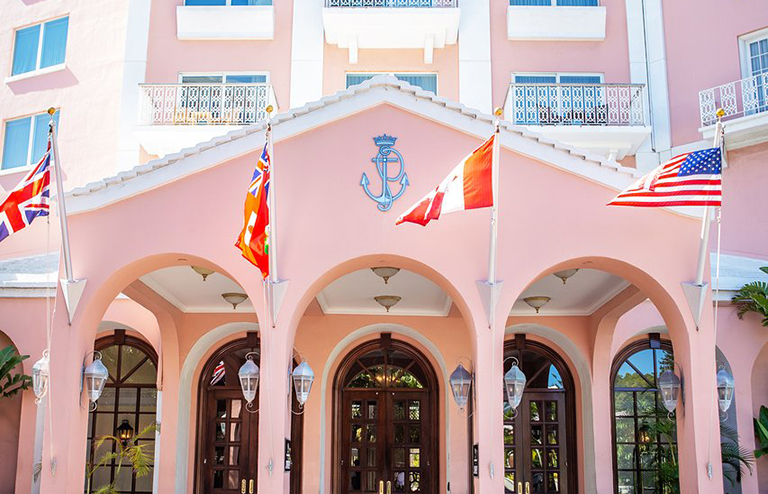 The Hamilton Princess Hotel & Beach Club
An iconic pink palace perfectly perched on white sand beckons Bermuda's best. Of course, I'm talking about the legendary, luxury Fairmont-managed, Green-family-owned Hamilton Princess Hotel. The island escape welcomes guests with its endless sunshine, breathtaking marina, and luxurious accommodations. EQ was fortunate enough to receive the full Hamilton Princess experience, and it's safe to say that I'll be returning for years to come. 
I was eager to visit Hamilton Princess Hotel to experience its incredible Beach Club, expansive art collection, and unmatched hospitality. Fittingly, I arrived on International Dark 'n' Stormy Day and discovered I was in the prime place to celebrate the holiday. A good time is guaranteed with the resort's buzz-worthy custom Single Barrel Reserve Goslings Princess Rum, and I was excited to experience the tantalizing imbibement inside the home of the famous liquor.
Immediately upon my arrival at the hotel – even before I had the chance to check in – I was quick to admire the hotel's vast collection of artwork. Entering the Hamilton Princess feels like entering the private studio of a salon of artists. A curated collage of modern pieces decorates the palace's walls, showcasing works from legendary greats including Pablo Picasso, Henri Matisse, and René Magritte. In this way, the hotel operates as an active, alternative gallery space, with new pieces often joining the assemblage. Oftentimes, the artists who create the works that decorate Hamilton Princess's walls even stay at the property as an artists-in-residence.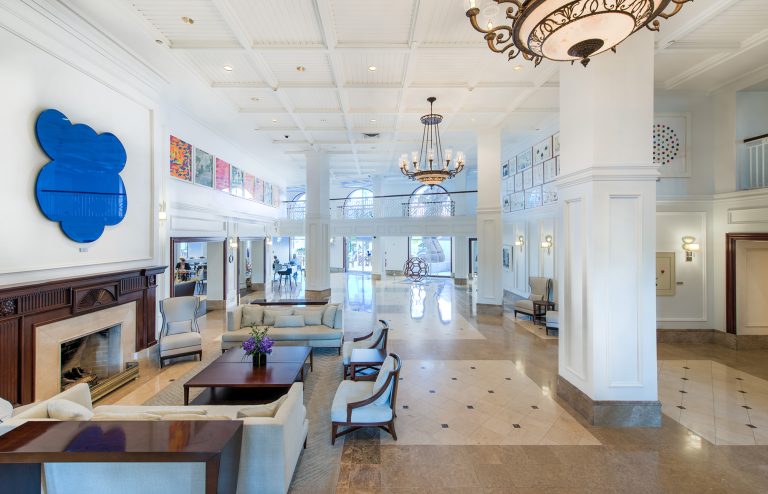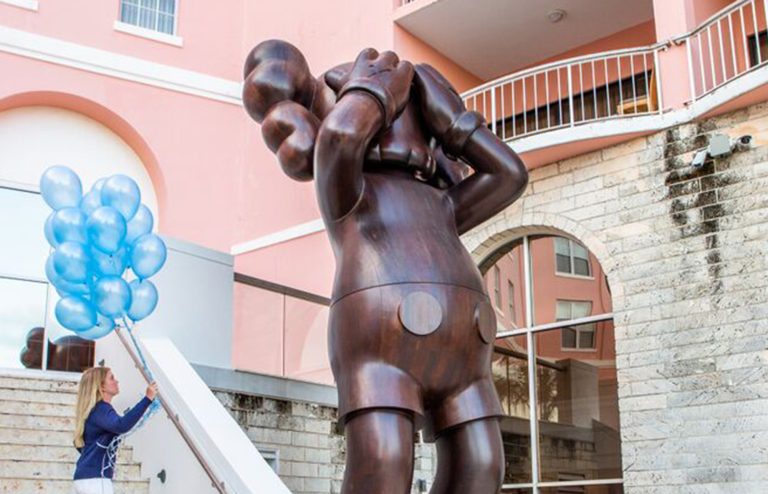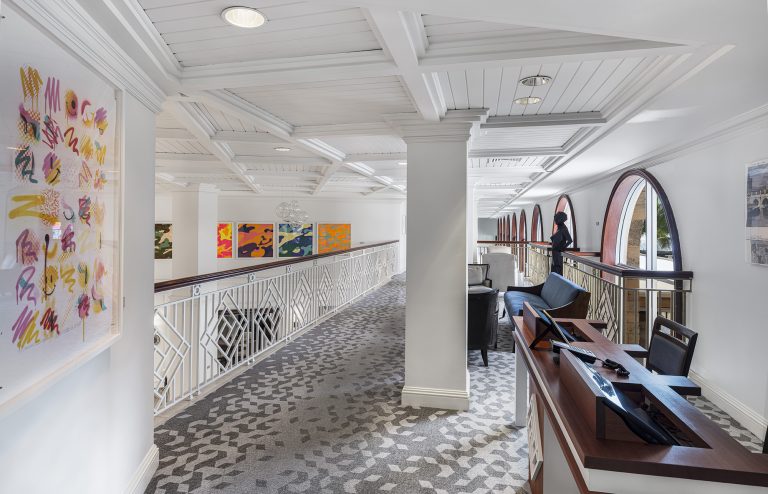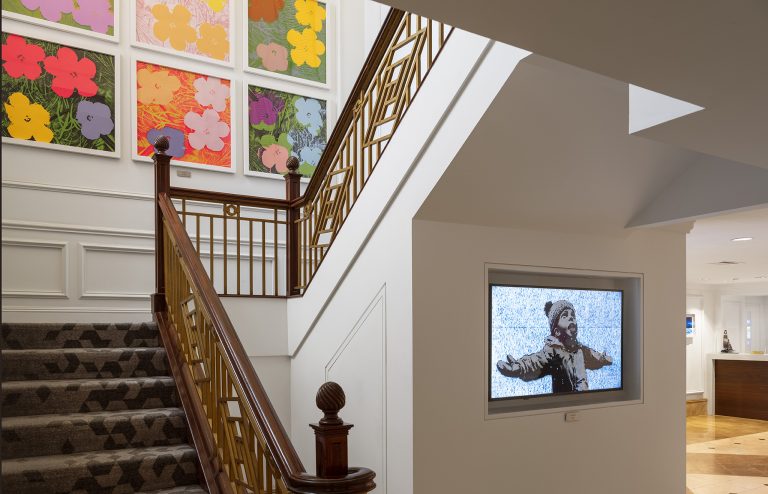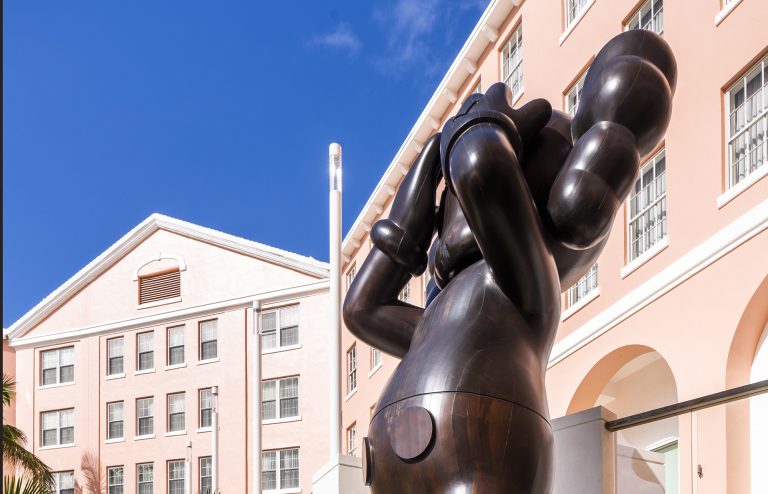 This gallery space is especially fitting inside the hotel, which was named after Princess Louise, the Duchess of Argyll, daughter of Queen Victoria and a patron of the arts. While there's plenty more to explore on the premises, it's easy for guests to become immersed in the Green Family's curated collection, especially when taking advantage of private art tours led by a local art docent, Lisa Howie of Black Pony Gallery. 
I was fortunate to receive a tour of Green Family's collection within the hotel, which highlighted works from the Pop and Post Op movements through postmodernism. An oracle of modern art, Howie's tour highlighted modern greats like Warhol as well as contemporary artists including Banksy. Several local Bermudian artists are also showcased, like Carlos Santana. The hotel has retained its connection to the local community's art through donations and lending out pockets of the collection to the Bermuda National Museum.
Many pieces from the collection call to and reference each other – Warhol's famous "Campbell's Soup Cans" are displayed in the lobby, and Banksy's nearby take on Warhol's works, titled "Soup Can (Violet Blue)," dovetails the original piece. The collection offers social and soft politic exploration through its juxtaposing of artists.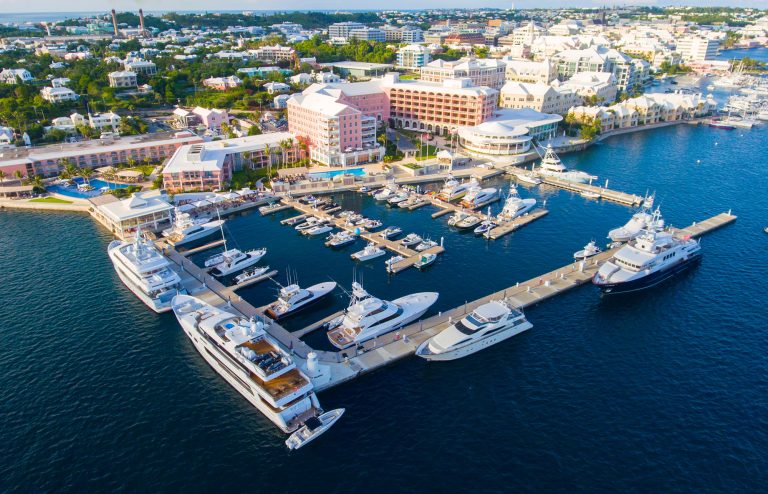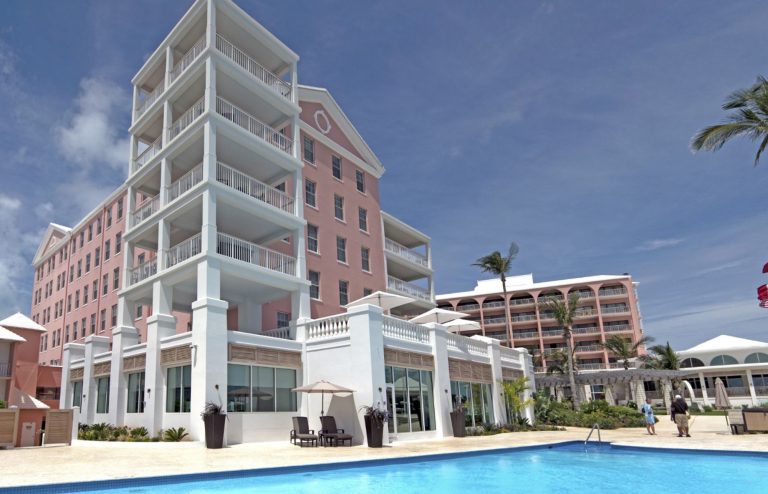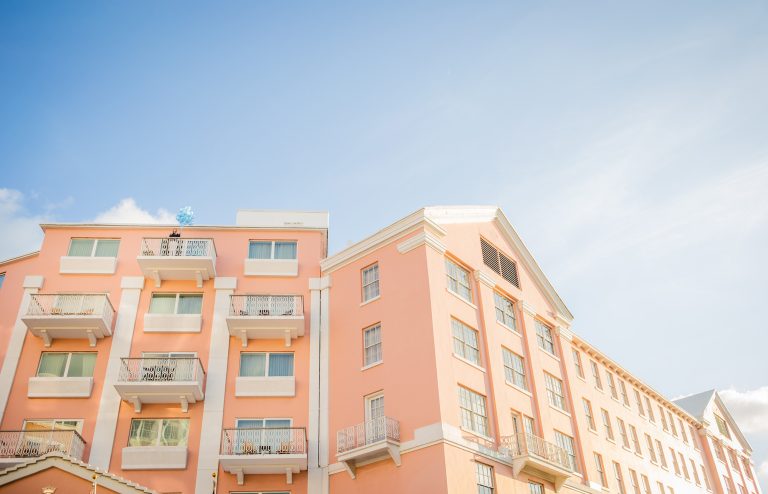 After getting checked in, I was whisked up to my suite and greeted by views of the vibrant city of Hamilton and the Princess Marina. Due to the building's pastel exterior, it is fondly and fittingly referred to by locals as "The Pink Palace." 
For those looking for the utmost luxury stay, Fairmont Gold members receive exclusive access to the Fairmont Gold Lounge, as well as private check-in and transfers and complimentary food and drink offerings. This is the perfect, private space to grab a morning coffee, breakfast, and afternoon tea – or an afternoon cocktail if that's more your speed – and bask in the views of Hamilton Harbor. 
However, anyone looking to grab a bite to eat can do so at the hotel's five culinary experiences. From Intrepid Steak, Seafood & Raw Bar's mouthwatering dishes to 1609 Restaurant's Latin-infused island flavors to Crown & Anchor's contemporary, upscale cuisine, all of these eateries offer delicious options. For those looking to satisfy their sweet tooth, check out the Duchess Café and Gelateria for confectionary dessert milkshakes, lattes, and ice cream.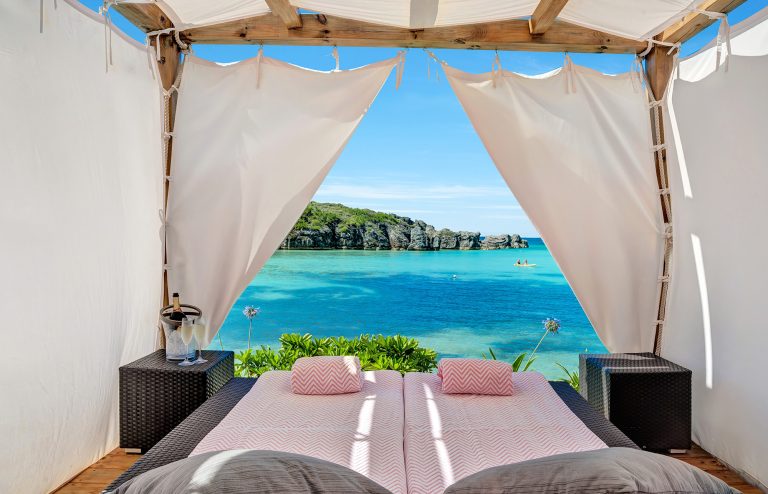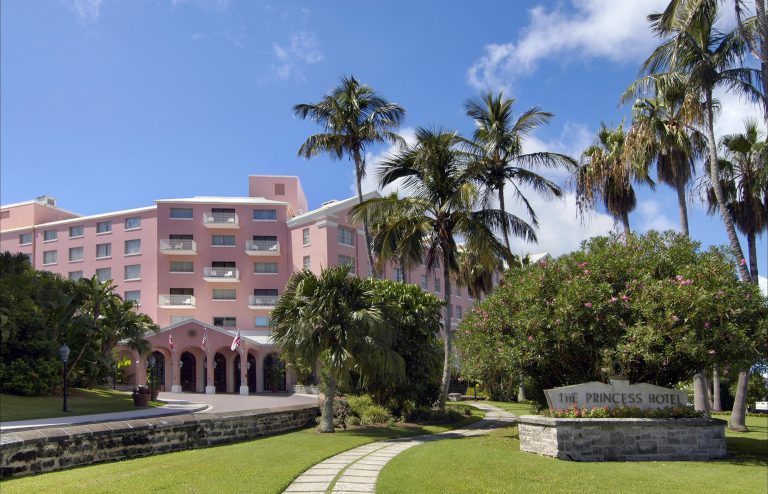 I had the pleasure of dining at Intrepid – named after the hotel's notable guest and Britain's WWII secret spy Sir William Stephenson, often referred to by his intelligence nickname, "Intrepid" and recognized as the real-life James Bond – and enjoyed several 007-themed drinks and bites. From the Vesper and Intrepid martini cocktails to the Golden Eye Baked Apple Galette and Intrepid 007-layer chocolate cake, the menu reflects the eatery's namesake's thrilling history. Carrying this maritime memory to the modern age, the restaurant's nautical, art deco interior – showcasing rope detailing and a navy and blue colorway – was a fitting complement to the hotel's marina, which lies just beyond Intrepid's outdoor terrace area. 
Also boasting unbeatable marina views – from an even more up-close perspective – is 1609. The dining destination's name references the year the Sea Venture boat shipwrecked on Bermuda's shores, and in turn, the oldest remaining British colony was born. This nautical eatery features airy garage door windows, creative cocktails (try the signature Neo Fishbowl, which is served in a ginormous glass fish) and inventive bites, like vegan ceviche sashimi. 
The Hamilton Princess' third restaurant, Crown & Anchor, also provided delectable dishes in an upscale environment. Reflecting the hotel's British heritage, a traditional hearty Sunday roast (chicken, beef, and even an Impossible meat wellington) is offered to cap the week, with additional entrees and apps served throughout the week (the C&A Bermudian Fish Chowder offers a truly tantalizing taste of the island). Gin-inspired cocktails the hotel's signature drinks are offered alongside zero-proof beverages and a selection of beer. As the Hamilton Princess partners with ecoSPIRITS, a selection of sustainable beverages is also available. Each ecoSPIRITS drink purchase eliminates single-use glass, removes ocean waste, and reduces one's carbon footprint.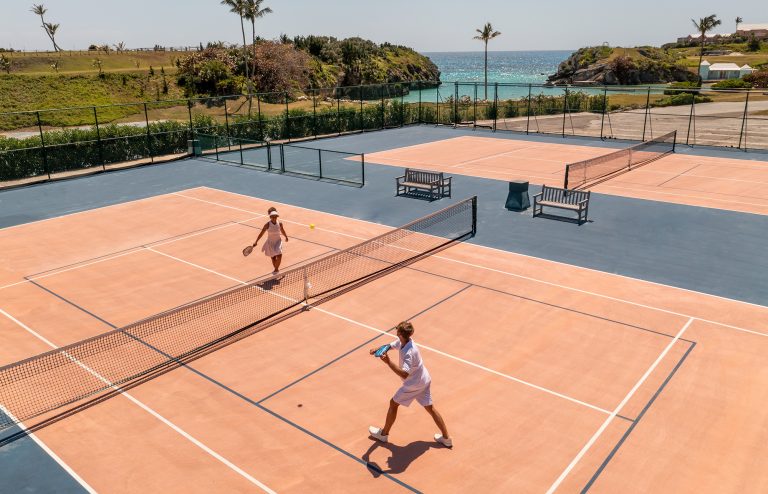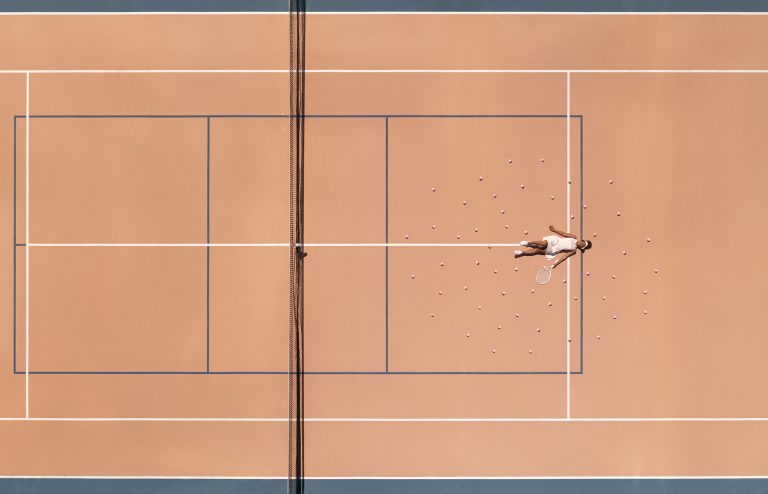 Once satiated and ready to take on the day, guests can visit the hotel's luxurious shops (The Princess Resort Shop, Pink Cabana, and Blank Canvas) and pick up clothes from local designers as well as international resort brands, lifestyle goods, and vegan, cruelty-free, recyclable goods. For those looking to spruce up their wardrobe, a luxury private shopping appointment can be arranged.
One thing that can't be missed when visiting Bermuda is soaking up the sun. Fortunately, the Hamilton Princess Beach Club makes that very easy. Encompassing a private cove on the South Beach of Sinky Bay, the club has everything one could need for the perfect beach day. Once arrived via complimentary Jitney transfer – the beach club is just a scenic 20-minute drive from the hotel – guests can enjoy secluded cabanas, water activities like snorkeling, paddle boarding and basking on the above-water hammocks, and land sports like tennis and pickleball. Just a short beach walk away are warm, natural cenotes, which beckon a secluded dip in nature's bathtub. Beachgoers can also trek to nearby Horseshoe Bay, where adventurous travelers can dive off boulders into Bermuda's cool crystalline waters. And when it's time to cool off, the Beach Club's restaurant offers tasty dishes and refreshing cocktails.
If you're looking for a little more action and adventure, check out the hotel's zero-emission BMW cruise bikes, EVELO electronic bikes, and Twizy cars. These energy-conscious vehicles provide a thrilling way to explore the island and visit nearby sites including Clocktower Mall, the Commissioner's House and Bermuda's National Museum (where local historical activists and power duo Ajala Omodele and Liana Nanang of Un-Storied explore the true history of Bermuda through their Unchained on the Rock tour), Warwick Bay, Fort Scaur, Woody's (ask for the Wahoo sandwich – a local fishy favorite), and Gibbs Lighthouse – visitors will feel on top of the world here, literally, as they take in a bird's eye view of beautiful Bermuda.
After you're done adventuring around the city of Hamilton, the sparkling waters of the resort's infinity edge resort pool and luxe cabanas offer serene views of Hamilton Harbor and the perfect place to unwind. However, for those looking to take their R&R to the next level, Hamilton Princess' Exhale Spa offers another pool, a poolside yoga pavilion, the Zen lounge, and a state-of-the-art fitness center to sweat out any stress and fully immerse themselves in vacation relaxation.
Another way to savor the hotel's waterfront oasis is to visit the Princess Marina. Hamilton Princess impressively hosts Bermuda's first and only full-service hotel marina. And when I say "full-service," I mean it. Guests can have room service delivered directly to their berth, schedule onboard massages, and take advantage of the marina's dedicated concierge.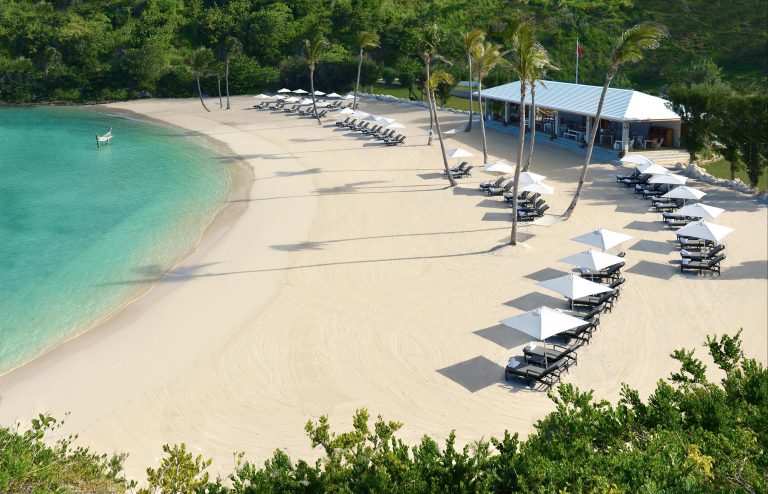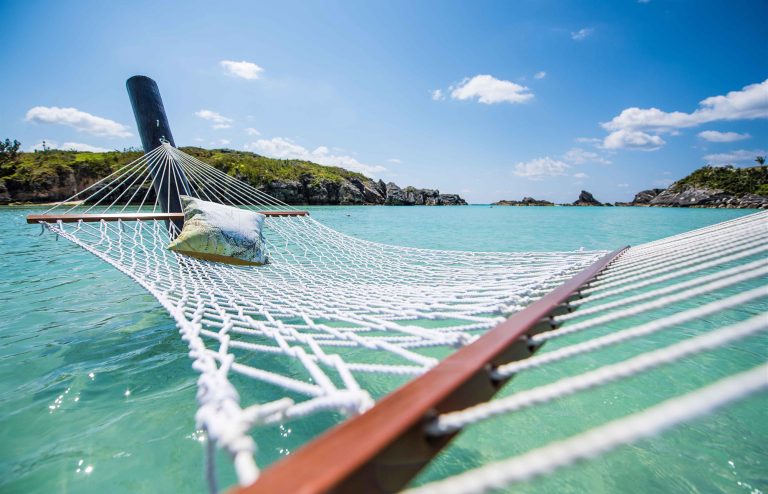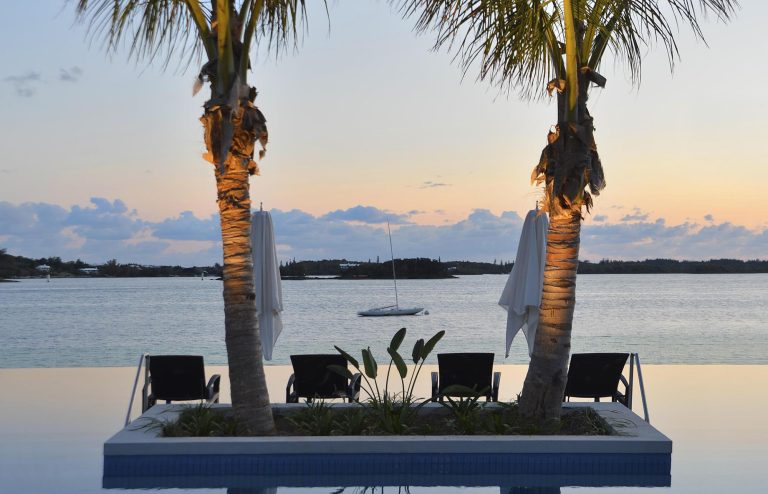 No matter the size of your yacht, Hamilton Princess invites guests to embark on explorations of Bermuda's sparkling waterways and return to enjoy the weekly Friday Marina Nights happy hour. Even those who don't own their own vessel can enjoy private boat charters, Boston Whaler rentals, Jet ski tours, paddle boarding, and snorkeling. Approximately half the marina hosts slips for transient boaters whereas the rest of the slips are private, offering guests the ability to dock their boat for a short stay, or a whole summer. Or, if you're more of a landlubber, mark your calendars as the hotel is hosting accommodations for the upcoming PGA tour's Butterfield Bermuda Championship tournament from November 6-12.
Once guests have enjoyed all that Hamilton Princess has to offer, it's safe to say that travelers will want to live in the paradisical pink palace. I certainly enjoyed my sumptuous stay, punctuated by memories of art immersion, beachy bliss, and stunning waterfront views that will not soon be forgotten.