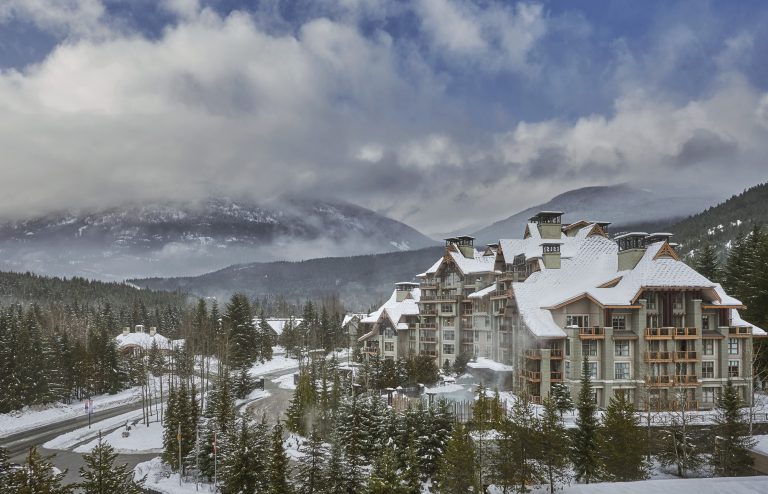 Experience Four Seasons Resort and Residences Whistler
Come for the slopes, stay for the opulence
Calling all ski-bums, snow shredders and slope stars: in case you're itching for one last run down the mountain this season, throw on your spring snow gear and travel to British Columbia. While Canada has many ski resorts, only Whistler Village can claim to be host of the 2010 Winter Olympics. The chalet-style hamlet provides walkable shopping, dining experiences, and of course, a host of chairlifts to transport visitors up the snow-capped Whistler and Blackcomb Mountains. However, one resort stands out as the village's only five-star property that offers complementary boot dryers and heaters, hot chocolate and cookies, and equipment storage and maintenance.
An alpine oasis in the heart of Whistler Village, the Four Seasons Resort and Residences provides a warm, high-end haven for skiers, snowboarders, and outdoors enthusiast vacation-goers alike. As the warmer months approach, North America's largest ski resort blossoms into a verdant vista to be enjoyed by nature lovers, art connoisseurs, and epicurean explorers. EQ recently had the opportunity to visit Whistler's winter wonderland and enjoyed Four Seasons' opulent accommodations and nearby attractions. Our team relished the thrilling weekend away in the hotel's Deluxe Executive suites.
Comprised of 179 guest rooms, 95 suites, and 37 residential units, the Four Seasons Whistler was lavishly designed by Burrows Huggins Architects. The property's for sale real estate are available in two-, three-, or four-bedroom configurations. These private retreats offer access to an outdoor pool, whirlpools, a fitness center, all resort, house car and shuttle services, and two complementary parking spots. Residents can enjoy exclusive dining experiences, such as having a private chef cook in your own residence, among other perks.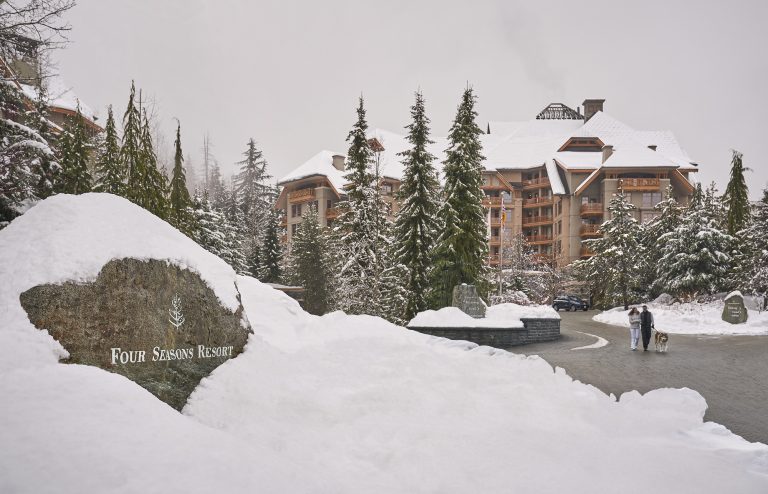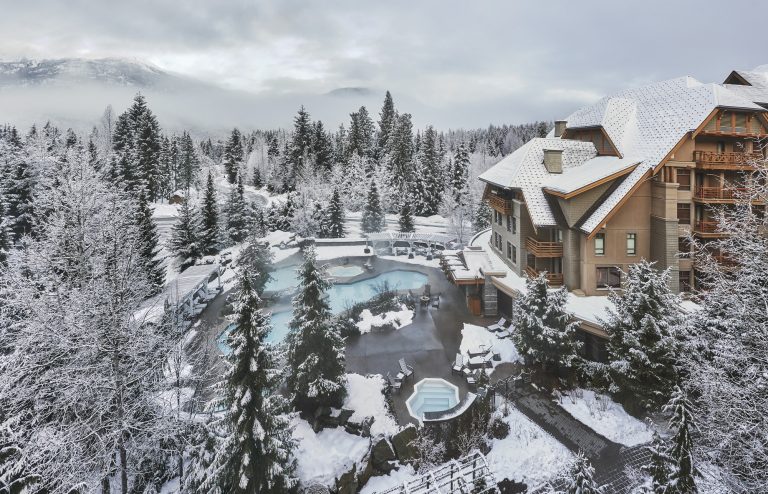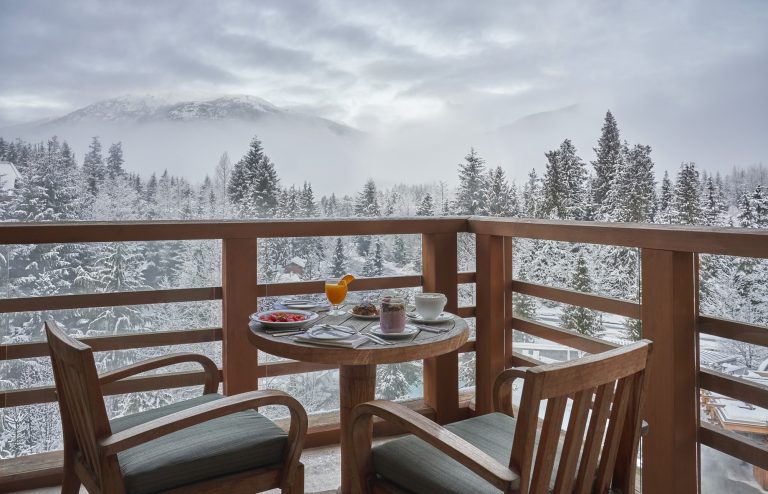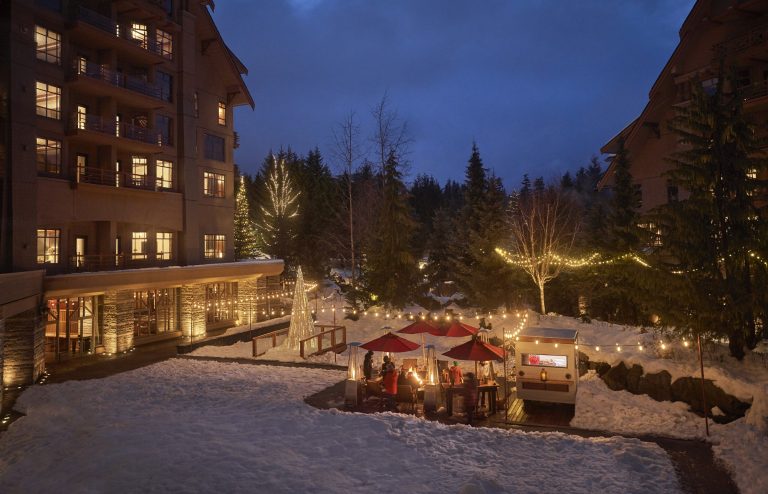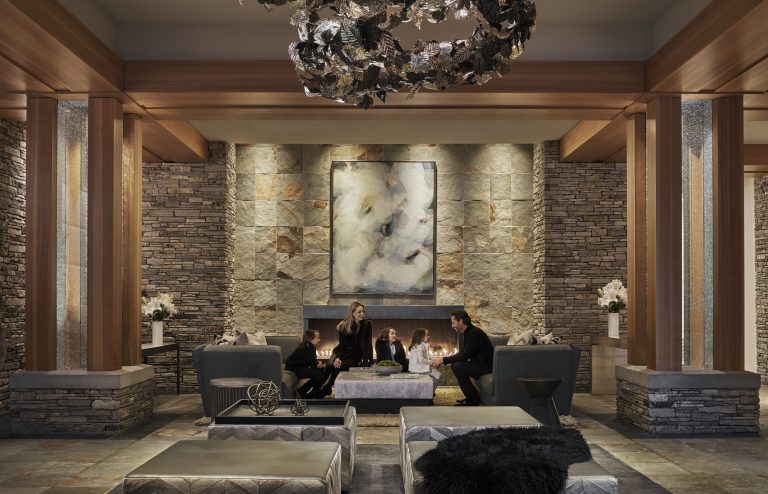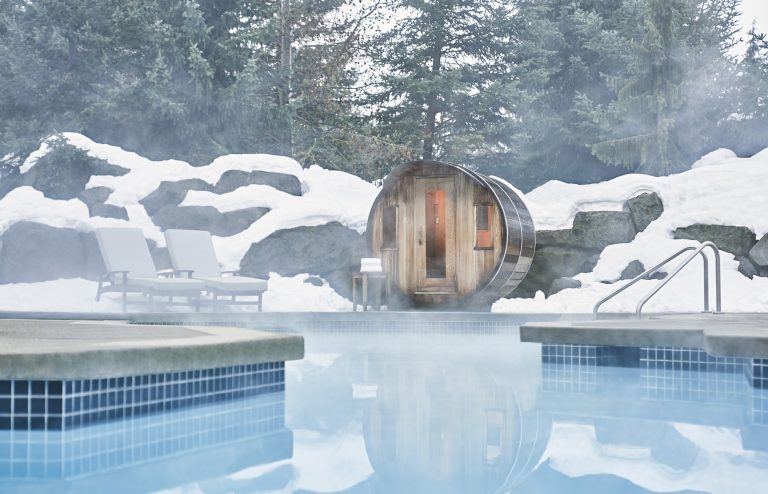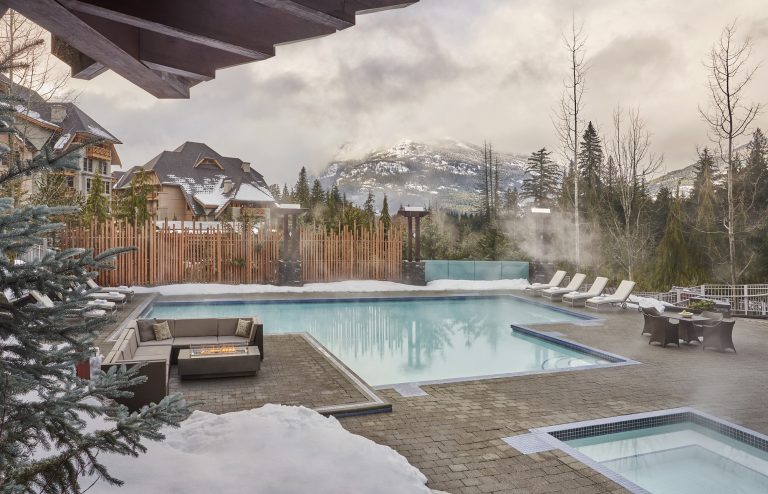 "Our private residences opened at the same time as the hotel (2004)" explains Whistler's Marketing Communications Manager, Carolina Pires. "However, what really sets these luxurious homes apart" she tells EQ, "is the fact that they are located on a separate building, with its own dedicated team." Residence guests have access to a front desk and concierge team who can expertly customize their entire stay and itineraries. Furthermore, residents have access to private fitness facilities that allow them to escape the resort's crowds and take full advantage of these benefits.
Inside the resort, all guest rooms and suites are equipped with a toasty gas-burning fireplace, perfect for warming up after a long day spent pioneering freshly powdered slopes. Pires remarks, "friendly yet luxurious service inherent to the Four Seasons brand makes you feel right at home." EQ's spacious suite featured a living room area, a grand bathroom and powder room, a cozy bedroom with a plush king-sized bed, and a private balcony overlooking the niveous trails.
Located steps from the base of magnificent Blackcomb Mountain, Four Seasons Whistler makes it effortless to enjoy the natural beauty of British Columbia. Just minutes away, Whistler Mountain also provides yet another outlet for interested winter sports fans. Take to the pistes for topnotch skiing and snowboarding, with a variety of beginner, intermediate, advanced, expert, and freestyle runs. After a long day on the mountain, Four Seasons provides complementary shuttle services to and from the ski concierge.
As springtime begins to melt winter's snowy blanket, take advantage of local hiking trails, kayaking, canoeing, and paddle boating on Whistler's five lakes or beaches, or helicopter sightseeing tours. For those looking to galivant on the greens, escape to one of Whistler's three championship golf courses. Or, if you're feeling extra adventurous, take part in forged axe throwing, white water rafting, bungee jumping, ATV riding, and Jeep off-road tours.
If you're looking to take in the scenery in a more leisurely fashion, the Peak-to-Peak gondola tour of Whistler Blackcomb provides a bird-eye view of the picturesque, seasonally powdered peaks. On the mountain's summit, stop in at the Umbrella Bar and have a drink – try the signature U-Bar Caesar – while enjoying 360-degree views of Whistler's Village.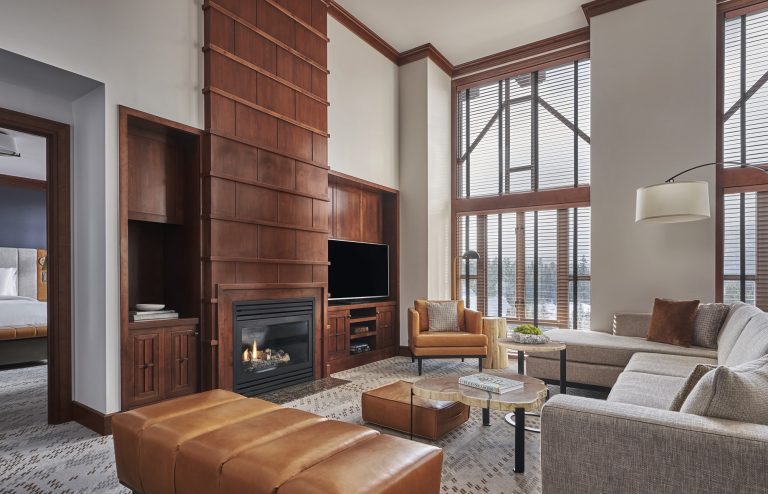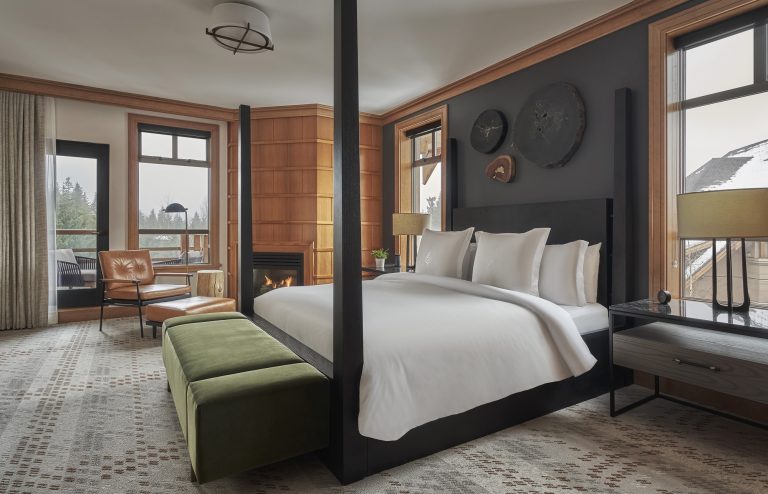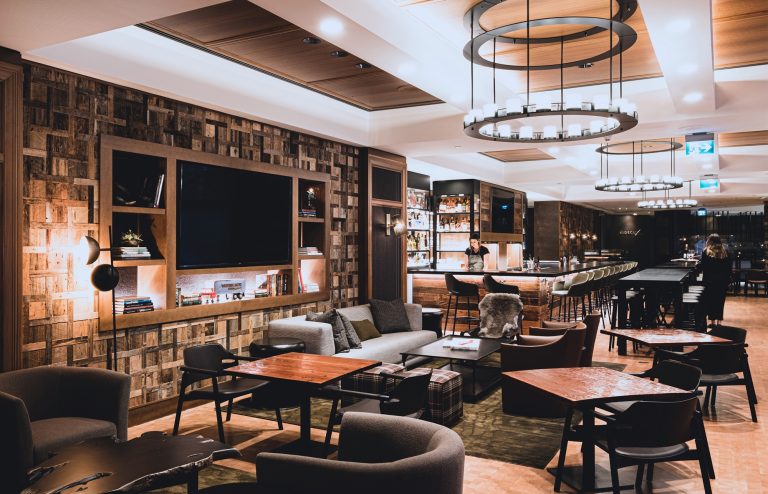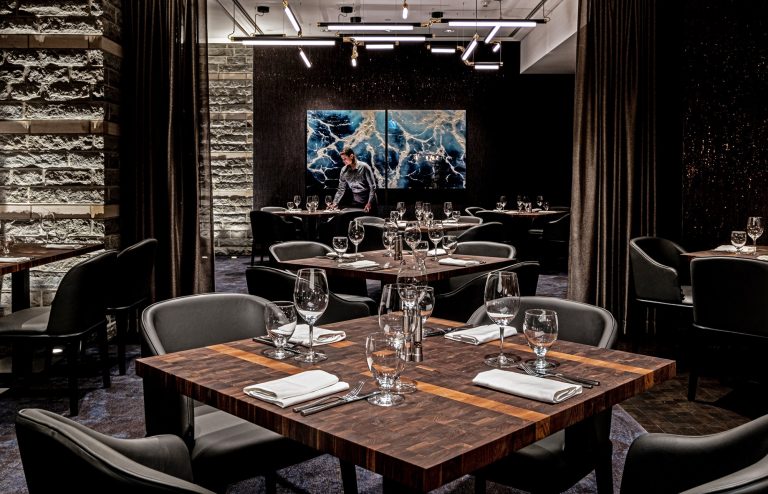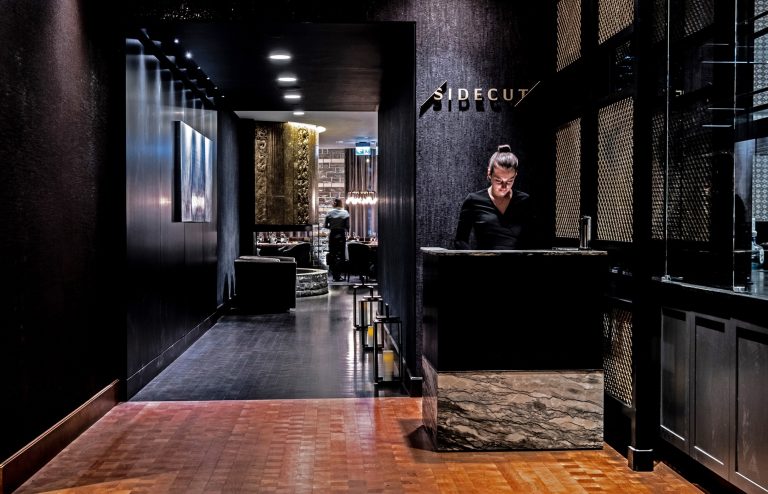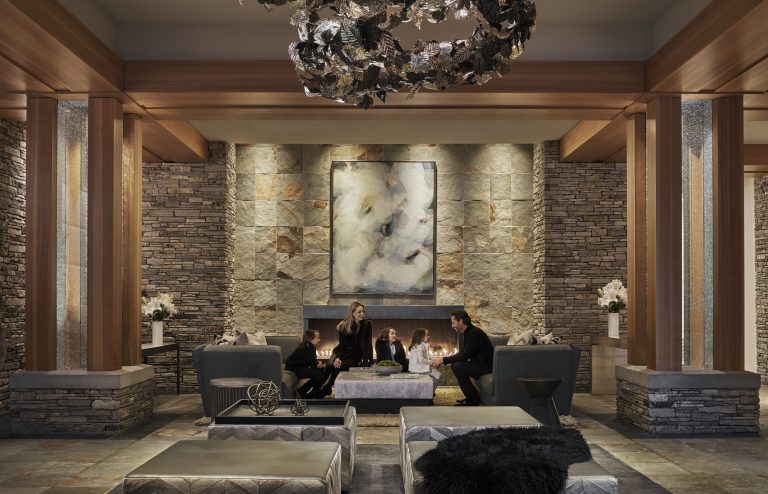 After a day of exploring Whistler's spectacular backyard, both of Four Seasons' on-premises restaurants offer delicious, hearty options to refuel. Braidwood Tavern and the recently renovated Sidecut Steakhouse both offer mouthwatering cuisines to suit any palette. EQ was fortunate to try Sidecut Steakhouse's Chef Sajish Kumar Das' tasting menu at the chef's lunch table. The mid-day meal consisted of an eight-course feast, subtly inspired by traditional Indian cuisine of the Sky to Sea region.
The tantalizing combination of courses from Chef Das effortlessly complemented each other and incorporated rich spices to dramatically enhance the flavors. Even the palette cleaner included between courses – a delicious scoop of mango lassi – could effortlessly stand as an incredible dish on its own. Luckily, the Chef's showcase didn't end after the mid-meal palette cleanser, and left EQ stuffed with a spotless plate.
Another appetizing option nearby is Whistler Village's Bearfoot Bistro. This celeb-frequented eatery is run by Executive Chef Melissa Craig's exceptional culinary prowess. EQ enjoyed a five-course meal at Bearfoot Bistro, which was gleefully interrupted by mid-meal champagne sabering session in the enormous downstairs wine cellar, a tour of the restaurant's Ketle One Ice Room for a multi-flight vodka tasting, and a liquid nitrogen ice cream making demonstration. Our team was rolled back to Four Seasons with full stomachs after a night of delicious food, fine wine and top-shelf liquor, and beautiful culinary presentations.
Whether you decide to take to the slopes or wander around Whistler Village, Four Seasons Whistler is the prime destination for those looking to getaway in chic chalet fashion. Surrounded by soaring, snow-dipped peaks, seemingly endless stretches of skiing and hiking trails, and the Euro-style town center, Four Seasons Whistler is simultaneously one of the coziest and most sumptuous escapes in British Columbia.