Hotel permitting change in the works
Just a few weeks ago, New York City's hotel industry took the first steps toward a new era. The City Planning Commission approved a zoning text amendment to require special permits for all new hotel construction, sending the decision to the City Council. If approved by the City Council and the Mayor – which is expected before the end of this year – all new hotel development will be required to go through the city's Uniform Land Use Review Procedure.
The change is a long time coming. "The Planning Commission has been pushing to make hotels a special permit use for over a decade now," explains Paul Proulx, a New York land use lawyer with Carter Ledyard & Milburn LLP. "They've been incremental in their approach by seeking to add it to special districts over the last several years." 
Indeed, a permitting process for new hotel development was tacked onto manufacturing districts in 2019 and as part of the East Midtown rezoning approved in 2017. This summer, the New York City Planning Commission took things further by proposing zoning text that would be applicable to all new hotel developments, as well as changes of use, conversions to hotel use in a building that did not previously contain a hotel, or enlargements of an existing hotel use that increases the existing floor area by 20 percent or more.
The proposal came at a time of major industry upheaval. The Hotel Association of New York City has estimated that over 200 of the city's 700 hotels have closed due to the pandemic, with only 10,000 hotel workers currently on the job. 
"With international travel resuming, we expect the hospitality industry to start improving," said Daniel Hilpert, managing director at Equicap, a real estate investment banking intermediary that arranges debt and equity financing for owners and developers.
COVID-19 halted what the association calls "indiscriminate development" that's taken place since 2005, with the hotel market almost doubling in size from 74,000 in 2007 to 138,000-plus rooms in 2020. Many of these new hotels are non-union, which is why the Hotel Trade Council, the union for New York hotel workers, has pushed to limit development.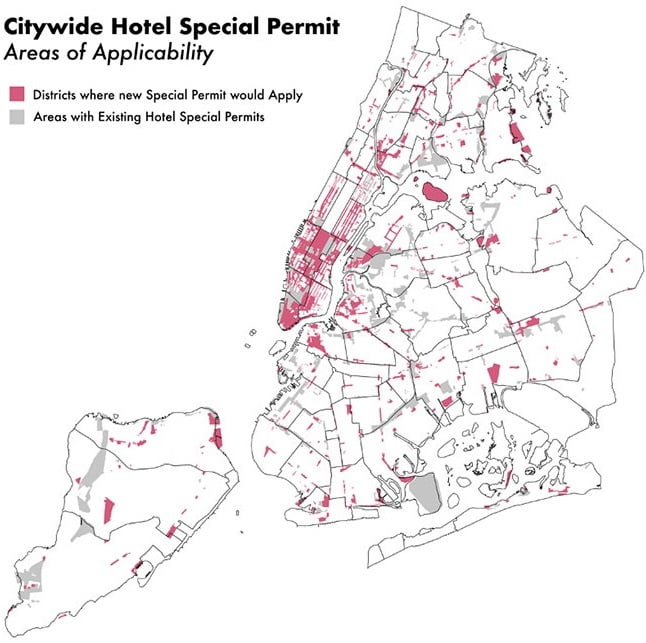 "Oversupply has been the direct cause of consistent declines in revenue-per-available room, a key performance metric regarding the health of the hotel sector, since 2015," the association wrote in a Daily News op-ed published this July.
Given that reality, major players in NYC's hotel industry have lined up in support of a special permitting process that will regulate new development. "There's a lot of arguments that it just makes good policy, just from an economic development perspective the city has an interest that these hotels represent the city well," says Proulx. "From a land use perspective, there's good reason to have additional review and site plan analysis before an as-of-right process can begin."
The proposal is not without opposition. Hotel developers and other real estate professionals have argued the proposal will snuff out hotel construction at a time that the tourism industry is struggling. A newly formed tourism trade group filed a lawsuit last month, calling the text amendment a giveaway to the Hotel Trades Council.
But the change has remained a priority for the de Blasio administration, which has said that a citywide plan would help "support more predictable development and limit the extent to which a hotel use may impair the future use or development of the surrounding area."
The City Council vote is expected early next month. "Generous vesting provisions will make hotel development sites incrementally more valuable as soon as this law is passed and existing hotels will continue to gain value if fewer new hotels are brought to market," Proulx says.
Hilpert opined, "We've seen an increase in demand to recapitalize hotels. Some of our clients are attempting to buy notes of underperforming hotels and inject new capital to reposition the asset."