A Conversation with Entrepreneur Jim Glickenhaus
Turning a passion for cars into a legendary business
Written by DANIEL HILPERT
PHOTOGRAPHY COURTESY OF Matt Rabassa
INTERVIEW VIDEO COURTESY OF DANIEL WAGNER
It's a rainy day in the Hudson Valley when we pull up to the Glickenhaus factory tucked in between homes and small commercial buildings. The doors open and we stand in the midst of one of the most amazing collections of racing cars: the original 1967 Steve McQueen Baja Boot, a 1970 Dino Competizione by Pininfarina, 1966 LOLA T-70 SL 71-32, 2006 Ferrari P4/5 by Pininfarina and many more.

I sit down with Jim Glickenhaus—entrepreneur, film director and producer, car manufacturer and philanthropist. As my crew sets up the stage, Jim checks the frame of the camera. My team is intimidated. We are in the presence of a great director.

Jim tells us how he got his career started in directing and producing films. Profits from his pictures were prudently invested in his family's Wall Street firm, Glickenhaus and Company. Excess cash flow was used to build a bespoke collection of vintage cars. One such car is a Ferrari 275 GTB. In 1971, Steve McQueen purchased the 275 GTB for $6,000 from Andy Warhol, now in Jim's collection, today it's valued at $2,500,000, a multiple of 415x. But, Jim says it still pales to what an early investor in Amazon or Facebook would have achieved. In 1960 you could have bought the entire IPO of Microsoft for $1,000,000. Of course, you'd need a certain time-travelling DeLorean to get those purchases made.

Jim retrofitted the GTB with electric cooling fans to prevent overheating and softened the brake pads. And, in an act of civil disobedience to the looming national speed limit of 55mph in 1974 year, Jim and his 275 GTB hold the record, albeit unofficially, for driving from New York City to Boston in record time.

In the early 2000s, Jim turned that passion into a business. The Scuderia Cameron Glickenhaus SCG 003 is a homage to the great 1970s Ferrari racing cars that carried numerous 24 Hour of Le Mans and Daytona titles. Inspired by the Enzo, Ferrari's 660 hp V12, Glickenhaus' SCG 003 is powered by a 3.5-liter twin turbocharged V6 engine, tuned to deliver a maximum power output of 500 hp (373 kW).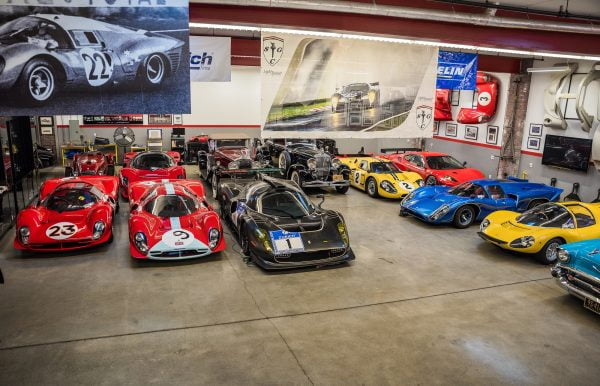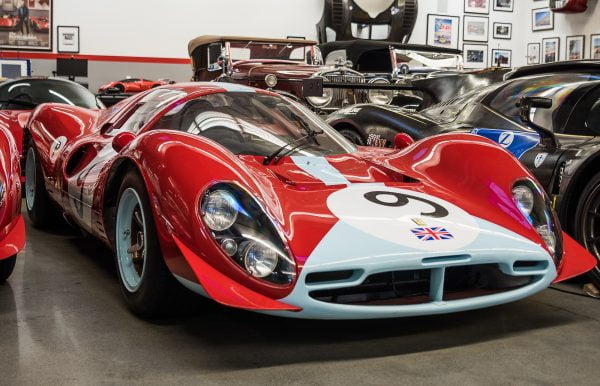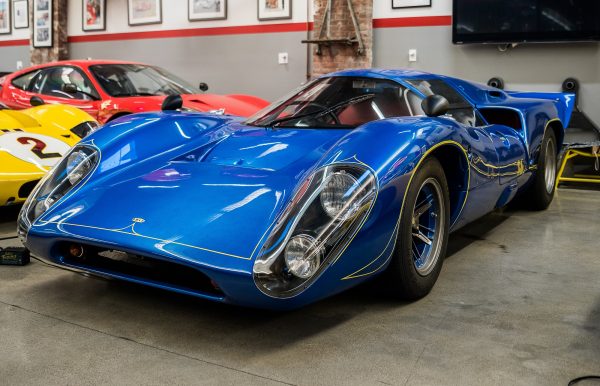 I notice that Jim's collection has the Ferrari P3/4 race car, the winner of the 24 hours of Daytona in 1967 and the legendary 1967 Ford MKIV J6, the last car made in the US to win the 24 Hours of Le Mans. Jim points out that it is the only car that finishes the race and it is currently in private hands. Jim has a great enthusiasm for film and automobiles, so we shift to movies.

I know that Jim knew Ken Miles and Carroll Shelby, so I bring up Ford v Ferrari, one of my favorite racing movies. The plot follows a determined team of American and British engineers and designers, led by automotive designer Shelby and his British driver Miles, who are dispatched by Henry Ford II and Lee Iacocca with the mission of building the Ford GT40, a new racing car with the potential to finally defeat the perennially dominant Ferrari racing team at the 1966 24 Hours of Le Mans race in France.

Jim says the movie is well done, but he goes on (as you'd expect from a combination automobile enthusiast, film director and producer) to point out that the movie was factually untrue. Dramatic tension was built up by having Miles screwed out of his win. But, in reality, Miles and Ford knew that Miles was a lap ahead and was not planning to make a tie. By asking Miles to slow down he was robbed, because no one looked at the timing sheet. Jim states that when you make a dramatic movie you have tremendous license, but also an obligation to be accurate.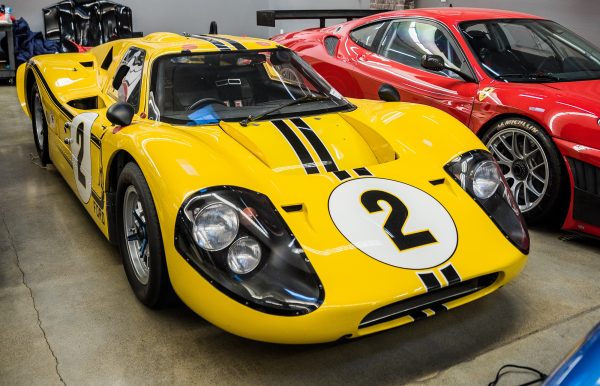 I move the conversation along and ask about another of my favorite movies, Rush, a 2013 biographical sports film centered on the Hunt–Lauda rivalry between two Formula One drivers, the British James Hunt and the Austrian Niki Lauda during the 1976 Formula 1 motor-racing season. It was written by Peter Morgan, directed by Ron Howard and starred Chris Hemsworth as Hunt and Daniel Brühl as Lauda.

Jim says this movie is very well done. Rush portrays the tension between the two rivals and is historically more accurate than Ford v Ferrari.

We turn our attention to the Steve McQueen boot; in my opinion, it's the crown jewel of Jim's collection. Jim tells us the original boot's DNA is rooted in the Lunar Rover and was designed to race the Baja 1000. It derived its name from the ruggedness of its design. Steve McQueen purchased the boot in 1967. Jim says Steve was the real deal, when he did something, he was all in. He was a mechanic and he worked on his own car. He did his own stunts and raced the Baja.

Fifty years later, inspired by the Baja boot, Jim set his sights on designing a car that you can drive on the road as well as at the Baja 1000. He adds that Glickenhaus is known for manufacturing race cars that you can drive on the road. The Glickenhaus team pays tribute to the original Boot with a reversed engine north to south which gives it a lower center of gravity and balance.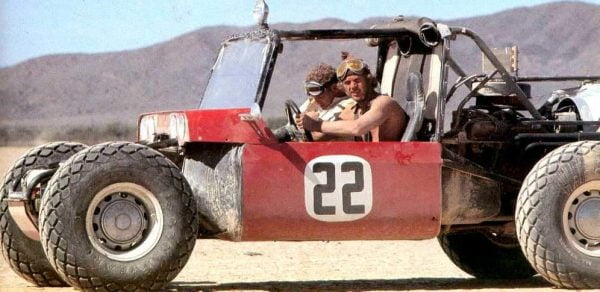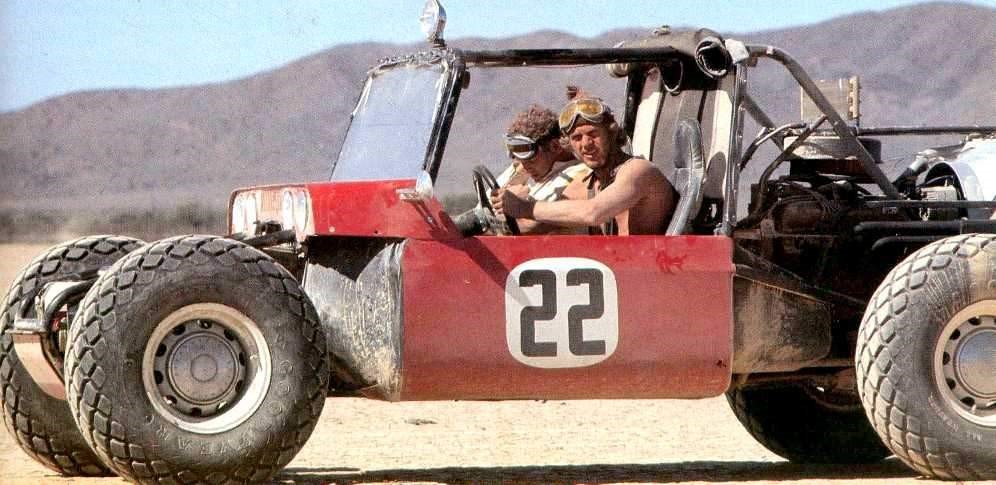 I tell Jim I've seen the documentary Dust to Glory to brush up on Baja, but that I'd like firsthand opinion. Jim replies that Baja is the oldest, continuous off-road race in the world—and probably the most difficult test of a vehicle.

The Glickenhaus team has finished the Baja in under 20 hours. I asked Jim for his secret sauce and he confides that it's the slightly larger wheel (39-40 inches) and that the Glickenhaus boot runs full time in four-wheel drive. If it holds up mechanically, the result is significantly improved speed.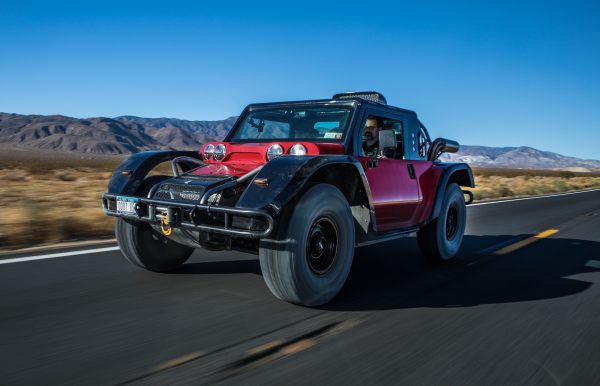 Next we turn to the unavoidable question of electrification. Jim agrees that electric cars will be a major mode of transportation in the future. He says, "At Glickenhaus we make sailboats." It's a throw back vehicle to a different time in history when pure mechanical objects mattered and powered the experience whether during a Sunday drive on a winding road or out on the race track. For the time being, Glickenhaus cars will be powered by combustion engines.

Jim acknowledges that electric cars have an enormous acceleration, but he thinks they're inferior to traditional combustion engines due to the fact that electric cars are significantly heavier. Electric cars underperform on the Nürburgring both in lap time and agility in the turns.

Jim has a somewhat critical view of the EV industry and its dirty little secret: it takes far fewer people to assemble an electric car than a mechanical car; and big companies would love it if they were able to get rid of one third of the workforce. No one talks about this or the energy used. Where is electricity generated world wide? Coal and repressive places in the world to produce batteries. There are issues with the treatment of the labor force in lithium mines. He acknowledges that Musk is paying attention and trying to source his parts in an ethical way.

Before we wrap up our conversation I want to better understand the vision behind the business model. Jim explains that his son Jesse joined the business and is a driving force behind building up the brand and ramping up production—especially for the street level Glickenhaus boot—to 200-300 cars annually. The company has sold 30 next generation sports cars in the $400,000 to $600,000 price range, a comparable price tag to Ferrari, Lamborghini and Aston Martin.

Jim describes Glickenhaus customers as car aficionados who love mechanical objects and want to be part of a company that builds and races cars. The new Glickenhaus boot will appeal to lifestyle buyers very much like myself. You throw a surf board on top and a dirt bike in the back. Driving the boot through sand is like skiing in deep powder. The luxury version boasts leather seats and a sound system. Yes, I can definitely see myself at Ditch Plains.