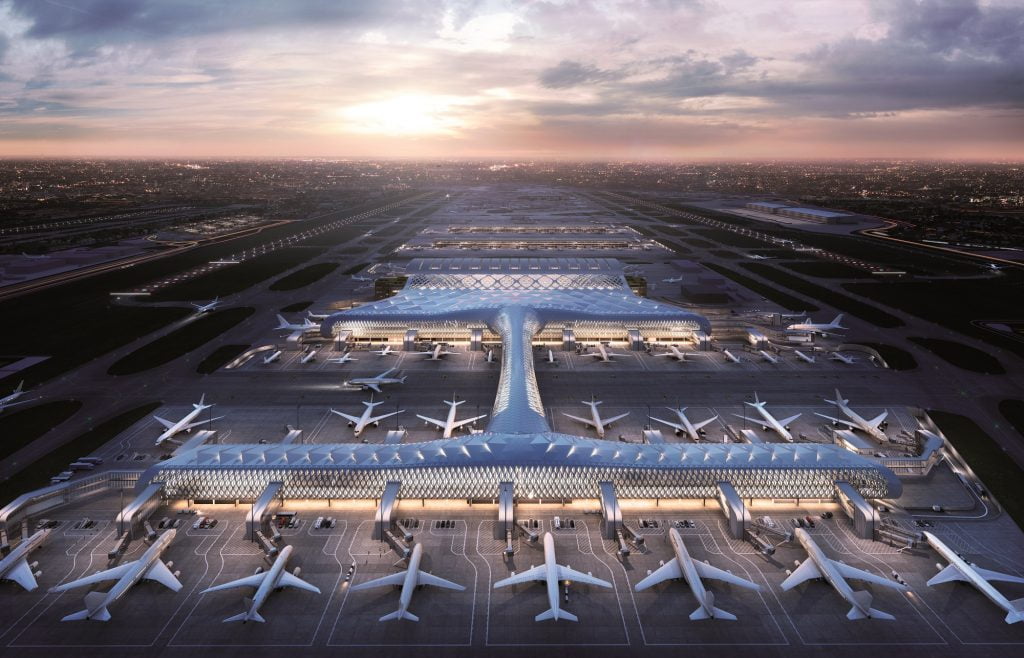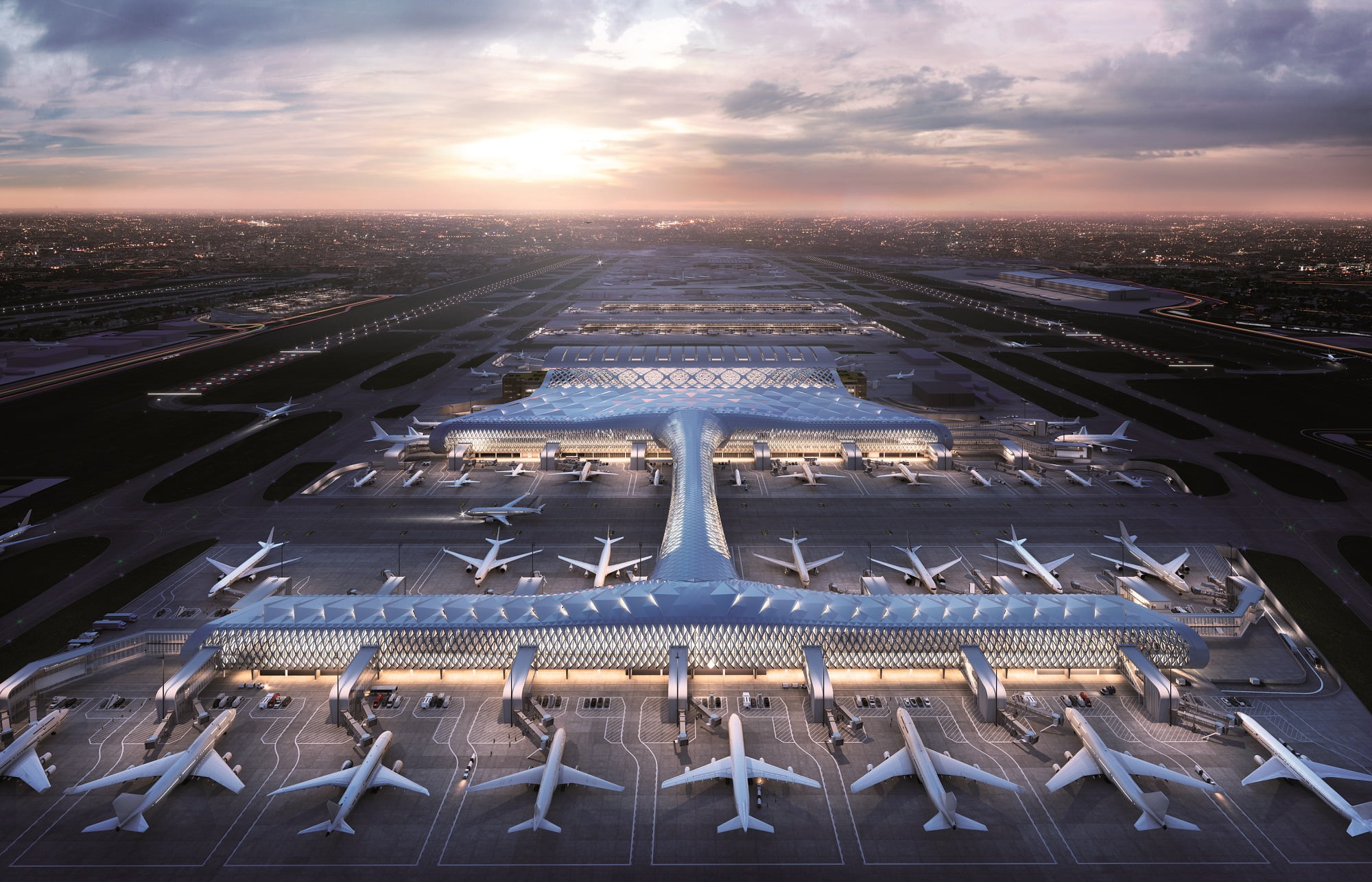 Airport design after Covid-19, a report distillation from Scott Brownrigg
Written by Maurice Rosario, Aviation Director & the Aviation Team at Scott Brownrigg
| Imagery Courtesy oF SCOTT BROWNRIGG
The impact of COVID-19 on the aviation industry has been unprecedented. The Airport Council International, a non-profit organization that represents the world's airports, has reported that air travel is down by 95% from a year ago as a result of the travel ban and lockdowns in many countries. They have also estimated that passenger numbers for 2020 could drop by 40%, representing a significant decline in revenue for airlines and airports across the world. The question is, 'What can airports and airlines do to rebuild confidence in air travel?'

The social distancing measures introduced in response to the World Health Organizations' call to reduce human interaction and limit transmission of the contagion, seem to have worked and is likely to remain in place for some time.

What measures have some airports put in place to help rebuild trust amongst passengers and what further could be done? Global architectural practice Scott Brownrigg have been looking into these and have drawn up a research paper that explores this area, suggesting options that relate to passenger flows and queuing capacity. Let's look at some of the highlights of their report.

Any intervention to an existing terminal processing layout is likely to have a direct impact on queuing areas and processing times for passengers.

Demand, process time, design peak period, maximum queuing time and space per person will all affect such interventions.

By analyzing passenger flow pre and post COVID, the impact social distancing and new passenger safety measures will have on terminal planning and processing facilities can be determined – all processing facilities will result in reduced processing numbers and throughput of the terminal.

Scott Brownrigg uses the below formula, with some estimated inputs, to hypothesize an estimated 58% reduction in the capacity for queuing.

Note that it should not be taken as an absolute measure of the terminal throughput. There are several other factors and mitigation that can be considered in assessing the ultimate impact on terminal processing capacity as noted below.

However, there could be an alternative whereby the number of processing facilities are maintained by providing adequate screening between them and for the queuing public.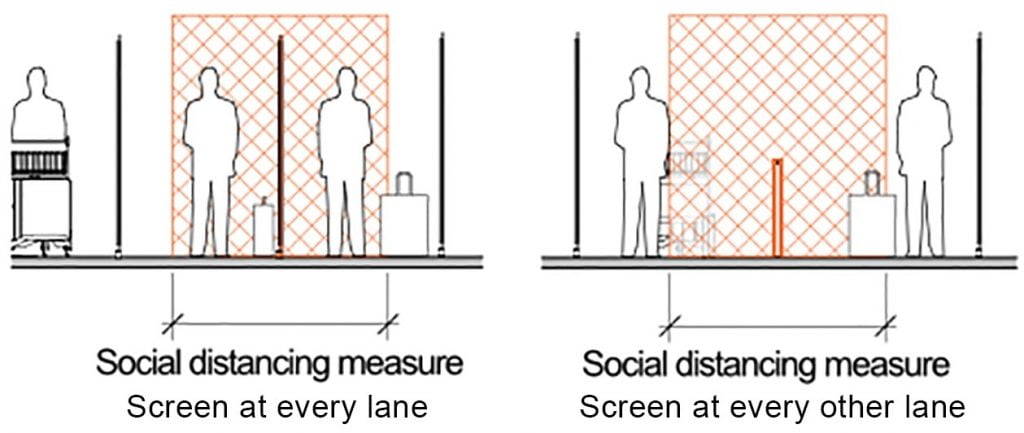 The above provides one exit lane for each queuing lane with tension barriers and screens every other lane. For this option the measures for social distancing and separation may result in a 70% reduction of queuing passengers. This layout reduces dramatically the congestion for queuing areas but the impact on passenger numbers is greater and may not be viable.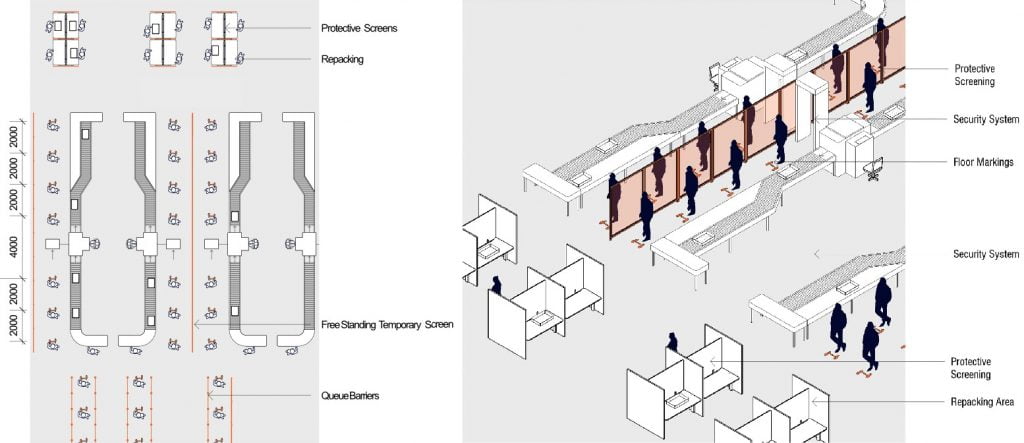 The above allows for one passenger per lane dropping bag, with two queues separated by a central screen. Throughput numbers may be affected, further detail would be required to assess impacts on processing capacity. The queuing layout prior security can also be modified.

The impact on processing time may depend on potential additional procedures such as time required to disinfect processing facilities periodically during operational hours, additional health documentation from passengers, etc. Further, the impact on queuing areas will be directly linked to the local social distancing policy of the city, country or airport itself, capacity peaks may or may not be impacted depending on the measures applied.

The reduction in the capacity assessment for a queuing area does not have a direct impact on the throughput of a particular processing facility. Detailed analyses will be required to ascertain the outcome of a given solution.

Measures to lessen the impact of social distancing and the reduction in queuing capacity could include:

Increasing queuing areas, if further space is available within the circulation zone.
Encouraging passengers to use automated or remote facilities including remote bag check-in for example.
Spreading the peak demand through slot management when and where possible.
Increasing the number of processing desks per flight to speed up throughput.
Limiting terminal entry to passengers only, allowing additional circulation space to be used for queuing zones; potentially increasing processing capacity.
Providing UV sanitation and contactless security procedures.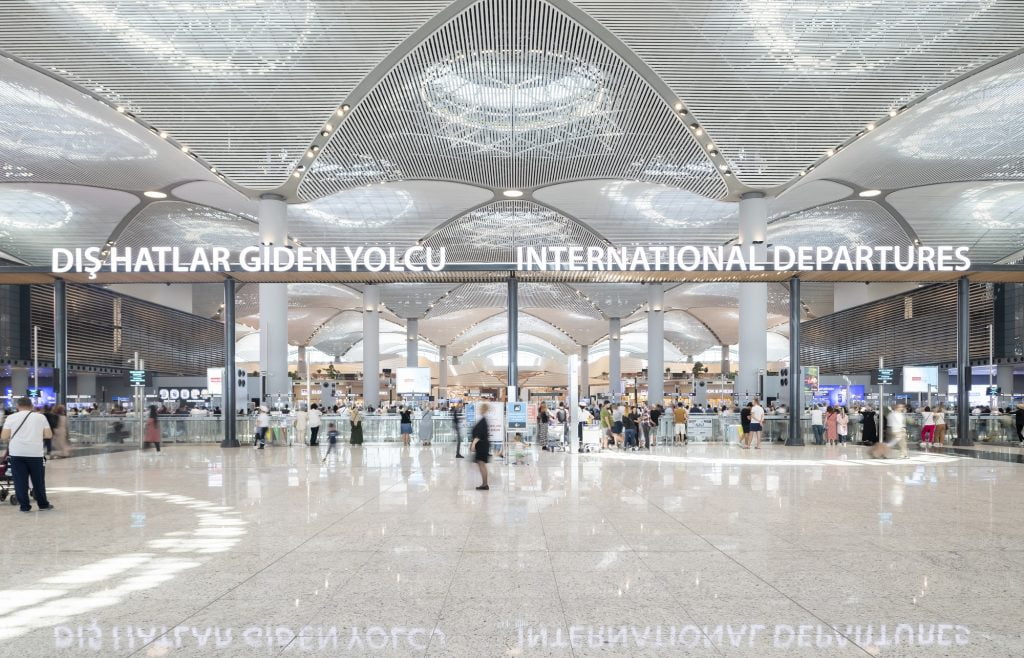 Further possible solutions will vary from one terminal to another where buffer zones and underutilized areas can be used to increase the size of queuing areas and by proxy, increase processing numbers. Other measures airport operators could introduce include:
Providing masks and possibly gloves to all passengers on entry to the terminal.

Introducing passenger self-health checks prior to travel to detect possible symptoms.

Limiting carry-on luggage to a lap top case and handbag only to potentially speed up the security screening process.

Increasing the rate of natural ventilation. However, this should involve consultation with the local health authority to determine its effectiveness given an airport's location.

Using robotic cleaning and sanitation systems.

Introducing remote baggage check-in 24 hours before a flight, with bag tags applied in a similar way to bag drops, however tags should be printed remotely and affixed to the bag at the time of collection by the airport or delivery agency. This will not remove the current bag drop but reduce processing time at airports.

Providing or increasing bag pick-up service where available.
For the longer term, airport operators may wish to consider the creation of a Digital Twin of their terminal; a responsive system that connects physical and digital systems. This will enable the operator to quickly retrieve asset information for decision making, diagnose problems remotely and test proposed fixes before having to apply them to the physical counterpart.

It is hard to predict any long-term measures and assess the impact caused by this global pandemic on the future environment. This will undoubtedly require a significant amount of research and evaluation by various regulatory bodies to ensure the effectiveness of future provisions. However, we can only assume that there will be greater scrutiny in providing a healthier environment and a future trend that balances commerce and critical health. What is clear is that the current crisis indicates that these two aspects are not in opposition, but are mutually inclusive.

The full report can be found at https://www.scottbrownrigg.com/design-research-unit/articles-publications/covid-19-the-potential-impact-on-airport-terminal-design/.