Adam Von Gootkin's Highclere Gin is Distilled for the Discerning — and Downton Abbey Fans
WRITTEN BY JACQUELINE BURT COTE
There have likely been many to make the lofty (or dubious) claim that whiskey runs through their veins, but the biological impossibility seems somehow plausible in the case of Adam von Gootkin. His ancestors ran Chafee & Co. Distilling until the distillery was shut down for tax evasion on a Canada-bound shipment of whiskey. During prohibition, the family opened the opulent Chafee's Hotel on the Connecticut River featuring a notorious speakeasy.
 In 2011, von Gootkin—along with his partner, Peter Kowalczyk—brought his family's then-dormant legacy to life with Onyx Moonshine, the Nutmeg State's first authentic high-end moonshine and whiskey brand. And then there's his most recent venture into the world of spirits, Highclere Castle Gin, which has taken the 36-year-old entrepreneur far from his home state to the juniper-covered hills of Hampshire, England surrounding Highclere Castle… or as you might know it, Downton Abbey.   
Fans of the award-winning series and soon-to-be film are more than familiar with the image of Highclere Castle, which serves as the fictional abbey's stunning location. But even the most devoted Downton watcher may be unaware of the Jacobethan style country house's history, or the fact that it's situated on a fully functional 5,000-acre estate, home to the 8th Earl and Countess of Carnarvon.
Interestingly, von Gootkin's first collaboration with the Highclere Estate was a detour from spirits: the Highclere Castle Cigar. Per von Gootkin, "enjoying cigars has been a tradition at Highclere Castle since the 1800s and continues today." Sparked by von Gootkin's friendship with Foundation Cigar Company founder and world-renowned cigar blender, Nick Melillo, the Highclere Castle Cigar was crafted after years of travel, research and building special relationships throughout Central and South America. While the Highclere Cigar is distributed around the US and the UK to many accolades and awards, Lord Carnarvon and von Gootkin agreed that Highclere Castle's legacy had still more to offer the world.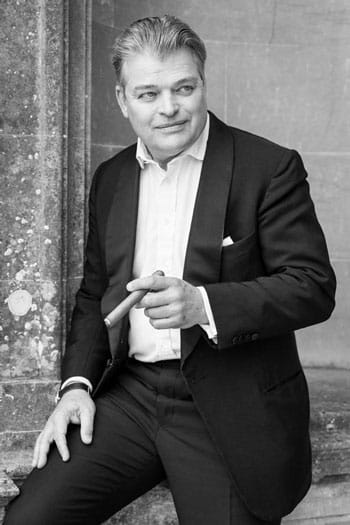 "Whilst Downton Abbey has brought much attention to the beauty and heritage of our home, Highclere Castle, there are so many more layers of both history and diversity in the landscape and world in which the Castle sits as the centerpiece," Lord Carnarvon tells EQ.
A farming estate which produces mixed crops, Highclere is home to "a large herd of sheep, conservation banks of wildflowers, beetle banks, stubble [fields] for birds, old chalk downland and ancient Bronze Age landscapes," Lord Carnarvon continues.
"Highclere was owned by the Bishops of Winchester for 800 years. The Estate had good field for pasture for horses, they grew crops such as oats and created a walled garden for fruits trees and herbs.
The walled garden is still here today—the Monks' Garden—framed with lavender borders, and walking through it we have used our heritage as our inspiration. Behind the Monks' Garden lies the Orangery, and as in past centuries we grow citrus fruits. Meanwhile, juniper has grown on the ancient hills for hundreds of years and there is also some planted in the gardens. Optimistically, we have planted ever more juniper, since we began this project, given it is the heart of every gin."
Even the bottle pays close attention to detail, another trademark of von Gootkin and the Carnarvon's uniquely high standards. "It reminds us of the squared Castle towers, whilst the beautiful purple colour draws again on the spiritual color associated with the Bishops," says Lord Carnarvon.
Centuries of tradition are catching up with the modern market at the perfect time, according to von Gootkin.
"Super premium gin is the fastest growing spirits category in the world," he says. "When you combine the deep roots of Highclere Castle's heritage with an exceptional tasting gin and a strong global distribution network, we're seeing markets coming on board faster than we ever expected. Availability will begin in the United States in July/August of 2019."
Lord Carnarvon finds himself likewise marveling at the joint venture's successful trajectory thus far, on multiple levels. "It is amazing how projects begin, how an idea has led to new friendships and become real—part of our real Downton Abbey story," he says.
"I think we all started thinking it was a good idea but then you have to go out and test it and ask for opinions. It has however already been so enthusiastically received and customers really appreciate the detail and care of the past two years, which we have used time and again to ensure we think it is better than the best."
Distilled with botanicals from Highclere's own land, the taste is an absolute departure to a time and place that the majority of the population has only seen on the screen. "The authenticity of the story is truly rare in the world of spirits," says von Gootkin. "It's resonating with people. And the reason it's resonating with people is because it's real."
"Through books and TV we have sought to share the journey from field to table, of provenance and now have sought to extend our journey to create a gin," says Lord Carnarvon. "The theme is Garden to Glass. It is again about provenance, heritage, producing something excellent, distilling taste, style and memories."
It appears that distilling style and memories is von Gootkin's signature skill, and Highclere Gin is the proof.