Your Next Luxury Eco-Tourism Destination
Six sustainable spectacular sojourns
As the travel industry begins to resume its regular operations, hospitality destinations are now more than ever prioritizing sustainability. The move toward responsible tourism which supports the conservation of land, wildlife, and local communities has been termed "ecotourism." This ethical approach to globetrotting allows guests to feel confident in their climate-friendly travels, and lets hoteliers make a difference in not only the communities in which they reside, but also on a global scale. Seeking eco-friendly properties that don't compromise luxury accommodations, EQ chose to highlight some of the dreamiest ecotourism destinations in the world.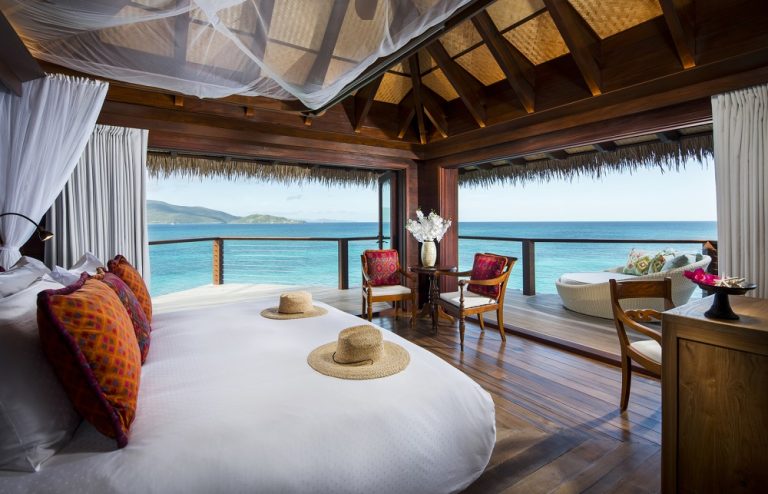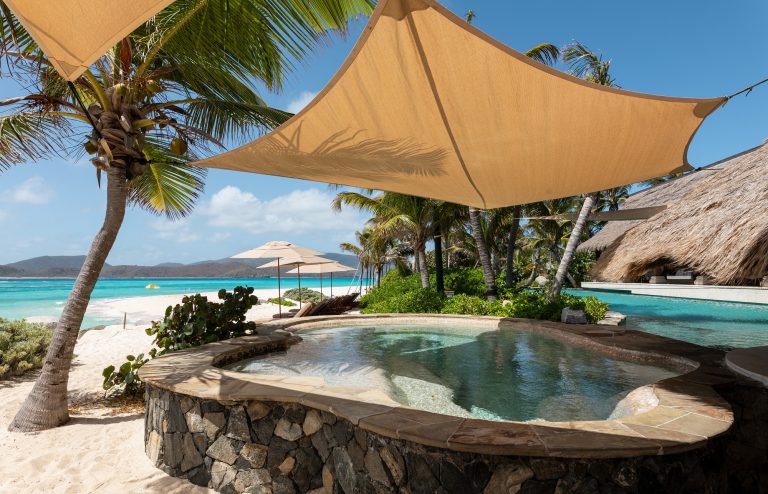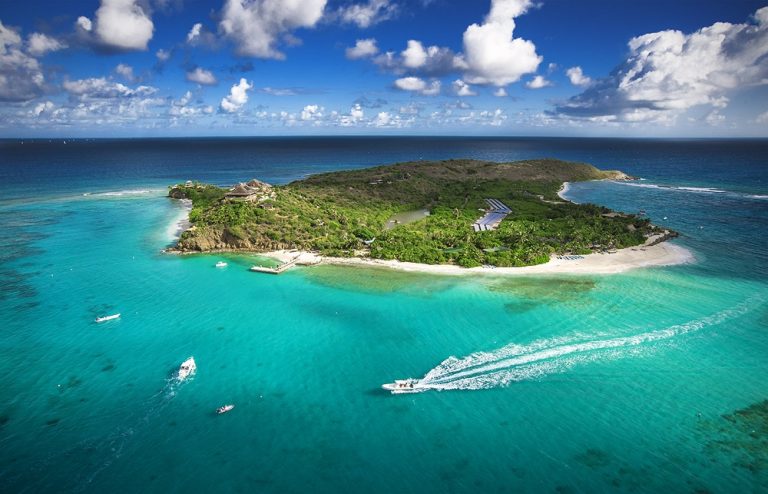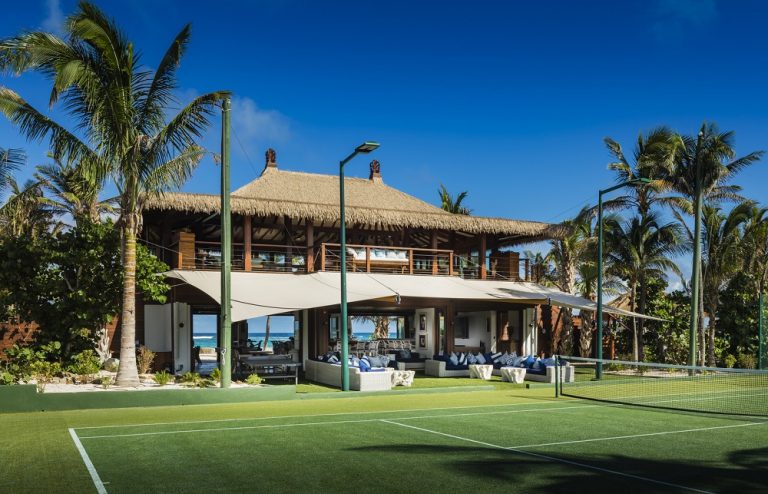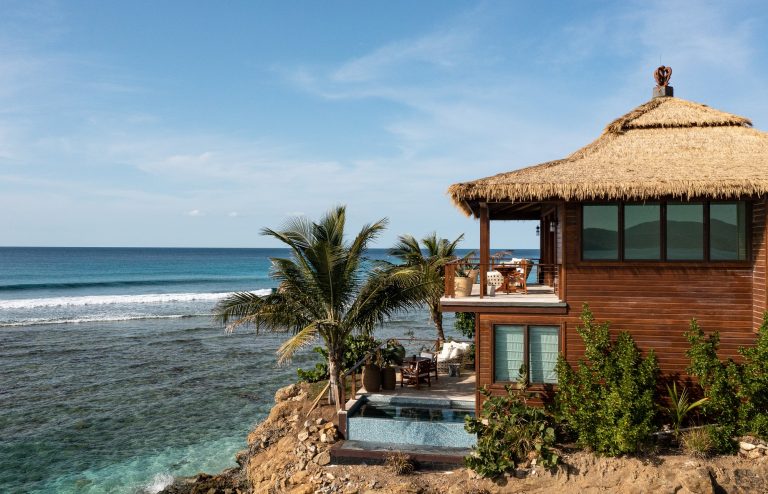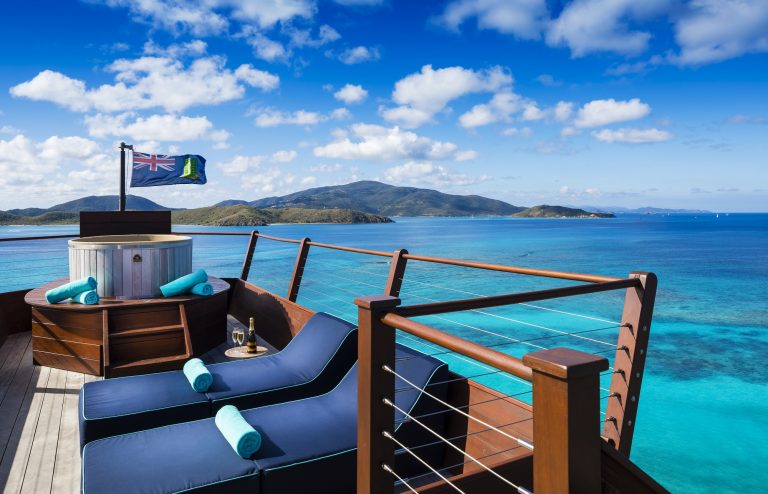 Sir Richard Bransen's Necker Island – British Virgin Islands
Combining the utmost, tropical opulence with dedicated sustainability efforts is Sir Richard Bransen's Necker Island. Guests can opt to stay in individual Balinese-style rooms on select weeks of the year, or rent the entire, 74-acres of paradisiacal white sandy beaches and sparkling turquoise waters as their exclusive private playground. After Hurricane Irma hit the island in 2017, Necker Island has worked to build back a stronger, more climate-conscious foundation for future generations.
Kenton Jones, General Manager Necker Island, explains this initial push for the island's extensive renovation, and how the restoration has built back a stronger foundation for long-term, climate-conscious change, "Having completed the extensive rebuild of Necker Island, following the devastating effects caused by Hurricane Irma in 2017, we are proud to offer a new standard of sustainable hospitality in the British Virgin Islands. From designing staff uniforms from recycled ocean plastic, to introducing a revived conservation programme, Necker Island is more sustainable than ever."
Necker island has taken on several eco-friendly initiatives, including a BVI recovery program following destructive hurricanes in 2017, wildlife conservation efforts led by a wildlife specialist team, the installation of three wind turbines and over 1,230 solar panels, an extensive water recycling program, decreased plastic waste, and sustainable food sourcing efforts. The island is powered by 100% renewable energy and aims to eliminate all fossil fuel consumption and achieve net-zero status by 2030.
Jones reflects on how Necker Island is working to ensure its flourishing environment in the future, "Each of these measures plays a key role in our commitment to not only achieving net-zero fossil fuel consumption by 2030, but proactively supporting the overall recovery program of the BVI and wider territory, ensuring Necker Island and the BVI as whole continues to thrive for years to come."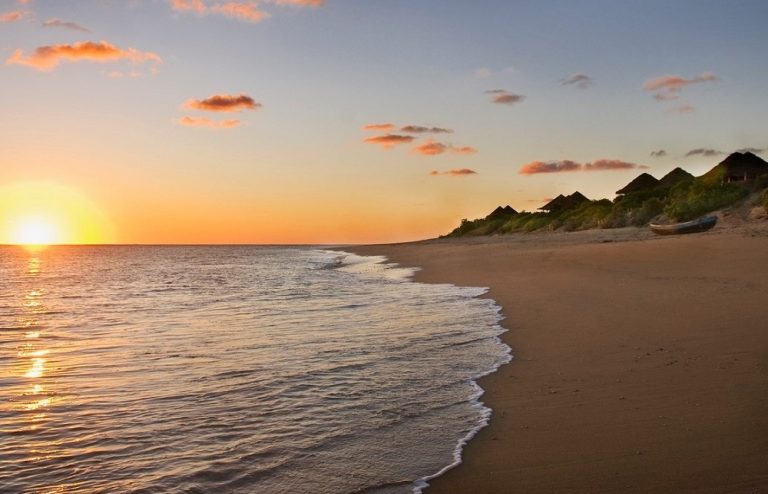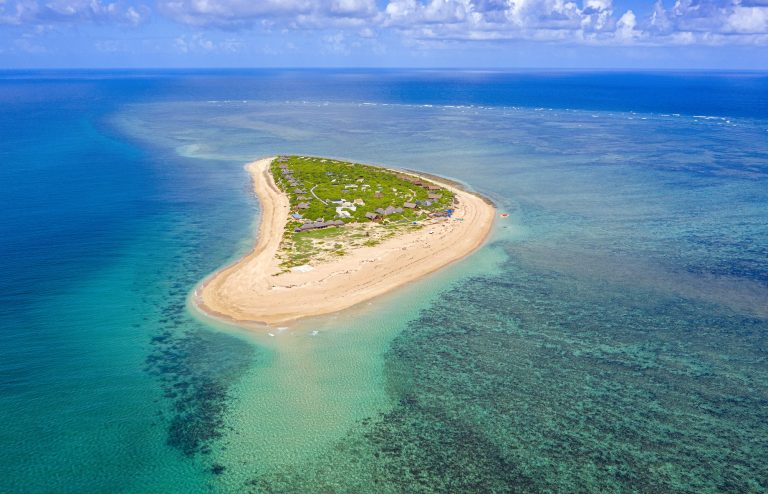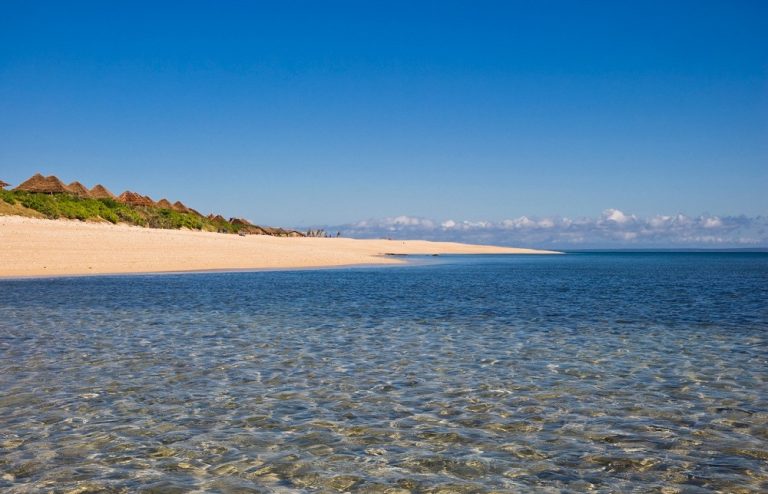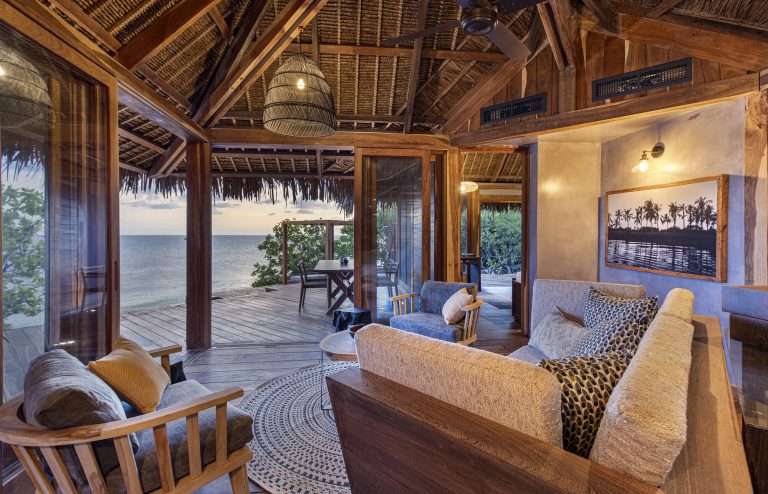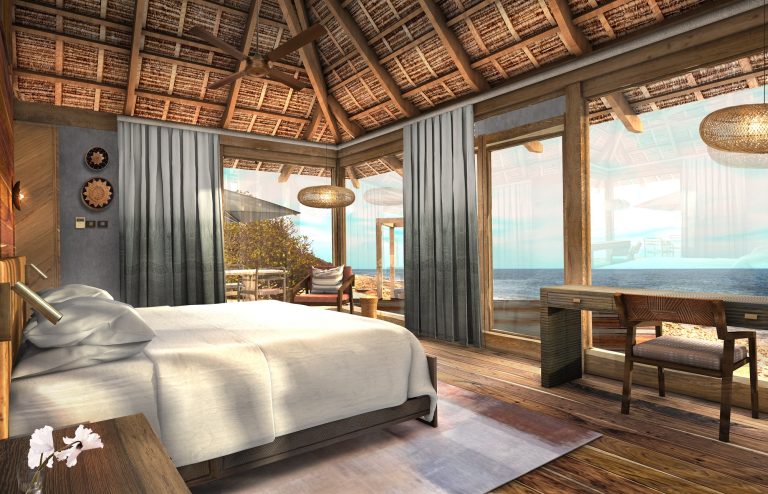 Banyan Tree Ilha Caldeira – Mozambique
Described as a "Sanctuary for the Senses," Banyan Tree Ilha Caldeira in Nampula, Mozambique welcomes guests to go with the flow of the Indian Ocean. During their stay, travelers will reside in spacious poolside villas that overlook the Indian Ocean. Located on a private island that is a world-renowned diving hot spot, this marine protected archipelago is home to 20% of Mozambique's intact, living coral and other aquatic species. General Manager of Banyan Tree Ilha Caldeira, Eduardo Johnston da Silva, discusses the unique, delicate eco-system within which his resort resides, "The crystal-clear turquoise waters of the archipelago are home to the majority of our mammal species."
Johnston da Silva continues, "From humpback whales and dolphins to seals and even dugongs. Add to this the extensive list of fish and other sea creatures such as giant groupers, different species of rays that inhabit the archipelago's pristine reef and unbleached coral system, and you have a veritable marine Eden."
Sustainability is of the utmost priority for The Banyan Tree Group, who is working to design and implement conservation programs across the globe. Johnston da Silva concurs with Banyan Tree's mission, "This entire archipelago is a marine reserve, and we are going to be focusing particularly on helping to protect its integrity."
The oceanfront, eco-conscious hotel is set to be 100% solar powered and has hired a full-time conservationist to assist with their efforts. Mozambique's Ilha Caldeira resort is to be Southern Africa's "first globally branded five-star ultra-luxury private island destination," claims Banyan Tree in a press release.
Already planning your next vacation? Banyan Tree is set to open in July 2023.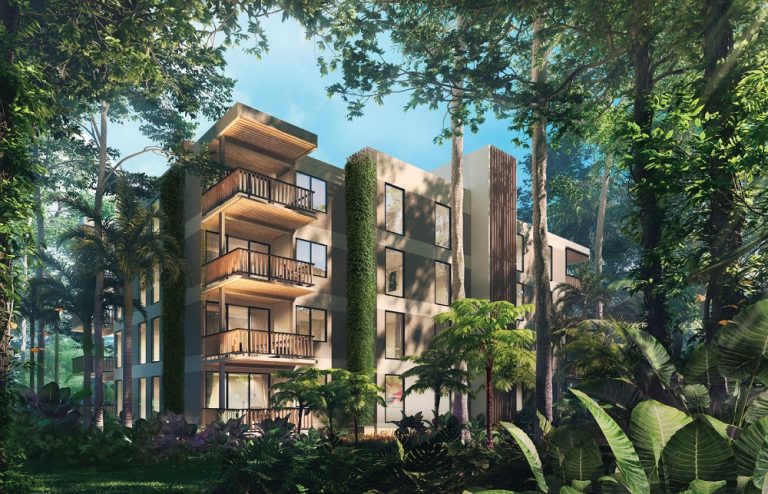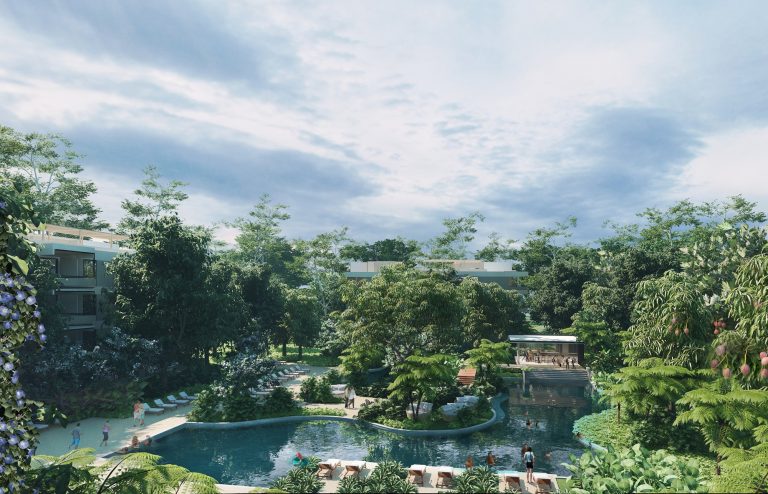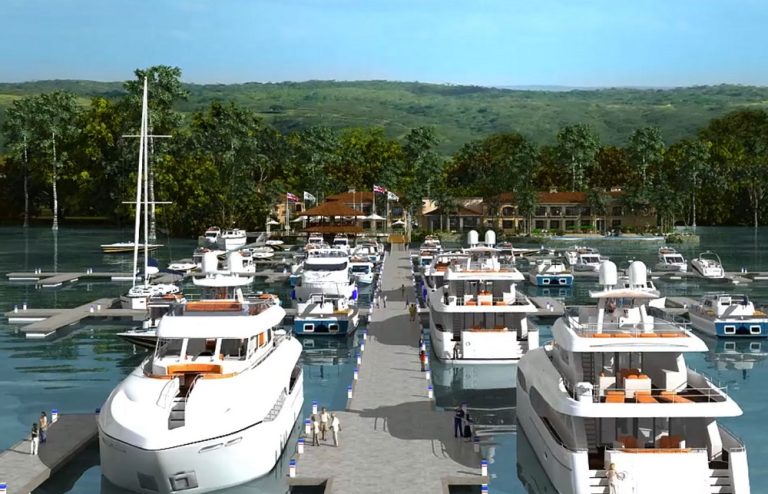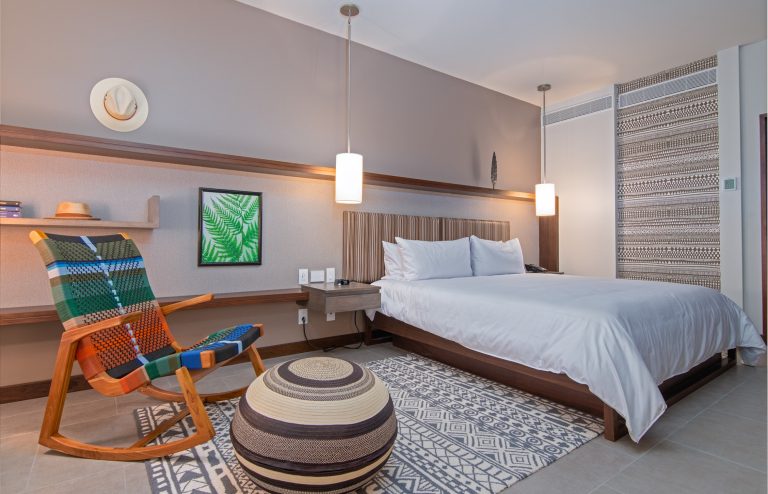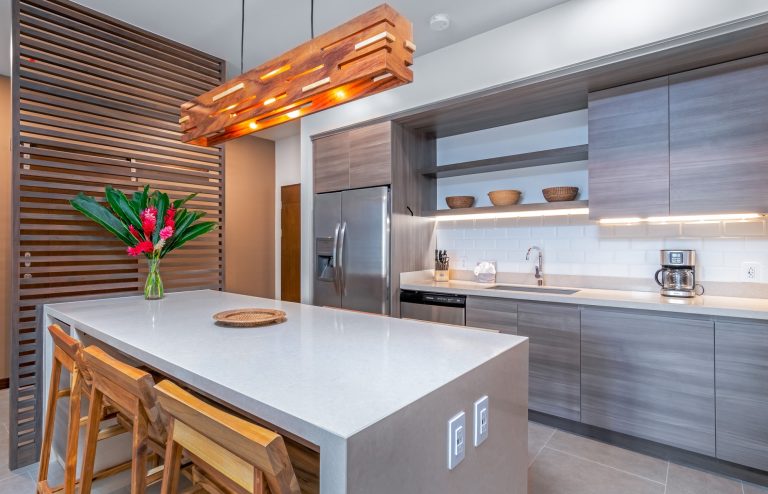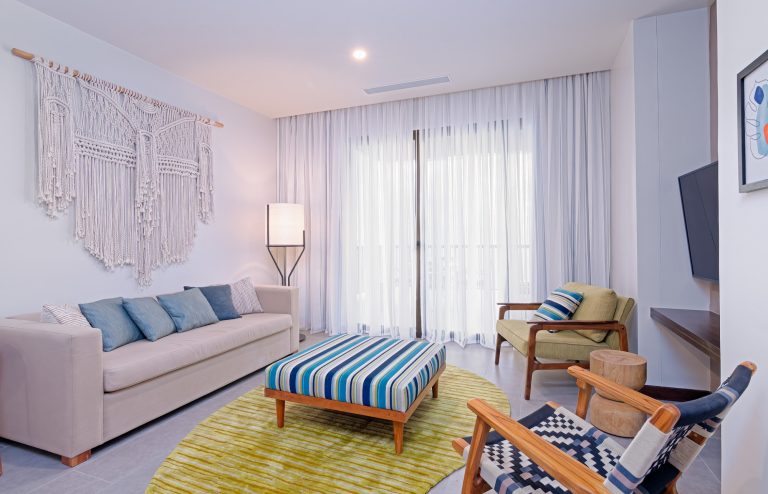 Botánika Osa Peninsula – Costa Rica
As part of Hilton's Curio Collection, Costa Rica's Botánika Osa Peninsula hotel promises high-end hospitality in a flourishing tropical paradise, Corcovado National Park. Embrace Costa Rica's Pura Vida lifestyle while staying in an airy clubhouse with studio, one-, two-, and three-bedroom accommodations. Surrounded by the verdant rainforest, guests will reside within where 2.5% of the world's biodiversity calls home.
General Manager of Botánika Osa Peninsula hotel, Diego Oviedo, explains the vision behind Botanika, "Our goal is to educate guests on the local ecosystem through citizen science and conservation programs such as the sea turtle conservation project, that brings awareness to the importance of letting sea turtles hatch and return to the ocean, and the dangers in poaching." Additionally, Botánika's Science and Nature Center and the hotel's partnership with non-profit BioSur allows for the property to further educate guests on the surrounding ecosystem.
Embrace Botánika's natural beauty by zip lining above a canopy of trees, exploring the rainforest on horseback, admiring the orchid, hummingbird, medicinal and bamboo gardens, or catching waves on Matapalo Beach. Oviedo touches on how the hotel looks to complement and conserve the land, "Botánika Osa Peninsula sits amongst Costa Rica's most dynamic environment, and we are committed to honoring conservation and sustainability practices and programs." Efforts include spearheading the peninsula's recycling operations and working with the International Commissioner of Marinas and Aquatic Tourism to conduct routine pier inspections.
"All amenities and buildings have been carefully planned and designed in partnership with local organizations to respect and ensure protection of the surrounding mountains, mangroves and wildlife" caps the General Manager, proving Botánika Osa Peninsula's commitment to sustainability.
Mark your calendars, Botánika is expected to begin operations in May 2022.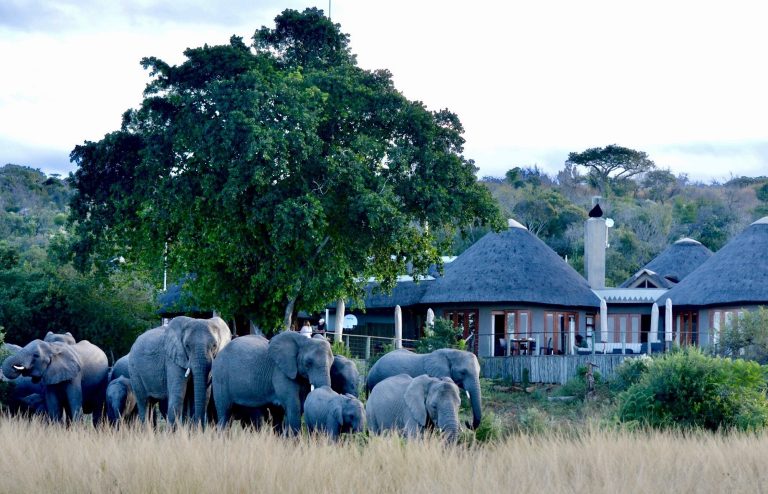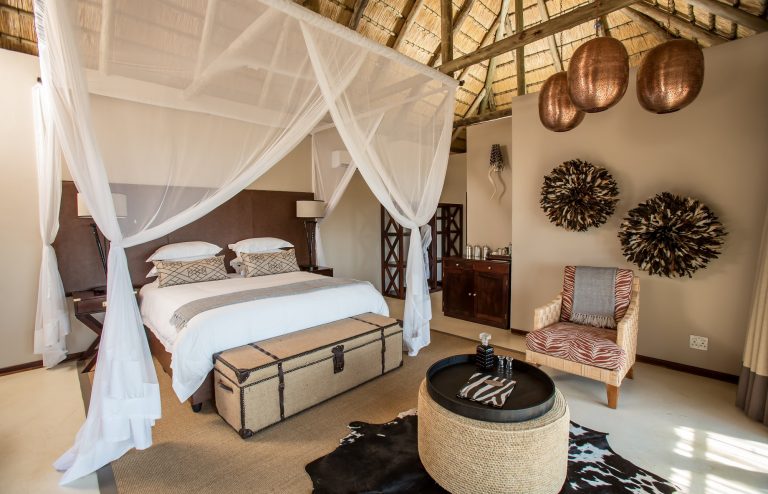 Nambiti Private Game Reserve – South Africa
Set on 23,000 sprawling, protected acres of organic African wilderness is Nambiti Private Game Reserve. A variety of dwellings – including six 5-star game lodges, two tented camps, and the larger Nambiti House – are available, each of which provide incredible, unobstructed views of local wildlife. The reserve within which the lodge resides is extremely biodiverse (and malaria-free), with grasslands, riverine bush, savannah, and thornveld, as well as over 40 species of wildlife, including the Big 5 game and many birds.
Chairman of Nambiti Private Game Reserve, Clarke Smith, comments on the property's mission, "Nambiti is an exciting, well-run community based conservation initiative which, at its heart, looks to not only conserve biodiversity and critically endangered species, but also to uplift the communities that surround it."
"We see sustainable ecotourism as not only a means to provide for the protection of our beautiful game reserve and all the animals that live within it, but also to allow for benefits to flow to the people that live around Nambiti through the provision of jobs and a number of outreach projects. Guests who visit Nambiti make a difference."
Nambiti's staff consists of community residents who decide how to best maintain the reserve, which benefits both the local economy and the environment. Zooming out from Nambiti's sustainability efforts to reflect on the property's effects on the larger environment, Smith caps, "We focus on the big and small, with a proud record in big cat conservation…Recently we embarked on a honey bee project that will also allow us to harvest our own honey. It is all about long term sustainability."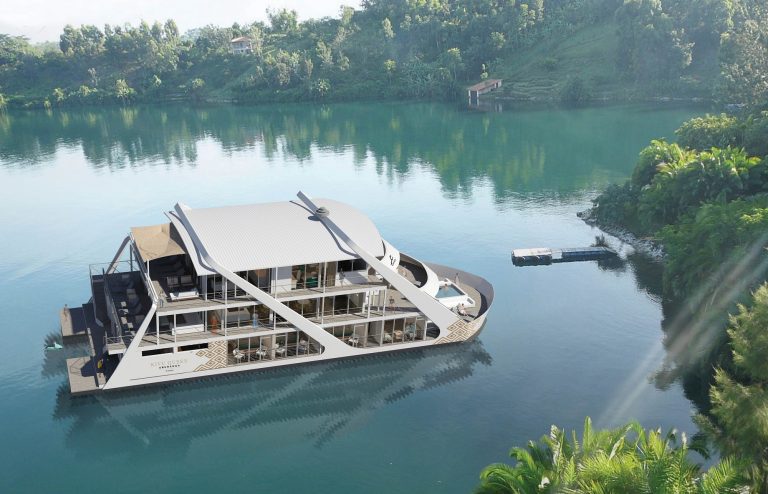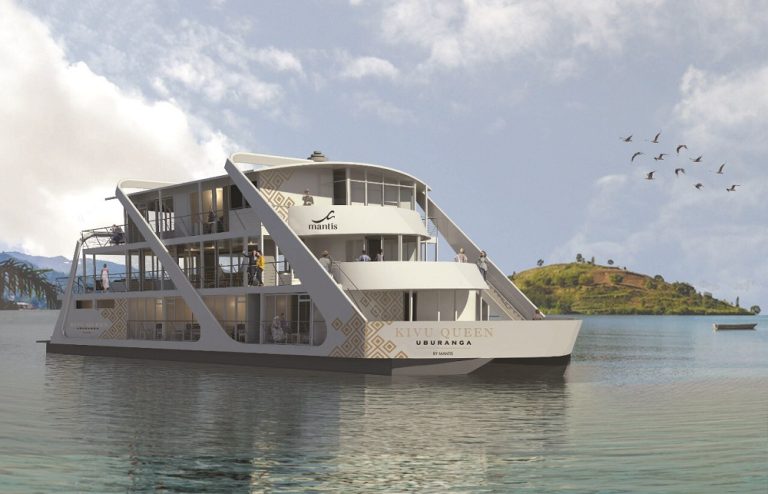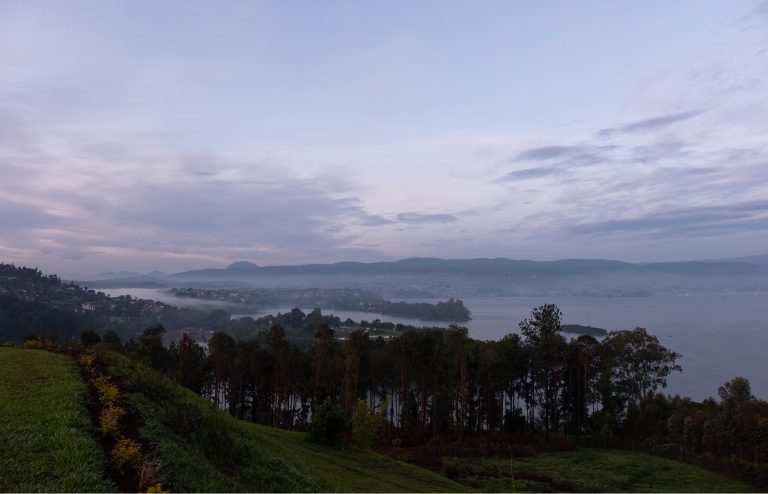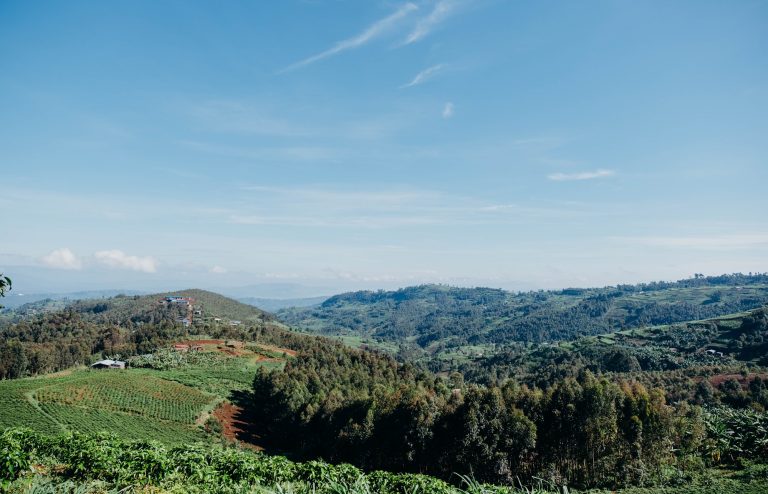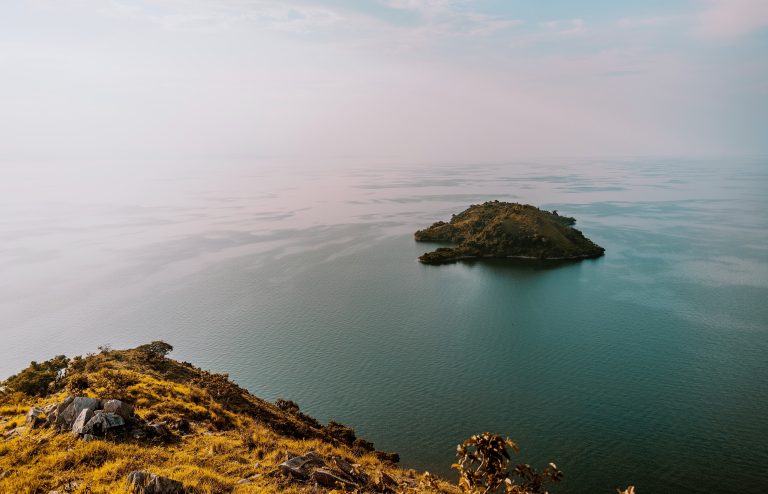 Mantis Kivu Queen uBuranga – Rwanda
Cruise down Rwanda's Lake Kivu in style aboard a floating hotel, the Mantis Kivu Queen uBuranga. This ten-cabin luxury houseboat provides unique views of Africa's great lake and the Albertine Rift montane forests, one of the most biodiverse ecozones on the earth. "We are all about curated destinations, inspired by sustainable adventures and we offer our guests the opportunity to make authentic connections with both nature and people," says Mantis Group CEO, Paul Gardiner.
Lake Kiwu is the chosen location for Kivu Queen uBuranga's since "the floating luxury hotel has been created to add value to the environment and communities living along the lake by providing onboard work for locals and income to small businesses along the river." To help preserve the planet and reduce her eco footprint, the boat is propelled by both solar and diesel power.
The Mantis Group believes in the "Mantis Impact" of their sustainability initiatives. "Our moniker Mantis stands for Man And Nature Together Is Sustainable," elaborates Gardiner. Designed by conservationists with over twenty years of collective experience, the Mantis Impact Experiences are "a series of fully immersive nature activities designed to educate and inspire eco-conscious guests to tackle conservation issues through hands-on encounters," explains Gardiner. The group follows through on this mission via their "Greening the Community" efforts in Kwa Nobuhle, the Kylemore Sewing Project (aimed at protecting endangered South African species), various wildlife rehoming endeavors, and their Bees & Biodiversity project.
The Mantis Kivu Queen uBuranga will embarking on Lake Kivu in 2022.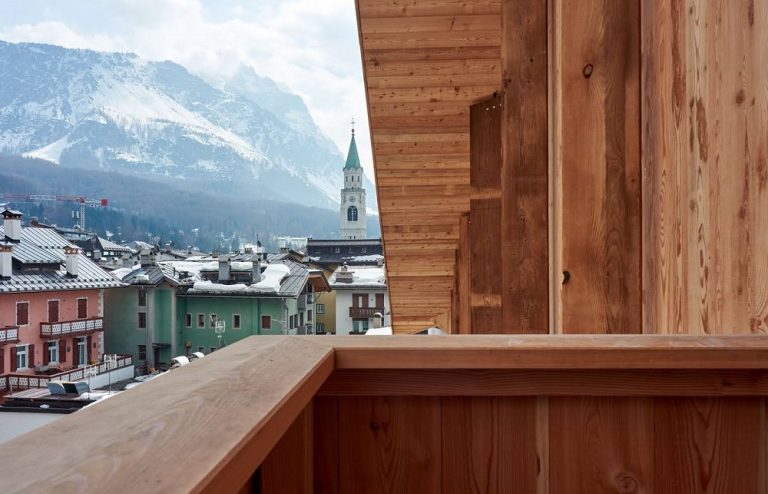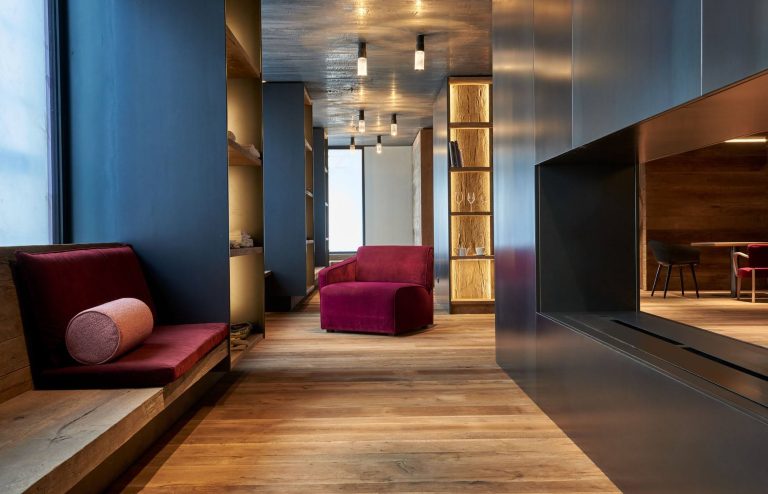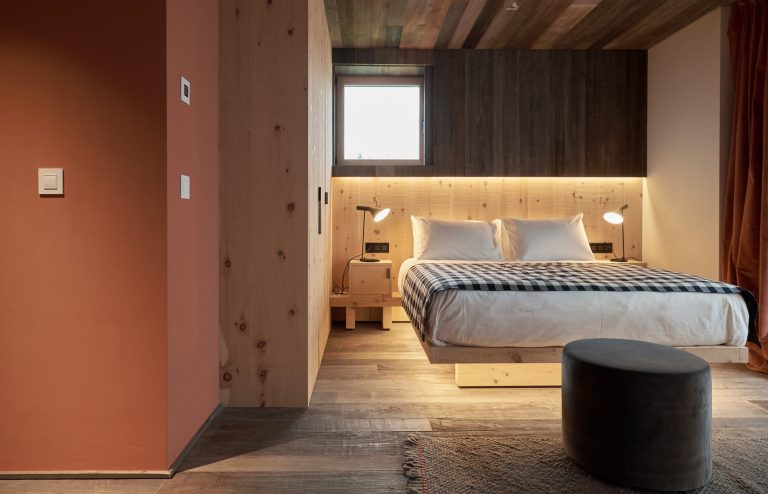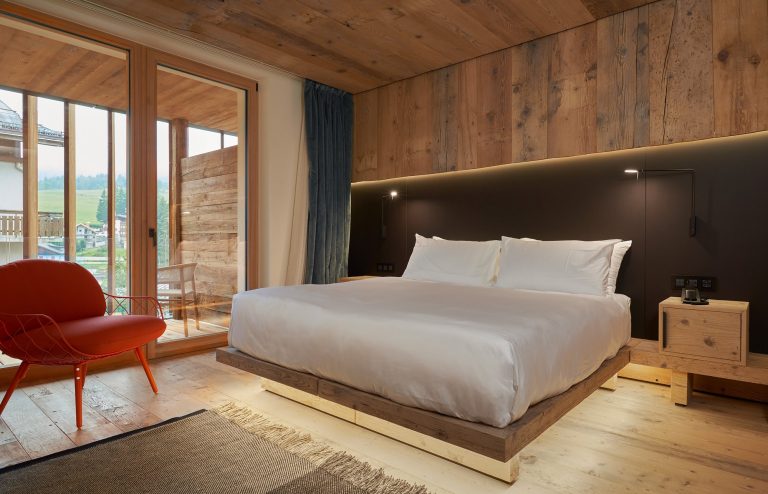 Located in the heart of the Italian Alps, guests of Hotel de Len overlook Olympic ski facilities while perched in psychophysically balanced suites that prioritize the wellness of both visitors and the earth. The minimalist interiors of Hotel de Len's 22 suites provide maximum comfort, with niceties including private terraces and stunning Cinque Torri and Tofane mountain range views. Constructed via natural, raw materials – mainly locally-sourced wood – Hotel de Len harbors a strong appreciation for sustaining the surrounding environment of Cortina d'Ampezzo.
The property's philosophy rests upon the territory's artisanal woodworking history and the delicate balance preserved between man and nature. In fact, "the name 'De LEN' – which means 'of wood' in Latin – underlines the attention to the traditions of the territory and refers to the true protagonist of the architectural structure: wood, a sustainable, renewable and practical element" explains the hotel's sustainability manifesto.
Swiss pine has been incorporated into the interior of some rooms to improve sleep quality. In other spaces, fir wood has been chosen to induce an aligned, rebalanced state. Hotel de Len's manifesto elaborates that the property is "a new project based on the principles of sustainability and wellbeing that pays homage to the Ampezzo heritage, offering a contemporary experience which is deeply rooted within the land."