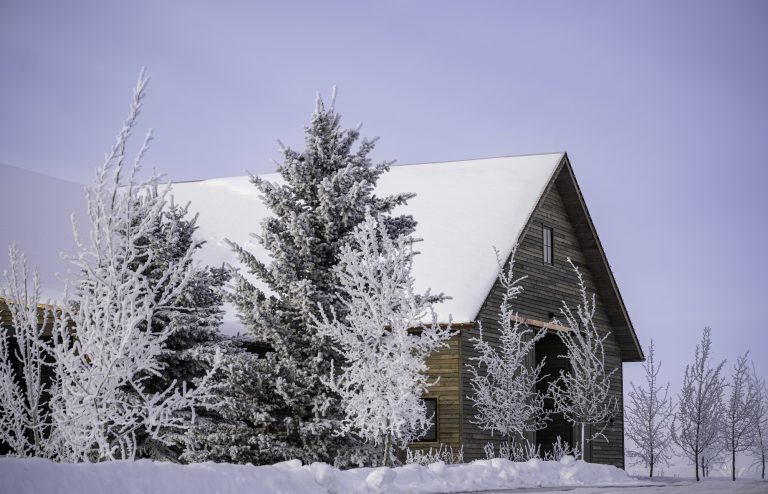 Winter Wanderlust at Tributary
The Teton Valley's best kept secret
With winter weather here, travelers can look forward to bundling up and enjoying the hibernal landscape. Located on the west slope of the Teton Mountain Range, Teton Valley beckons acclaimed alpine adventure, extolled gastronomic offerings, and the ideal conditions for world-class skiing and snowboarding (and skijoring, for those looking to have a real Western winter experience). In fact, Teton Valley is one of the most highly rated outdoor recreation communities in the United States.
Taking advantage of Idaho's winter wonderland is the Tributary private residential community. With their residences perched on the Rocky Mountains, these properties offer privacy, natural beauty, and the perfect powder for those looking to hit the slopes. Stationed less than a five-minute drive from Driggs–Reed Memorial Airport's Teton Aviation Center, a full-service private airport, residents can land their chartered or private flights just on the outskirts of Tributary's community for ultra-convenient access. High elevation is paired with high class living at Tributary's four-season private club community.
Ulla Rasche, General Manager of Tributary, spoke with EQ about why the Teton Valley was targeted for their property's development, "Teton Valley is one of America's best playgrounds for year-round outdoor adventure." She elaborates that the region is renowned for its world-class hiking, mountain biking, and fly fishing in the summer. During the colder months, the area offers perfect powder for downhill skiing, cross country skiing, and snowshoeing. "For active families seeking a basecamp for mountain adventure with an authentic small-town feel, Teton Valley is the perfect spot to settle," says Rasche.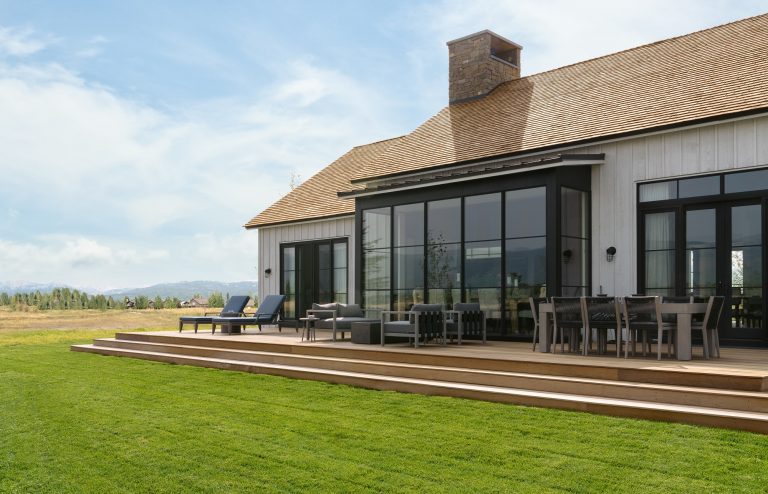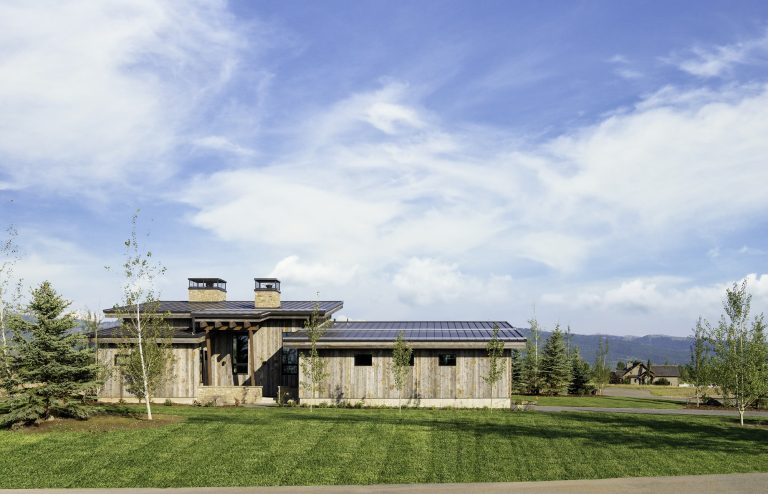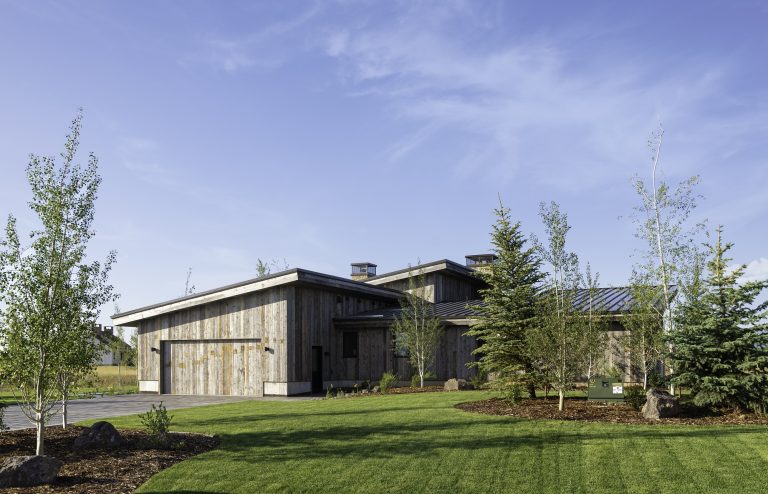 Tributary's contemporary cabin homes are available in four-, five-, and six-bedroom configurations, starting at $3.25 million. "Not to be confused with rustic interpretations of iconic western homesteads, these contemporary cabin homes speak directly to the sensibilities of modern convenience and immersion in place," says Tributary.
Jeff Heilbrun, director of real estate at Tributary, explains that the community's programs and amenities are specially curated by hospitality and outdoor adventure connoisseurs. As Tributary sprawls across 1,500 low-density acres, each home is guaranteed privacy and incredible wildlife views while also enjoying contemporary conveniences and luxury living.
Each residence was designed to create a flowing sense of harmony between its cozy, contemporary interior and the rustic outdoors. Architectural design was completed by Northworks with interior design by WRJ Design. The open floor plans, use of locally sourced materials, and exposed craftsmanship all invite elements of the outdoors inside in a sophisticated and stylish manner. Each cabin infuses inspiration sought from the Teton's rugged wilderness with the traditions of WRJ's international design accolades.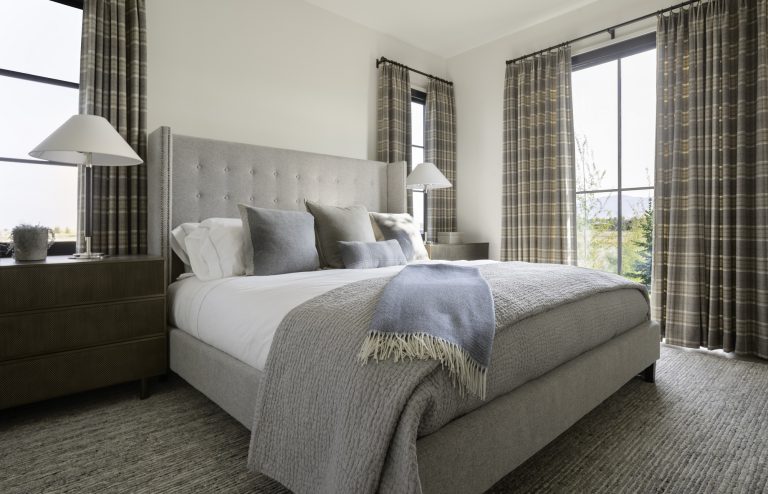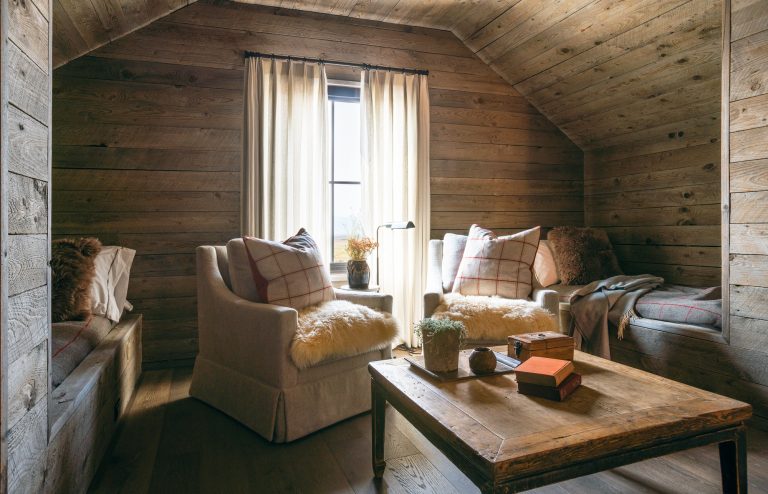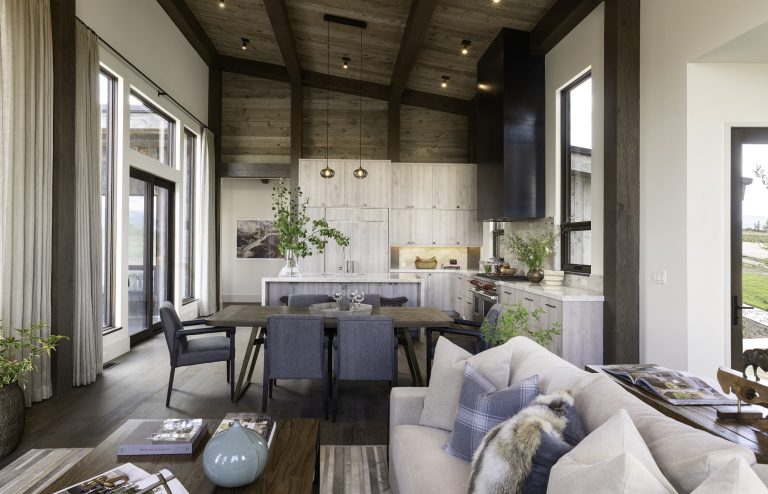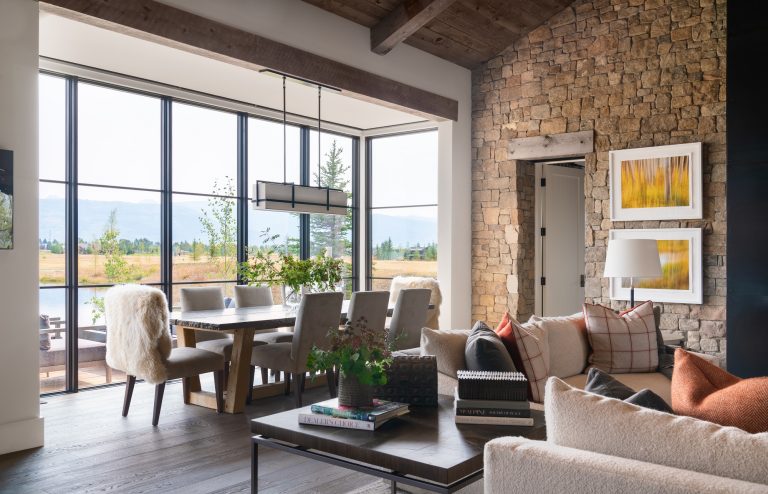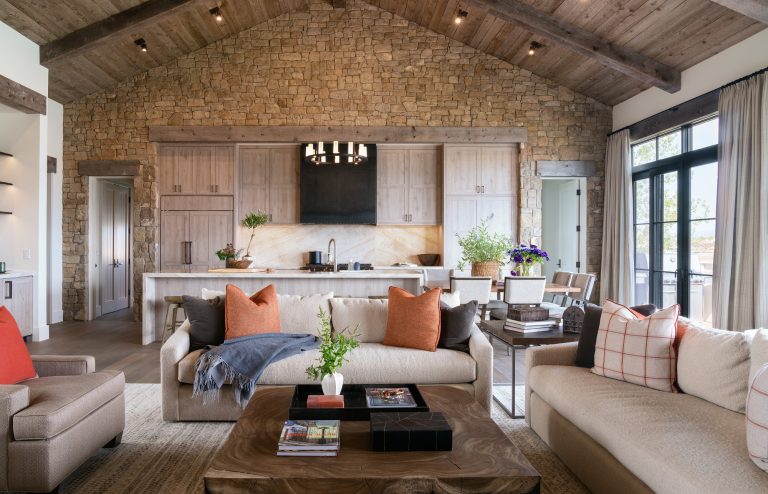 Rush Jenkins, WRJ Design CEO and creative director, spoke with EQ about Tributary's design, "Inspiration for the Tributary came from the Teton Valley's original heritage, settled by farmers and pioneers in the late 1800s, nodding to that vernacular of the area's iconic barns and the kinds of materials used in early homesteads." He continues, "You'll see the interior color palette inspired by the natural surroundings – the golden and dry-grass tones of hay and the locally farmed wheat, as well as greys and blues from the Tetons, and blonde and brown shades from the dry-stacked limestone, mined regionally in Muddy Creek, Montana, and the locally sourced antique barnwood, as well as orangey, rusty accents suggesting mountain sunsets and the faded paint on barns. There's that sort of yin and yang symbiosis between inside and out, a relationship between the interiors and the landscape they sit in."
Utilizing both international materials – like Italian fabrics and light fixtures as well as Scottish draperies milled "using authentic historical methods that would be similar to those of the Teton Valley homesteaders" – as well as locally inspired finishings, "the overall design blends the best attributes of contemporary and traditional, tied to the local environment but also looking to the broader world," says Jenkins. Not overlooking any design details – like the leather-wrapped globes and specially picked light fixtures in the great room – these careful considerations "add a rustic and even equestrian element that connects to the Valley's past," he caps.
Tributary offers five unique cabins – the Tributary Cabin (the community's quintessential stay for families), the Angler Cabin (6 bedrooms, 6.5 bath, 4,937 sq ft), the Colter Cabin (6 bedrooms, 6 bath, 4,241 sq ft), the Iron Horse Cabin (4 bedroom, 4 bath, 3-car garage), and the Basecamp Cabin (5-bed, 5.5 bath, 3-car garage, 2-car toy barn). Tributary also offers individual home sites for buyers looking to provide their own design and builder.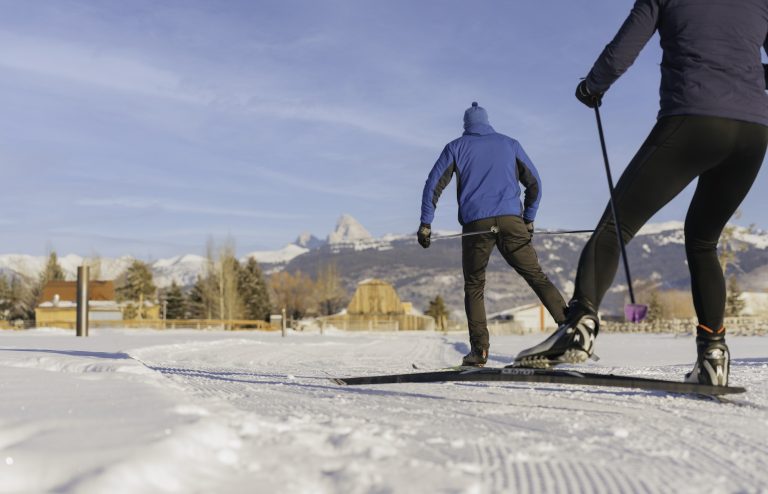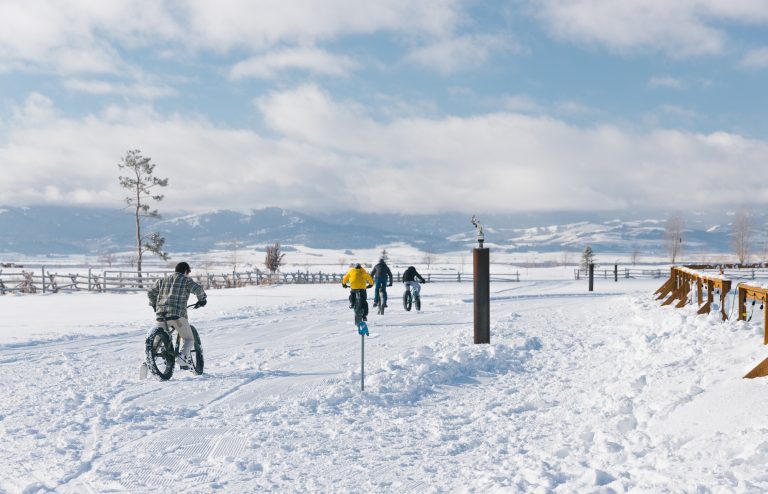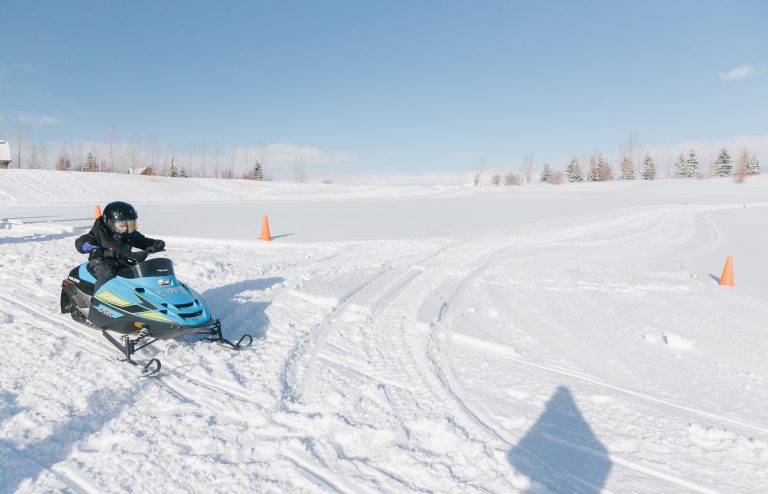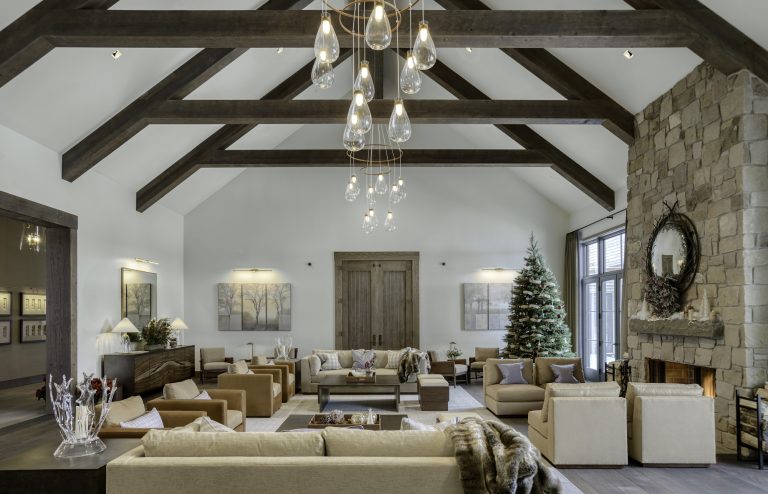 Looking toward the future, the residential community plans for two additional phases of development to expand the community's offerings. Tributary reports that additional real estate phases and amenities are currently under works. In 2023, there is a plan for a phased release of roughly 75 homesites in the spring and summer. If access to the surrounding environs weren't an amenity enough, granting a sneak peek to EQ readers, Tributary reveals that deliberations of full-sized tennis courts are on the docket.
The Clubhouse – a new addition to Tributary's community as of last year, acts as "an extension of owner's living rooms," says Heilburn. There, residents can mingle with neighbors, enjoy drinks, and grab a bite to eat. He summarizes the Clubhouse as being "cozy with a refined sense of luxury, blending into the surrounding beauty of Teton Valley."
Taking advantage of its picturesque surrounding landscape, Tributary offers a host of outdoor activities. Some of the most unique offerings include the elevated two-mile boardwalk above The Fen for spectacular wildlife viewing, the kid-friendly snowmobile track, axe-throwing lawn, and ice-skating rink, to name a few. "The on-site recreation barn is outfitted with equipment for the area's many outdoor adventure opportunities, along with tour guides offering numerous outdoor excursions including to the nearby Grand Teton National Park and Yellowstone National Park," Heilbrun expands. While the mountainside is draped in a blanket of white golfers can practice their swing at the indoor golf simulator during winter, or at the championship 18-hole David McLay Kidd-designed golf course greens during the rest of the year.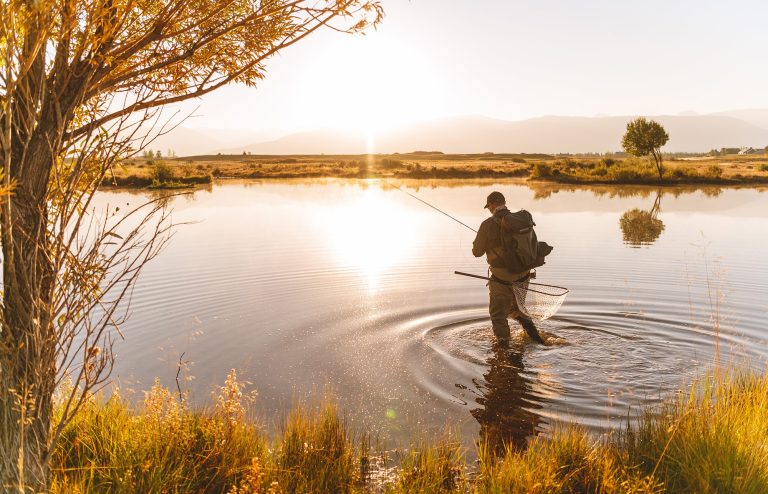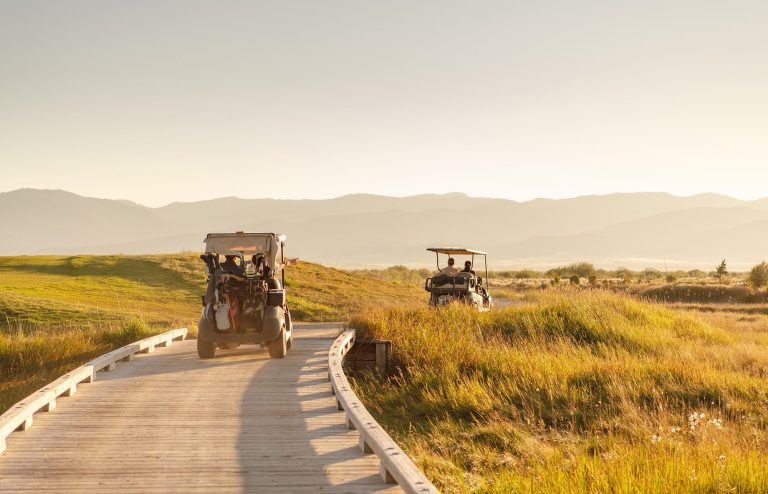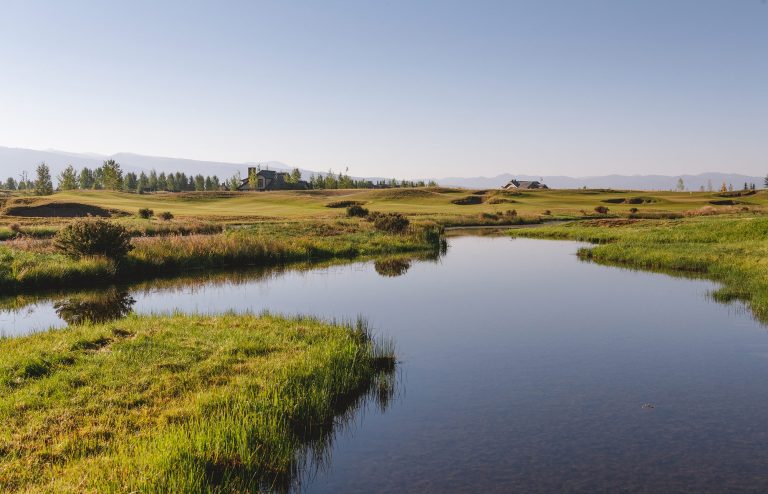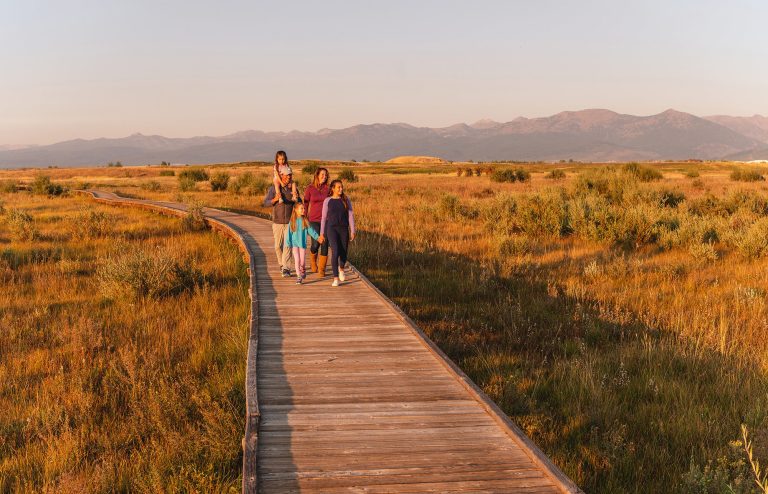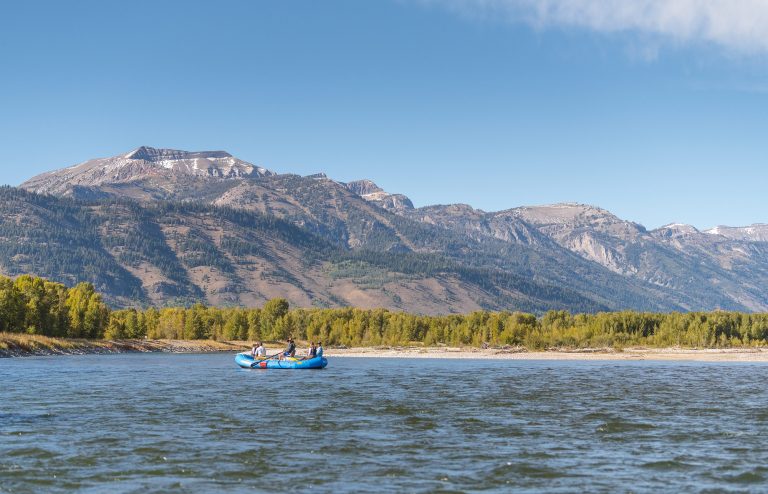 After residents put their put-put to the test, they can unwind at the wellness facility (equipped with a fitness center and spa) or take a dip in the outdoor hot tubs and swimming pool. Tributary's club house also offers the ideal retreat after a day spent exploring the outdoors, offering toasty firepits to gather around and take in the vivid mountain side scenery. After working up an appetite, enjoy inventive cocktails and perfectly presented pairings at the Eddy Bar speakeasy.
Just beyond the resort's premises is the Grand Targhee ski resort – which has consistently ranked as one of the top five ski resorts in the United States for its percentage of annual powder days. The acclaimed ski resort is so close by, in fact, that it can be seen from most homesites. Accessible to skiers and snowboarders of all ages, Grand Targhee offers private lessons and trails ranging from beginner to advanced. "The resort is popular with locals in the Teton Valley of Idaho, and lift lines are typically short if there are any at all," details Tributary. Compared to the crowds at the jam-packed Jackson Hole ski resort – which is a forty-minute drive away – while not a ski-in/out, Grand Targhee offers a more intimate experience, closer to Tributary's backyard.
For those less inclined to traverse the trails and set forth on the slopes, they can still relish the resort by enjoying a warm meal, hot chocolate, and convenient shuttle transport to and from Tributary at Grand Targhee's members-only ski lounge. Or don't bother leaving Tributary at all and take advantage the community's private 10 kilometers of groomed Nordic skiing trails. Whichever adventure calls your name, Tributary is sure to provide awe-inspiring views, a convivial community, and a cabin residents will always be glad to call home-sweet-home.