Lufthansa Technik AG Presents the Explorer Jumbo Jet
The new innovative jumbo jet that takes flight at the intersection of superyacht and aviation
IMAGERY COURTESY OF LUFTHANSA TECHNIK AG
Sure, private jet passengers can boast about all of the grand locations that they have flown to and from. However, not many can say that they crested flight underwater, or at a disco. Lufthansa's new EXPLORER Jumbo Jet is taking aviation to new heights.
The EXPLORER is inspired by design trends popular among superyachts, in which vessels can deliver passengers to their destination while simultaneously acting as both a hotel and base camp. The wide-body design of this jumbo jet allows for a spacious, open concept feel inside of the aircraft. Lufthansa chose an Airbus 330 for the jumbo jet's platform, creating a sizeable interior space. Influenced by EXPLORER yachts, the aircraft features several retractable design elements that allow for breathtaking views of all that is below. A large, fold-out veranda can expand from the floor in the fuselage area, allowing passengers to intimately interact with their surroundings.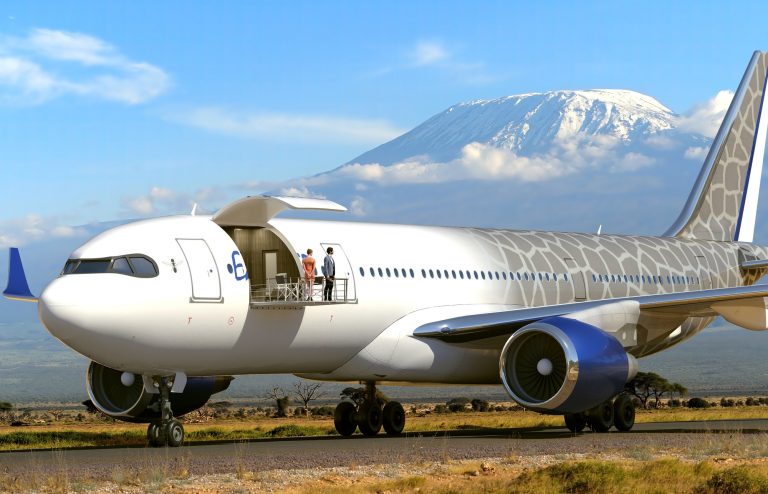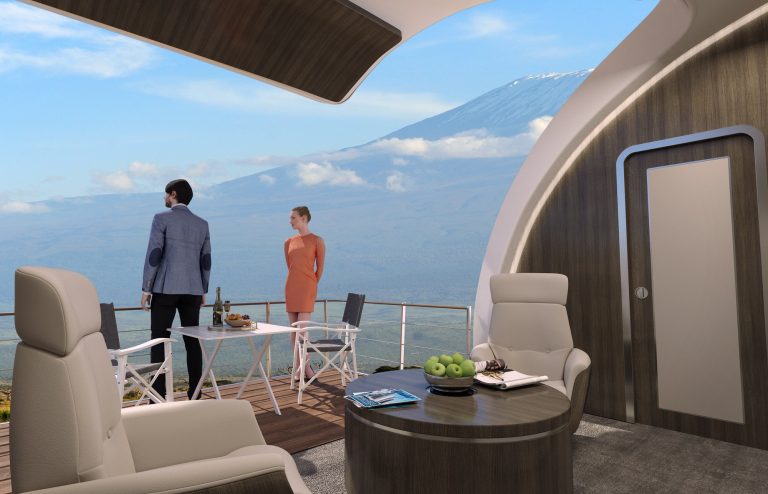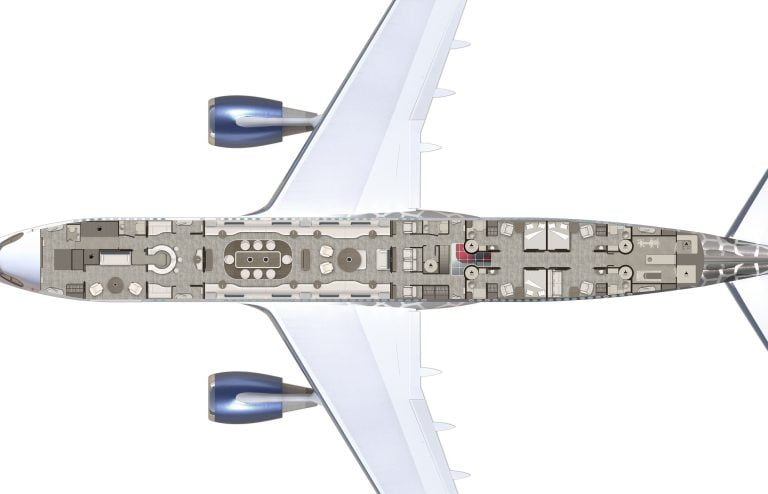 "In yacht building, multifunctional exploration vessels have now become a class in their own right. And many owners of such vessels also call an aircraft their own," explained Wieland Timm, Head of Sales VIP & Special Mission Aircraft Services at Lufthansa Technik, in a press release. "For this fast-growing target group of VIP world explorers, we have therefore now created a flying platform for the first time. Unlike a yacht, however, our EXPLORER aircraft allows passengers to travel to the other side of the globe within hours and set up their own individual base camp for further activities."
The capacious cabin is currently recommended to host up to 12 VIP passengers. However, seating can be expanded to accommodate up to 47 people. While on board, guests can relax in the jet's guest rooms, offices, dining and conference areas, or in the multifunctional room. Designed as a fitness and wellness facility, the multifunctional room can also seamlessly be transformed into a hospital room.
On the aft section of the lower deck, the crew will find the jet's Mobility Lounge. Constructed in collaboration with BRABUS, the specialized space will showcase a shrine of exclusive automobiles and exploration vehicles. The mobility lounge will also function to assist with land transport and any of the other technical needs of the on-board vehicles.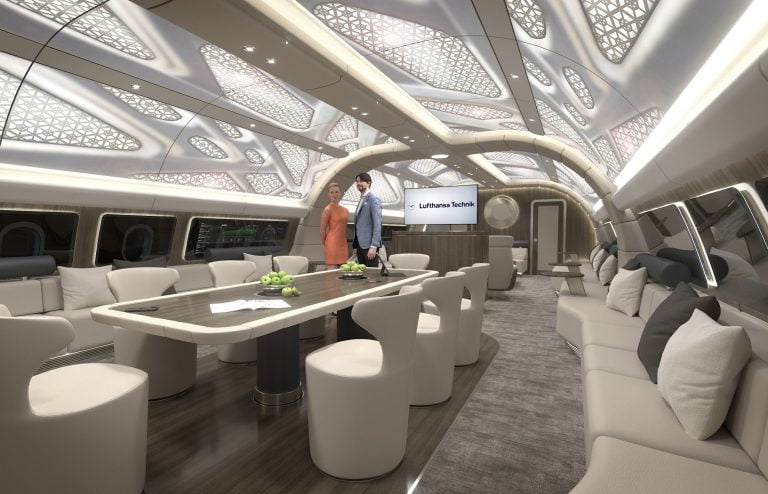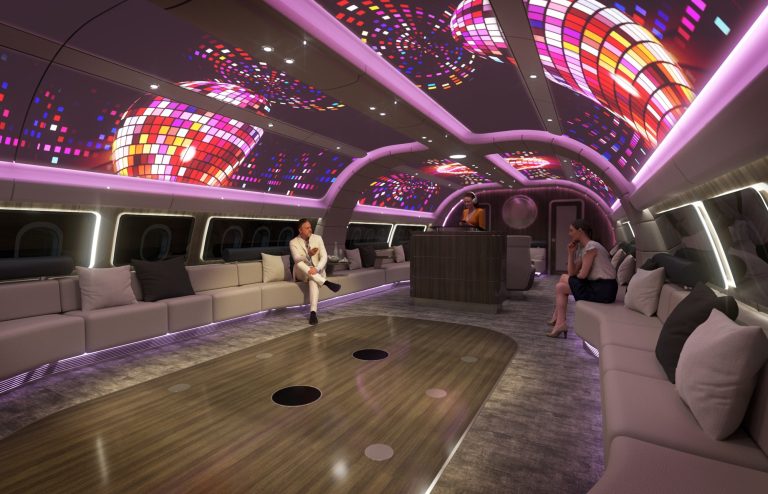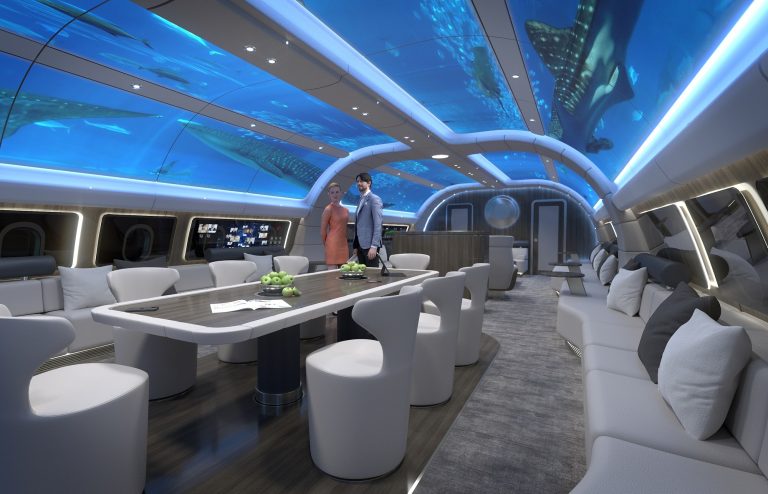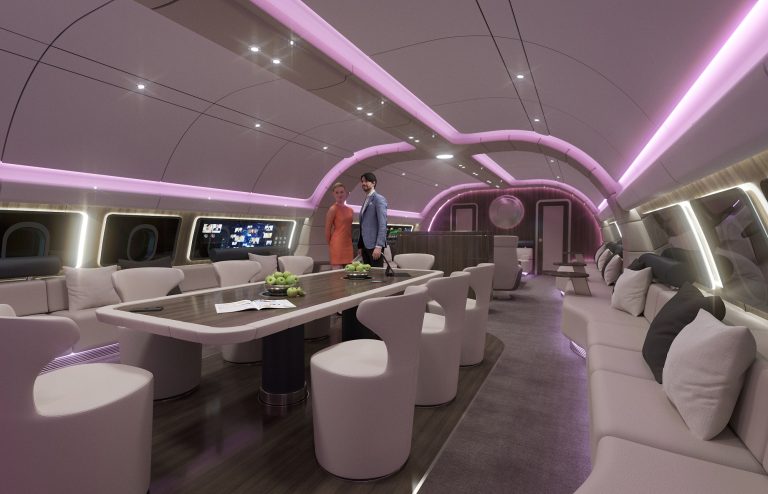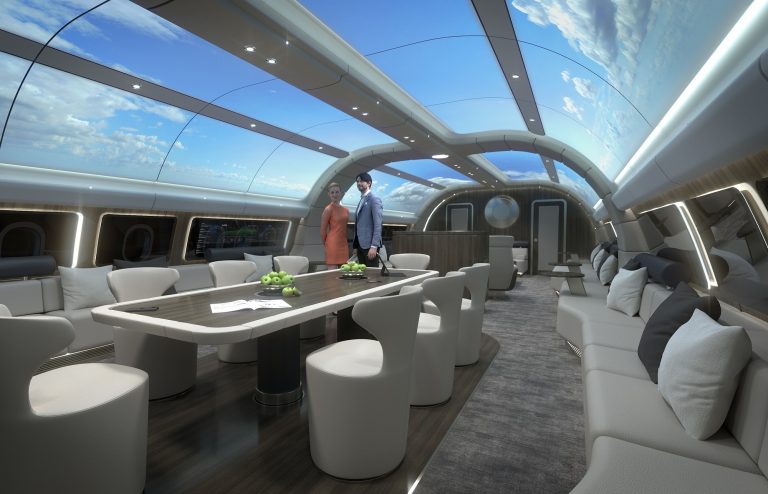 Another one of the EXPLORER's innovative features is the massive projection system, designed in collaboration with Diehl. By projecting digital content inside the cabin, a limitless number of ambient atmospheres and virtual worlds can be crafted. Almost instantly, the jet cabin can shift from daytime to nighttime, or even into a flying discotheque. This unique feature first made a splash during an EXPLORER teaser shown at the Monaco Yacht Show, in which the interior of the jet was transformed into an animated, underwater world.
The EXPLORER jumbo jet was also recently presented at the Dubai Airshow – the first large gathering of the aviation industry in nearly 20 months. Lufthansa Technik screened an animated film alongside extensive illustrative materials that elaborated upon the aircraft's development. Additionally, event attendees were invited to view the Airbus A330's widebody cabin design. Diehl Aviation also had hosted a booth at the event to discuss their innovative technological advancements.
Thanks to the highly anticipated release of the EXPLORER, Lufthansa Technik is only going up.