The Independent Edition – Our Choices
Written by Justin Mastine-Frost
EQ recently featured some of our favorite new watch releases in 2021, after seeing the many unveilings at the year's Watches & Wonders virtual summit. In that installment we focused on the industry's biggest names, but as always that's only half the story. Alongside these bits of news, many of our favorite boutique independent watch brands also came to the table with new watches for the year, and there are several worth talking about. On one end of the spectrum we crack north of the $100k mark on a piece commemorating an important 10-year anniversary. On the other end, we land under the $5k mark on a piece delivering massive value for hand craftsmanship that we simply never see at that price point. Needless to say, that there's plenty here to get excited about, regardless of your available budget.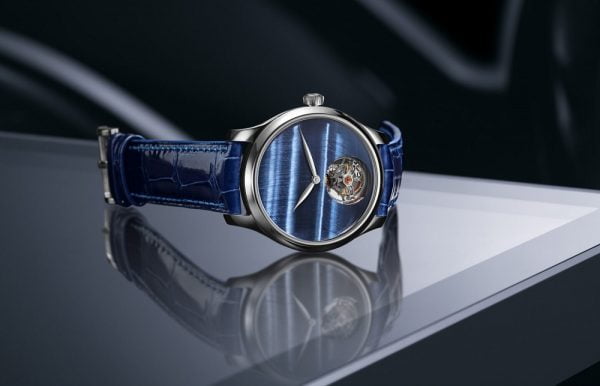 H. Moser & Cie. Endeavour Tourbillon Tiger's Eye
This came a bit out of left field, but we're not hating it one bit. Moser has long been known for its unique dials, though we never thought we'd see them experimenting with stone. Granted, when your style is copied enough by other brands big and small, at a certain point it doesn't hurt to change things up a bit. Part of the Concept series, the Endeavour Tourbillon Tiger's Eye lets the stone do all the talking. There are no indices or logo present, and yet any proper watch enthusiast will immediately recognize it as a Moser creation. The 40mm piece is offered in either white gold (Falcon's Eye) or red gold (Ox's Eye), and is powered by the caliber HMC804, which is a self-winding flying tourbillon fitted with the brand's patented double hairspring. Each variant is limited to 50 pieces worldwide.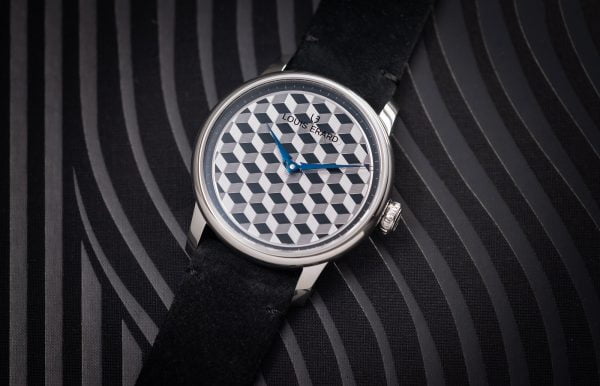 Louis Erard Excellence Guilloché Main
Louis Erard has released a few surprises in recent years, however their latest Excellence Guilloché Main is easily the new favorite. Guilloché dials are scarce in the watch world to begin with, as their creation requires the use of a technique on a manual machine whose roots go clear back to the 18th century. That's right, its dial isn't just some quick automated CNC trickery, but rather the work of a lone artisan making these dial patterns on a machine that's something along the lines of a manual lathe with a guided chisel attachment. Priced at roughly $4,200 USD (based on current exchange), only 99 examples of the new model will be produced.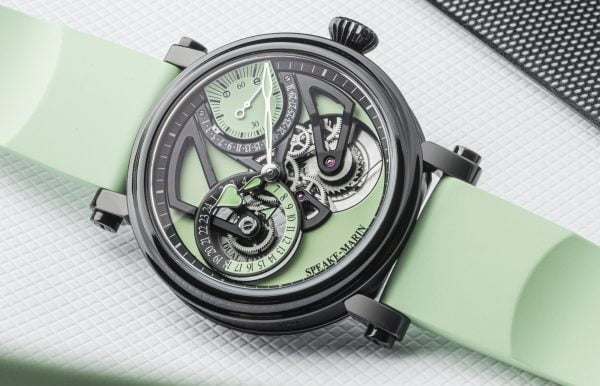 Speake-Marin Dual Time Mint
There's been a lot of talk about how "green is the new blue" in the world of watches, but for all of the forest, olive, and emerald dials, it was this partially open-worked mint dial in a DLC-coated titanium case that was the winner in our books. The 10-piece limited edition, offered in either 38mm or 42mm case sizes depending on your preference, runs a beautifully finished micro-rotor automatic caliber, and displays two separate time zones, as well as running seconds and a retrograde date display.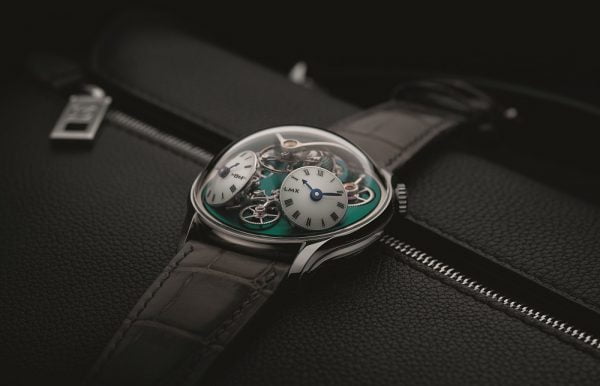 MB&F LMX
The 10-year anniversary of the MB&F Legacy Machine is not an insignificant one, as the watch collection repeatedly set a new bar for independent watchmaking. The LMX takes cues from last year's Thunderdome, using a unique geartrain to display two separate time indications at an angle underneath its bulbous sapphire crystal. A unique floating balance wheel is suspended high above its dial, and a trio of mainspring barrels helps to deliver a hefty 7-day power reserve from its manually-wound caliber. A total of 51 examples will be produced; 18 will be cased in red gold (fitted with a black dial), and 33 will be made in grade 5 titanium (with blue-green dials).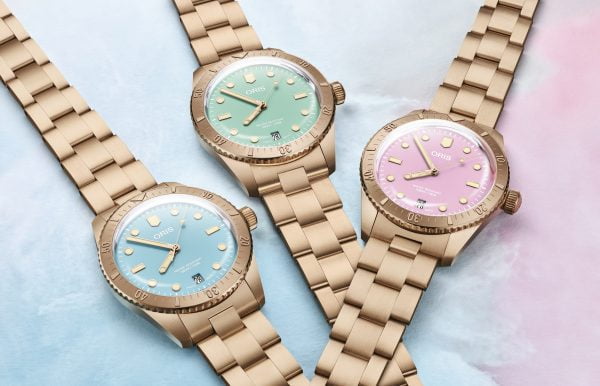 Oris Divers Sixty-Five 'Cotton Candy'
Much as 2020 wasn't the most "colorful" year in terms of experiences, the watch industry has continued to try and brighten our days with their latest releases. While not known for being all that bold with their dial colors (more so with punchy accents and bold rubber straps for their dive watches), the Oris Divers Sixty-Five 'Cotton Candy' collection delivers all of the color you could want and then some. These fully bronze automatic watches, which by the way is a rare thing to see full bronze bracelets, are offered in sky blue, wild green or lipstick pink. Due to the nature of bronze, these cases will slowly age and patina with wear, each developing their own distinct character. They're expected in retailers by June, but from all accounts the compact 38mm divers are being spoken for rather quickly.

So there we have it, some mechanical complexity, some high value craftsmanship, and a proper dose of color to kick off what we can only hope is going to be a more exciting year than the one we just left behind. As always, we'll be keeping tabs on what the industry cooks up as the year presses onwards, so though these releases are some of our favorites thus far, we're sure there's plenty more to come.