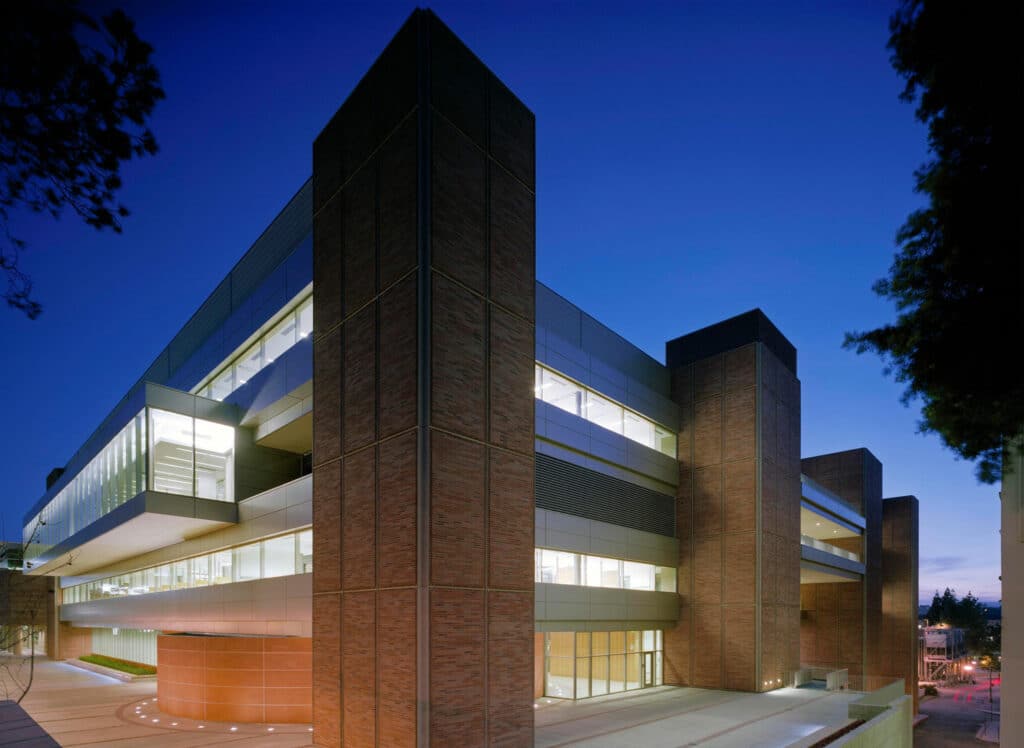 LA's New Bioscience Scene
Developers creating lab space for bioscience start-ups to grow locally
Los Angeles has been losing its life scientists to San Francisco and San Diego for decades. How the region's economic leaders, bioscience stakeholders and real estate investors are joining forces to grow the life science and biotechnology sectors locally.   
Home to prestigious research institutions, Los Angeles has a large community of bioscience startups, but they have nowhere to grow. As a result, the region suffers from "brain drain," with many promising scientists moving to life science clusters in San Francisco and San Diego, says Allan Glass, a principal at HATCHspaces ® LLC.  
Glass and partner Howard Kozloff are joining efforts of local economic and government leaders and other stakeholders to stop this exodus by providing purpose-built space for life science companies to expand in the Los Angeles marketplace.  
Life science real estate market includes startups currently in non-profit research incubators and on-campus research facilities at the University of California Los Angeles (UCLA); University of Southern California (USC), California Institute of Technology; California State University, Los Angeles and Harbor-UCLA Medical Center. Glass adds that, life science companies located elsewhere are also attracted to the Los Angeles region because it has one of the most ethnically diverse populations in the nation, which is of utmost importance for clinical drug trials.
The Los Angeles County Economic Development Corporation reports that the region's growing bioscience industry, which includes 2,448 companies, generates $20.5 billion annually and adds 162,000 jobs and $40.3 billion in economic activity to the local economy. The report also notes that the region's 600 life science research facilities receive $1 billion yearly in funding from the National Institutes of Health.
Kozloff and Glass have been real estate developers for about two decades, but their first foray into the life science market is HATCHlabs @ LA Bioscience HUB, an adaptive reuse project that repositioned an 80-year-old, 22,000-square-foot warehouse to purpose-built lab space. The project is located at 5370 Alhambra Avenue in East LA's El Sereno neighborhood, an area branded by the city and county as the LA Bioscience HUB.
This emerging eastside cluster is anchored by LAC+USC Medical Center and the USC Health Sciences Campus on the west and Grifols Biologicals, a multinational pharmaceutical company and California State University, Los Angeles (Cal-State, LA) to the east. Another new life science incubator, the Rongxiang Xu Bioscience Innovation Center, which was funded in part by a grant from LA county, is scheduled to open the end of this year on the Cal-State, LA campus.
Flexible space for life science needs
A former furniture warehouse, HATCHlabs is the first life science, adaptive reuse project to rise from the industrial district located between these institutions. It provides a plug & play setup that enables tenants to get up and running in 3.5 months, when it usually takes 12–14 months to build-out lab space, says Glass, noting that all systems have been built to city fire and safety code standards for all levels of lab space, including the creation of fire control zones within the suites, so tenants would typically only need over-the-counter approvals to begin TI work.
"We are providing a 'warm shell' that tenants can customize to their own needs," he explains. Space is built out as close to finished as possible, while remaining flexible enough to accommodate the wide variety of life science needs.
The building contains infrastructure required for wet lab and cleanroom space, including a new electrical system that is heavier than normal for a building of this size, says Glass. The space can be divided or combined to create variably sized space and adapted to any type of life science research use, as well as biotech, medical device or agriculture testing. Each suite also has separately metered electrical service and HVAC system, so tenants can control their own electrical usage and internal environment.
As first movers, the biggest challenge for the developers was finding financing, continues Glass, explaining that life science startups can't commit to space until they obtain funding and are assured when space can be delivered. Also, without comparable real estate in the marketplace, commercial banks and institutional lenders found it difficult to quantify the financial aspects of the project. "We couldn't rely on the local market, so we triangulated our proposed life science rents to fall below market rents in San Francisco and San Diego and within a similar cost range for companies
using two to four benches in a local incubator," he says.
Currently, incubators' tenants are charged per bench. By the time a startup is ready for a HATCHlabs facility they have typically grown to need four to six benches. Rents at HATCHlabs are approximately 20—40 percent less than in San Francisco and San Diego, Glass contends, noting that HATCHlabs provides startups coming out of incubators room to scale up at a price comparable to what they're already paying in a local incubator.
Unable to secure funding through conventional lenders, the developers engaged Equicap, a NYC-based debt and equity investment banking intermediary. Equicap's managing director Daniel Hilpert arranged the construction loan through a private lending source. Hilpert said, "Our lender MB2 was the perfect fit for this project. They understood the business plan and executed for the client."
Recently completed, HATCHlabs is 75 percent leased. Its first tenant, TCRCure Biopharma, a cancer research firm, now occupies three lab suites, or about 3,500 square feet, but has leased a fourth contiguous suite to provide room for expansion.
Adaptive reuse challenges
Architect Brian Spence, a principal in the Los Angeles studio of New York-based BAM Architecture Studio, says the biggest challenges to adaptive reuse involved structural and zoning issues. If a new building is constructed today, for example, current zoning code would require an additional five-foot setback along the entire front of the building.
HATCHlabs was comprised of two buildings on two adjacent lots. Additionally, the two lots' addresses needed to be formally combined by the city. Excavation further revealed hidden conditions, including undersized column footings that had to be made seismically sound.
The building had "good bones," but needed a new façade. To avoid moving the front of the building back to comply with the setback requirements the front wall was retained intact and tied into the new structure with a new roof. The main building, which has bow-arched trusses that provide open space without columns, was attached to a metal shed with a different roof system. While this was technically difficult, it was less costly than the alternative, and no rentable space was lost, he notes.
Spence is expecting similar issues and hidden conditions at HATCHlabs X, the 11,000-square-foot building next door, which Glass and Kozloff acquired and plan to reposition as lab-office co-working space.
The developer duo were deliberate in their efforts to allow HATCHlabs to assimilate into the existing East LA neighborhood culture, so they hired muralist Alex Poli, who goes by street artist name of Man One, to paint a mural on the facade of the building that reflects what's happening inside: symbols for the four "happy chemicals" produced in the human body—dopamine, oxytocin, serotonin and endorphins—and reflects that back upon the community.
Poli's work also includes a portrait of local bioscience hero Willie Zuniga, an East LA native who is now president of Grifols Biologicals. Zuniga attended the neighborhood's local schools, including Wilson High School and Cal-State LA. He was instrumental in launching a very successful summer STEM (science, technology, engineering and math) program at the local high school and established a summer program for children to teach them about medical careers beyond patient care, Glass says.
Creating scattered clusters
The DNA of Los Angeles' life science/biotech sector is different from San Diego's campus-style cluster, with a network of small clusters scattered throughout the Los Angeles region and scientists collaborating through technology. The various types of bioscience companies—including medical research, pharmaceutical, medical device, biotechnology, bioengineering and scientific testing—tend to cluster nearby anchors with similar purposes.
For example, Glass notes, companies conducting clinical trials may locate nearby research hospitals like The USC Norris Cancer Center or City of Hope, while biotech startups are locating in biotechnology hubs adjacent to the new $63-million, 78,000-square-foot, LA BioMed incubator at Harbor UCLA Medical Center in Torrance, which opened earlier this year, or the California NanoSystems Institute at UCLA, an innovative, multidisciplinary research center focused on translating discoveries into knowledge-driven commercial enterprises.
These smaller Los Angeles-area clusters are taking a different approach to providing the amenity-rich environment that today's bioscience community expects. The LA Bioscience HUB in El Sereno, for example, is taking an organic approach, reaching out to local businesses to grow amenities around life science facilities. A popular taco shop and brewery are located nearby HATCHlabs, and there is a local coffeehouse across the street that both serves as a community hub and operates an art and literary foundation for local residents.
"We don't want to displace what's already there, we want to enhance economic activity by creating collaborative opportunities with local businesses," Glass says, noting that this approach is important to preventing gentrification of the neighborhood. The jobs being created will offer opportunities for a range of educational backgrounds, from community colleges to PhDs.
While the region's bioscience industry lags behind San Francisco and San Diego, there is a big push to grow this sector locally, and indications of positive outcomes are emerging. PwC and CB Insights, for example, reported that the investment in bioscience companies in Los Angeles and Orange counties experienced a 97 percent surge in Q1 2018 alone, to $1.9 billion.
Going forward, Glass and Kozloff are focused on filling the region's unmet need for life science space. They recently closed escrow on a 12,000-square-foot medical office building in the Westwood Village neighborhood nearby the UCLA Medical Campus, which they plan to convert to office and lab space. And over the next couple months, they will close escrow on two more industrial buildings, totaling more than 190,000 square feet, nearby Amgen's headquarters in Thousand Oaks, continuing to move towards their goal.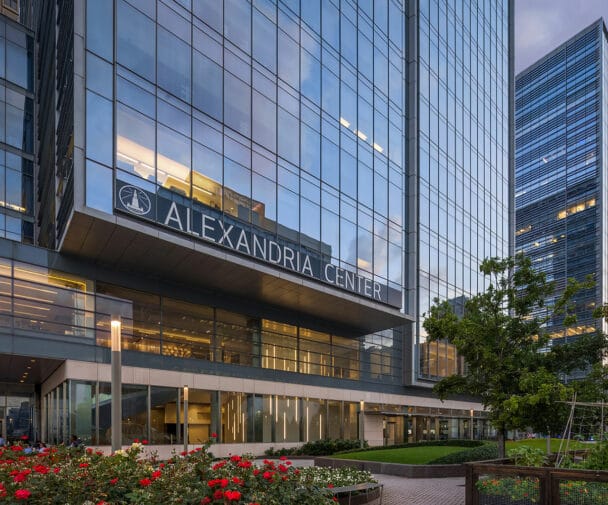 Alexandria Center
Accelerating New York's Life Science Cluster
Opening in mid-2017, the Alexandria Center for Life Science, developed by Alexandria Real Estate Equities, is positioning New York City for a leadership position in the life science market. This relatively new cluster is currently ranked seventh nationally based on size of laboratory inventory, size and long-term growth in life science employment, concentration of key scientists and size of funding resources, according to a CBRE report. Elements driving this change in momentum are strong municipal support, a major concentration of life science talent and more than 1.5 million square feet of lab space under construction.
More patents are coming out of the New York life science cluster than San Francisco and Boston combined, says John H. Cunningham, executive vice president and New York City regional market director at Alexandria Real Estate Equities, who notes that both U.S. and European life science companies are establishing beachheads in the city.
Strategically located along Manhattan's East Side Medical Corridor at 29th St. and 1st Ave., Alexandria Center is capitalizing on its proximity to top academic-medical institutions and major hospitals to recruit life science and biotechnology firms to the cluster. With the addition of the 550,000 square foot North Tower to the campus' two existing 15-story towers, the Alexandria Center will provide approximately 1.3 million square feet of first-rate office and laboratory space designed to foster cross-institutional collaboration.
The completed East and West Towers are both LEED Gold and Platinum-level and Wired Certified, demonstrating Alexandria's commitment to providing sustainable campuses on the cutting edge of technology. The campus features a full range of amenities needed by life science companies to attract talent, including a state-of-the-art digital conference center and event space; two culinary establishments; an award-winning urban farm; a fully integrated fitness center and a waterfront park and esplanade.
This cluster is attracting unique business units of international pharma companies and serial entrepreneurs, but is also nurturing start-ups, seed-stage academic spin-outs and growing early-stage companies with establishment of Alexandria LaunchLabs, a life science start-up incubator, and the Alexandria Seed Capital Platform, a funding model catalyzing seed-stage life science investment. Current tenants include multinational pharmaceutical companies, including Eli Lilly and Company, Pfizer Inc. and Roche, to early-stage companies spinning out of the Accelerator Corporation, which provides early-stage biotech companies business, scientific and venture capital support.
Alexandria Real Estate Equities also has acquired two nearby properties, the 593,000-square-foot Pfizer building at 219 East 42nd St. and a 177,000-sq.-ft. industrial building in Long Island City, which are being redeveloped for life science and biotech tenants.
"We're building an ecosystem that will allow growing companies to remain within our platform," Cunningham says. "People want to stay here with peers because it helps them grow and flourish."