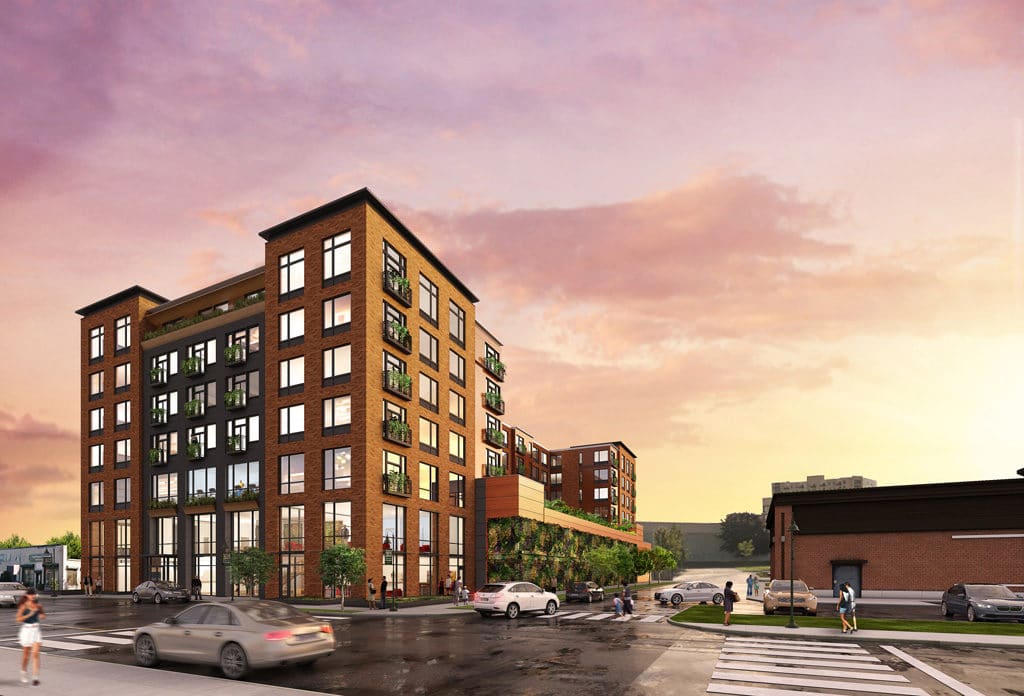 City's Opportunity Zones, Participation of Elevate Companies and Toll Brothers Foretell Projects' Success
WRITTEN BY JEFFREY STEELE
Stamford, Connecticut has always been a coveted place to work, live and raise a family. But like many older cities, it's not without blighted areas long vacant, underbuilt or over-dedicated to industrial uses whose best days came and went decades ago. Now, however, ambitious new projects are offering hope of revival. Nearing groundbreaking, these developments are infusing Stamford—including the city's fabled downtown—with renewed vibrancy. That Stamford is the epicenter of this new development makes perfect sense. The city possesses a wealth of sterling attributes any developer would cherish. First, Stamford is a New York City commuter's dream. It possesses the second busiest Metro North stop behind Grand Central Station. Commuters are able to reach Midtown Manhattan in the brisk 50 minutes of a longer subway ride. Stamford also merits a stop on Amtrak Acela's Washington, D.C. and Boston routes, affording commuters to those cities appealing conveniences. 
But many professionals who call Stamford home have no need for commutes anywhere. That is because many employers—both companies and academic institutions—are opening new locations in Stamford. All the while, existing employers are expanding their presence.
Travel search service provider Kayak, athletic apparel maker Rhone, communications provider Charter Communications, job search engine innovator Indeed and tech-focused facility Media Hub are collectively adding more than 2,800 jobs in Stamford in the next three years. Meanwhile, the University of Connecticut's satellite campus is growing its presence and program offerings, helping attract thousands of additional students year after year.
Perhaps most important, Stamford offers an appealing affordability and terrific lifestyle, luring a community-minded population that values design-focused living and amenity spaces. Little wonder that Stamford consistently benefits from robust housing demand.
Optimizing Urban Infill
A number of commercial and residential developments are underway in Stamford. Among the most noteworthy are a pair showcasing the ways visionary developers are maximizing the city's potential, while taking advantage of the bountiful promise of opportunity zones.
In one of the projects, a text change approved by planning and zoning boards has enabled properties long used for industrial and manufacturing purposes to be repurposed for a 200,000-square-foot mixed use development. This project, at 523 Canal Street in the city's South End, will deliver a 173-unit apartment community featuring ground-floor retail space.
Brooklyn-based developer Elevate Companies has carved out a niche by exploring new markets, hunting rich opportunities and negotiating off-market deals. Bradley Eide, Elevate Companies' president and CEO, brought in New Jersey-based Fields Development Group as his co-development partner, with Katerra Construction serving as construction manager and general contractor.
"We are introducing creative amenities and curated tenant experiences to appeal to the intended tenancy," Eide said, adding Newman Architects has been named architect of record.
Another Elevate Companies development has consolidated 732,000 square feet of prime downtown land that had long languished vacant or in an underbuilt state. Elevate Companies will build a 450-unit mixed-use development with 35,000 square feet of retail and approximately 20,000 square feet of amenity space.  
Eide invited Toll Brothers to be his firm's co-development partner on this project, recognizing its capacity to add multiple upsides to the project. First, Toll Brothers' lifestyle brand is sure to give the development life. Second, the builder's marketing genius can be brought fully to bear enticing those in search of eclectic high-rise living burnished with Long Island Sound views.
"We are positioning ourselves uniquely as a developer who is interested in bringing on other development partners who add value to our carefully-selected projects… through a shared vision and [a prioritization of] innovative real estate solutions," Eide said.
Checking All Boxes
Both sites were acquired in off-market transactions, and check off all the boxes for institutional quality investors. Those include each development's expected 2.5-plus project equity multiple returns, with an internal rate of return in the 20 percent range.
Most important, each project is situated in one of Stamford's five opportunity zones. Because they provide federal tax incentives to developers intent on revitalizing economically-depressed communities, opportunity zones can provide substantially higher after-tax return.
"We are now in the market to raise limited partner equity and expect very strong demand for this deal," said Daniel Hilpert, founder and managing partner of Equicap, a New York City-based firm specializing in debt and equity placement. "We are expecting an LP investor to provide approximately 80 percent of the equity at very competitive terms."
The exit strategy calls for refinancing and a long-term hold, he added, noting it's important in both projects that investors share the developer's long-term perspective. This lengthier horizon is needed to reap the greatest benefit from opportunity zone developments.
"Transit-oriented residential developments are a very strong asset class," Hilpert said. "And we are able to procure very competitive construction financing. Additionally, the opportunity zone allows us to pick a competitive LP from a large pool of funds."
"The City That Works" has long been the Stamford motto. Opportunity zone incentives and forward-looking developments are helping ensure the city will work even more efficiently in the years ahead.