Manhattan Retail Apocalypse or Renaissance?
Written by AND PHOTOgraphy BY PATRICK BRENNAn
Manhattan luxury retail brokers, building owners and developers can be forgiven for suffering from whiplash over the last few months as they have grappled with the mix of good news and bad news swirling around the high end retail real estate sector. Recent headlines have screamed about a Manhattan "Retail Apocalypse" and while there have been some very high profile retail closures this year, just how serious is the Manhattan luxury retail situation?
Barneys' announcement in August that it was filing for bankruptcy sent shockwaves through the fashion and retail industries but it was its subsequent acquisition by Authentic Brands at the end of October and the new owner's announcement that it would be shuttering most, if not all, of Barneys retail locations including its 230,000 sq. ft., 9-story flagship store at 660 Madison Avenue, that has really shone a light on Manhattan's high end retail market. The doubling of its Manhattan flagship store's rent from $16m to $30m in January 2019 is one of the most frequently cited reasons for Barneys' descent into bankruptcy but according to industry experts, the real problems are strategic missteps by Barneys management. "The Barneys situation could have been completely avoided," says Jeff Roseman, Vice Chairman at Newmark Knight Frank. "They could have handed back half their space to the landlord and saved themselves at least $10m in rent," adds Roseman. Barneys flagship is slated to remain open for the next year according to landlords Ashkenazy Acquisition Corporation but when it closes, it will unleash a flood of inventory to an area that is already struggling to lease space.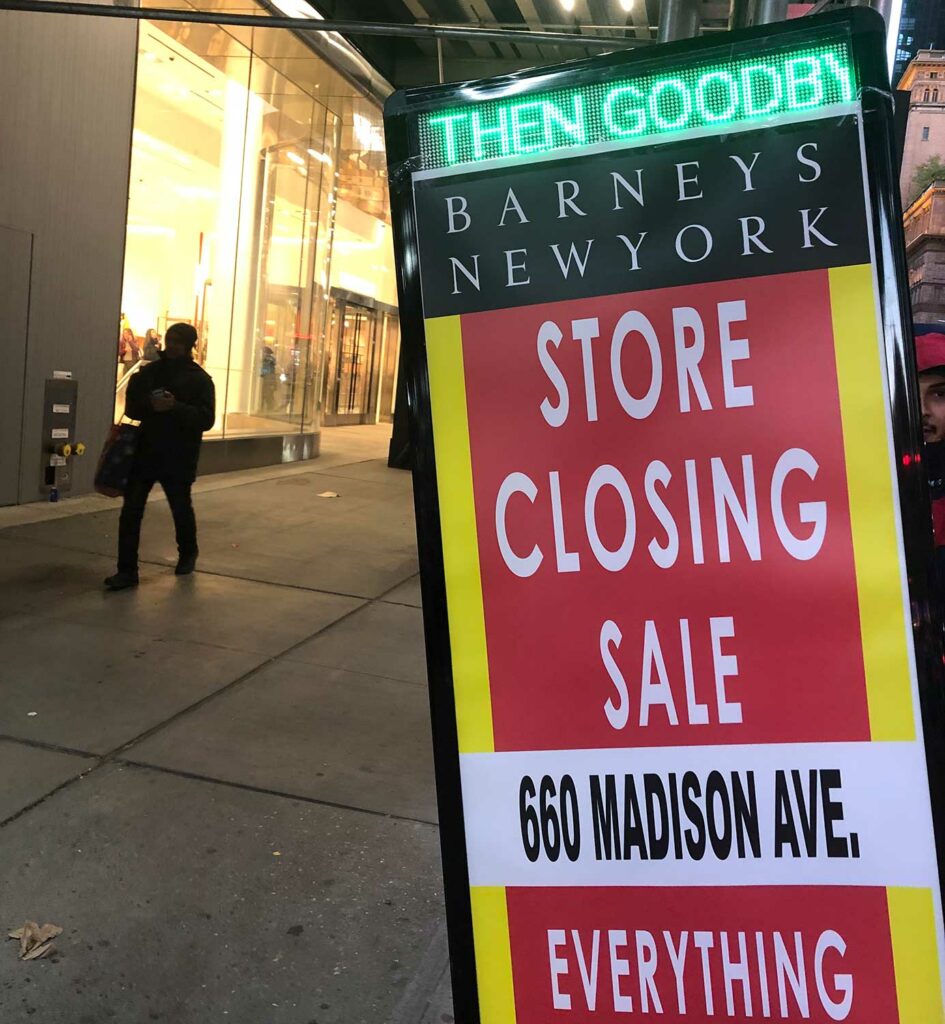 The Barneys situation could have been completely avoided
—Jeff Roseman, Vice Chairman at Newmark Knight Frank
A recent walk down Madison Avenue revealed a large number of vacant retail storefronts especially in the corridor from 72nd Street south to 65ht Street but NKF's Roseman doesn't see the current vacancy rates as particularly unusual or a cause for concern. "There are always stores opening and closing on Madison Avenue," and Roseman further suggests that activity in the area is beginning to pick up as rents self-regulate. Indeed, according to REBNY*, asking rents on Madison Avenue have declined by over 25% year-on-year to an average of $1,039 per sq. ft.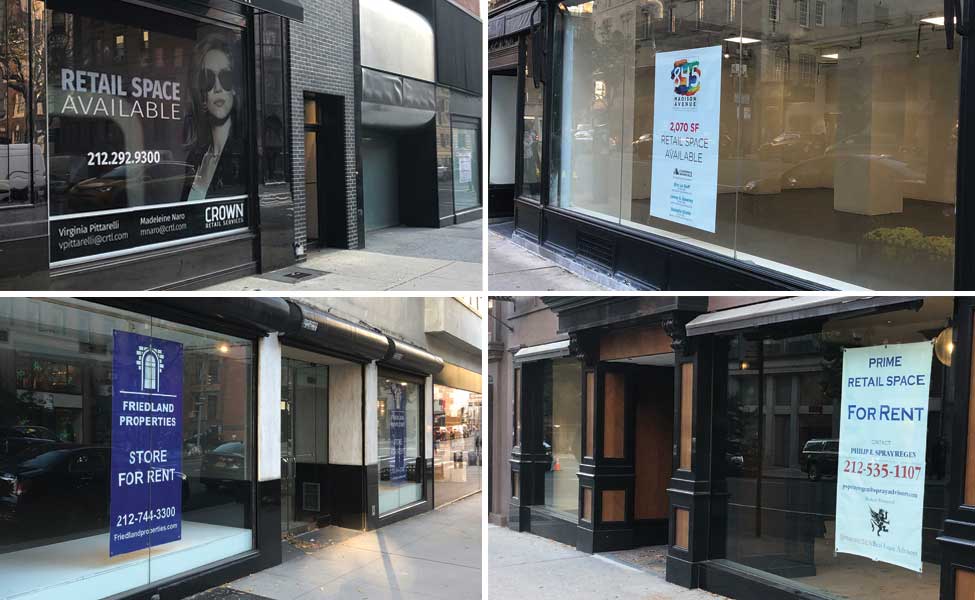 Even before the Barneys announcement, 2019 was off to a rocky start with the closing of the Henri Bendel's venerable 712 Fifth Avenue emporium which shut its doors in January after 123 years in business. To its legions of fans from across the country and around the world, Henri Bendel represented a throwback to a more refined era of retail where service, elegant design and a comfortable environment reigned supreme. Also in January, Saks Fifth Avenue closed its 225 Liberty Street women's store, and Gap closed its 3-story former flagship at 680 Fifth Avenue in March. Tommy Hilfiger shuttered its 22,000 sq. ft. global flagship at 681 Fifth Avenue. While shifting consumer attitudes and especially the explosion of online shopping suggest that an expensive brick and mortar presence in Manhattan is no longer viable, Jeff Roseman points the finger at recent NYC laws including commercial rent control that were enacted in an attempt to reduce vacancies and bureaucratic red tape but which in his opinion have had the opposite effect. These regulations, says Roseman, makes doing business in New York, "way more difficult than it should be." Adding to the woes of the sector is the news that the appraised value of Saks Fifth Avenue's flagship store at 611 Fifth Avenue has declined by almost 60% to $1.6bn from over $3.7bn just 5-years ago. According to parent company Hudson's Bay, the reasons for the decline include "the performance of the store relative to expectations in 2014, changes in market rents on New York's Fifth Avenue, and the changes in the retail landscape". The appraisal was prepared by CBRE and in its detailed 205-page report notes that Saks Fifth Avenue is near completion of a multi-year, $279m renovation project which equates to $423.83 per sq. ft. of gross building area (GBA). The report also highlights some of the issues facing by high end retail in Manhattan including changing demographics, the weakness of the retail market and general economic uncertainty. Clearly news like this rattles an already challenged market and won't make great reading for holders of large retail spaces.
However, despite a seemingly unending bad news, it's not all is doom and gloom in the retail sector.
In March, Related Companies unveiled its long-anticipated Hudson Yards development, a stunning addition to the Manhattan cityscape that contains 720,000 sq. ft. of retail in a shopping mall spread across 7 floors featuring upscale retailers including Cartier, Van Cleef & Arpels, Nieman Marcus, Chanel, Dior, Fendi, Piaget and Louis Vuitton. Hudson Yards which has been built on top of the west side rail yards, is transforming the surrounding area. In a recent interview with EQ, Ryan Serhant of Nest Seekers and "Million Dollar Listing" fame stated that "Related and everyone at Hudson Yards have done an amazing job at marketing Hudson Yards." In fact, it was Related's marketing efforts that spurred Serhant and his team to come up with the "SoHY" (South of Hudson Yards) as branding for his listing at 550 West 29th and the surrounding area. "Overnight, Hudson Yards became an immediate "must see" sensation in New York, people are going to see Hudson Yards before they visit the Empire State Building!" Referring to how the retail in Hudson Yards has enhanced the area and assisted the real estate market, Serhant adds that, "the stores in Hudson Yards have made a big difference to that location…it's such a cool experience".
Meanwhile, over on 57th & Broadway, Nordstrom followed up the successful April 2018 opening of its men's store with a new 320,000 sq. ft., 7 floor women's and children's flagship store which officially opened its doors to the public on October 24th. At its star-studded pre-opening event, actors Peter Sarsgaard and Maggie Gyllenhall argued against the so-called "Amazon effect," saying that Nordstrom's new flagship will be successful because people are looking for the experience of going to a store, talking to people who know what they're talking about and having an interaction. Recent visits confirm that foot traffic and the all-important bags in hand coming out the door suggest that it's another spark of good news for Manhattan's high end retail market. "Nordstrom will undoubtedly benefit from what has happened to Barneys and will undoubtedly have a beneficial effect on the entire neighborhood," says Jeff Roseman of Newmark Knight Frank.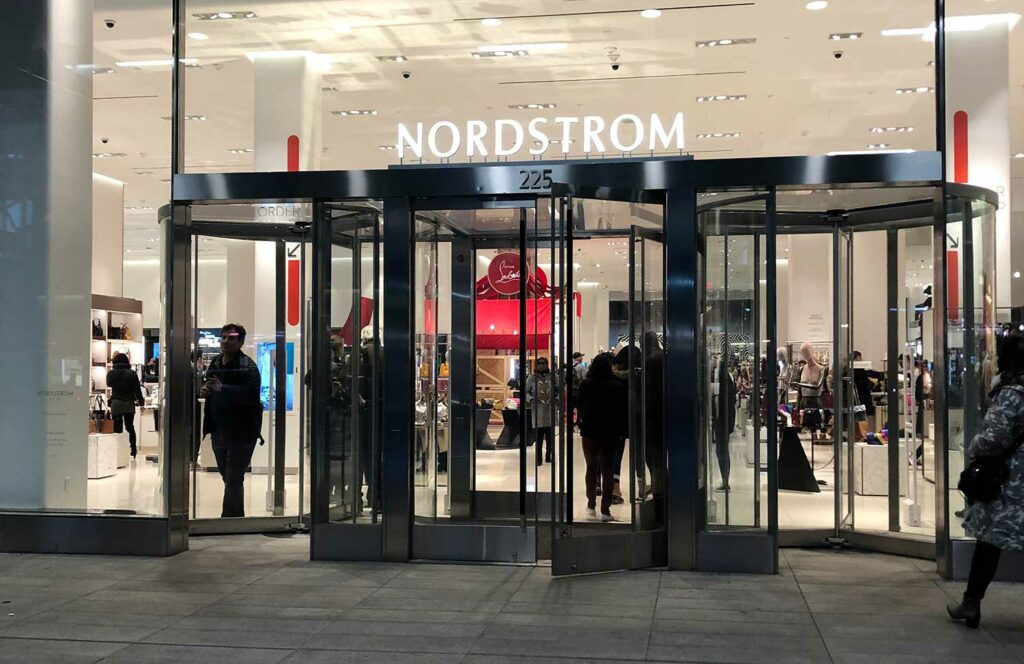 While 2019 has been a challenging year of ups and downs, it remains to be seen how Manhattan's high end real estate market will shake out over the next year. Will the struggles of 2019 be repeated in 2020 or will lower rents and the optimism born from the openings of Hudson Yards and Nordstrom be realized? EQ will continue to focus on the New York retail market and will look closely at other New York neighborhoods including SoHo, FiDi, Brooklyn, Midtown and the Upper East and Upper West sides.
* Source: REBNY Manhattan Retail Report Spring 2019