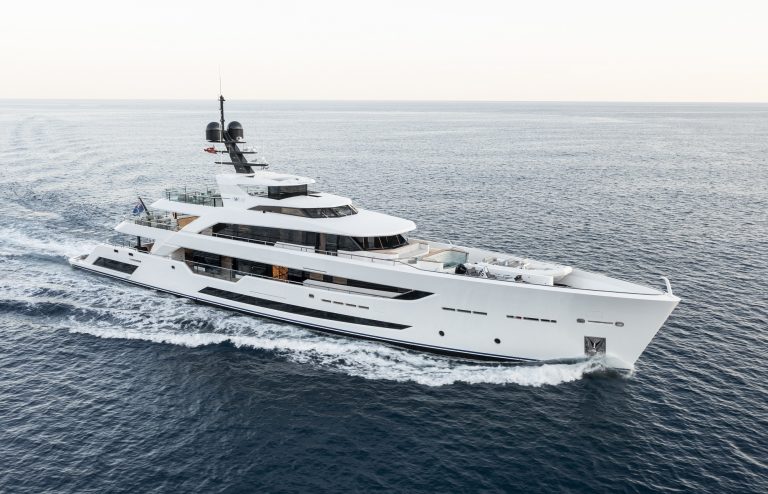 The 180' Al Waab is a Turkish Delight
Turkey's Alia Yachts' sleek mega yacht has some very impressive design elements
The Turkish yacht builder Alia Yachts recently delivered the 180-foot Al Waab to her satisfied owners. The yacht is remarkable for a number of reasons, most notably that it is, according to Alia, the longest steel-and-aluminum yacht in the world under the magic 500-gross-ton mark.
Five-hundred gross tons is the point at which a yacht changes flags and classifications, and becomes more expensive for the owner to operate due to necessary crew credentials and other costs. Keeping a mega yacht under that number in terms of gross tonnage is, in effect, a very big deal, even in an industry that specializes in big deals.
"We were able to hit this benchmark thanks to a few different factors," says Gokhan Celik, president of Alia Yachts, "maybe most important was the boat's narrow beam." At 29-feet, 10-inches, the beam is much less wide than similarly long vessels, and that offers multiple advantages to Al Waab. Namely, the boat's sleek footprint means she has less drag and requires smaller engines.
The Al Waab has twin 725-horsepower Caterpillar C18s. These are relatively small engines for a 180-footer and yet they more than hold their own, offering the full-displacement mega yacht a top speed of 14 knots. The pint-sized engines imbue the boat with some enticing qualities. For one, they have a smaller carbon footprint than larger engines, which is good for the environment and easier on the wallet. And secondly, smaller engines necessitate smaller engine rooms, which allow more interior space to be given to the yacht's accommodations. The Alia can fit 12 guests in six staterooms, including a massive, split-level master suite on the upper deck that has an adjacent 13-foot pool.
The owner picked steel as the building material for the Al Waab's hull due to its strength and stability, and paired it with an aluminum superstructure that offers strength plus weight savings. That superstructure's lines were penned by the renowned Dutch firm Vripack. The designer's expertise is evident in the yacht's masculine lines that present the image of a seaworthy yet stylish vessel that will be as at ease in stormy weather as she is when docked in a placid and glamorous harbor. The yacht also has plenty of exterior entertainment spaces from which to view those chic locales. "My favorite feature on this particular boat is the big, open spaces, and also how well they interplay with the interior," says Celik. "There is no abruptness, everything flows gracefully from one space to another."
Celik also sees major advantages to building in Turkey. "We have lots of pedigree here," he says. "In terms of artisanship, we are surrounded on three sides by water, so we have always lived with boats and boatbuilding. And in the past decade, the business side of boatbuilding has become more important in this country. People are hungry for it, so when you combine that ambition with a wealth of Turkish craftsmen, I really think it's a winning combination."
If Al Waab is any indication, Celik is most definitely on to something big.