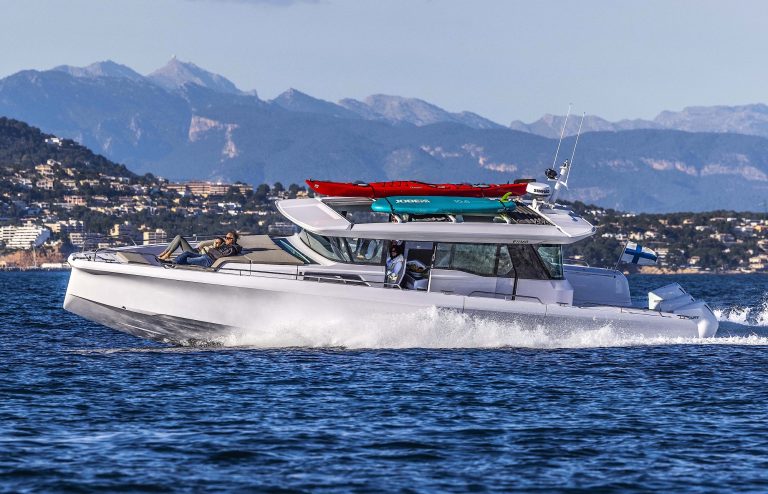 Axopar's New 45 XC Cross-Cabin is an All-Weather Wonder
The Finnish brand's new 45' flagship is the ultimate family sport boat
See a new Axopar 45 screaming up from behind, slicing through waves at 50 knots, and you half expect Clive Cussler's Dirk Pitt to be at the helm, chasing the bad guys in some just-released blockbuster.
It's easy to see why. With its trademark, razor-sharp axe-bow, distinctive twin-step hull design, and raked-back windshield, it could be the official boat of the Navy SEALS. Just paint it matte-black for ultimate stealthiness.
Never heard of Axopar? Since 2014, the Finnish builder has been cranking out a line-up of 22-to-37-foot day boats that have been setting the market on fire. So far, more than 3,500 have been snapped-up by buyers around the globe. That's a lot of boats.
Building on the enormous success of its 37-footer, Axopar is now dipping a toe into luxury waters with this brand new 45 XC Cross Cabin flagship. And, in the process, creating what just might be the perfect family weekend cruiser.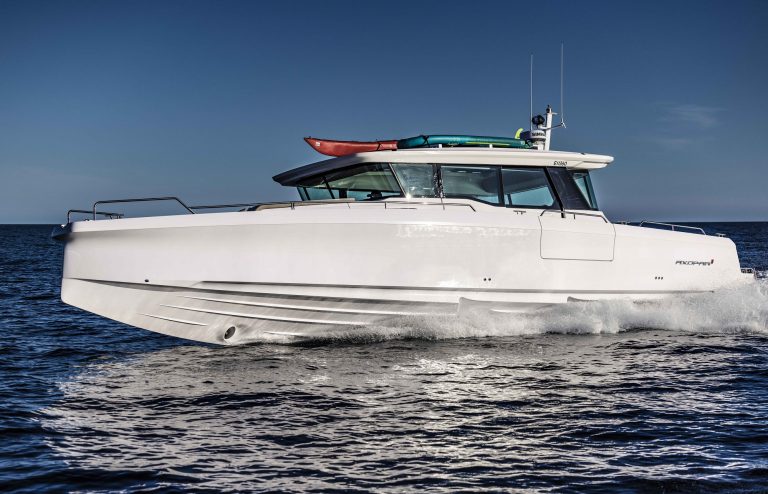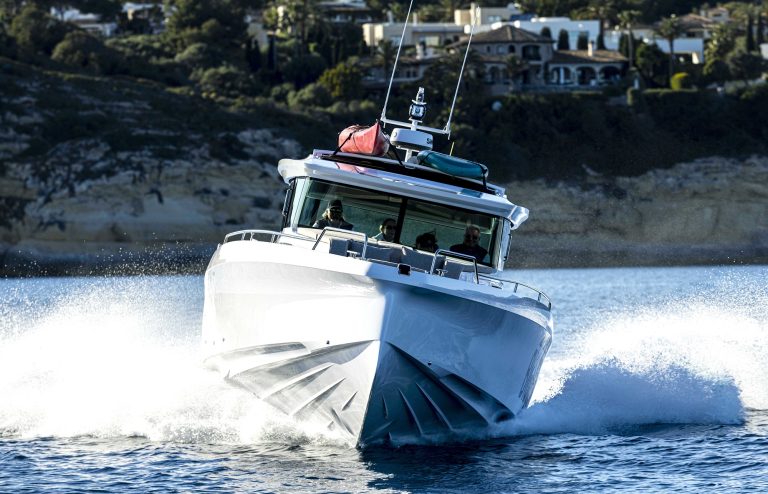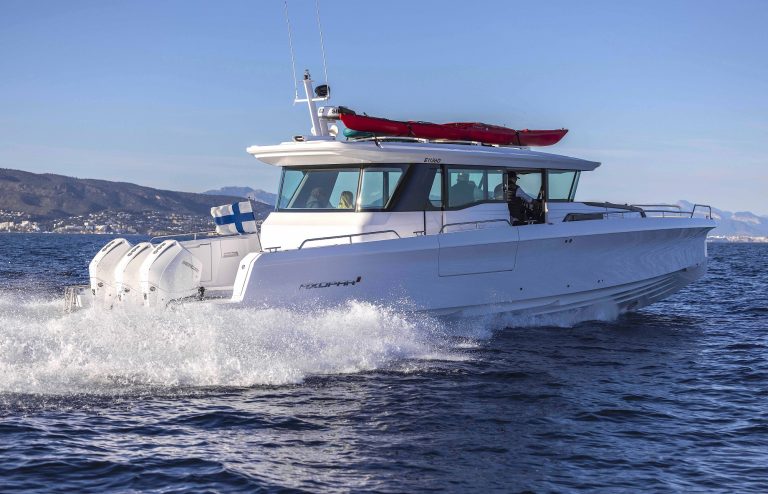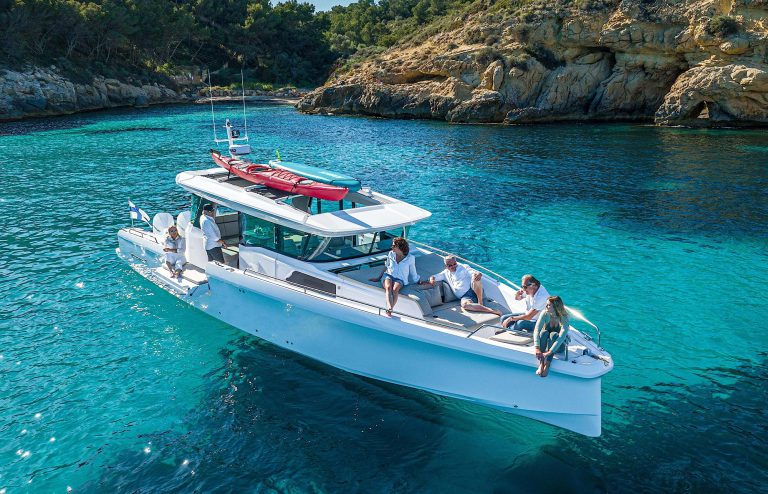 Yes, the hull shape stays largely the same, with that impossible-to-miss bow, low freeboard, and straked hull. But what's different, and arguably the boat's greatest appeal, is that distinctive, dramatic pilothouse.
In addition to its wrap-around tinted glass windows and workboat-like, angled-back screen, the cabin has some really cool features. Like the unique, twin-sliding side doors on each side.
Slide back both forward sections and you open-up the helm area to the great outdoors. Close them, and slide forward the rear side doors, and you connect to the rear seating area.
Want even more fresh air? Just hit the button and either one, or both, of the huge canvas sunroofs glide open. And for the ultimate in al fresco living while at anchor, just drop down the side balconies built into the hull.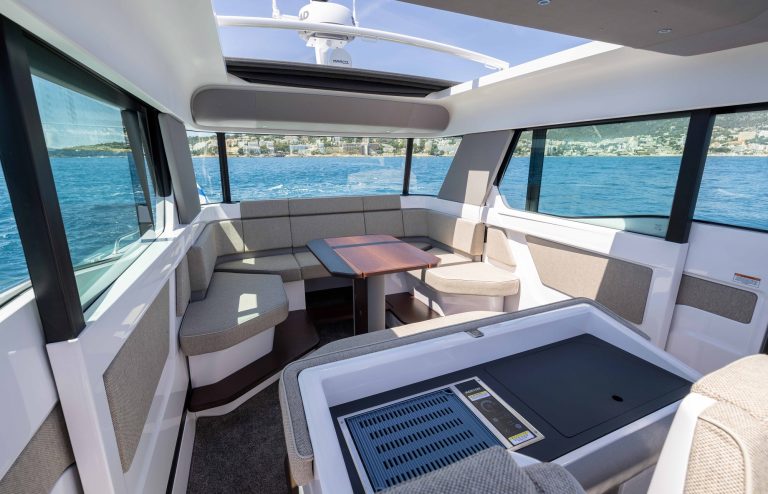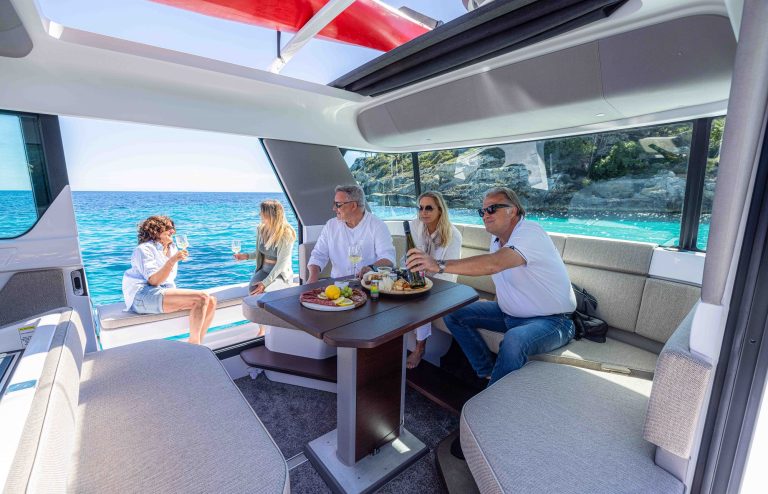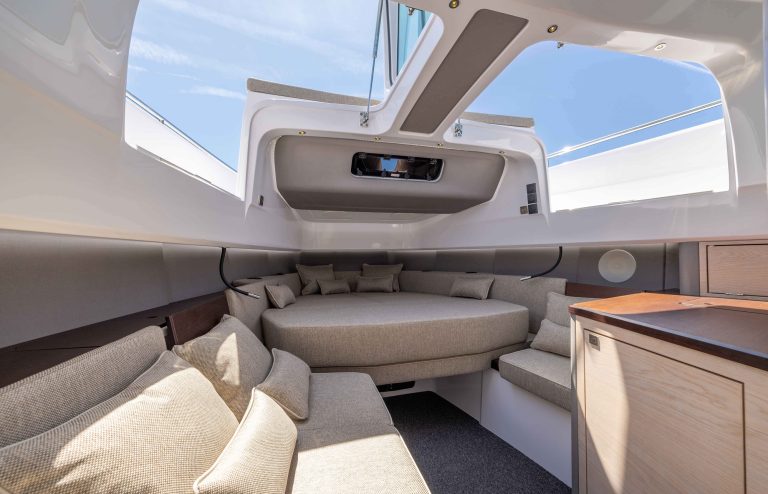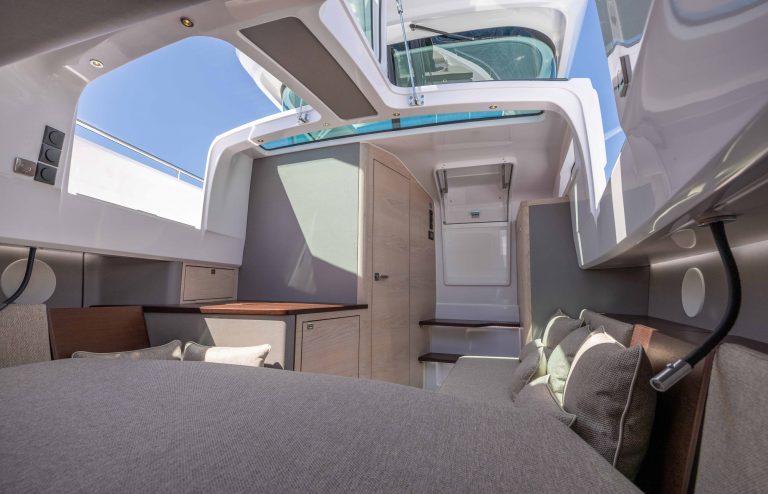 The seating layout inside the pilothouse is equally versatile. At the helm station, with its 360-degree visibility, there are three seats in a row. Behind them, there's a well-equipped galley station, with grille, sink and fridge, that can move backwards and forwards on sliders.
Right at the back of the pilothouse is a huge, U-shaped sofa, complete with fold-out, swiveling table that can easily accommodate up to 10 for lunch or dinner. Swiss Army knives don't have this much flexibility.
While the 45 XC Cross Cabin is a terrific day boat, there's a cabin up front with a double berth, separate toilet, shower and lots of storage for overnighting. And it's here where you'll find one more Axopar party trick: levitating gullwing hatches. At the touch of a button, they rise up, just like the 'falcon' doors of a Tesla Model X, to flood the cabin with air and light.
What the Finnish builder prides itself on is total flexibility. Which means the new 45 comes not only as a Cross Cabin, but in four other layouts. From the fully-open Spyder, to the T-Top, to the longer Suntop, and the Cross Top.
That said, there's one more cool option with the 45 Cross Cabin; a second sleeping cabin. It can be added to the stern cockpit and offers two extra beds and a second head and shower. Perfect for weekend guests.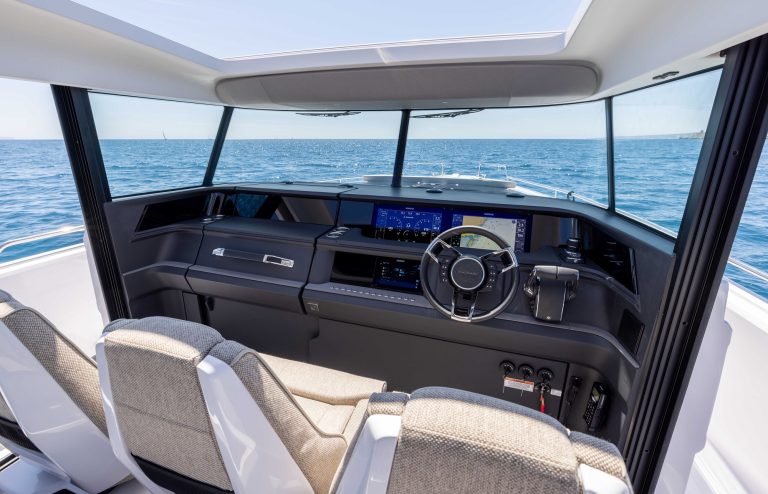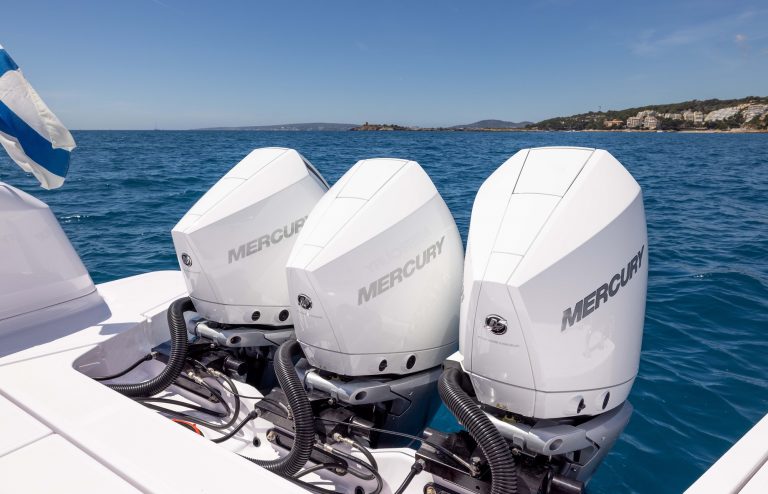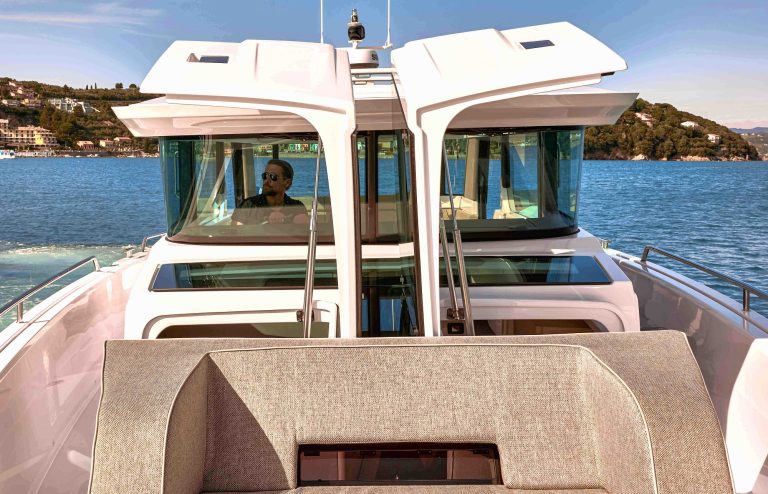 Power for this needle-nosed rocketship comes from a trio of 4.6-liter 300-horsepower Mercury Verado V8s – 900-hp in total – that can punch the 15,400-pound 45 XC to a top speed of 45+ knots. Throttle back to the Axopar's 20-knot sweet-spot and fuel economy is claimed to be the best of any fast 45-footer on the market.
With the hull's low freeboard and low cabin roof helping reduce the boat's center of gravity, Axopar claims impressive handling, even in the gnarliest of seas. That, and a super-smooth ride.
All Axopar models are built at a state-of-the-art factory in Poland, on an automotive-style production line. And judging by the examples I've toured at recent boats shows, the quality is impressive.
As for pricing, expect to pay between $750,000 and $850,000, depending on options. As for playing Dirk Pitt on your next waterborne adventure? Priceless.