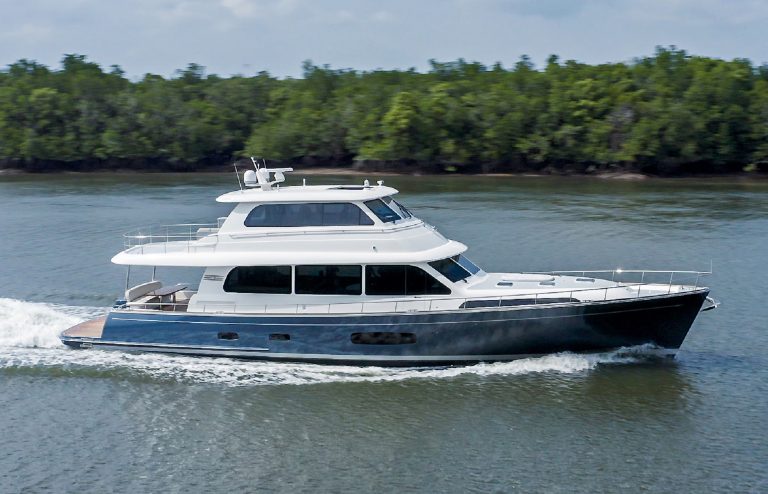 First Look: Grand Banks' New Flagship, the GB85
Take a tour of this year's Palm Beach Boat Show headliner that offers pace with grace
Mention the name Grand Banks and, chances are, you'll conjure up mental images of salty, trawler-style 36 and 42-footers much-loved by the eight-knot, chug-along crowd.
These days, with hard-charging Aussie yachtsman and designer Mark Richards at the company helm, the latest Grand Banks 54 and 60 models are sleek, sexy, high-speed luxury cruisers built using the latest tech and some pretty advanced materials.
The Malaysian builder's latest offering is this mighty GB85 flagship, Grand Banks' biggest yacht to date, and a true head-turner. It made its global debut at last month's Palm Beach International Boat Show, which is where EQ got a full tour with Richards as tour guide.

Among its multitude of appealing qualities, this rakish, classically-styled 87-footer comes with one particularly-impressive claim. According to the CEO, the yacht is designed to sip around half the fuel of any other similar-sized bluewater cruiser out there. And deliver the same kind of performance, but using only half the horsepower.
Much of this is down to impressive weight-saving, courtesy of the entire deck and superstructure being formed using lightweight carbon fiber. That, and the builder's patented V-Warp semi-displacement, carbon-rich hull design.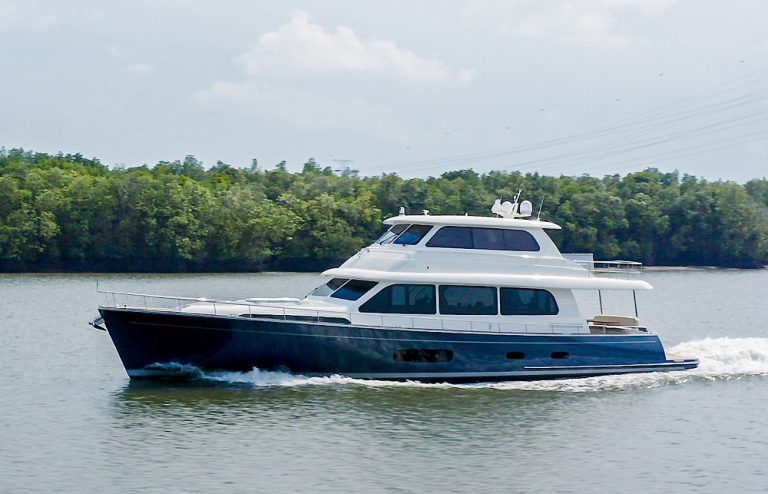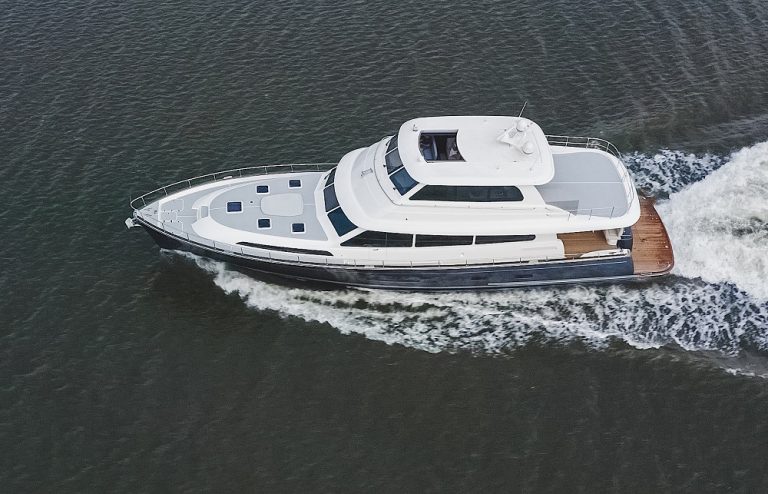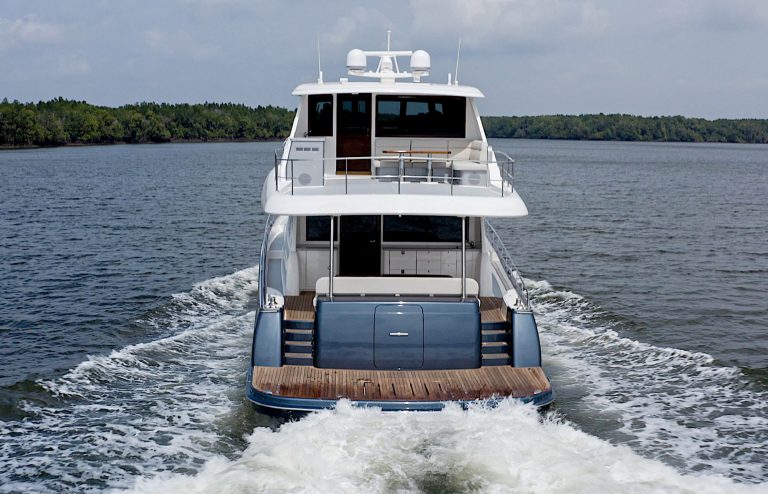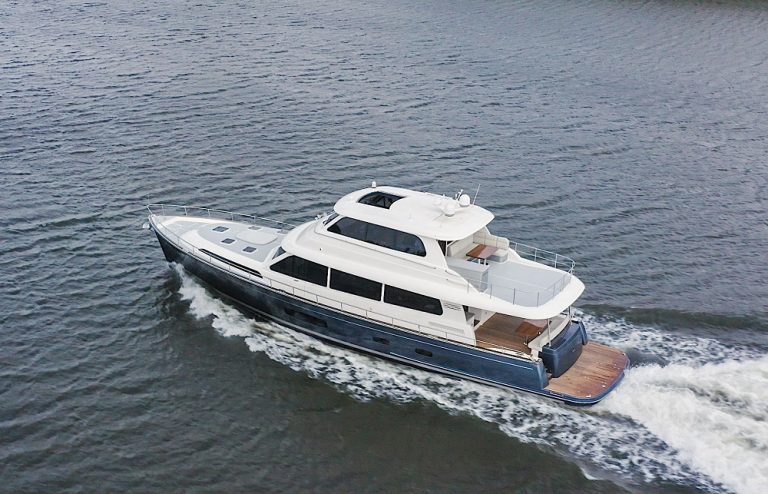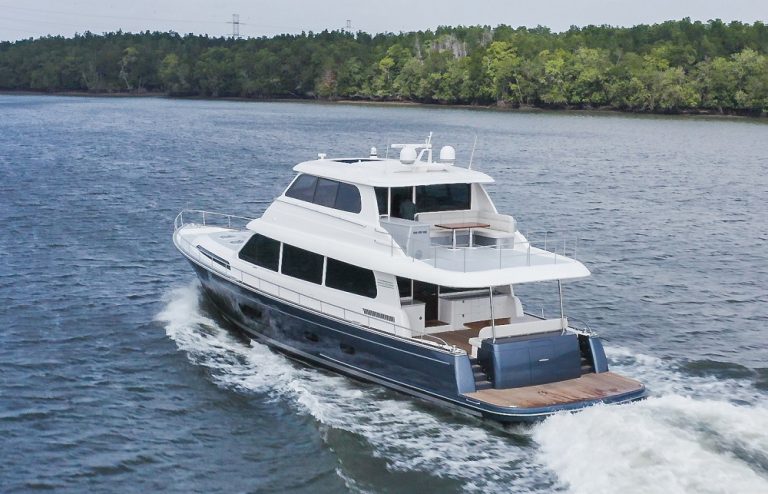 While sounding like something Scotty from Star Trek might call upon, V-Warp is a pretty big deal for Grand Banks. It came out of Richards' deep knowledge of racing sailboat design, coupled with research provided by NASA, the US Navy and acclaimed naval architect Andy Dovell.
The result is a super-stiff hull with a single-minded focus on weight reduction and reducing the center of gravity. Plus, a hull shape that features a fine, razor-sharp entry, a wide, 22-foot beam for stability, and a shallow four-foot-eleven draft for a reduced, overall wetted surface.
Sounds complex. But the proof is in the GB's quite astonishing performance. Powered by a pair of muscley 1,000-horsepower Volvo D13 turbo diesels with IPS pod drives, or optional 1,300-hp MANs with shafts, max speed is an impressive 30 knots.
Throttle back to the GB85's still-speedy 21-knot cruise speed, and this grandest of Grand Banks can glide along for around 1,000 miles on its 2,640-gallon tank, 2,000 miles at your leisurely trawl.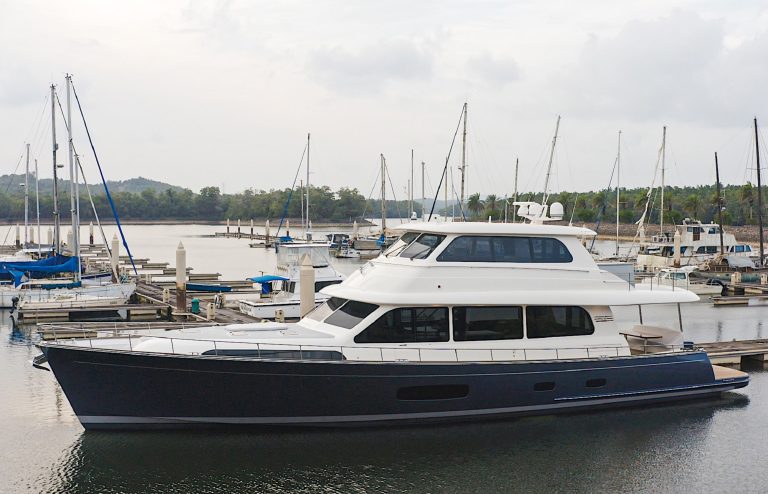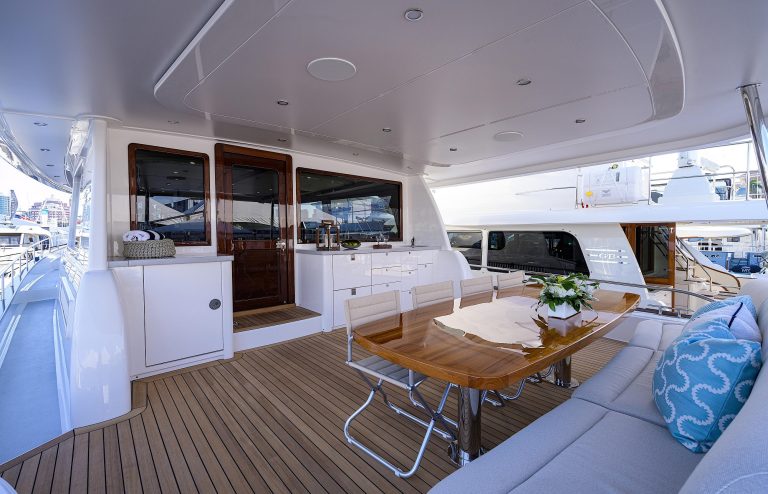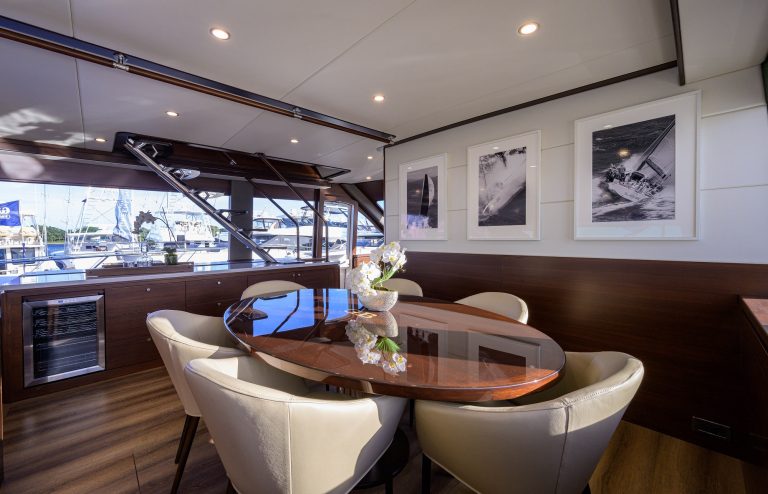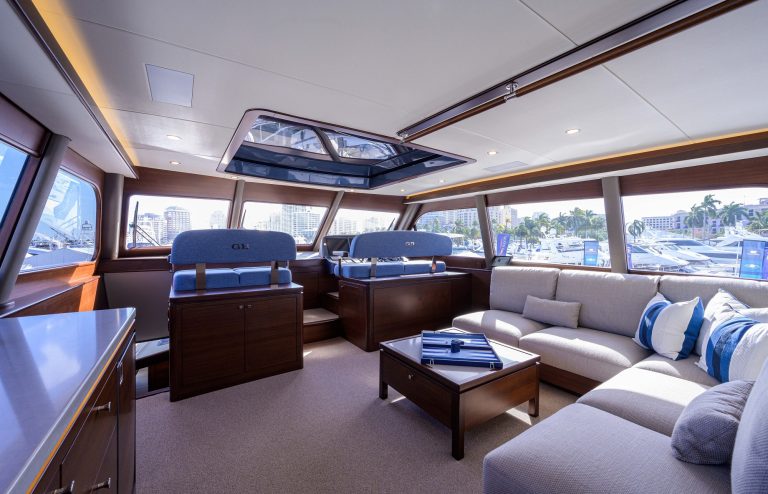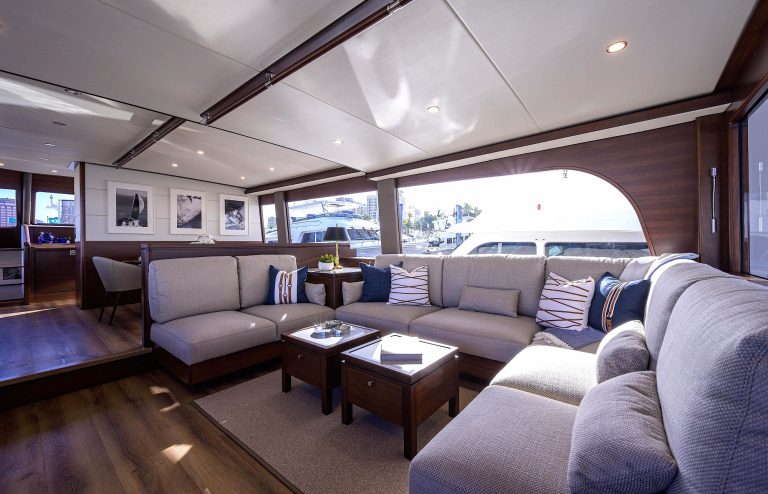 See this bluewater express at the dock, and those classic, fishing 'battlewagon' lines are a refreshing counteroffer to the current trend of sharp-edged, angry, Transformer-style designs.
The yacht is available either as a fully-enclosed, air-conditioned Sky Lounge model, or with an open flybridge design. Seeing the Sky Lounge version at Palm Beach, to our eyes it does look a little on the top-heavy side, with its huge side windows and towering roofline.
That said, its enclosed space is hugely practical, with the spacious lounge area perfect for movie nights, its elevated helm area offering twin seats for four, and fresh air courtesy of a huge powered sunroof and lowering side windows.
Talking of lounging, the impressively-sized salon on the main deck has big, comfy sofas, a large dining table and a well-equipped galley. It also opens out to a dance-floor-sized rear deck and an articulating swim platform.
Below decks, there are beds for up to nine, with the full, 22-foot—beam master suite as spacious as you'd get in most apartments. Did we mention the built-in electric piano keyboard?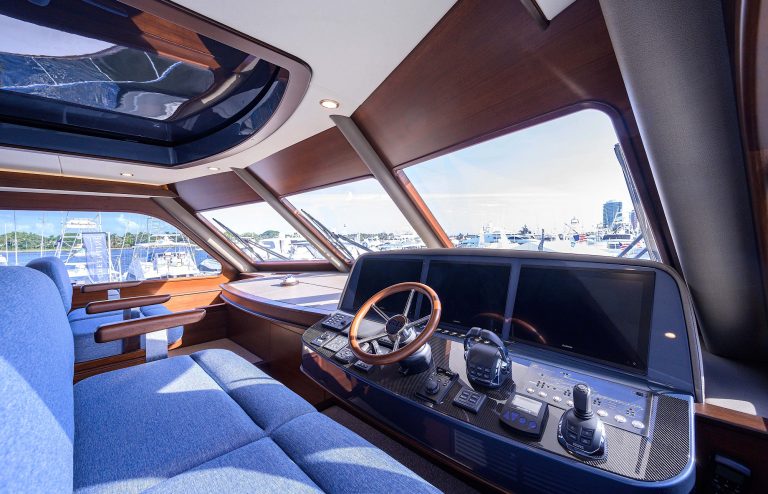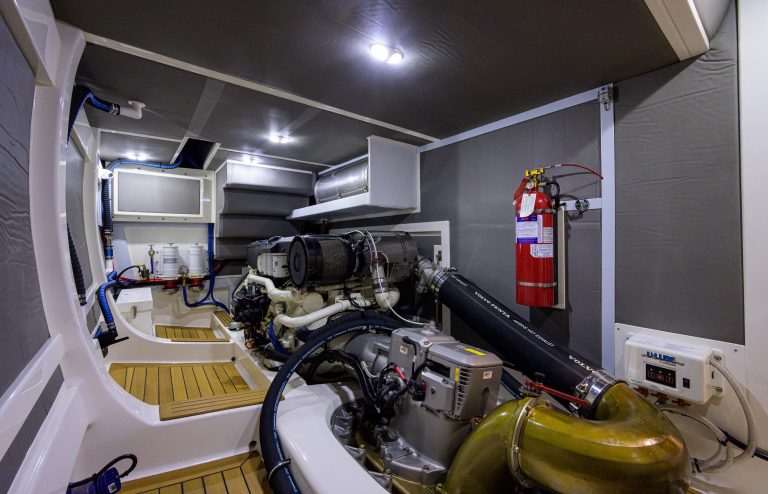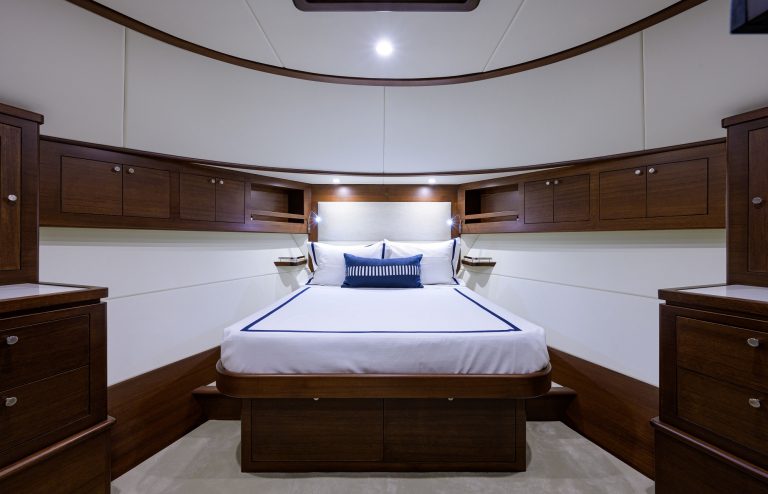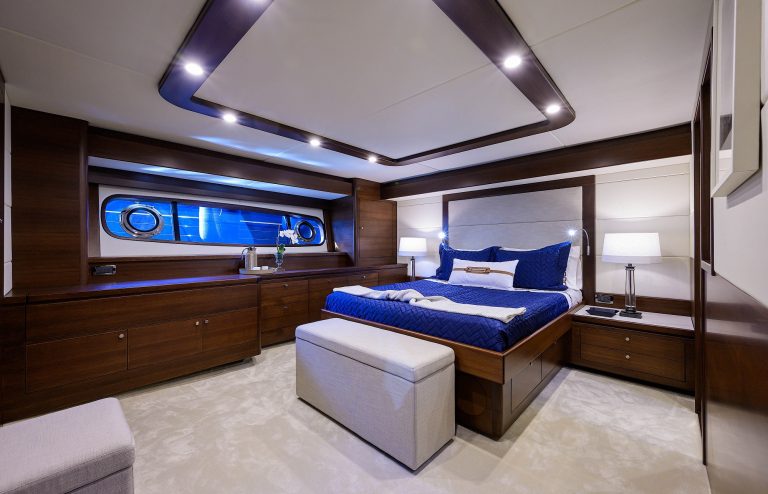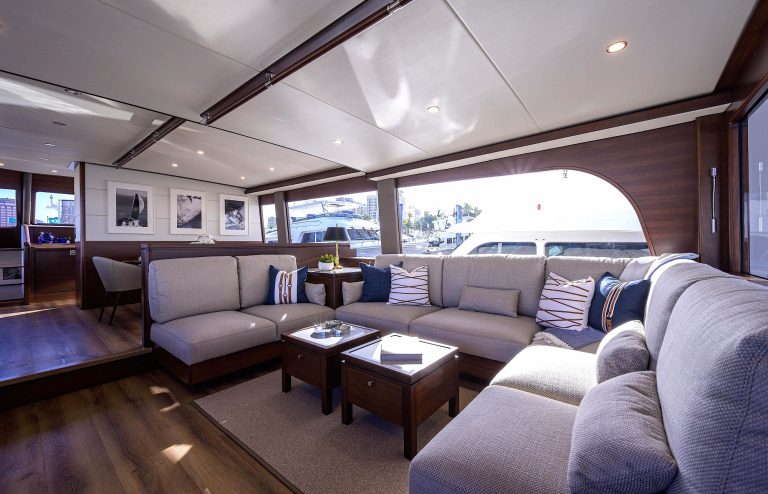 Throughout the entire yacht, the quality of woodwork, the look and style of the fixtures and fittings and the choice of materials is simply remarkable.
While Richards says this new GB85 could easily be handled by a cruising couple, the yacht does have a nicely-appointed full-beam crew's quarters with two sleeping cabins, living space and a galley.
Naturally, Hull #1 is sold and has been christened, rather sweetly, as Betty. Hull #2 is now in construction at Grand Banks' state-of-the-art, 550,000-square-foot facility in Malaysia, also having a 'sold' sticker on it.
"Our goal with the new GB85 was simply to create the most-luxurious, most space-efficient, more fuel-efficient motor yacht in the world. I think we've done that," says Richards.