Hinckley's new 35 trades inboard  power for a pair of outboards, just don't call it a Picnic Boat
Conjure-up an image of a classic, navy-hulled Hinckley Picnic Boat and it's hard not to think of it without a pair of beefy diesels gushing-out water, Hoover Dam-style, through Hamilton jet drives.
But for the legendary Maine boatbuilder's latest Hinckley 35 – it debuted this past fall – those twin diesels and water jets have been jettisoned in favor of, you guessed it, twin outboards.
Makes sense. Outboards are easier to maintain. More efficient too. And in the case of the supercharged 300-horsepower Mercury Verado motors that'll come standard, they're typically quieter and more refined.
For speed demons, outboard power will also get the new 35 to that out-of-the-way beach or beach bar quicker than diesel power. With optional twin 350-horse Verados, top speed should be around 42 knots – compared to 38 for the current Yanmar diesel-powered 34 Picnic.
Then there's the small matter of cost. Compared to two big eight-cylinder inboard diesels and jet drives, outboard power is less expensive, by a couple of hundred thousand bucks. Right now, the base price of the new 35 comes in at $1.15 million.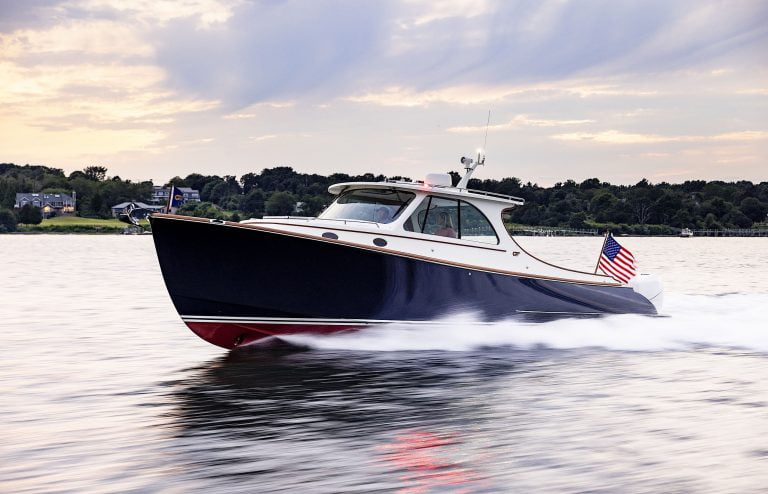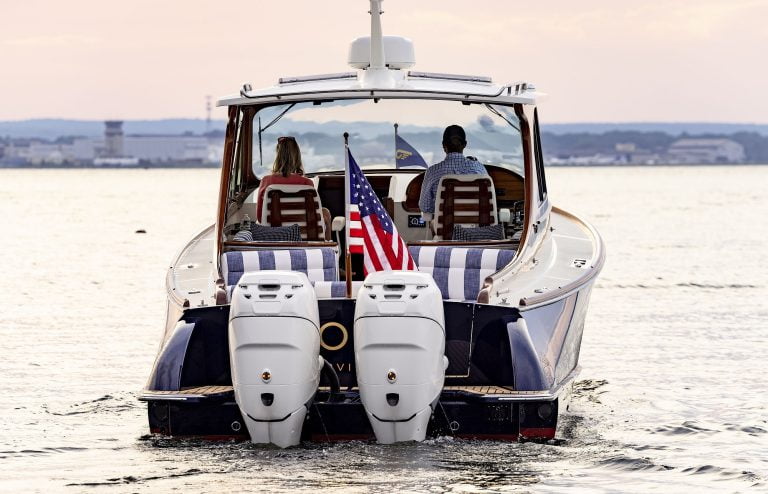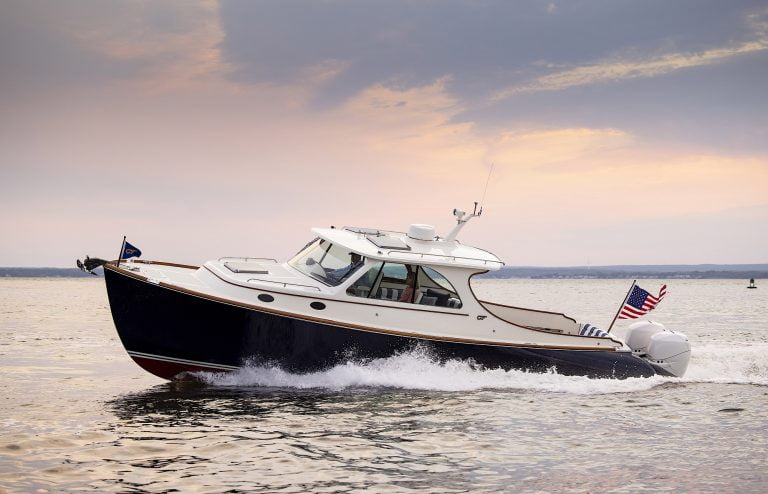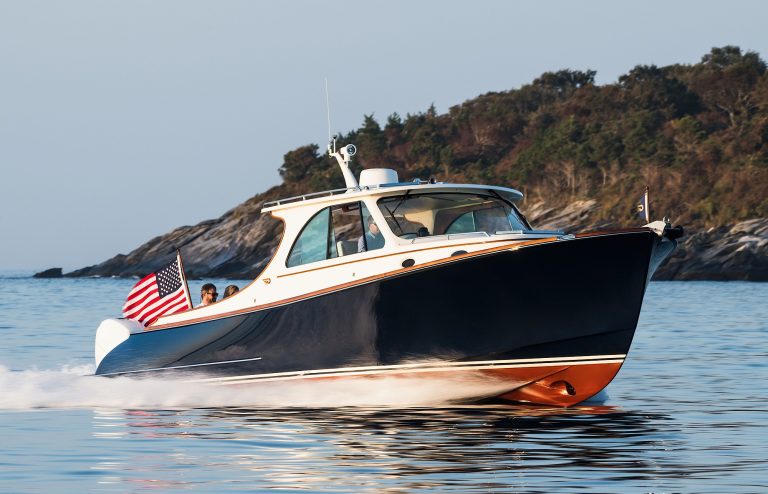 All in all, that's a win, win and another win situation. It's also proving a win-win with customers, with more than 20 examples already sold.
But don't think of this new 35 simply as a 34 Picnic with a couple of big outboards hanging off the transom. Hinckley called in ace designer Michael Peters – he's drawn all of Hinckley's Picnic Boat hulls since 2008 – to optimize the 34 for outboard power.
So, he's included slightly wider chines (they're the lower edges of the hull) and wider underwater strakes that run front to back. All this provides better lift and stability at higher speed, and offers better control for the helms-person.
In Hinckley tradition, the new 35's hull is built using an inner and outer layer of carbon fiber infused with epoxy, then baked in a giant oven, to deliver I-beam stiffness and rigidity.
More instantly recognizable are the design changes to the stern. Instead of a cut-off, more upright look, the sides of the hull have been stretched and rounded. To our eyes, it's an even sleeker, more elegant design.
Of course, there's always a trade-off. And here it's the lack of a full-width swim platform. Clambering back on the boat after a refreshing dip is going to be just a little more awkward.
But everything else about this elegant new 35-footer – overall length is actually closer to 39-foot – is pure Down East lobster-boat-inspired Hinckley Picnic Boat. Same acres of mirror-finished varnish, same salty pilothouse and teak decks, same deep cockpit with comfy-cozy seating.
The one big exterior change however, that will make Hinckley aficionados instantly recognize the new look, is the pilothouse windshield. In place of the traditional split screen, the 35 gets a one-piece version – Hinckley calls it ClearView – which debuted on the company's Sport Boat 40x model a couple of years back.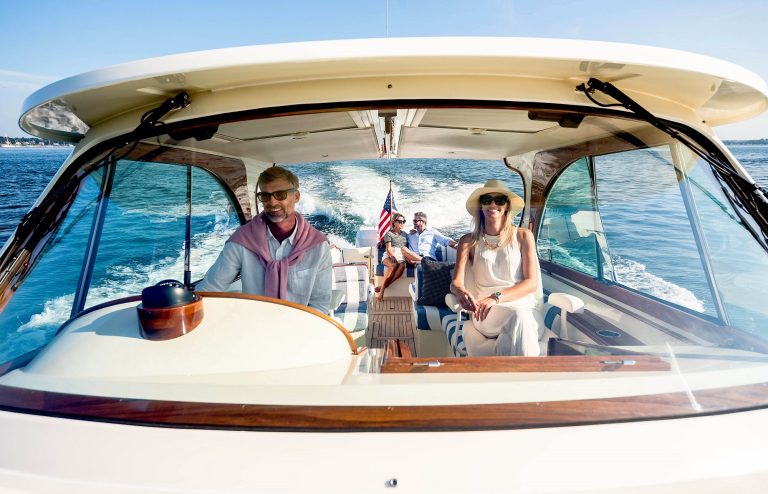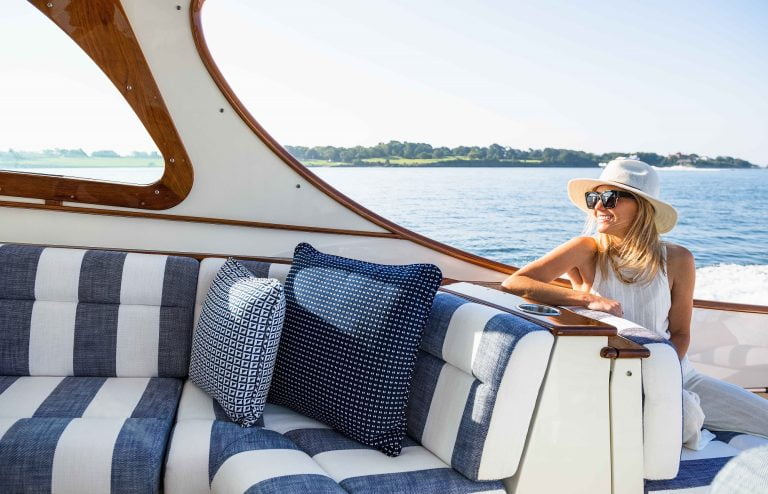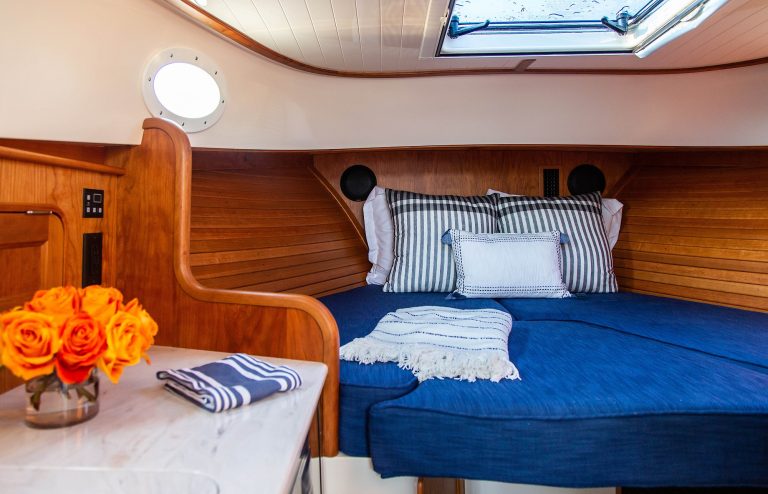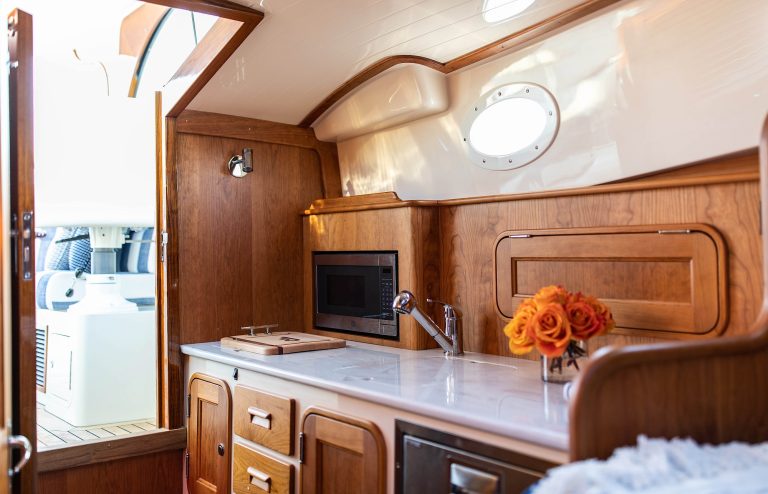 While the Picnic Boat's split screen hardly compromised forward visibility, this full-width windshield gives CinemaScope-like forward vision. It makes everything from channel marker-hunting, to crab-pot avoidance, to pinch-tight docking, a cinch.
The cockpit layout is traditional Picnic Boat, with lovely U-shaped seating under the pilothouse hardtop, and rear-facing side seating and a three-quarter-width transom bench in the cockpit.
The one big bonus of outboard power is that the cockpit boxes normally used to house big, honking diesels are now empty. They make great storage for a couple of fold-up bikes, a pump-up dinghy, fenders, or optional Seakeeper giro stabilizer.
Down below it's business as usual, with the traditional Picnic Boat layout of forward vee-berth, spacious head to starboard, and a modestly-equipped galley to port. It's far from cavernous, but plenty big enough for an overnighter or weekend away.
Yet while the Picnic Boat connection is there for all to see, Scott Bryant, Hinckley's VP of Sales and Marketing tells EQ that this new 35 is not a true Picnic Boat. "We're reserving the Picnic Boat moniker for our jet boats," he explains.