The new Majesty 175 from Dubai-based Gulf Craft has the distinction of being the world's largest fiberglass superyacht
IMAGERY COURTESY OF MAJESTY YACHTS
It's no mean feat to construct a towering 175-foot-long superyacht from fiberglass. Unlike steel or aluminum, which can be welded freestyle, fiberglass requires humongous molds and highly complex tooling and techniques to form.
For United Arab Emirates builder Gulf Craft – makers of the exquisite Majesty line of composite superyachts – it's worth the considerable effort. Fiberglass construction, they reckon, offers greater longevity, less maintenance, and lighter weight for lower fuel consumption.
Pushing the absolute limits of composite superyacht construction, Gulf Craft – headquartered 20 miles north of skyscrapered Dubai – recently launched its stunning Majesty 175. At 175 feet from soaring bow to curvy stern, it grabs the accolade of being the world's largest production composite superyacht.
With the build process kicking off in 2016, constructing the new 175 took four long years. Hull #1 finally hit the water in late 2020 and was delivered to its "prominent UAE businessman" owner just a few months ago.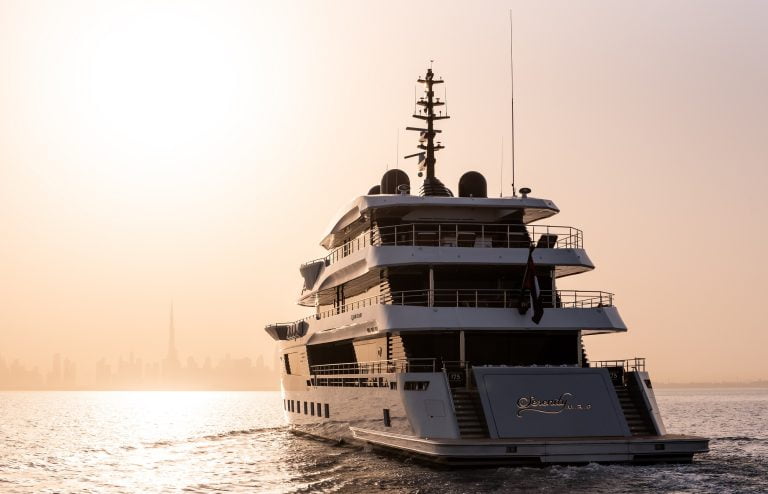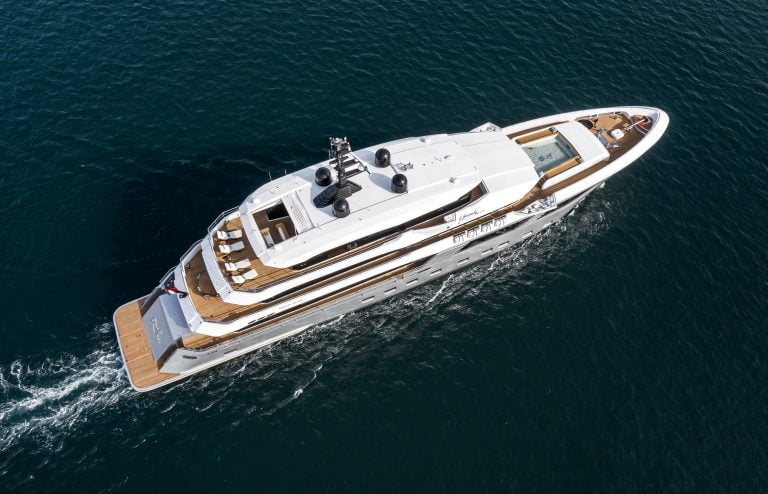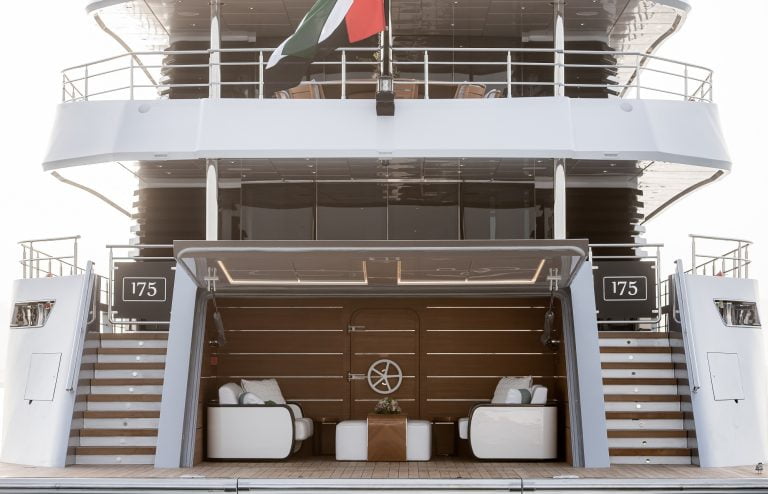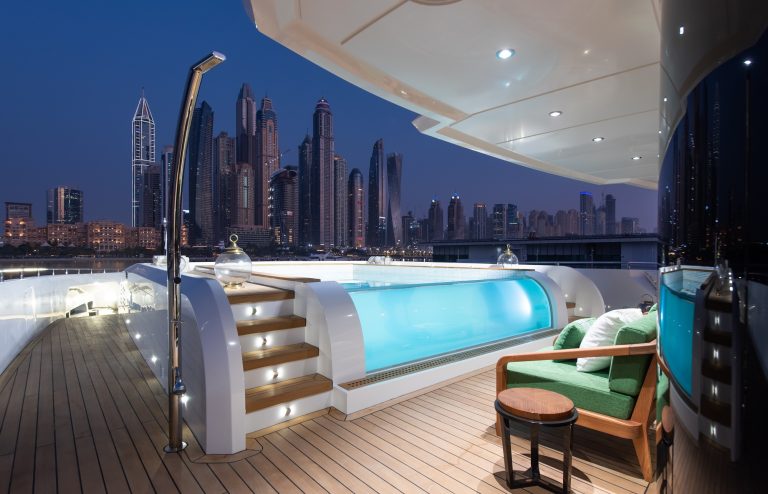 Credit for the Majesty's majestic exterior and interior design goes to the award-winning studio, Cristiano Gatto Design, based near Treviso in Northern Italy. Founder Cristiano Gatto was former general manager with rockstar designers Nuvolari Lenard, so knows his stuff.
See the Majesty 175 slicing through the placid gulf waters offshore of Dubai and this sleek, stylish, glass-rich, four-deck superyacht is guaranteed to spin heads from St. Barths to St. Tropez.
And slice she does. Propelled by a pair of 2,000-horsepower, heavy-duty MTU diesels, she's good for a top speed of 17 knots, and offers a range of over 4,000 nautical miles at a more genteel 10 knots.
That wave-cleaving hull is the work of the naval architects at the wonderfully-titled Yankee Delta Studio – not, as you might expect from Louisiana, but Tuscany, Italy. They gave the yacht a generous 32-foot beam, and a shallow seven-foot draft. Perfect for shimmying into those off-the-grid Bahamian anchorages.
To balance out the skinny draft, Yankee Delta specified not one, but to two pairs of roll-quelling TRAC fin stabilizers to keep her steady on big, open-sea voyages.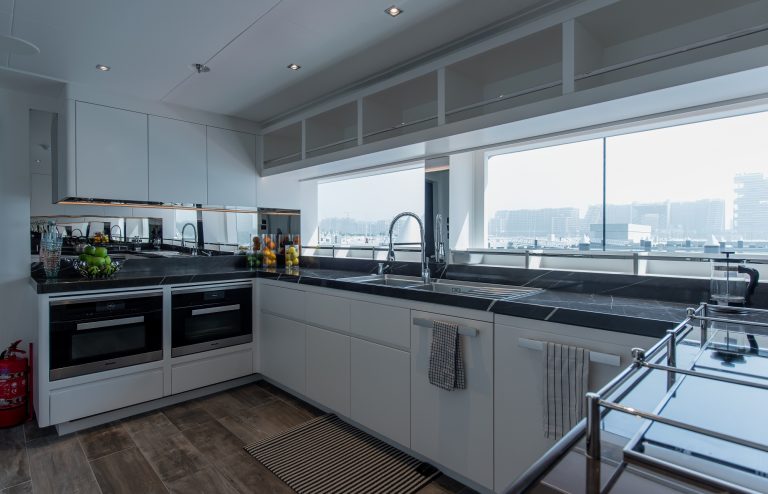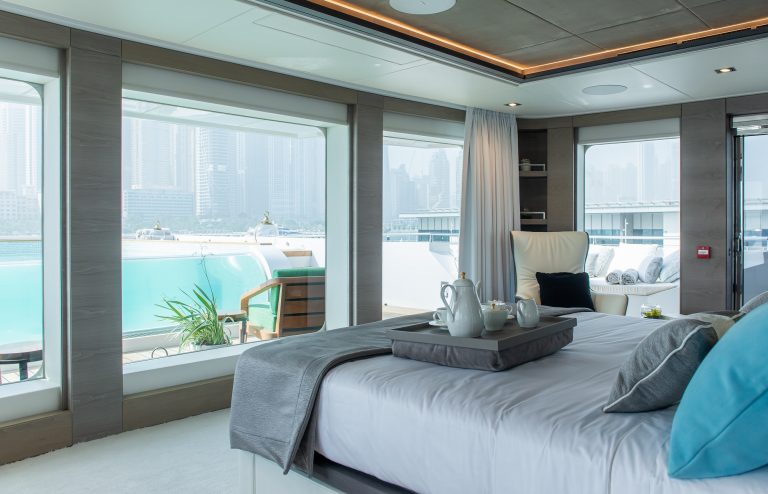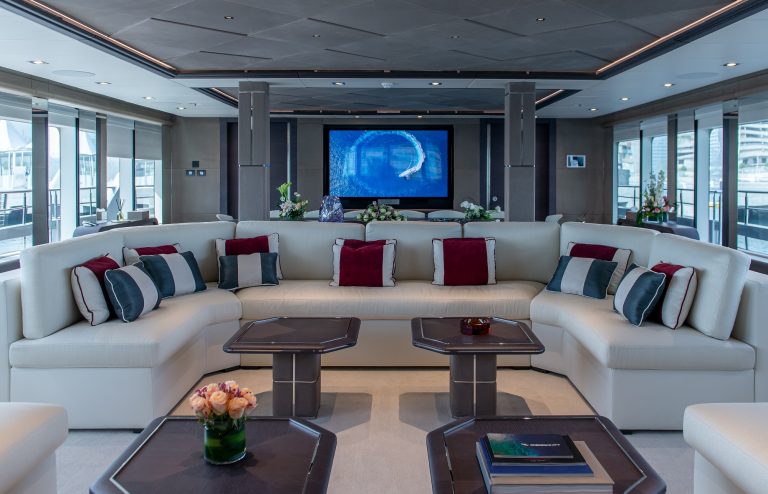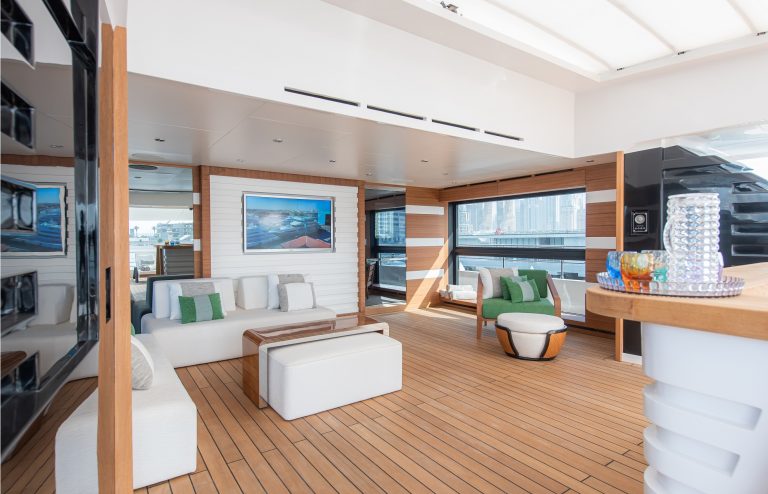 Cool features of this new Majesty 175 include a cavernous owner's suite positioned forward on the upper deck that opens out to a private 16-foot-long infinity pool. Additionally, the hybrid sky lounge on the top deck converts to an open sun deck at the touch of a button.
For accommodating friends and family – lots of them – there are six lavish ensuite staterooms for 12 guests, in addition to the owner's suite. The 175 is expected to run with a crew of up to 10, so there are six large cabins, plus a captain's crib, for them.
With all the molds and composite-laying tooling now in place, Gulf Craft is gearing-up to build multiple Majesty 175s to satisfy the booming demand for classy superyachts.
175′ Length
 32' Beam
6' 11" Draft
503 tons Displacement
Majesty Gulf Craft Builder

Guest 14 in 7 cabins
Crew 10 in 6 cabins (plus captains crib)
Engines 2 X MTU 2,012 HP
Max. Speed 17 knots
Range 4,000 NM at 10 knots

As for the company itself, it's been around since 1982, initially cranking out plastic 14-foot runabouts and fishing boats for the local market. Today it builds around 400 boats a year for its well-known brands, Nomad Yachts, Silvercraft, and Oryx. The company built its first Majesty in 1984.
And the yard continues to think big, making no secret of its aspirations to become one of the world's top five shipbuilders by 2025. A majestic plan indeed.