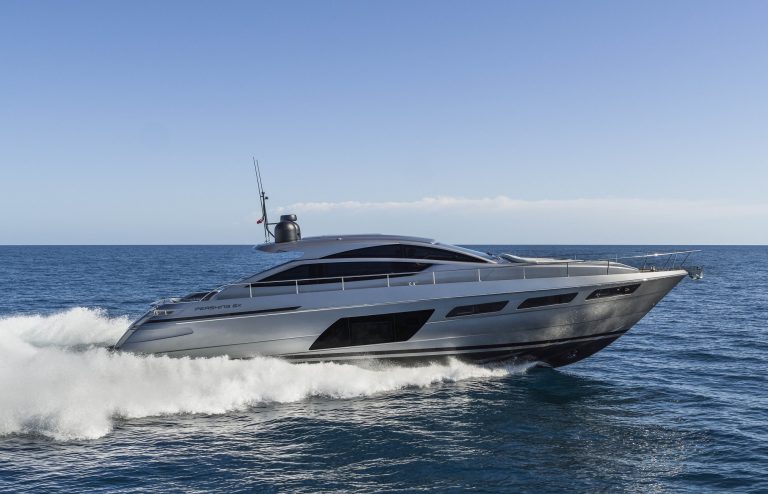 Pershing's Italian Rocketship
The 6x brings nearly unbeatable performance to a luxurious, Italian package
Pershing Yachts has long been known as one of the world's premier purveyors of sport yachts. And its new 6x should do very little to dissuade anyone of that notion, particularly when taking into account that this 62-foot, 2-inch cruiser has a blistering 48-knot top hop. With twin 1,550-horsepower MAN V12 diesels matched to Top System surface drives, the 6x can shoot a rooster tail high enough to spot from the Smith and Wollensky's at Government Cut when you're still a mile out from Miami.
Those speedy numbers are just shy of raceboat levels, which is quite a feat on its own, but even more impressive when you realize that this Italian missile is also built for the utmost luxury when at sea.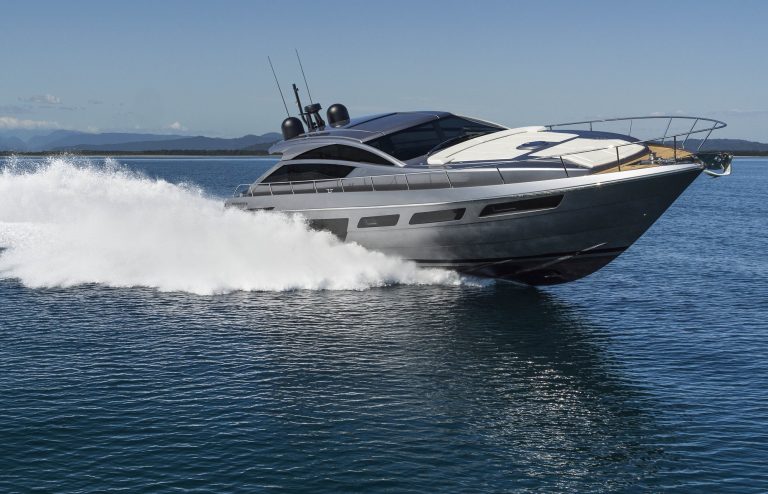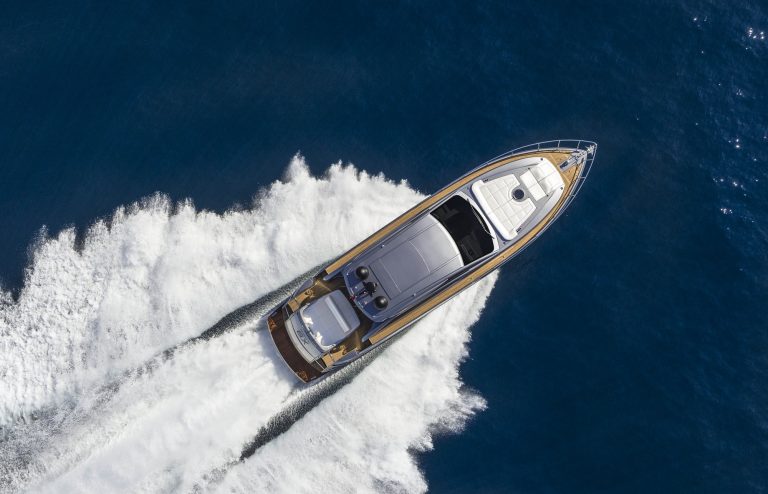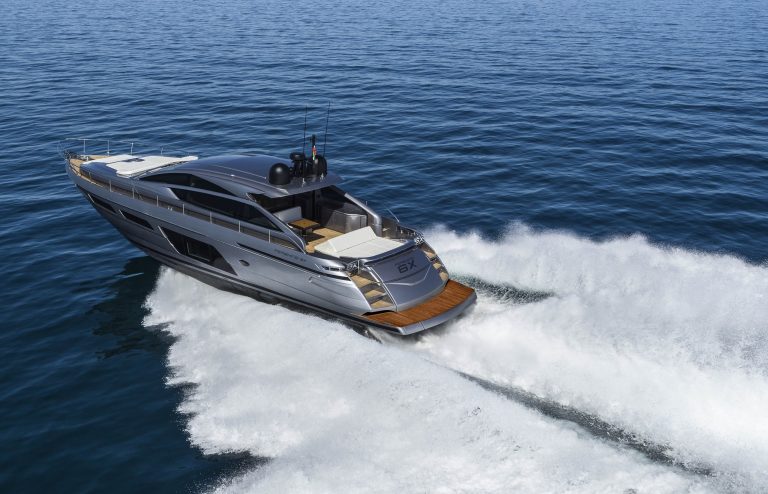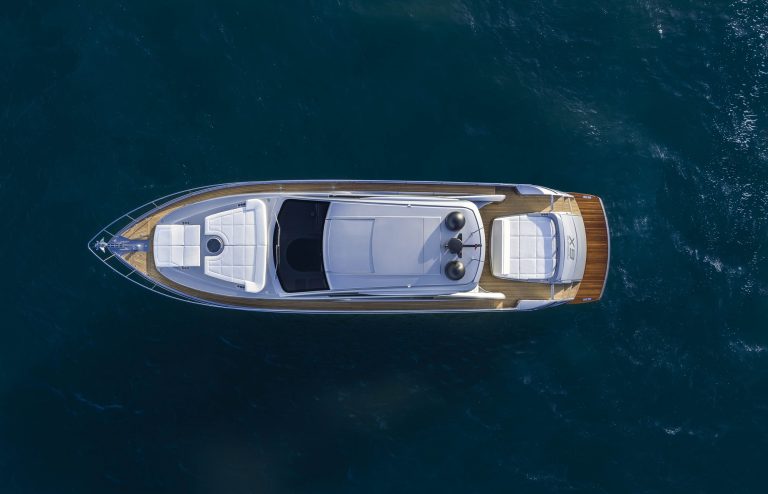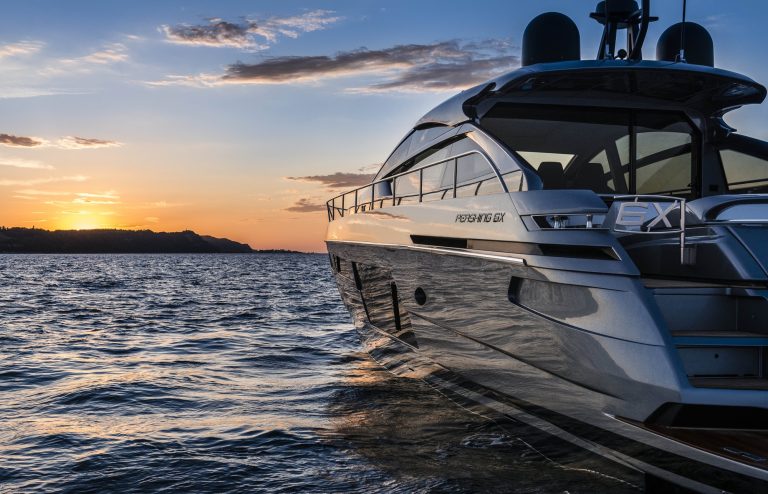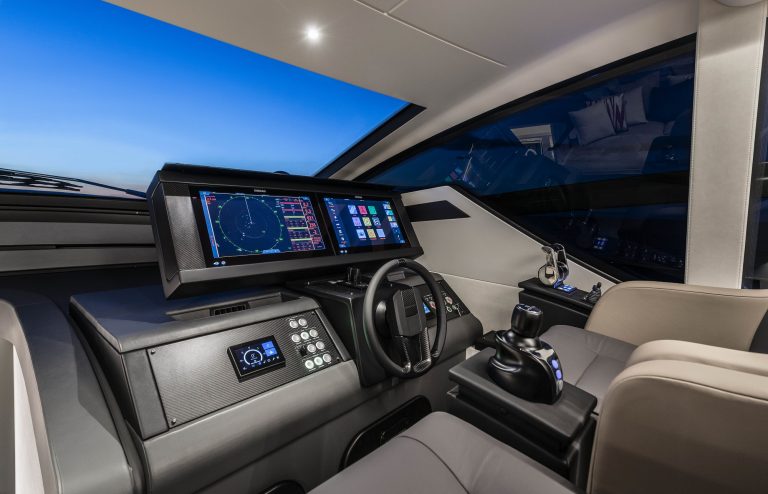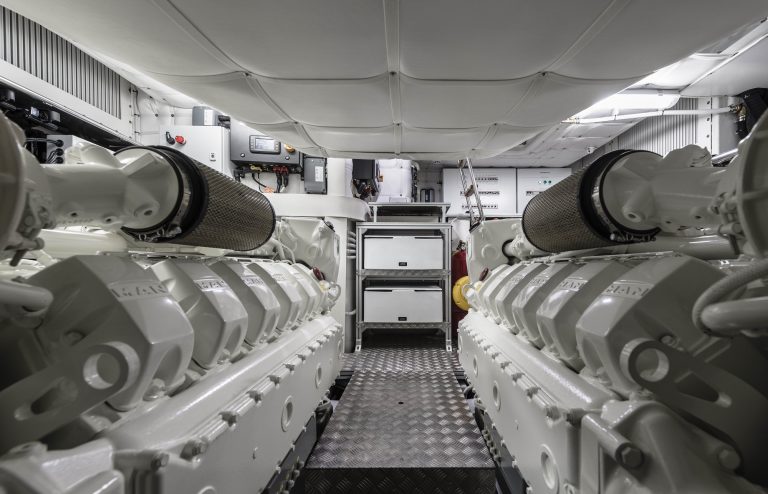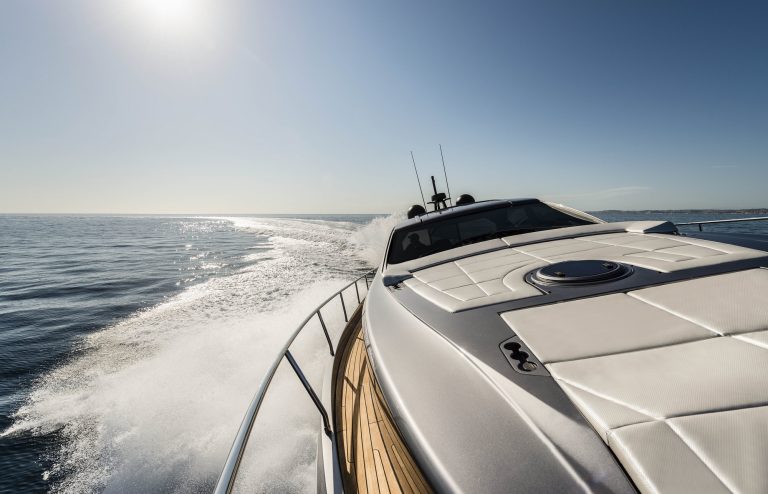 The Pershing has a predictably low-profile and racy lines like its sisterships, and also comes standard in the silver-and-black color scheme that has become synonymous with the brand. A long bow juts out prominently from the superstructure and is big enough to house not one but two sunpad areas. It's a quality that speaks to this model's Mediterranean dayboat heritage.
The salon's interior is reminiscent of a seaside villa on the Italian Riviera, with rich creams and masculine darker shades creating a cool and elegant ambiance. Twin helm chairs give the captain the option of company while he is piloting this rocketship via wheel, throttles, and a Xenta joystick, while a large U-shaped settee with a table to port shoulders the bulk of the seating duties indoors. The Italian designers Mastrotto and Poltrona Frau are prominent in the interior, lending unmistakable, Old-World charm to the proceedings. Remarkably large windows ring the area with nearly 360 degrees of natural light and offer exceptional views while the boat is underway or moored in some exotic locale.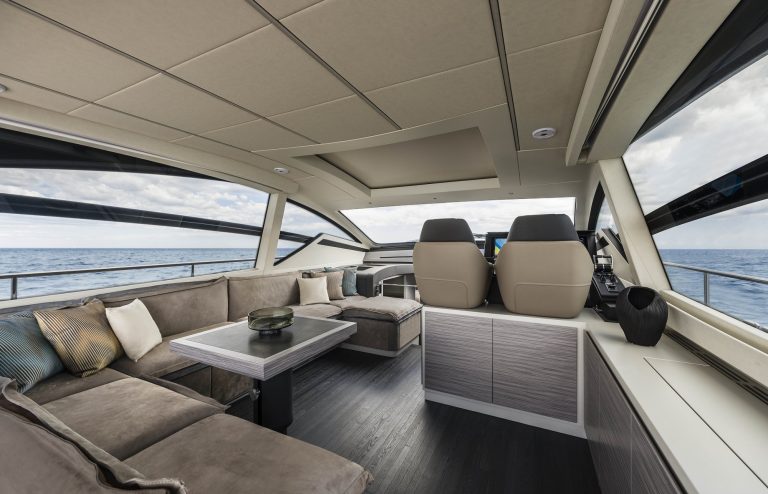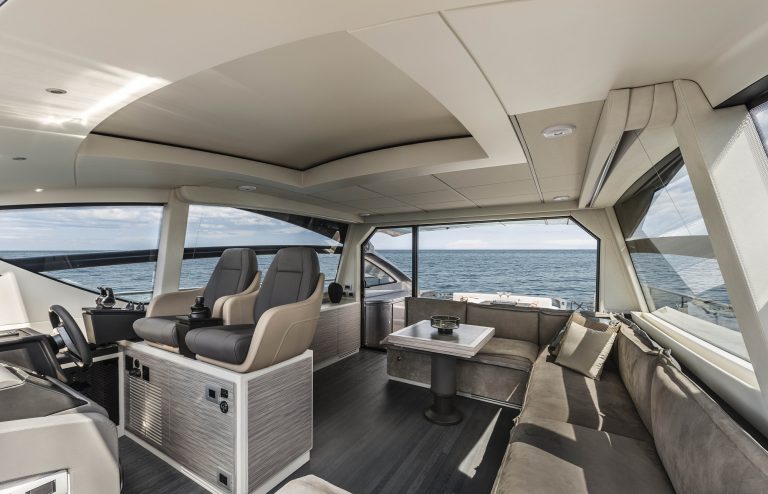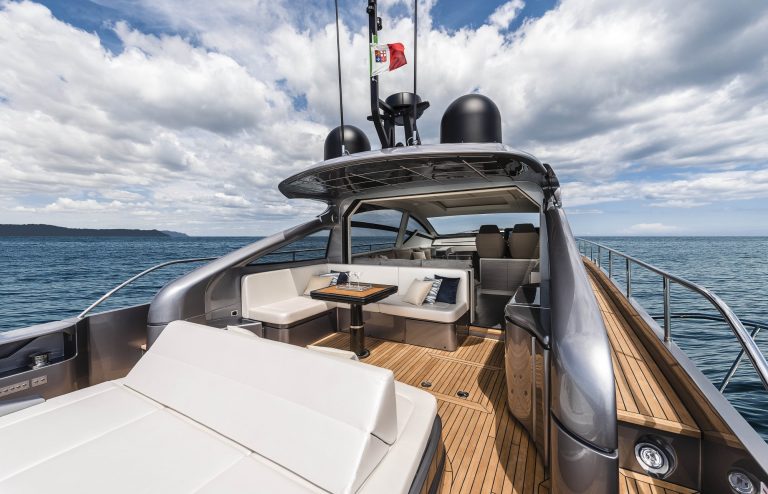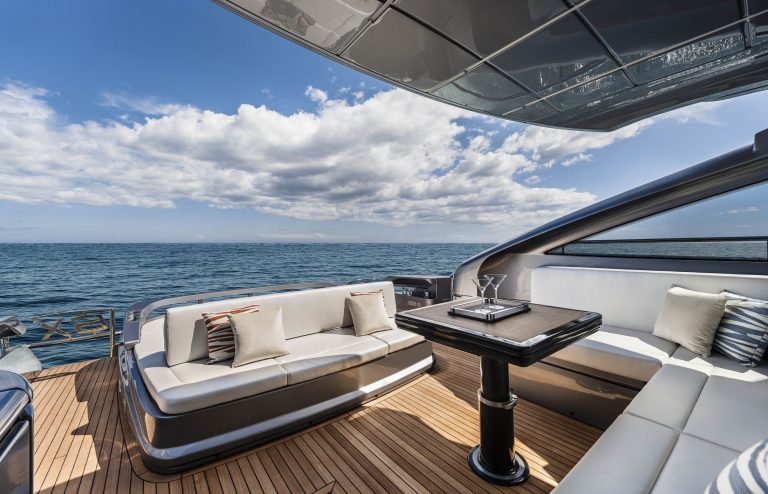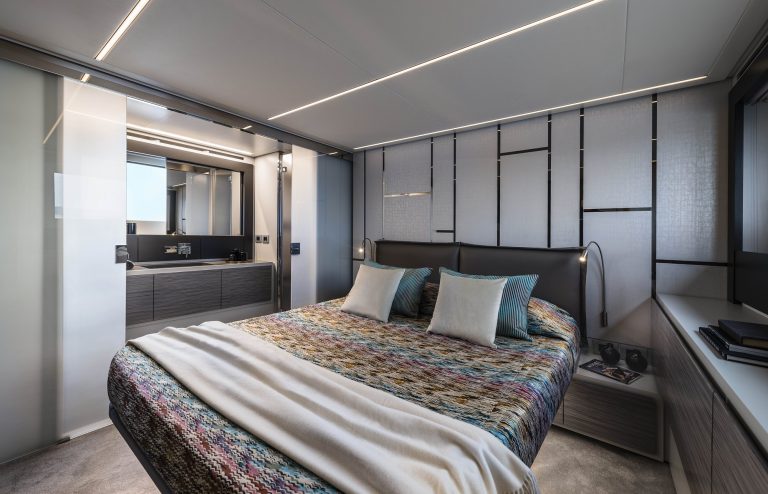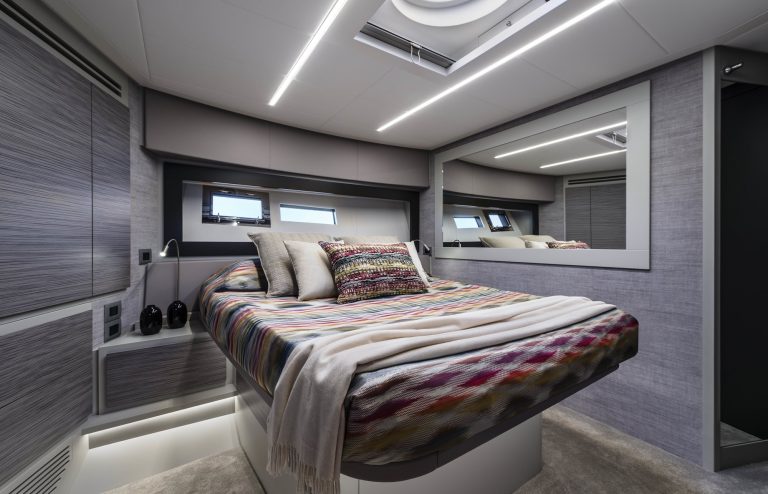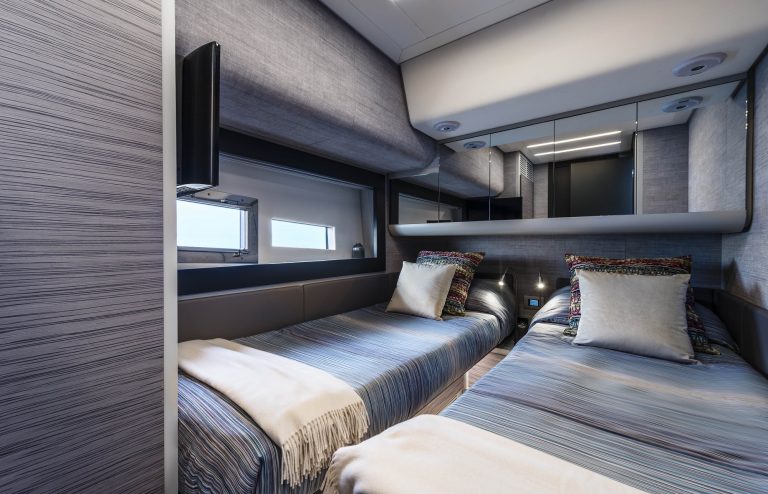 Weight is key aboard a performance vessel like this. Pershing says it expects the yacht to lose one knot off its top end for every 1,100 pounds onboard. Heavier options like a Seakeeper gyro stabilizer and a Williams Turbojet 325 are de rigueur of course, but after that you're effectively feeding ice cream cake to an Olympic sprinter.
Down below, the Pershing has three cabins and a galley. The full-beam, amidships master is the star of the show on this deck. The king-size berth takes up nearly the full width of the cabin, while slick, opaque pocket doors leading to the en-suite head add a classic touch to the proceedings.
The Pershing 6x's cockpit has a combination teak-and-carbon-fiber table and a sunbed on the after section. It's the perfect location to relax and take in some rays while watching the imposing wake this speed demon throws off, rippling out into the world far behind you.