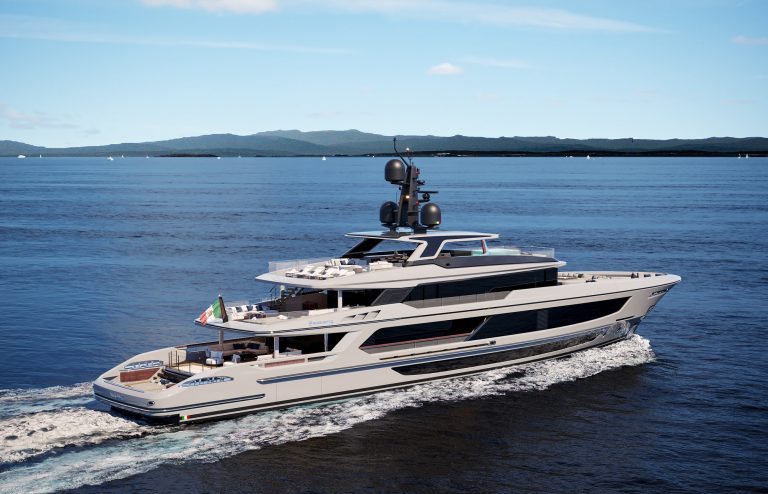 Sustainable Superyachts of the Future
Lürssen, Sanlorenzo, and Baglietto are making waves
As ocean temperatures and levels rise, and global climate change becomes increasingly apparent, yacht industry powerhouses are recognizing the importance of developing more environmentally friendly technology and turning the helm toward sustainability and developing greener vessels. Alternative renewable energy sources are being utilized to reduce pollution and fuel consumption instead of the traditional alternative, gas or diesel systems. Three renowned yachting companies – Sanlorenzo, Baglietto, and Lürssen, are pioneering this clean energy mission with the development of their climate-conscious, emission-free yachting technology systems.
"The protection of marine ecosystems is significantly dependent on the sustainable use of pleasure boats…. Climate change, especially the rising temperature of water, has important consequences on the oceans, their biodiversity and resilience, and is an increasingly important issue in the context of yachting sustainability," notes Sanlorenzo in their consolidated non-financial statement.
Looking to obtain greater fuel-efficiency and a greener energy solution, Sanlorenzo is collaborating with Siemens Energy. Together, the companies are in the process of integrating fuel cell technology and developing and purchasing contracts for a new generation of diesel electric and hybrid systems. Focusing on methanol fuel cell systems (on 24-80m yachts), new generation diesel-electric propulsion systems (on vessels over 50m), and hybrid-propulsion systems (on boats under 50m), a host of innovative solutions are being implemented to reduce GHG emissions and fuel consumption.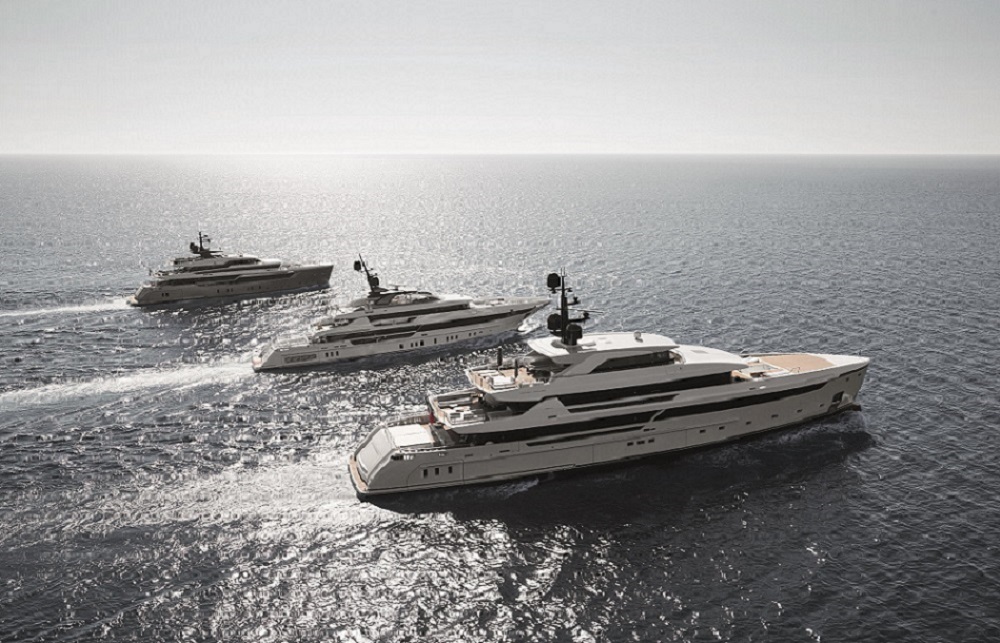 Sanlorenzo has already conceptualized their first yacht powered via diesel-electric – and the largest vessel yet released from the shipyard – the 72Steel. Sanlorenzo's Superyacht Division reports to EQ, "This solution will allow not only to significantly reduce emissions into the atmosphere and the sea but also rationalize the spaces dedicated to the engine area in favor of the internal volume available to ensure high levels of comfort for owners and guests. We believe that the 72Steel will present itself as a new paradigm for superyachts of this size."
In the year following Sanlorenzo's release, Lürssen's methanol powered Marine Hybrid Fuel Cell System is also set to sail. Michael Bremam, Lürssen's Sales Director, spoke with EQ concerning his vision for the company's upcoming developments, "On the journey to net zero, alternative sources of energy will play an integral role in reducing carbon emissions and the superyacht industry has an opportunity to be at forefront of this development with the support of some visionary owners. Paving the way for change, we have been researching the potential of hydrogen fuel cells alongside with several partners since 2009."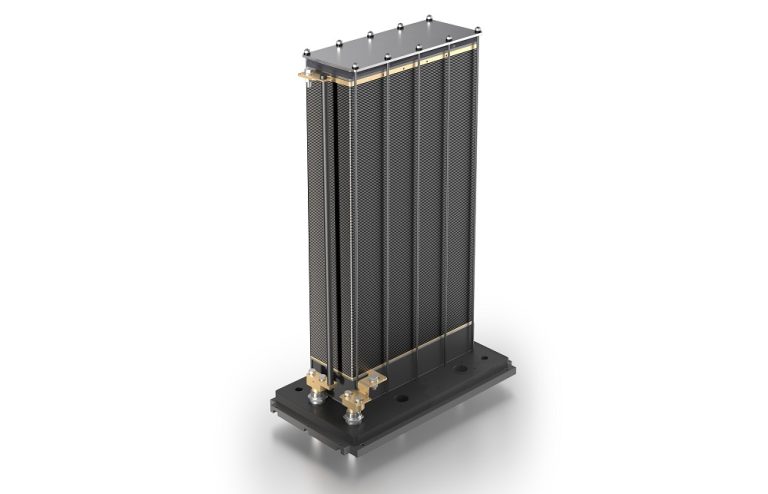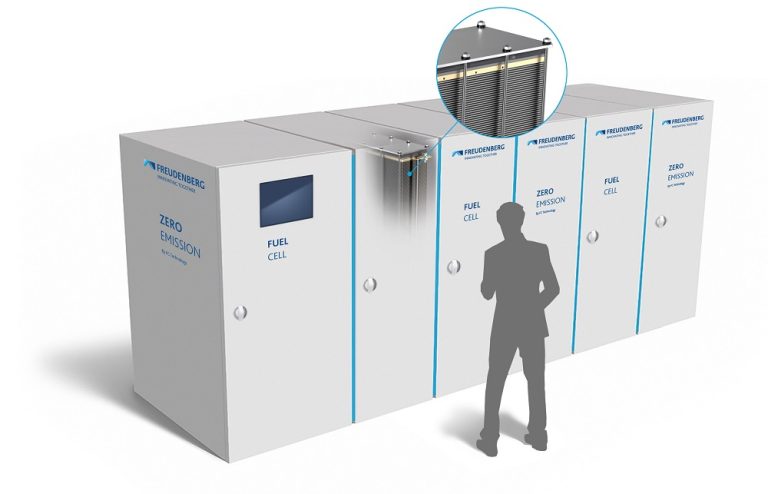 Lürssen's test plant has been developed in partnership with global technology group, Freudenberg. The Innovation Laboratory will pilot the fuel cell system to ensure its successful integration into Lürssen's fleet of superyachts. The company has reported that the use of this technology will grant captains 15 nights at anchor, or an impressive range of 1,000 nautical miles. By reforming methanol into hydrogen to generate green energy, Lurssen's yachts will be able to operate without excreting emissions.
"The choice of methanol rather than elemental hydrogen is due to its higher energy density, the simplicity of handling and its wider availability. While the lighter energy density of methanol compared to diesel requires increased tank storage volume, it has significantly less impact on guest spaces than gases such as elemental hydrogen and LNG," explains the Sales Director. "As methanol is a by-product of many other chemical reactions, it can be produced completely carbon neutral." Lürssen delineates that this system is noiseless, highly efficient ¬– beating out even a diesel engine – and requires little maintenance.
Like Lürssen and Sanlorenzo, Baglietto plans to utilize a hydrogen fuel-cell module on a hybrid or diesel-electric platform. Baglietto's BZERO (B RAISED TO ZERO) system seeks to increase the range of electric cruising vessels in zero-emission mode. The system's electrolysers will generate power from other renewable energy sources, including photovoltaic panels or batteries, to create "green" hydrogen. This technology is being developed in collaboration with six fellow Italian companies – Arco FC, Blue Energy Revolution, Enapter, H2BOAT, and Rina e Siemens Energy. A fully functional prototype is expected to be unveiled later this year.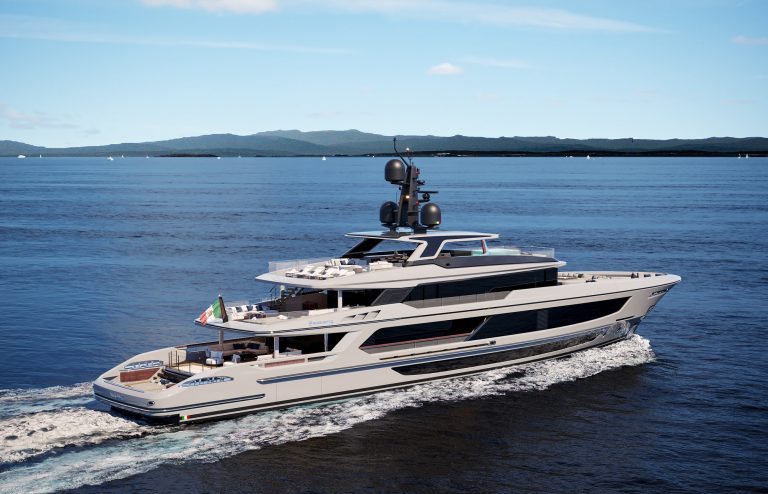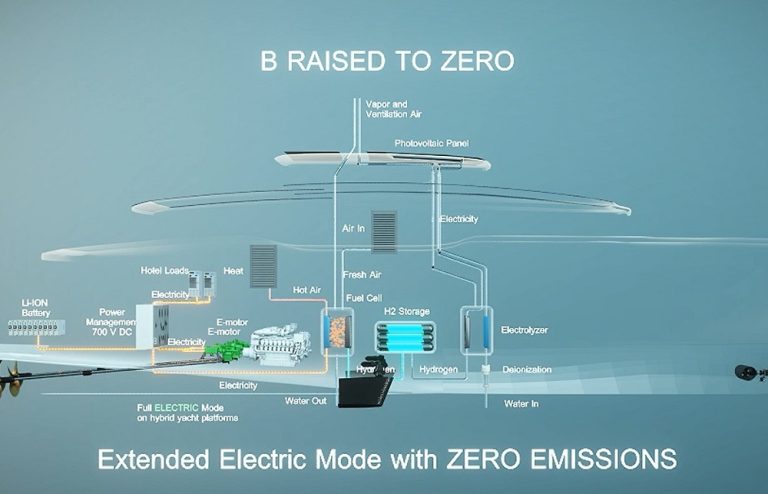 Baglietto's CEO Diego Michele Deprati spoke with EQ about his enterprising vision for sustainable superyacht systems, "In 1874, Jules Verne wrote 'Water will one day be fuel. Its hydrogen and oxygen, used separately, will provide an inexhaustible source of heat and light.' Almost 150 years later, that day has come and Baglietto wants to be a major player in this process."
"Today, as in the past, we feel an urgent need to push further and make our own contribution to the quest for sustainable and truly eco-friendly boating, which for us is now an absolute must" continues Deprati. "To this end we have set up a department expressly dedicated to the study of new eco-sustainable technologies, 'Baglietto Energy', with the precise intention of studying the implementation of alternative energy sources for the nautical sector." The CEO elaborates that The BZERO system aims to lead to the eventual elimination of hydrocarbons.
As the yachting industry steers toward more environmentally sound future, Sanlorenzo, Baglietto, and Lürssen are championing the conservationist change with their cutting-edge superyacht systems.