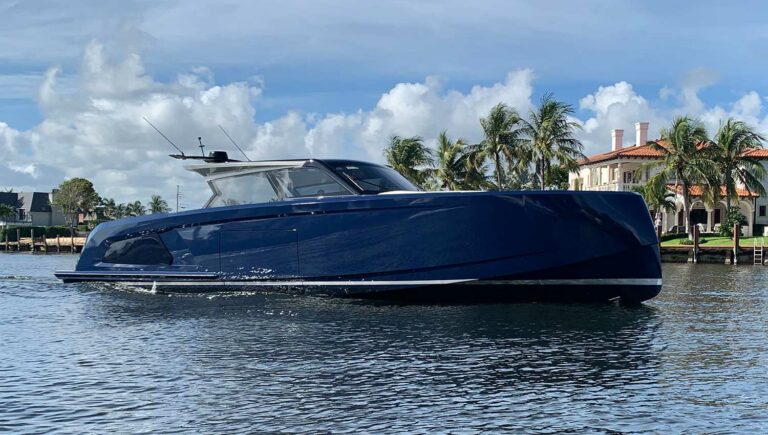 At VQ Yachts customization is king
Written By John Pheasant | Imagery Courtesy oF VQ Yachts
Responding to consumer demand for a larger powerboat, the first designs for an all-aluminium model were unveiled only a year ago by VQ Yachts, and they instantly struck a chord with the kind of demanding individuals who lust for the brand's unique looks and tailored flexibility. The first models of VQ Yachts' VQ58 were delivered this summer to delighted owners in the U.S. and the Baltic region, with more on their way for soon-to-be clients looking to join the ranks of the VQ58 Revolution.
The diversity of the locations in the U.S., Baltic and Mediterranean for which the first four VQ58s have been ordered reflect the attractions of a power machine available in four equally diverse versions: an open version, wheelhouse, T-top and fully enclosed hard-top.
Designed in partnership with Guido de Groot, the VQ58 offers a remarkable number of variations in terms of layout, superstructure, propulsion and more, meaning that no two VQ58s are likely to be the same. According to de Groot, "Clients have always been in the driver's seat," and when VQ initially tried to design a model with a stated intention, the clients would "change that purpose and we'd end up designing a different boat altogether."
The first two deliveries were fully enclosed hard-tops that presented very different color schemes: Gulf Racing light blue with Hermes Brown orange upholstery and Dark Blue with an almost white upholstery.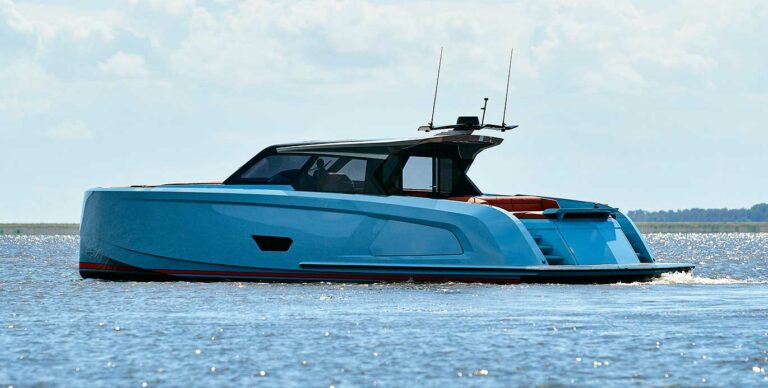 Clients can design their newest toy for a weekender or longer trips.
Multiple choice
Leveraging its proven experience with power-packed hulls, VQ Yachts created a 58-foot masterpiece in aluminum that offers its customers a chance to design the interior layout to their needs based on how they plan to utilize the craft. VQ Yachts is quick to emphasize that customization is king. Owners wishing to take their boat on longer trips can opt for a full-beam master suite, a two-person VIP/guest cabin, two well-equipped bathrooms and a day lounge. Alternatively, they can choose an arrangement that includes three cabins enabling the owner to take more people away on a weekender. A third alternative for the day boater is to transform the interior into a paradise with maximum space to party and lounge around indoors. Whether you're enjoying the cooler climes of the Baltic, cruising the varied isles and coasts of the Mediterranean with friends or dropping the hammer to jet between parties in Miami and the Bahamas, there is a configuration that's right for you.
Continuing the customization theme, when designing their newest toy, clients can choose to have it come with one or two garages, one located on the stern, the other as a side bay. Having two garages allows for carrying the new VQ11 water scooter tender, sea bobs, paddle boards, diving equipment and/or a fleet of other recreational craft. Commenting on how VQ's clients always keep him on his toes, he says, "It always remains a puzzle to create space for all the items on board and you also have to ensure everything is accessible and easy to get to in and outside the water."
Under the hood
The yacht comes standard with Cummins engines, with the Volvo IPS950 as an option, both come complete with joystick controls. This provides a top speed of around 38 knots. For potential owners looking for extra wind in their face, the Veloce version installs twin MAN V8 1200 hp engines backed up with the latest surface drive propulsion that achieves a speed of 48 to 50 knots.
All on deck
The VQ58's designer clearly had entertaining in mind and provided ample open deck spaces with a range of dining options, comfortable seating and lounging space for up to 23, protected by several Bimini systems to provide any desired level of shade. The aft deck has a large alfresco breakfast/dinner space with a table for eight, a rare offering on a 58-foot motor yacht. Further ensuring comfort, the VQ58 joins the other members of the VQ fleet in being among the driest boats on the market thanks to her double spray rail.
The Netherlands-based builder has created a powerboat with a high degree of sailing comfort, awesome maneuverability, powerful top speeds and distinctive design, placing the VQ58 in a league of her own if set against others of her size