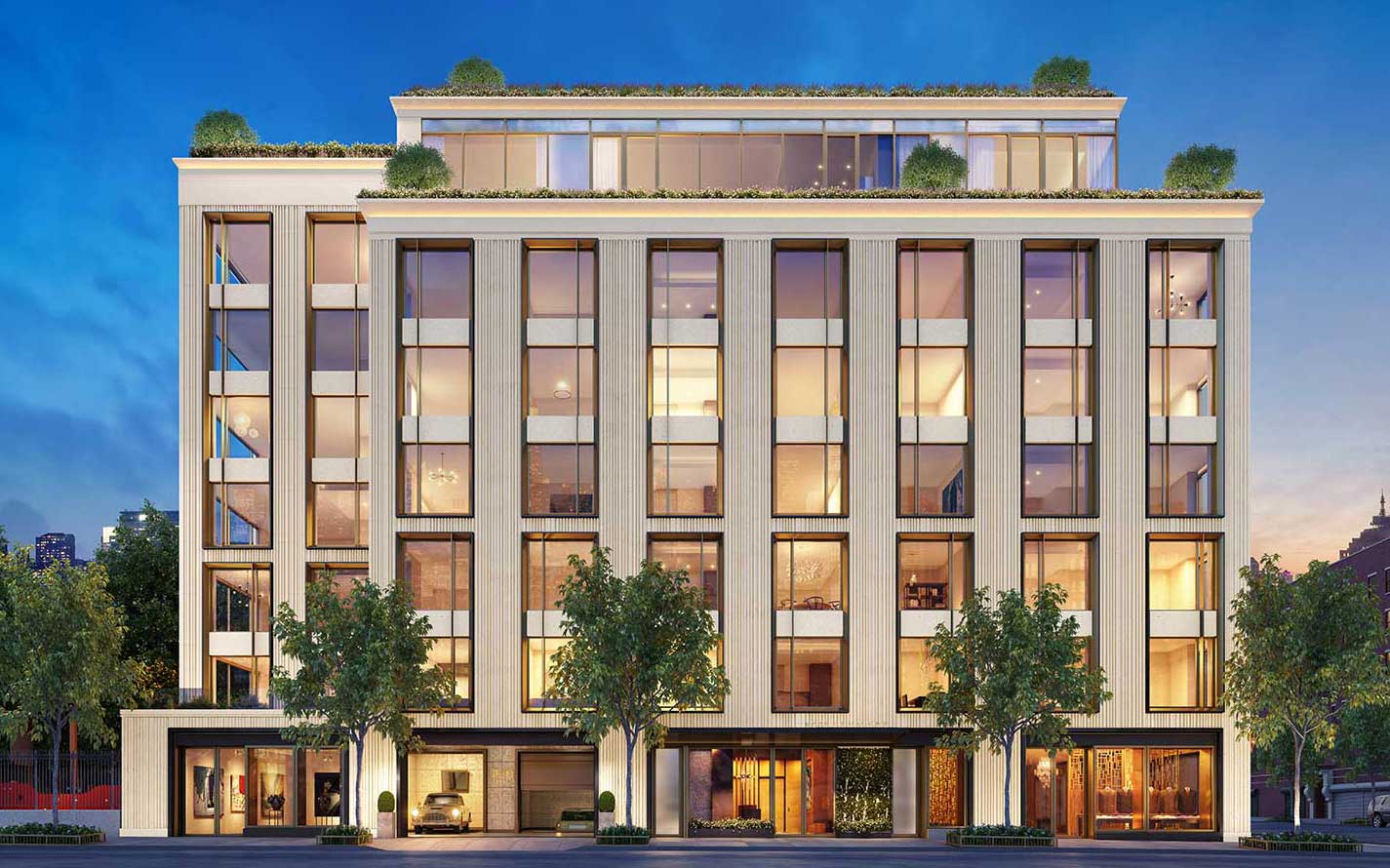 Artistry Resides at DHA Capital's 75 Kenmare Street
WRITTEN BY JEFFREY STEELE | Imagery courtesy of Andre Kikoski Architect
DHA Capital entrusted the architectural design to AIA Institute Award-winning Andre Kikoski Architect, the firm setting the tone for Nolita's future. Kikoski conceived a contemporary building with a highly articulated cast concrete facade, blackened steel and accented by chamfered bronze window frames and architectural fans that stress shade and shadow. It's a stunning architectural achievement that will change with the seasons, remain fresh and modern and resonate with the surrounding historic masonry facades of SoHo and Nolita.
The exterior artistry of 75 Kenmare is complemented by the interior design of music icon Lenny Kravitz's own Kravitz Design, which sought from the start to create a luxurious, layered, warm and inviting living space invested with refined elegance. That aesthetic is expressed through a range of sophisticated finishes from textured metal to natural stone and rich oak.
Residences feature one to four bedrooms, 7-by-7-1/2-foot custom designed casement windows and white oak floors. The gourmet kitchens boast five-burner Gaggenau cooktops, Bosch dishwashers and Gaggenau refrigerators and freezers with integrated oak wood panels. Select residences even feature private terraces.
Penthouse terraces offer integrated grilling stations from Wolf Outdoor Kitchens, under-counter refrigerators and icemakers. Amenities include a state-of-the-art fitness studio and Future Green Studio-designed landscaped courtyard and rooftop terrace.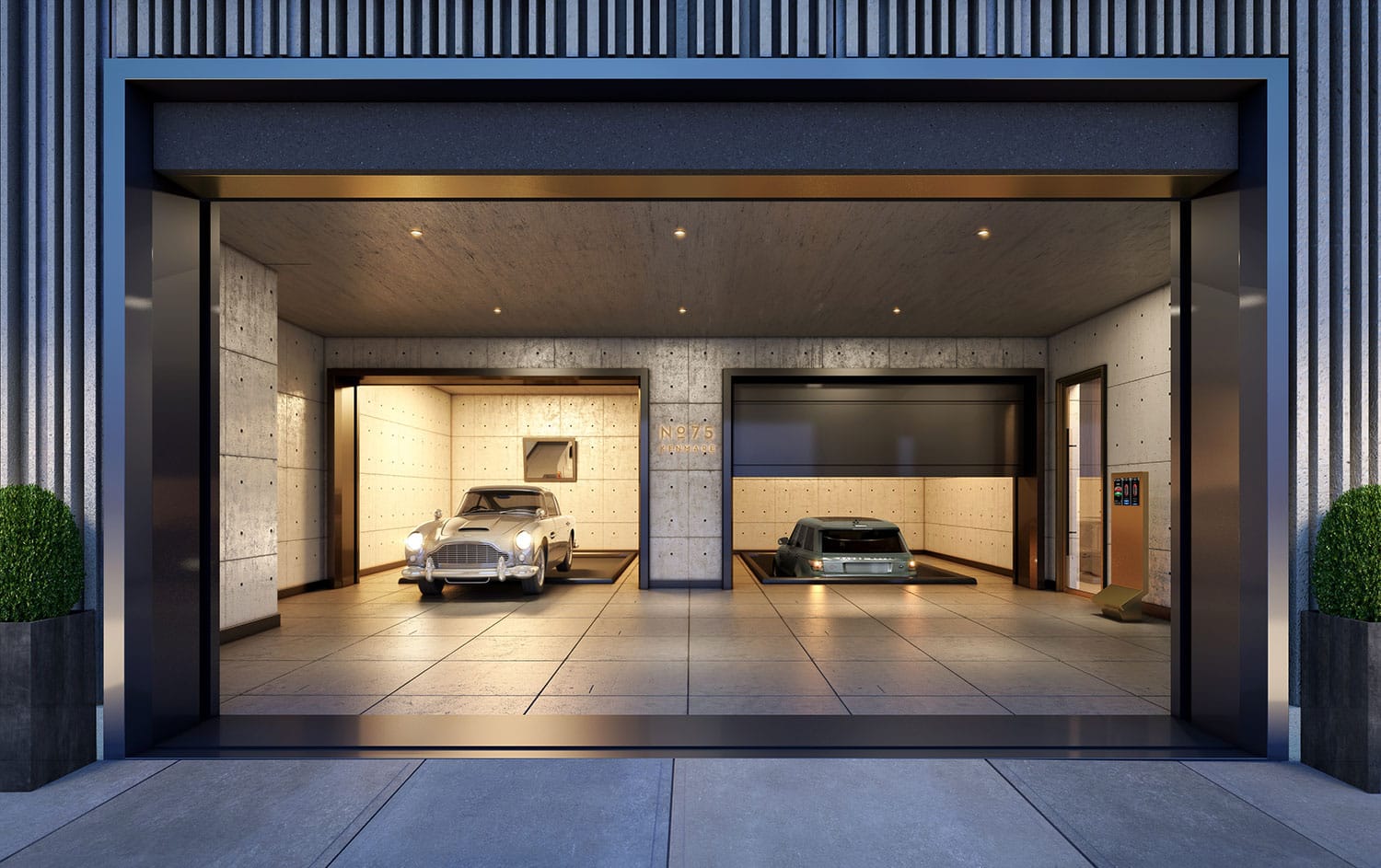 NONPAREIL NEIGHBORHOOD
Believing Nolita did not offer enough entry-level apartments, DHA Capital desired a mix of residences from small to large. According to Dan Hollander, managing principal of the New York City-based firm, "One- and two-bedroom units have been strong sellers." Expanding on the buyer base, Hollander added, "we have a range of buyers, from foreign [purchasers seeking a] pied-a-terre to New York City locals who love the area. Nolita is home to many unique restaurants that provide a special character to the neighborhood. Residents have their pick of a variety of local outposts: Cafe Gitane, Rubirosa, and La Esquina."
When acquiring the site, DHA Capital noted a number of upsides including an adjacent city park with protected views and lush green space, proximity to shopping, dining and transit, and a limited supply of condominiums. The pluses more than compensated for the construction challenges the site would present such as the difficulties of building next to a city park and forging an underground space for parking next to an active New York City subway tunnel.
LIGHT AND AIR
One of 75 Kenmare's most attractive features results from the building's distinctive seven-sided design. "It's all about light and air," says Kikoski. The large second-story courtyard and huge casement windows also ensure abundant light in every home. The architect adds that the expansive oversized windows framed by blackened metal and lustrous bronze are perfectly proportioned to the building, inviting light to penetrate into every interior corner. An ornamental mullion runs across the frame. "It dances within with its own kind of rhythm and creates a building that between the patterning, texturing and movement, replicates music," Kikoski says. "It's super cool to have the opportunity to do that."
The fenestration is balanced and modulated by the masonry exterior. "I believe the best residential buildings in New York City are masonry," Kikoski asserts. "Glass buildings don't belong in a rich, historic and beautiful neighborhood like this. In Nolita, it's all about textures, shadows and shapes. We wanted a building that participated in the conversation—but to do it in a super fresh way."
Finely scaled vertical flutes that rise the facade's entire elevation allowed the designer to tint and shape the concrete and provide a patina. "At every moment of the day, and every moment of natural light, the facade responds with depth and shadow," Kikoski says. "It's all about the craftsmanship of the beautiful wooden form work into which the concrete is poured. It's made by master craftsmen."
Kikoski continues, "Concrete is typically such a banal and uninteresting material. But not here, because we're using procedures and processes that are all about the human hand. The concrete becomes beautiful, crafted and a work of art. The building has a skin that blends into this neighborhood through craftsmanship in a beautiful way." Kikoski recalls a seminal moment at 75 Kenmare's birth that set the tone for the project. He spoke with the Chicago-born Hollander about the latter's love of Frank Lloyd Wright. "It's unusual to see a New York City developer with that level of sensitivity," Kikoski remembers. "He asked, 'What would the legacy of the building feel like in 15 years?' That thought inspired us to do something meaningful and substantial."