Pardo Yachts Presents Its New Flagship
Pardo Yachts is expanding its GT range with the release of its new flagship, the GT75. This model joins the Pardo GT52 and retains the design elements that make the GT range instantly recognizable. Existing between the Walkaround and Endurance ranges, the crossover GT75 optimizes space, volume, and high-performance capabilities. 
The 75-foot GT75 is instantly eye-catching with its striking hull lines and spacious interior. The yacht's water lines were conceived by Zuccheri Yachts Design. On the exterior, the boat's multiple large sundecks, fold-down side terraces, and lounge areas emphasize the sprawling accommodation areas. Furthermore, the side decks reach the deck level, creating a generously sized area for relaxation in the bow. "Thanks to the flush deck, important volumes are gained in the interior forward area, where on this model we find the VIP cabin and crew accommodation," says Pardo Yachts in a press release.
The new "Made in Italy" GT comes in two configurations – the "Beach" version and the "Tender Garage" version. With the Beach arrangement, the master cabin can be accessed from the aft platform through a large glass door. This allows boaters to start each day with panoramic sea views from the master cabin.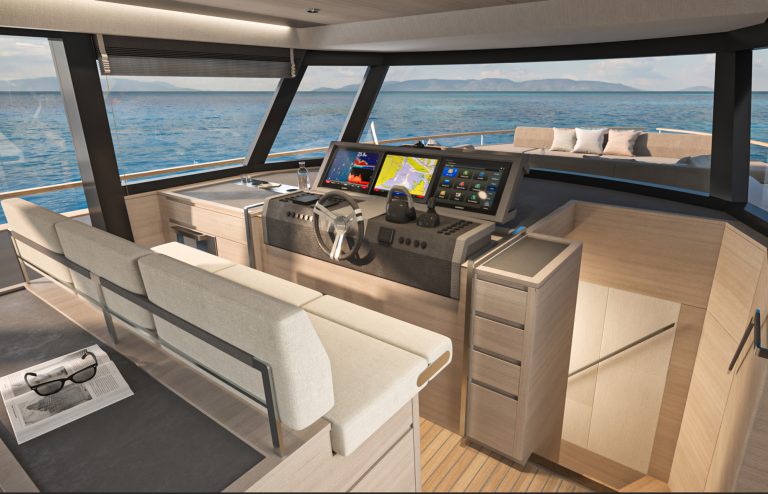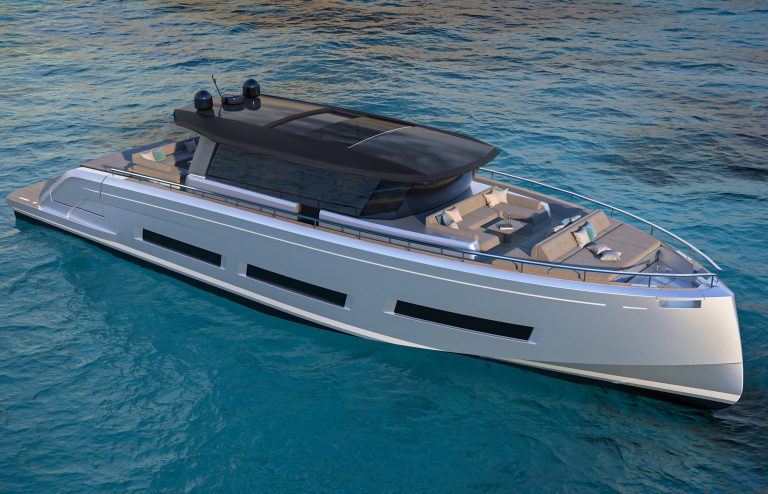 With the Tender Garage design, the master cabin is accessible only through the interior staircase. Additionally, the GT75's cockpit layout is set up to accommodate a large sundeck aft of the C-shaped settee. This section can be electronically lifted to reveal a large tender garage. This practical innovation provides a hidden, out-of-the-way stowage solution.
Venturing into the vessel, the interior design by Nauta Design is sure to be admired. Boaters will discover a total of ten berths, which includes a double cabin for the crew. The layout of the interior emphasizes comfortable space distribution, bright natural light, and sophisticated furnishings. White oak veneers and lacquered accents give the interior a clean look. Bespoke customization is offered to boaters with two interior layouts available.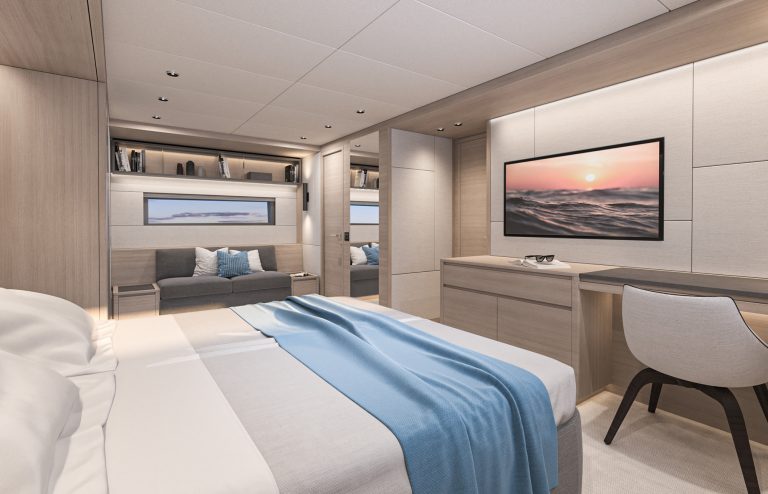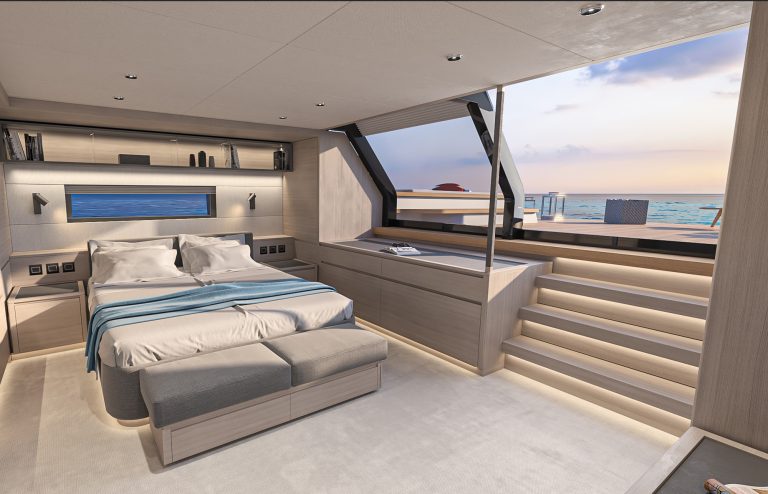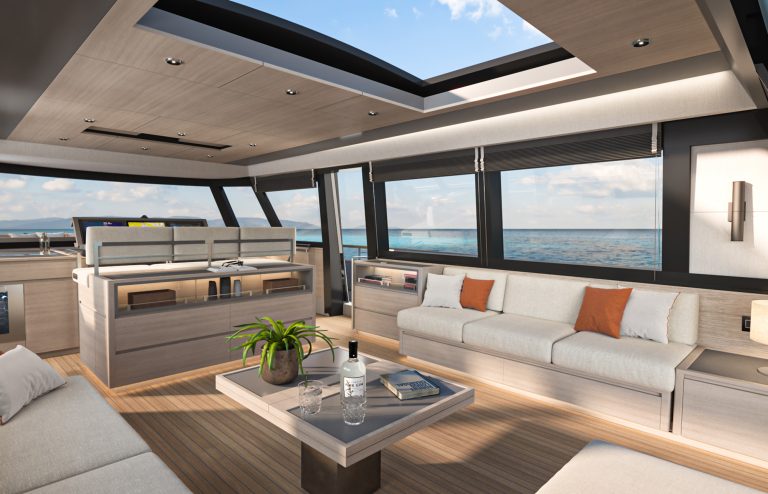 In the galley-up arrangement, the GT75 incorporates a "super-equipped" gallery, which includes an L-shaped sofa and direct access to the outdoor dining area in the cockpit. This arrangement provides convivial communication between the interior and exterior spaces, making the main deck into one large, al fresco communal space. 
In contrast, the gallery-down composition prioritizes privacy. In this layout, the main deck hosts a sizeable living area with side windows and a sliding aft door. The galley-down configuration positions the well-equipped gallery below the deck amidships.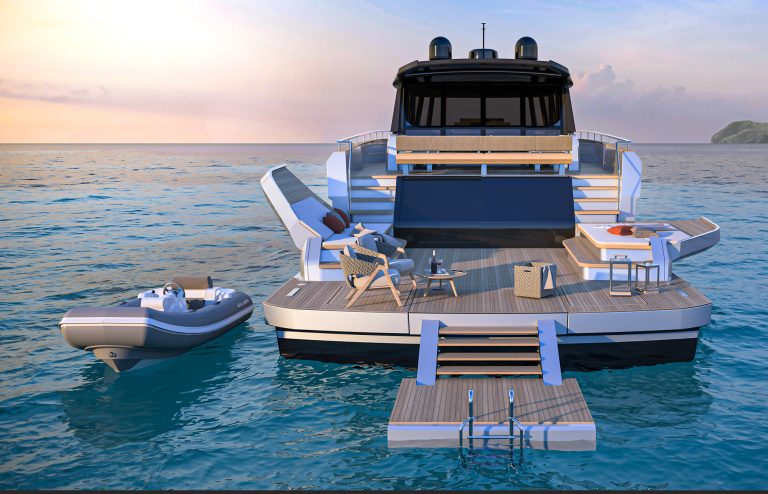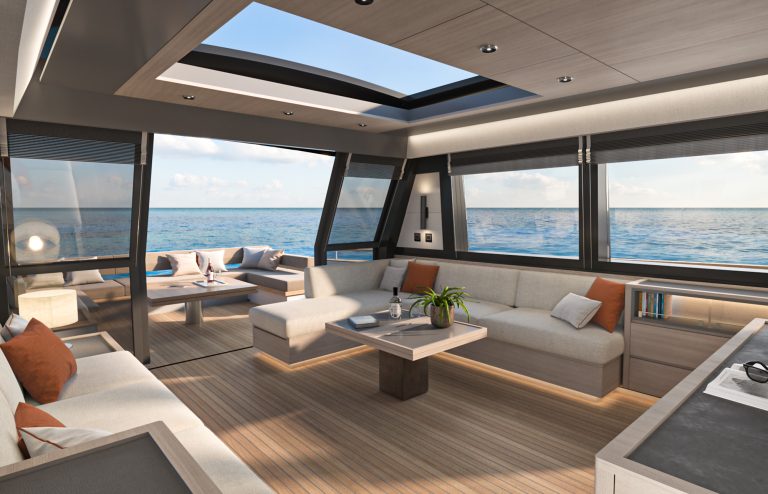 Further customization options are offered through the yacht's engine range. While the model comes standard with 3 x D13-IPS 900, boaters can select up to 3 x Volo Penta D13-IPS 1350, for a total output of 3000hp. With all of these arrangements, the GT75 emphasizes sustainable design, luxe furnishings, and gorgeous waterfront views.